In Brief: Ariens Deluxe 28 SHO Review
The Ariens Deluxe 28 SHO is a high-output machine with an improved automatic turning system and a long-lasting friction disc that plays a vital role in its overall lifespan. How would it feel to blast through the snow while making fast and easy turns ? By choosing the right snow blower, getting rid of excess snow becomes more manageable and straightforward. This machine is durable, easy to use, and is good for thick ice.
The Ariens Company started way back in 1993 with just 4 employees.
It has its headquarters in Brillion, Wisconsin.
The company has grown and sells its supplies all over the world.
One reason why it is one of the most reliable companies is that it manufactures exceptional and high-quality performance tools, and the Ariens Deluxe 28 SHO is one of those tools.
This machine features an Ariens AX306 engine that works best in cold temperatures for extended periods of time.
Its high-output impeller has another excellent feature that makes the device fast and easy to use.
Key Specifications Of the Ariens Deluxe 28 SHO
This outstanding piece of equipment is equipped with a built-in 120V electric start and a recoil starting system as a backup plan.
It also includes auto-turn steering, which automatically senses any change in the direction each time you make a turn.
You will also get a molded friction disc, which makes it easier to service. You also get a cast-iron gear case, which comes in handy in extreme conditions.
Here is a long list of specs of Ariens Deluxe 28 SHO :
Specification
Model Number / Name
Deluxe 28, 921046
Powered by

Gas Powered
Engine power

Ariens AX306, 306cc
Stages
In-line two-stage
Clearing width

28 inches

Ideal for how many inches (depth of snow)

40 inches

Weight
250 lbs.
Start mechanism
Electric start

Other features
Power assist, in-dash lever
Unique features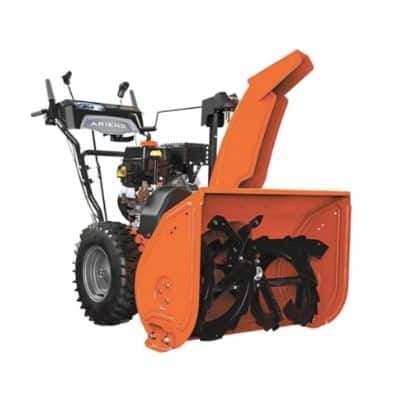 The following are some of the unique features that come with this snowblower.
Interlocking Controls
This is an impressive addition to this model. It gives the user the ability to lock the two handles, which means that you can use one hand to adjust chute rotation while the other one hangs freely.
Auto-Turn Steering
Unlike its predecessor, this feature helps sense any change of direction when turning. If you're performing massive turns, power will adjust proportionally to the inner wheel to make turning easier.
Snow Tread 16-Inch Tires
These massive lug 16-inch directional tires come with a perfect tread pattern and enough spacing to provide reliable traction and grip.
Cast-Iron Gear Case
The sole purpose of this feature is to increase the service life of this snowblower. It is highly durable and delivers enough power to throw away snow at longer distances.
For a quick review video, take a look here :
Power and Snow Clearing Capability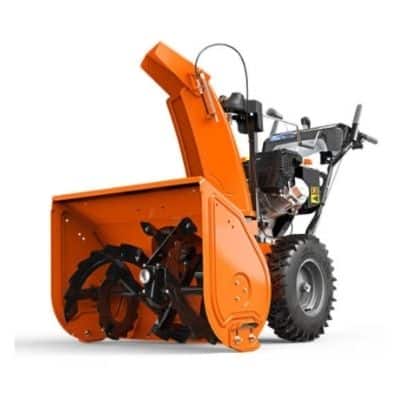 With its durable 306cc engine, this machine can perform well even in severe cold temperatures for up to 2 hours. It blasts through 12+ inches of snow with zero difficulties when turning.
With this power, it can throw the snow up to 55 feet away from the driveway.
It is also fitted with a cast-iron gear case and a 28'' clearing width, which makes it a great performer in extreme conditions.
Ease Of Use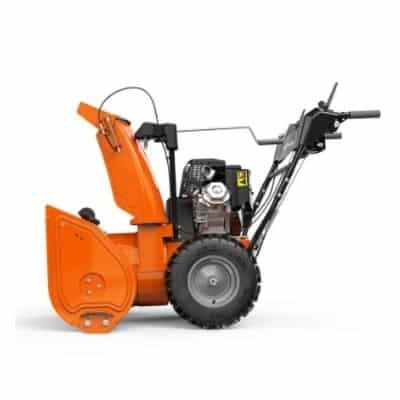 First, this machine can handle any snow, whether it is heavy or dense snow accumulation.
You need not have any prior experience to operate this machine mainly because you can efficiently work the gears and the reverse speeds with ease.
A 28-inch front bucket that is situated 21 inches high allows the user to make deeper drifts with less effort.
This is unlike the old, big machines that you had to put all your effort into to get the work done.
This machine is designed so that nothing will disrupt you from your objective.
Ease Of Maintenance, Repairs, and Warranty
You will need little to no maintenance when working with this snow blower. Everything about it shouts durability.
The only maintenance you need to do is a regular oil change, cleaning the ice from delicate places like the engine area, and other similar, easy tasks.
The Ariens 28 SHO comes with a quick cap on its LCT engine. Since it sells in most areas that are prone to snow, repairs are readily available in most places.
Warranty
The Ariens Deluxe 28 SHO comes with a 3-year limited warranty and 5-year warranty for the gear case. If you have a need for repair, take the blower to a registered service center.
Price Of the Ariens Deluxe 28 SHO
If you compare the price of this machine with similar pieces of equipment on the market, it is cost-effective and easy to own, but it is slightly higher than the prior models of the same.
However, based on all of the additional features, it is worth every cent.
Pros and cons of the Ariens Deluxe 28 SHO
Below are some of the pros and cons of the Ariens Deluxe 28 SHO.
Pros
Built to last
Easy to use and operate
Quick to start
Feature snow tread tires for necessary grip
Durable engine
Fitted with an auto-turn steering
Cons
Works no longer than 2 hours in extreme temperatures
Skid shoes cause too much friction
Who Should Buy the Ariens Deluxe 28 SHO ?
This snow blower is an ideal machine for individuals having a hard time getting snow out of their driveway.
If you find it hard to remove massive and fast accumulating snow, or maybe your driveway is relatively more extensive, then this is the ideal machine for you.
The interlocking controls lock the two handles.
Thus, you can use the other hand to operate the chute. It is built to last, and its powerful engine gives you enough power to get your work done within a shorter period of time.
Our Recommendation
From all the above features, it is no surprise that this machine sells well and works as expected. The device gives you excellent value for the money.
It is a perfect choice for anyone who gets no less than 80 inches of snow every year. Its 28-inch width and the ability to dig through more than 12 inches of snow makes it a great tool to invest in.
Last update on 2023-09-28 / Affiliate links / Images from Amazon Product Advertising API