Pressed for time? Check our Best Picks
WEN 4208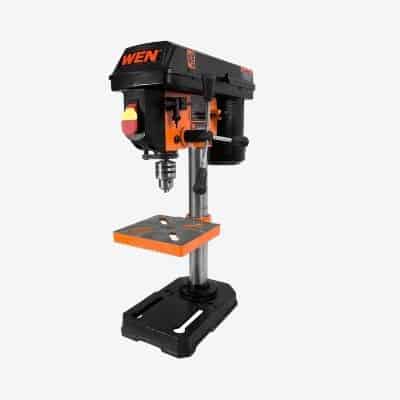 Excellent torque
Wide speed range
Wide speed range
Powermatic PM701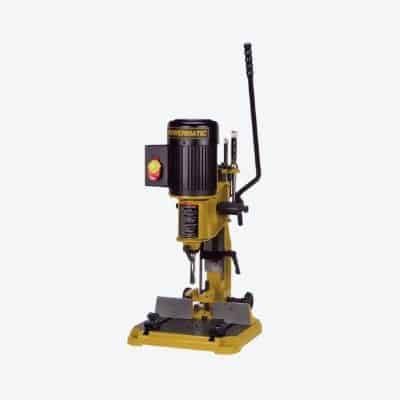 Sturdy
Easy to transport
Impressive speed
EURO TOOL DRL-300.00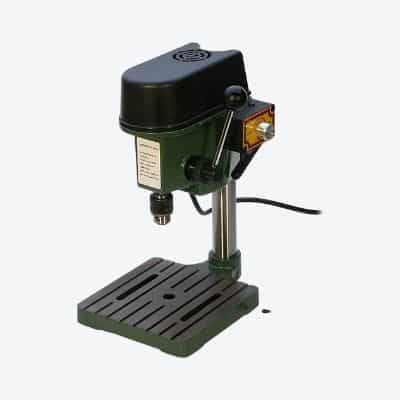 High torque 
Compact unit
High-quality construction
Our reviews are unbiased, fact-based, and comprehensively researched to help you make the right buying decisions.



If your shop cannot accommodate a heavy-duty floor drill press, then a benchtop drill press is the next (and only) best thing.
These compact tools can handle a lot of the same work that a full-sized model can while offering the benefit of taking little worktable and no floor space at all.
Below, you'll learn what the best benchtop drill press is out of over 40 models we researched in great depth.

Best Benchtop Drill Press – WEN 4208
The best benchtop drill press that leaves over 40 other models in its dust is the WEN 4208.
This 5-speed machine isn't just incredibly awesome at what it does, but it's also one of the most affordable options you can find today.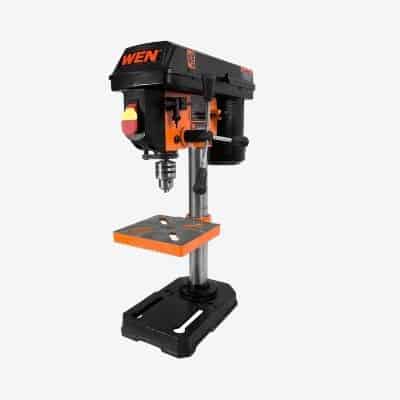 Below are the WEN 4208's key specifications—
1/3-HP Motor
½-inch Keyed Chuck
8-inch Swing
Onboard Key Storage
People will notice immediately that the 4208's 1/3-HP motor is a lot smaller than in other benchtop drill presses.
However, don't be tricked by the seemingly tiny rating; this machine can handle all sorts of jobs, from drilling through metal sheets to drilling into 1-inch-thick wooden stock with minimal effort.
This tool offers an 8-inch swing, making it more than capable of propping up wooden blocks and plastic workpieces.
The 4208's half-inch chuck can drill wide holes into the toughest materials with a single pull of the lever. This machine drills at a rate of 740 to 3,140 RPM.
Watch this video to see what to expect from your very own WEN 4208. 
Pros
Excellent torque
Wide speed range
Compact, easy to use
High-quality construction
Cons
Could come with larger motor
The WEN 4208 is a woodworker and metalworkers dream benchtop drill press.
Though it features a smaller motor, there's plenty of drilling power packed into this compact unit.
Top benchtop drill press in the Market Compared
Product Image
Product Name
Features
Price
Best Overall -WEN 4208

Motor Size: 1/3 hp

Chuck 1/2 in keyed

Swing 8 in

Onboard Key Storage

Check Today's Price

Best Premium -Powermatic PM701

Motor Size: 3/4 hp

Chuck 1/2 in keyed

Swing 13 in

Quick-Action Cam Lock

Check Today's Price

Best Budget -EURO TOOL DRL-300.00

Motor Size: 100W

Chuck 1/4 in

Swing 6 3/4 in

5000/6500/8000 RPM

Check Today's Price

best benchtop drill press for woodworking -WEN 4214

Motor Size: 2/3 hp

Chuck 5/8 in keyed

Swing 12 in

Precision Laser

Check Today's Price

SKIL 3320-01

Motor Size: 3.2 amp

Chuck 1/2 in keyed

Swing 10 in

Laser X2

Check Today's Price

Shop Fox W1668

Motor Size: 3/4 hp

Chuck 5/8 in keyed

Swing 13 1/4 in

3-Piece Spindle Sander Drum Kit

Check Today's Price

Genesis GDP1005A

Motor Size: 4.1 amp

Chuck 5/8 in keyed

Swing 10 in

Integrated Worklight

Check Today's Price

HICO 8-Inch Bench Top Drill Press

Motor Size: 2/5 hp

Chuck 1/2 in keyed

Swing 8 in

5-Speed Up to 3070 RPM

Check Today's Price

Rockwell RK7033

Motor Size: 2/3 hp

Chuck 1/2 in keyed

Swing 10 in

Keyed Safety Switch

Check Today's Price

Jet JWDP-12

Motor Size: 1/2 hp

Chuck 5/8 in keyed

Swing 12 in

Large Paddle Switch

Check Today's Price
Reviews of Best benchtop drill press
Best Premium - Powermatic PM701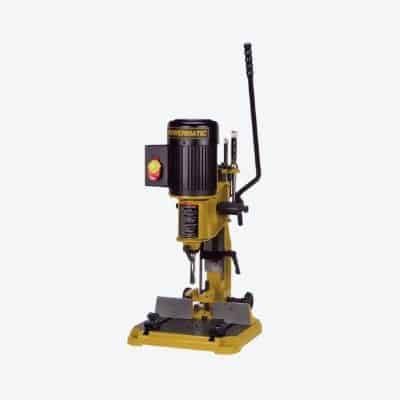 Key Specifications
¾-HP Motor
½-inch Keyed Chuck
13-inch Swing
Quick-Action Cam Lock
The Powermatic PM701 is a 13-inch benchtop mortiser for woodworking with a ¾-HP motor that runs at 1725 RPM.
With its quick-action CAM lock, you can quickly lock the fence with a single 90-degree movement.
It also comes with a ½-inch keyed chuck with a large, hinged chuck door that allows easy access.
This mortiser also comes with a heavy-duty, versatile handle that can be changed to different sides to accommodate both left- and right-handed users.
Its double-lock system provides more security and stability while working at higher speeds.
There's also a lot less shadowing thanks to the LED work lights.
Pros
Versatile
Easy to use
Sturdy material
Adjustable fence
This benchtop mortiser is an ample choice for woodworking.
Its quick-action CAM lock makes it easy to lock the fence, while its versatility makes it useful to use with a wide range of wood thicknesses.
Best Budget - EURO TOOL DRL-300.00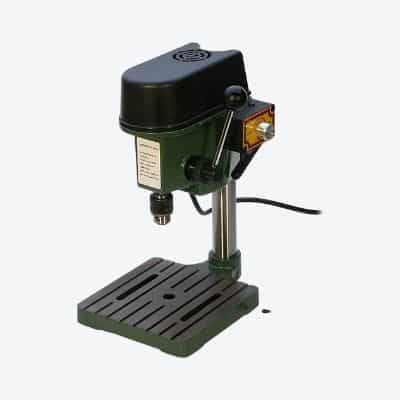 Key Specifications
100W Motor
¼-inch Chuck
3-3/8-inch Swing
5000/6500/8000 RPM
The EURO TOOL DRL-300.00 is a small yet reliable benchtop drill press.
Despite its super-compact size, it is ideal to use in many drilling projects, even more challenging ones involving plastic and wood.
With a variable of speed up to 8,500 RPM, this 3-3/8-inch drilling press can drill through most types of wood easily.
Some users found that the plunging lever mechanism can get stuck due to the coarsely designed gears.
Even putting some lube on the gear hasn't fixed the problem, so this may not be the most reliable benchtop drill press for small, complex jobs like making jewelry or drilling through circuit boards.
Pros
Sturdy
Easy to transport
Impressive speed
Easy speed adjustment
Cons
Could be easier to plunge
The DRL-300.00 is far too fast for most metalworking jobs, but when it comes to woodworking or drilling through plastic, there's no reason to doubt this machine.
SKIL 3320-01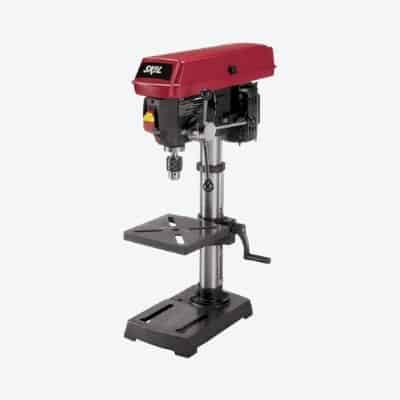 Key Features
3.2-amp Motor
½-inch Keyed Chuck
10-inch Swing
Laser X2
Built with a 2-beam laser system makes the SKIL 3320-01 superior in making many ways.
This benchtop drilling press comes with a super-reliable depth stop adjustment system, which will come in handy when you're drilling repetitive holes into identically sized boards for large projects.
The SKIL drill press' speed ranges from 570 to 3050 RPM, where switching between gears is done by manually shifting the drive belt.
The perfectly square working table provides enough clearance for larger workpieces, and the ½-inch keyed chuck makes this a heavy-duty drill press for all sorts of jobs.
The 3.2-amp motor is the secret-sauce behind the SKIL's magnificent wood, metal, and plastic drilling performance.
Pros
Adjustable depth stop
Laser system for precision
45° tilting table
5 speed settings
If you're looking for a pretty powerful benchtop drill press that's cordless (this one is battery-powered), then SKIL 3320-01 should be one of the top-five products to consider.
Shop Fox W1668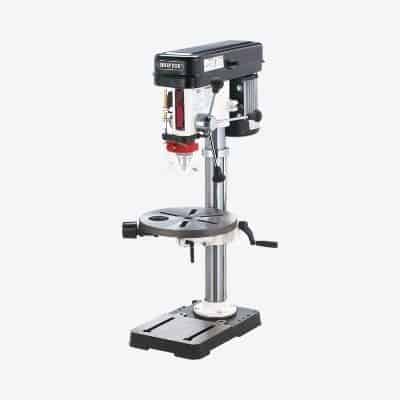 Key Specifications
¾-HP Motor
5/8-inch Keyed Chuck
13.25-inch Swing
Spindle Sander
The Shop Fox W1668 is the little-brother version of the W1848, a full-sized floor drill press. Despite being the more portable of the two, the 1668 is not missing out on anything.
It features a ¾-HP motor that drives 5/8-inch drill bits into all sorts of materials for quicker drilling with as little burring as possible.
The speed range of this tool varies from 250 to 3050, making it an excellent all-around tool for most jobs.
Adjusting the belts to get the right speed can be a bit tricky for first-time users.
However, the included chart should give you a pretty good idea of how to increase or decrease max speeds based on your work materials.
Curious as to what the W1668 can do? Take a look at this video!
Pros
Multi-speed settings
Powerful performance
Tilting table
Spindle sander attachment
Cons
Could come with mortising attachment
The W1668 is an excellent, extra-versatile drill press with a spindle sander that work beautifully on all materials.
Genesis GDP1005A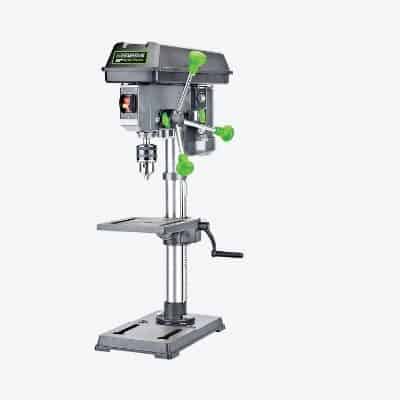 Key Features
4.1-amp Motor
5/8-inch Keyed Chuck
10-inch Swing
Integrated Work Light
The Genesis GDP1005A is a 10-inch drill press that offers five different drilling speeds with a maximum of 3070 RPM.
This highly versatile drill press is usable for both small and larger projects, regardless of the workpiece material (plastic, metal, and wood).
The combination of a 5/8-inch chuck and the 4.1-amp motor means the GDP1005A is built for any job you have on hand.
With this drill press, you can drill identical holes across numerous workpieces easily. The integrated work light helps illuminate the work surface, allowing you to work comfortably in poorly lit spaces.
Pros
Adjustable tilting table
Great accuracy
Easy to assemble
Durable construction
Cons
Could be more stable at higher speeds
As is typical in any benchtop drill press, the GDP1005A takes up very little space, but this particular model offers a ton of power and unmatched precision.
HICO 8-Inch Bench Top Drill Press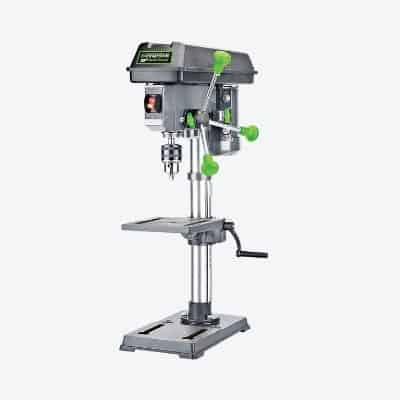 Key Specifications
2/5-HP Motor
½-inch Keyed Chuck
8-inch Swing
5-Speed Up to 3070 RPM
The HICO Bench Top Drill Press is an 8-inch drill press that comes with five variable speeds options that deliver up to 3070 RPM of quick and painless drilling.
It comes with a half-inch keyed chuck and a durable 2/5-HP induction motor that deliver ample torque and power for boring holes into various materials.
This unit features a cast iron worktable with an adjustable height system to provide the drilling depth you need for complex, delicate jobs.
The table can bevel to the right and left up to 45 degrees, and a two-inch spindle travel makes working with thicker stock possible.
Pros
Drills various materials easily
Delivers great power
Adjustable speed
Stable
The HICO 8-inch bench top drill Press is a great investment as it can be used for a wide range of materials and thicknesses.
Rockwell RK7033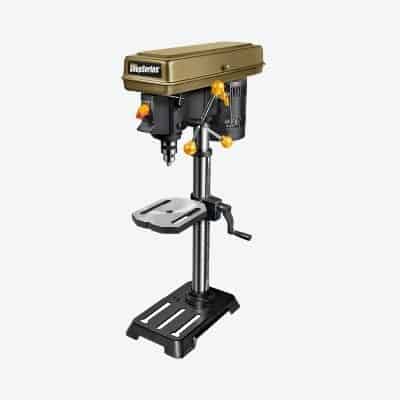 Key Features
2/3-HP Motor
½-inch Keyed Chuck
10-inch Swing Distance
Keyed Safety Switch
If you need a tool to help you in a project that involves drilling holes on various materials, you may need a Rockwell RK7033 drill press.
This benchtop drill press has five operating speeds, ranging from 620 to 3100 RPM and a ½-inch drill chuck, which, together, makes it incredibly easy to drill holes into thickness plastic, metal, and wood workpieces.
The 2/3-HP motor supplies the both speed and torque to keep the tool running smoothly.
Plus, it's on the affordable side, you won't need to spend a ton on a benchtop drill press for maximum drilling results.
Pros
Affordable price tag
Easy to use
It has a keyed safety switch
Adjustable for different heights
The Rockwell RK7033 is an excellent all-purpose drill press that bores holes effortlessly into metal, wood, and plastic.
Jet JWDP-12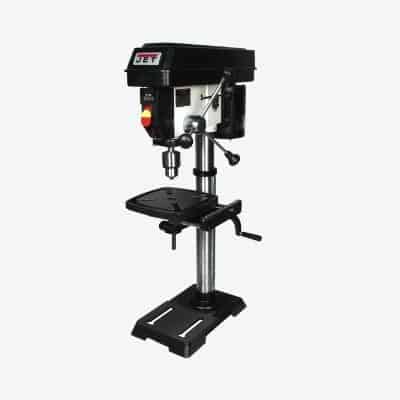 Key Features
½-HP Motor
5/8-inch Keyed Chuck
12-inch Swing Distance
Large Paddle Switch
The Jet JWDP-12 is a 12-inch benchtop drill press that features a heavy-duty 1/2 –HP induction motor. It can be used for various drilling applications, thanks to the 5/8-inch keyed drill chuck.
Offering adjustable speeds of between 530 and 3100 RPM, this unit is suitable for wood and metal work.
The JWDP-12 is super-compact and easy to move. The 10 x 16-1/8-inch base it an excellent option for workshops with limited tabletop space.
It also has a large paddle switch that makes it incredibly easy turn on and off, and an accurate laser guide offers maximum precision every time. Its 3-1/8 inches of spindle travel will let you drill through most stock in a single plunge.
Pros
Great speed control
Secure paddle switch
Great precision
Ample power for its size
Cons
Table adjustment could be smoother
This benchtop drill is a great choice for limited-sized workshops. It is useful for both wood and metal by delivering high power and speed.
Best benchtop drill press for woodworking - WEN 4214

The most reliable benchtop drill press for carpenters is, hands down, the WEN 4214. Plus, its inexpensive price tag is too attractive to not give it serious consideration.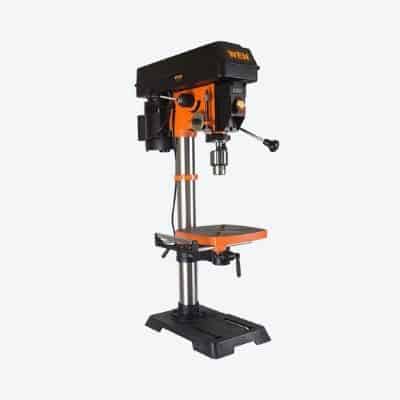 Here's what the 4214's key specs look like—
2/3-HP Motor
5/8-inch Keyed Chuck
12-inch Swing
Precision Laser
The 4214 comes with a wide worktable that allows users to drill through the dead-center of 12-inch workpieces.
It comes equipped with a ⅝-inch keyed chuck, and the 2/3-HP produces the ideal amount of drilling power to bore through thicker blocks of wood and sheets of metal.
The 3-1/8-inch spindle travel distance will ensure that every plunge results in perfect penetration every time.
The 4214's laser guide system and depth adjustment gauge offers optimal precision, though the laser could be more centered.
The work light will allow you to continue drilling through wooden and metal pieces in poorly lit workshops.
This video will show you what the WEN 4214 can do.
Pros
Laser system for precision
Table roller extension
Depth adjustment gauge
Bult-in working light
If you have large project lined one after the other, you can rely on the WEN 4214's astounding drilling performance and precision.
Buying Guide for Benchtop Drill Press for Metal
If your line of work mainly deals with metal workpieces, then you might be interested in learning about how to shop for the best benchtop drill press for metal. This brief guide will explain what factors you need to consider in order to make the right purchase decision.
Motor Size
Generally speaking, a higher torque rating equals better metal-drilling performance. That said, try and find a benchtop drill press with a higher HP/amp rating.
RPM
First of all, when it comes to drilling through metal, you don't want to set your drill press at a higher speed setting. Start off at a slower speed—roughly 200 to 350 RPM—then crank it up if necessary.
However, the larger the chuck (and attached drill bit), the slower you'll need to take it. Look for a benchtop drill press with a minimum of around 150 RPM.
Titanium or Cobalt Drill Bit
All-purpose drill presses, such as the products mentioned above, may come with one or two drill bits with your purchase.
However, these bits are too soft to drill through metal. Instead, you'll want to search for a titanium or cobalt drill bit kit that provides a cleaner, burr-free drilling experience.
These drill bits are costlier than woodworking bits but can be used on all types of materials.
Spindle Travel/Worktable Height Adjustment
Another important consideration is how far the spindle travels downward, or how deep of a hole it can drill.
Typically, metalworking involves drilling through thinner workpieces as opposed to woodworking, so you may want to find a benchtop drill press with a deeper spindle travel rating.
One way to work around shallower spindle travel is by adjusting the height of the worktable.
FAQ's
If your question is unanswered in this section, please let us know by leaving your query in the comment section.
Should I get a benchtop drill press?
Your choices are benchtop and floor models. Floor models deliver much more power, making them ideal for nearly any situation, including woodworking and metalworking. However, their bases and stands take a whole lot of floor space, which you may not have if you work out of a small-scale workshop. In this case, a benchtop drill press would be the preferable option.
Can you thread-cut with a drill press?
Yes, you can. Just make sure that you attach the correct type of bit onto your drill press. Tapping threads into metal takes more time to do than simple drilling, but it's entirely possible to do with either a benchtop drill press or the floor variety. Refer to the buying guide above to see what factors to consider while shopping for a benchtop drill press for metal.
How accurate are drill press laser guides?
It depends on the drill press model. Ideally, the laser does not glide up and down as you plunge the spindle; this will reduce the risk of the laser guide becoming misaligned. With this in mind, remember that laser guides are rough estimates, not 100 percent foolproof at determining the exact spot where the drill bit meets your workpiece.
Can a woodworking drill press drill through metal?
Yes, assuming that the tool can drill at a slower rate. Even if it doesn't meet the 200-300-RPM minimum drilling speed, you can still punch holes into metal sheets and thinner bars at a higher speed, but you need to plunge the drill bit slowly into the metal workpiece. Also, make sure you pick up a set of titanium or cobalt drill bits. We highly recommend getting the IRWIN 29-piece set (cobalt) or DEWALT 14-piece set (titanium).
Summary
A benchtop drill press is a space-efficient tool that drills just as well as a full-sized floor model but at shallower drilling depths.
If you don't mind the limitations of a benchtop model, or if you don't have the floor space in your shop for a floor drill press, then this list of 10 of the best benchtop drill presses will provide you with the best options out of over 40 models we researched in-depth.
Our comment section is wide open to receiving questions and feedback!