Pressed for time? Check our best picks
WEN 4210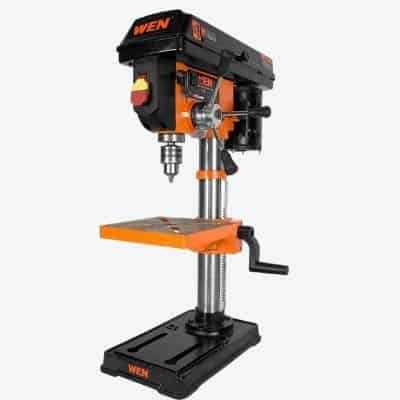 Worktable bevels to 45°
Accurate laser crosshair
Stead base
Gino 01-0822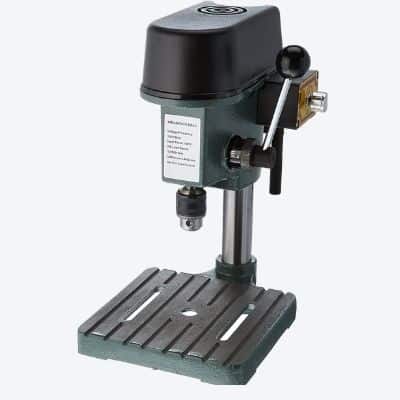 Great precision
Robust and compact
Easy to adjust speed
Proxxon TBM 115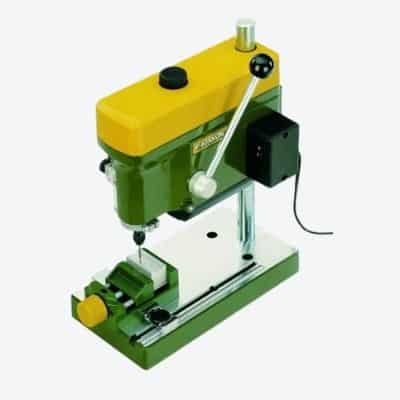 Runs quietly
Adjustable parallel fence
Lightweight
Our reviews are unbiased, fact-based, and comprehensively researched to help you make the right buying decisions.



Many people put off purchasing a drill press due to cost issues.
However, there are some incredibly inexpensive models that also rate among the best drill presses of all time.
In this guide, we'll show you what the best drill press under $200 is.
We've taken a close look at over 30 low-cost options to uncover the best drill press that offers more value than its price tag would indicate.

Best Drill Press Under $200 – WEN 4210
Best the drill press under $200 out of the 50-ish models we analyzed in detail is the WEN 4210.
For such a low-cost tool, we never expected it to sport a heavy-duty motor, a large chuck, accommodate large workpieces, and be as easy to use as the best of them.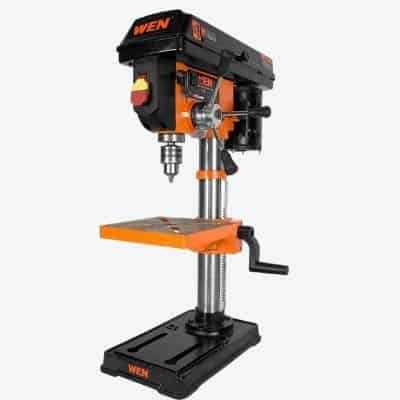 You can find the WEN 4210's key specifications below—
¾-HP Motor
½-inch Keyed Chuck
10-inch Swing
Precision Laser
The 4210 follows traditional WEN fashion by maintaining an extremely low price tag while also offering as much power as you'd want from a tool.
The 4210 sports a ¾-HP motor and a half-inch keyed chuck that can penetrate 3-inch-thick stock in single plunge.
There are five speed settings, ranging between 600 and 3100 RPM, making this an optimal choice for all sorts of projects.
There's also very little wobbling, even at high speeds, so you can reliably plunge the drill bit into thicker, denser workpieces without missing the mark.
A precision laser can help establish where the mark is, though some users claim that the laser isn't as accurate as they had hoped.
This video will show you everything you need to know about the amazing 4210 benchtop drill press.
Pros
Worktable bevels to 45°
Accurate laser crosshair
Stead base
Low and high-speed drilling
Cons
Could have lower min speed for better metal-drilling
The 4120 is an excellent woodworking drill press. Its wide base and wide worktable let you work with nearly boards and blocks nearly every common size.
Top drill press under 200 in the Market Compared
Product Image
Product Name
Features
Price
Best Overall -WEN 4210

Motor Size: 3/4 hp

Chuck 1/2 in keyed

Swing 10 in

Precision Laser

Check Today's Price

Best drill press for wood under 200 -Shop Fox W1667

Motor Size: 1/2 hp

Chuck 1/2 in keyed

Swing 8 1/2 in

2-inch Dust Port

Check Today's Price

Best drill press for metal under 200 -SKIL 3320-01

Motor Size: 3.2 amp

Chuck 1/2 in keyed

Swing 10 in

Laser X2

Check Today's Price

Gino Development 01-0822

Motor Size: 1/8 hp

Chuck 1/4 in keyed

Swing 6 3/4 x 6 3/4 in

8500 Max RPM

Check Today's Price

Proxxon TBM 115

Motor Size: 85W

Chuck 3/8 in

Swing 8 in

8500 Max RPM

Check Today's Price

Rockwell RK7033

Motor Size: 6.2 amp

Chuck 1/2 in keyed

Swing 10 in

Safety Keyed Switch

Check Today's Price

Craftsman 4328167

Motor Size: 1/2 hp

Chuck 1/2 in keyed

Swing 10 in

Laser Guide

Check Today's Price
Reviews of Best drill press under 200
Gino Development 01-0822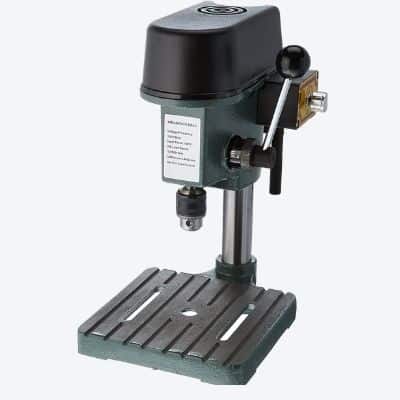 Key Specifications
1/8-HP Motor
¼-inch Keyed Chuck
6.75 x 6.75-inch Worktable
8500 Max RPM
The Gino Development 01-0822 is another fantastic benchtop model that offers three high-speed drilling options with caps at 5000, 6500, and 8500 RPM.
Whether you need that much speed is entirely dependent on your project, but for wood and plastic, you shouldn't have any issue with this benchtop drill press.
The 01-0822 features a 1/8-HP motor and quarter-inch chuck that works amazingly well at drill as deep as an inch with every plunge.
As expected from such a compact tool, the 01-0822's worktable is just 6.75 x 6.75 inches, so you might want to stick to small-scale projects if you have this tool in your shop.
Pros
Great precision
Robust and compact
Easy to adjust speed
Good torque in low revolutions
Cons
Could provide more drilling power
The Gino Development 01-0822 is an excellent drill press option for jewelry making and drilling through circuit boards.
Proxxon TBM 115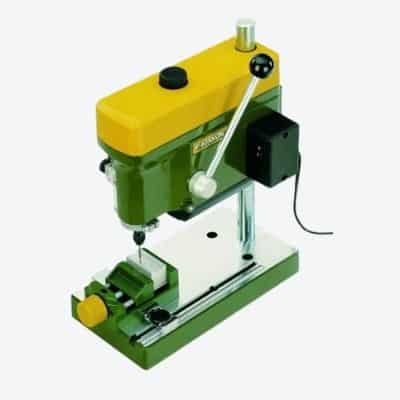 Key Specifications
85W Motor
3/8-inch Chuck
8-inch Swing
8500 Max RPM
The Proxxon TBM 115 is a benchtop drill press with three adjustable motor speeds.
Similar to the previous model, the TBM 115's spindle reaches a max of 8500 RPM, making it ideal for light-duty drilling through metal sheets, plastic, and wood.
The 85W motor is incredibly undersized as opposed to most benchtop models, but the 3/8-inch chuck can prove handy in all sorts of situations, especially jewelry making and small woodworking jobs.
The Proxxon TBM 115 offers an 8-inch swing with an adjustable parallel fence, making it a highly versatile tool when it comes to drilling stocks of different shapes and sizes.
This drill press is also equipped with a flexible drilling depth gauge that can be adjusted accordingly.
Pros
Runs quietly
Adjustable parallel fence
Three different speed options
Lightweight and compact design
The Proxxon TBM 115 is a versatile and super-accurate drill press made for the smallest, most complex drilling jobs imaginable.
Rockwell RK7033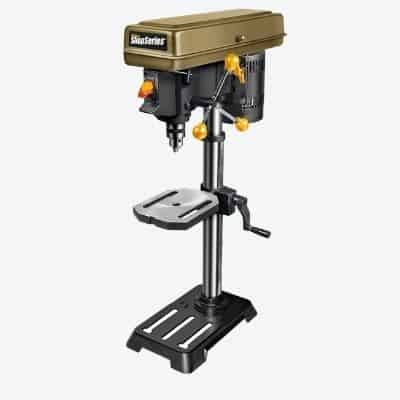 Key Specifications
2/3-HP Motor
½-inch Keyed Chuck
10-inch Swing Distance
Keyed Safety Switch
If you're looking for a reliable benchtop model that works will all sorts of materials, the Rockwell RK7033 drill press is for you.
This benchtop model offers five operating speeds of between 620 and 3100 RPM. The half-inch chuck is powered by a 2/3-HP motor that also offers maximum torque when drilling through thicker stock.
Many people have been looking for a keyed safety switch on budget-friendly drill presses, and we're happy to report that the RK7033 comes with one.
This lets you safely turn the drill on and off without looking for tiny switches. In terms of performance, there aren't very many models better than this pocket-friendly drill press.
Pros
Affordable price tag
Easy to use
It has a keyed safety switch
Adjustable for different heights
The Rockwell RK7033 is great for a million and one different projects, including both woodworking and metalworking.
Craftsman 4328167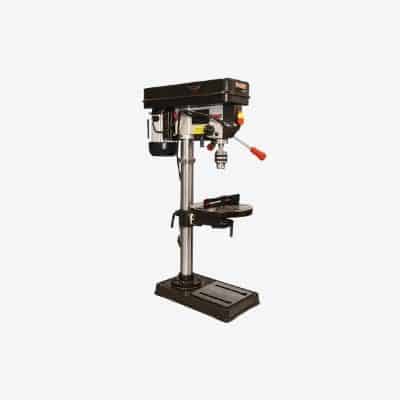 Key Specifications
½-HP Motor
½-inch Keyed Chuck
10-inch Swing
Laser Guide
The Craftsman 4328167 is a 10-inch drill press with a wide drilling speed range of between 355 and3065 RPM.
It is robust enough to punch thick holes into metal sheets, wood boards, and plastic pieces. It has a powerful ½-HP motor that makes it one of the most powerful benchtop drill presses on the market.
Fine-tuning the 4328167's drilling speed is also a lot more user-friendly than in most models.
This unit performs smoothly and with less wobbling when boring holes into thick workpieces, helping to shift easily from project to project while producing consistent results.
It also comes with an easy depth adjustment system to produce identical holes across numerous workpieces in less time.
Pros
Easy to assemble
Accurate result
Great power for benchtop drill
Adjustable speed for different materials
Cons
Laser guide could be more accurate
The Craftsman 4328167 is a high-quality drill press, though its laser guide could certainly be upgraded.
Best drill press for wood under 200 -Shop Fox W1667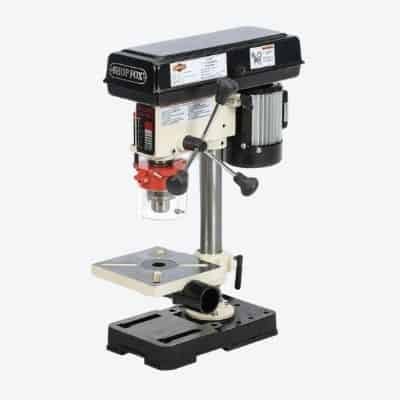 If you need an inexpensive drill press for woodworking, the model we'd recommend is the Shop Fox W1667.
Here's what the W1667's key specifications are—
½-HP Motor
½-inch Keyed Chuck
8.5-inch Swing
2-inch Dust Port
The Shop Fox W1667 is a versatile drill press that comes with its own oscillating sander attachment.
Powered by a ½-HP motor, the W1667 has five different speed options, ranging from 620 to 3100 RPM, making this ideal for metal and woodworking shops.
The W1667 can support drill bits of up to half an inch in thickness, and the 8.5-inch swing allows you to work with larger boards and sheets with minimal fuss.
This unit is also a mess-free drill press since it has two ¼-inch dust ports for your dust collector/shop vac.
Pros
Tilting table
Has a dust port
Three different speed options
Comes with spindle sander attachment
Cons
Motor could be less noisy
The Shop Fox W1667 is a multipurpose drill press that excels at drilling through wood. Users will undoubtedly appreciate the spindle sander attachment.
Best drill press for metal under 200 -SKIL 3320-01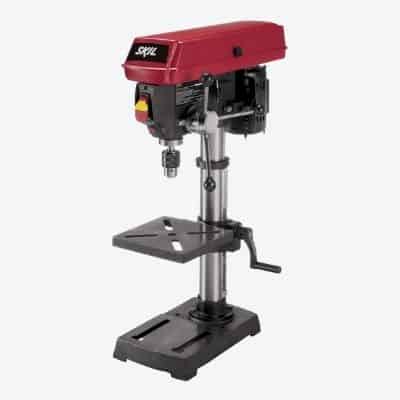 For the metalworkers out there, the best drill press for metal priced $200 or lower is the SKIL 3320-01.
Below are the SKIL's key specifications—
3.2-amp Motor
½-inch Keyed Chuck
10-inch Swing
Laser X2
The SKIL 3320-01 sports a 3.2-amp motor that makes drilling through metal bars and sheets incredibly easy.
The 10-inch swing means you can place larger bars on the worktable without it falling over, and a crosshair laser guide system offers near 100% accuracy, so you know where the drill bit will puncture your work materials.
The speed of the SKIL 3320-01 ranges from between 570 and 3050 RPM.
Even though its minimum speed is a bit fast for metalworking, using the right drill bit will result in the cleanest, burr-free holes you can imagine.
Just prepare to keep your hearing PPE nearby since the motor can be quite loud at times.
Pros
5 speed settings
Laser system for precision
45° tilting table
Adjustable depth stops
Even though the SKIL 3320-01 is noisier than most smaller drill presses, it's a feature-packed machine that would make any metalwork and woodworker happy to have.
FAQ's
Below, you'll find answers to the most commonly asked questions people have about drill presses under $200.
Are budget drill presses worth it?
They can be. Drill presses under $200 are typically small, benchtop drill presses with smaller motors.
Despite their size, they can offer quite a bit in terms of drilling precision and versatility.
Some even come with helpful laser guides that offer a decent estimate of where the bit will penetrate the workpiece's surfaces.
Are any floor drill presses priced under $200?
Sadly, there are none, at least not any brand-new ones or models that we'd recommend. Floor drill presses can be quite costly due to their greater drilling performance and larger size. However, most DIYers can easily get by with a benchtop drill press, such as any of the models mentioned on our list. We have a highly recommended inexpensive floor drill press in our guide on the best budget drill press.
Can a woodworking drill press work on metal?
It's possible, but the most important thing to consider when shopping for a drill press for metal is the drilling speed or RPM. Drilling through metal bars should be done at lower speeds of around 150 to 300 RPM. Also, you should pick up the correct type of drill bit for your metalworking drill press. We'd recommend getting the IRWIN Drill Bit set (cobalt) or the DEWALT DW1354 (titanium).
How large of a drill press do I need?
It depends on the size of your workpieces. The drill press' swing size and worktable dimensions will give you a rough idea of how large of a board/sheet/bar you can drill with the tool. However, if you want to increase your drill press' work table by several hundred square inches, you should check out our guide on the best drill press tables (free-standing tables and table attachments).
Summary
Just because the cost of a drill press is less than that of a brand-new PC doesn't mean that it's a bad product.
In this guide, we've shown you what the best drill press under $200 is, as well as other noteworthy picks that specialize in certain drilling projects.
If you don't know which drill press to get, we'd be happy to lend a helping hand in the comments section.