Pressed for time? Check our best picks
Makita RT0701CX3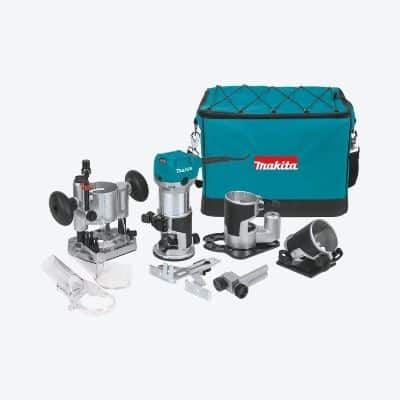 Variable speed control dial
Ergonomically designed
Quick-release lock system
DEWALT DWP611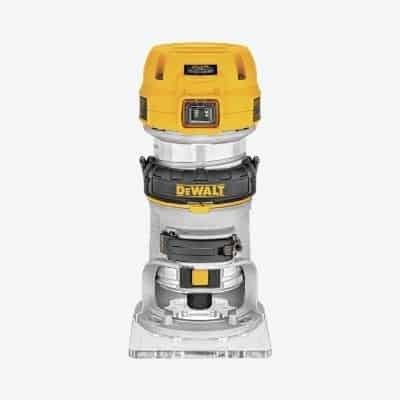 Variable speed control
Dual LED
Ergonomic design
DEWALT DWP611PK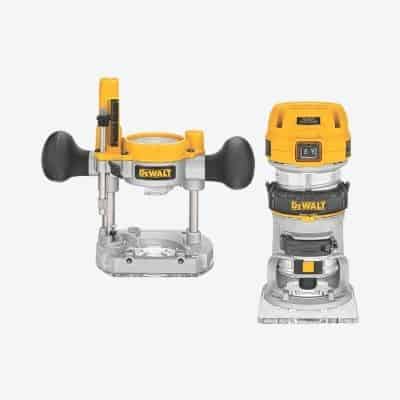 Powerful motor
LED light
Quickly removable base
Our reviews are unbiased, fact-based, and comprehensively researched to help you make the right buying decisions.



You might already have a high-quality CNC machine at home, but without a router, you'll never get the opportunity to unleash the machine's true potential.
You have two options—get a multipurpose hand router or a CNC-dedicated spindle.
In this guide, we'll show you the best of both options out of roughly 20 models we analyzed over the course of three months.

Best Router for CNC Machine – Makita RT0701CX3
The overall best router for CNC machines in handheld form is the Makita RT0701CX3.
This compact tool offers a wide cutting speed range for working with all kinds of materials. Powered by a 1.25-HP motor, there's hardly a job that this hand router can't complete.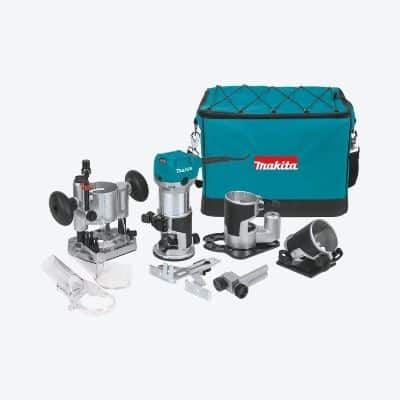 Let's take a look at the RT0701CX3's key specifications—
1.25-HP Motor
¼-inch Collet
10-30,000 RPM
Comes with 3 Bases
The Makita RT0701CX7 is a compact, portable router that many woodworkers enjoy using.
This is a fixed-base tool that offers between 10 and 30,000 RPM, making it usable various materials, including plastic and metal.
The quarter-inch collet lets you create deep grooves along flat surfaces with extra precision and minimal burning.
To improve accuracy, the RT0701CX7 comes with a smooth rack and pinion depth-adjusting system.
For CNC machines, the RT0701CX7 works on nearly any table while working beautifully for making signs or intricate designs on wood and metal.
Pros
Variable speed control dial
Slim and ergonomically designed
Quick-release lock system
Electronic speed control
Cons
Could come with plunge base
With all of its features combined, the Makita RT0701CX7 makes for a high-quality CNC-mountable router for nearly any purpose.
Top Router for CNC Machine in the Market Compared
Product Image

Product Name

Features

Price



Best Overall - Makita RT0701CX3


Motor Size: 1.25 HP

Bit Size: 1/4 in

Speed: 10-30,000 RPM

3 Bases




Check Today's Price





Best Premium - DEWALT DWP611


Motor Size: 1.25 HP

Bit Size: 1/4 in

Speed: 16-27,000 RPM

Dual LEDs




Check Today's Price





Best Budget - DEWALT DWP611PK


Motor Size: 1.25 HP

Bit Size: 1/4 in

Speed: 16-27,000 RPM

Soft-Starting Motor




Check Today's Price





Bosch 1617EVS


Motor Size: 2.25 HP

Bit Size: 1/4 in

Speed: 8-25,000 RPM

Compatible with 3-hole fixed bases




Check Today's Price





Triton TRA001


Motor Size: 3.25 HP

Bit Size: 1/4 & 1/2 in

Speed: 8-21,000 RPM

Convertible Plunge and Fixed-Base




Check Today's Price





PORTER-CABLE 892


Motor Size: 2.25 HP

Bit Size: 1/4 & 1/2 in

Speed: 10-23,000 RPM

Overmolded Grips




Check Today's Price





Best Spindle Motor - MYSWEETY CNC Spindle


Motor Size: 500W

Bit Size: 1 to 7 mm

Speed: 12,000 RPM

Wired Switch Key




Check Today's Price





SZCY CNC Spindle Kit


Motor Size: 500W

Bit Size: 1 to 7 mm

Speed: 8-24,000 RPM

< 0.01-mm Runout




Check Today's Price





Huanyang Water Cooled CNC Spindle Milling Motor


Motor Size: 2200W

Bit Size: 6 mm

Speed: 6-24,000 RPM

4 Ball Bearings




Check Today's Price





HY VFD CNC Spindle Motor Kit


Motor Size: 2200W

Bit Size: 6 mm

Speed: 24,000 RPM

400-Hz Frequency




Check Today's Price



Reviews of Best Router for CNC Machine
Best Premium - DEWALT DWP611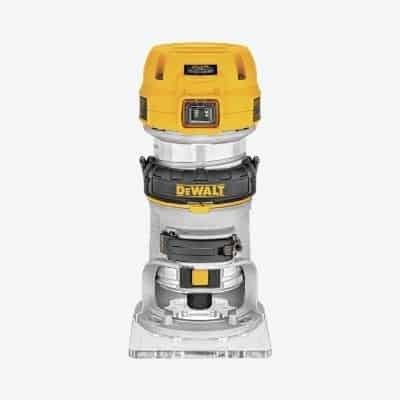 Key Specifications
1.25-HP Motor
¼-inch Bits
16-27,000 RPM
Dual LEDs
The DEWALT DWP611 combines durability and comfort in a compact design.
This router also comes with dual LEDs and a clear sub-base, which lets you see where the router bit is working while using it in handheld mode.
With a 1.25-HP motor and up to 27,000 RPM cutting speed, there's very little that the DWP611 can't do.
The two tabs on either side allow you to swap out bases easily when needed.
You can also remove the motor from the base and mount it onto your CNC machine to make signs and other beautiful pieces of art.
A clamp will keep the unit in place while machine's arm moves it back and forth in quick successions.
Pros
Variable speed control
Dual LED
Ergonomic design
Powerful motor for various applications
Cons
Could be slimmer for improved trimming
The DWP611 is a fantastic, super-versatile router that can handle the toughest jobs, both on the CNC machine and off.
Best Budget - DEWALT DWP611PK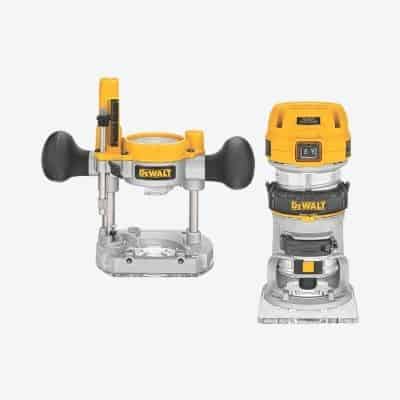 Key Specifications
1.25-HP Motor
¼-inch Bits
16-27,000 RPM
Soft-Starting Motor
The DEWALT DWP611PK is the most budget-friendly router for CNC machines you can get your hands on.
This tiny router sports a 1.25-HP motor that produces enough power to cut effortlessly through hardwood, plastic, and even thinner sheets of metal
. It also offers consistent cutting speed and performance, which is ideal for producing intricate shapes in wood.
This tool comes with a plunge base that helps dig the bit dead-center in the middle of workpieces.
There are also two handy LED work lights to keep your workstation adequately lit up. With a plung of up to two inches, free-handing grooves is hardly an issue.
Pros
Powerful motor
LED light
Quickly removable base
Variable speed control
Cons
Not ideal for elderly users
The DWP611PK features both a fixed base and a plunge base, making it suitable for any craftsman for edge trimming and jointing.
Bosch 1617EVS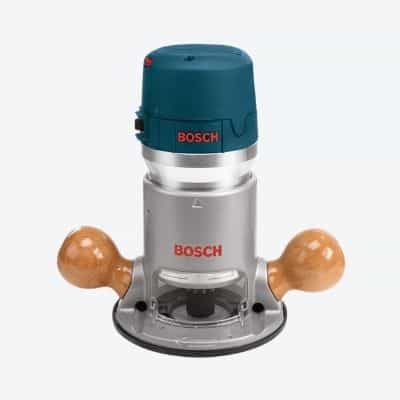 Key Specifications
1-HP Motor
¼-inch Bits
16-35,000 RPM
Can use 1-5/16-inch Bits
The Bosch PR20EVS uses a 1-HP motor and a quarter-inch bit, making it ideal for light-duty woodworking projects, though its 35,000-RPM max speed tells us otherwise.
This router works both as a handheld unit and as a mountable router for most CNC machines.
Attaching bits to the PR20EVS can be trickier than in most routers, and the power cord is quite short.
However, it's a masterful router when it comes to cutting grooves into softer materials, even aluminum.
Though underpowered relative to other routers on this list, this Bosch router can handle most precision-cutting jobs with ease.
Pros
Soft-start motor
Ergonomic design
Comes with two wrenches
12 variable speed option
Cons
Could dissipate heat better
Sadly, there's no plunge base, but you won't need one if you use it specifically for CNC engraving.
Triton TRA001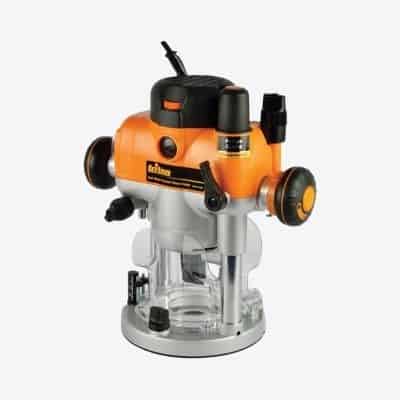 Key Specifications
3.25-HP Motor
¼ and ½-inch Collets
8-21,000 RPM
Convertible Plunge and Fixed-Base
The Triton TRA001 is one of the most powerful compact routers on the market.
The 3.25-HP delivers a relatively low cutting speed of just 21,000 RPM, but the torque behind each rotation is enough to cut through thicker sheets of aluminum.
This router comes with both plunge and fixed bases, so you can use it for nearly any application around your workshop.
To swap out different router bits, all you need is a wrench (included). A 3-stage turret with measurement scales ensure super-precise cuts with minimal room for error.
It's a comfortable tool to hold, but it works fantastically on router tables and CNC machines.
Learn what the TRA001 can do by watching this video. 
Pros
8,000 to 21,000 RPM
Automatic spindle lock
Side air vents
Single-button switches
Triton TRA001 promises extra safety on top of the precision and convenience of the high-powered motor.
PORTER-CABLE 892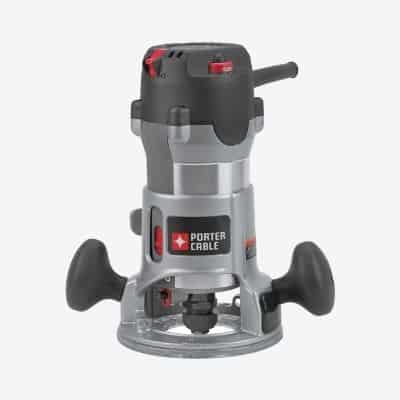 Key Specifications
2.25-HP Motor
¼ and ½-inch Collets
10-23,000 RPM
Overmolded Grips
The Porter-Cable 892 is a remarkable plunge router that's great for both free-handing cuts and mounting onto tables for more precise engraving.
As a CNC router, you'll appreciate the 2.25-HP motor and 23,000-RPM speed that this PC tool has to offer.
The soft-start feature ensures safety and precision by raising the speed of the router bit gradually.
With a spindle lock feature, the PC 892 lets you change between bits and collets with a single wrench.
The plastic, overmolded grips provide extra comfort in your palms, but you can take them off when mounting the router onto a table or CNC machine.
Pros
Overmolded grips
Spindle lock
10,000 to 23,000 RPM
Dual-position switch
We're hardly surprised why the PC 892 is a favorite among hardcore woodworkers. This reliable brand produces reliable router for all of your engraving needs.
Best Router for CNC Machine Buying Guide
Now that we know what router and spindle motor models are best for CNC machines, now it's time to determine which model is best for your machine at home.
Router Compatibility
CNC machines have router cages of specific sizes. This means you'll have to look at various router models to determine which will actually work for your CNC machine.
Spindle motors can be the safer option for CNC routing jobs, but they're not as versatile as handheld routers with multiple bases.
Bit Size
You should always pay attention to the bit size when purchasing a router for any purpose.
The collets and bit sizes will determine how much material is removed with every pass of the board or router. Smaller bits mean higher accuracy when engraving stagnant workpieces.
Speed
Speed is an important aspect since different materials require different operating speeds for the best results.
Carpenters can make use of high-speed routers, whereas metalworking requires lower speeds and higher torque.
Removable Bases and Cases
There are plenty of other routers that will work for CNC machines, provided that you remove the base and the motor case.
However, it ultimately depends on your CNC machine's setup—e.g., how large of a router/spindle it can accommodate.
FAQ's
Which router should I get for my CNC machine?
That depends on what size router your CNC machine can accommodate. Although the models above work extremely well at creating highly accurate designs, they might not fit your CNC machine correctly. Consider reaching out to your CNC machine's manufacturer before settling on a particular router model.
Do routers work on metal?
They can, but there are several other aspects you need to consider. The first of which is cutting speed. Engraving in metal requires lower RPM and higher torque, unlike wood engraving which can be done at a higher speed. All of the models listed above can work with metal, but you might have to purchase carbide bits separately. Luckily, we have a list of the best carbide router bits for you to look at.
Are CNC routers worth the investment?
They certainly are, especially if you need to engrave intricate designs that you wouldn't normally be able to produce with your hands. A CNC router will also let you cut perfectly square boards out of rough stock much faster than a table saw, at least by customer reports. They can have steep upfront costs, but it's an investment that pays in increased productivity and more beautiful designs.
How can I get started with a CNC router?
It all stems from your CNC machine. If you have a good machine and an excellent router, as well as a bit of technical know-how on how to make designs using Rhino3D, AutoCAD, SketchList3D, and countless other software, then transitioning from free-handing to CNC routing should be a breeze. Learning how to use a CNC router can take some time, but if you're serious about your craft, it's worth the trouble.
Summary
In today's guide, we've shown you what the best router for CNC machines is.
The Makita RT0701CX3 is arguably the best option you could get, and it works fantastically in the palm of your hand.
If you're unsure whether the Makita RT0701CX3 is right for you, or if you have any other queries, please feel free to drop a comment down below.