Pressed for time? Check our best picks
Powermatic 60HH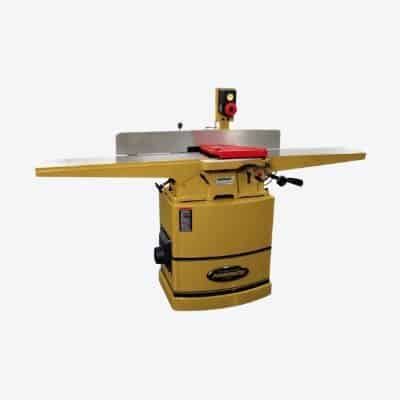 Long, sturdy worktables
Durable construction
Cuts up to half an inch per pass
Powermatic PJ-882HH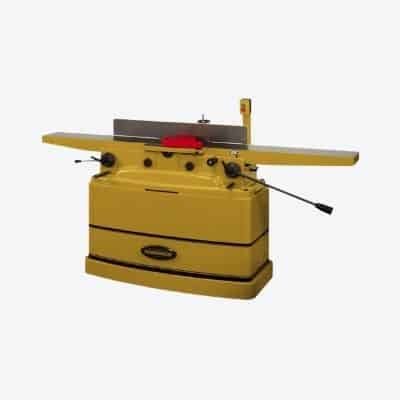 Long worksurface
Reliable performance
Offers plenty of room to grow
Wahuda Tools 50180CC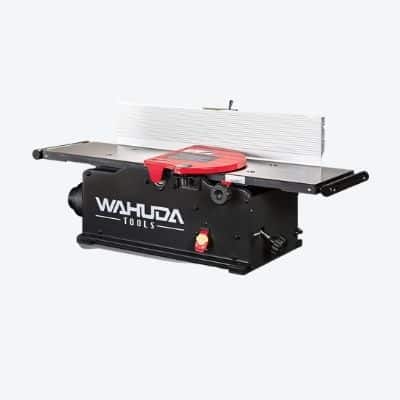 Compact 8-inch jointer
Uses carbide-tipped inserts
Decently quiet for a benchtop jointer
Our reviews are unbiased, fact-based, and comprehensively researched to help you make the right buying decisions.



Any woodworker will know of the importance of a jointer.
What they might not know is how to shop for the right model.
In today's guide, we're focusing specifically on 8-inch jointers, so we'll be showing you what the best 8-inch jointer is and how to shop for the most suitable model.
We've research over 20 models can compared them head-to-head to produce the most meaningful list for our readers.

Best 8-inch Jointer – Powermatic 60HH
Without a doubt, the best 8-inch jointer out of the 23 models we looked at individually is the Powermatic 60HH.
This dovetail jointer has all of the necessary hardware that a top-performing jointer should come with, such as a sturdy fence that tilts up to 135°, a high-powered motor, long infeed and outfeed tables, as well as a built-in dust collection port.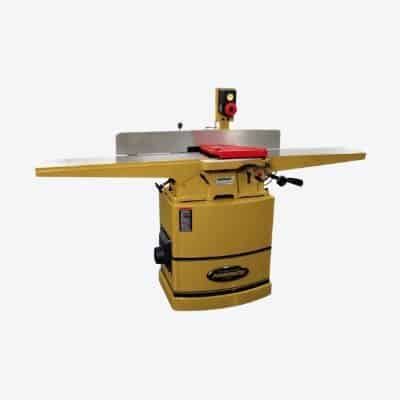 Here's what to 60HH's key specs look like in detail—
2-HP Motor
7,000 RPM
73-inch Infeed + Outfeed Tables
Helical Cutterhead
The Powermatic 60HH is a heavy-duty jointer that sits atop a 32-inch-tall, cast-iron stand.
The 8-inch-wide cutterhead is driven by a 2-HP motor that spins at a rate of up to 7,000 RPM. With 54-insert helical cutterhead, you can expect your 60HH to deliver up several more cuts per minute than most jointers while removing as much as half an inch of material per pass.
Standing perpendicular to the cast-iron worktable is a 38-inch-long steel fence with stops at 45°, 90°, and 135°.
With allows you to square corners of rough lumber at all kinds of angles in preparation for more complex furniture designs.
It's not particularly beginner-friendly, but when you get the hang of using it, you'll be able to square any board you pick up at the lumber yard.
Pros
Long, sturdy worktables
Durable construction
Cuts up to half an inch per pass
Powerful motor, high-speed performance
Cons
Could be easier to assemble
This jointer operates on a 230V power supply, so make sure your garage is fitted with the right outlet before picking this unit up.
Top 8-jointer in the Market Compared
Product Image
Product Name
Features
Price
Best Overall -Powermatic 60HH

Motor Size: 2 HP

Cutting Speed 21,000 CPM

Infeed+Outfeed Table Length 73 in

3-Knife or Helical Cutterhead

Check Today's Price

Best Premium -Powermatic PJ-882HH

Motor Size: 2 HP

Cutting Speed 7,000 RPM

Infeed+Outfeed Table Length 82 in

Parallelogram Jointer

Check Today's Price

Best Budget -Wahuda Tools 50180CC-WHD

Motor Size: 10A

Cutting Speed 12,000 RPM

Infeed+Outfeed Table Length 34 in

Built-In Table Extensions

Check Today's Price

Powermatic PJ882

Motor Size: 2 HP

Cutting Speed 21,000 CPM

Infeed+Outfeed Table Length 82 in

Power Switch Above Worktable

Check Today's Price

Jet JJ-8HH

Motor Size: 2 HP

Cutting Speed 22,000 CPM

Infeed+Outfeed Table Length 78 in

Helical Cutterhead

Check Today's Price
Reviews of Best 8-jointer
Best Premium - Powermatic PJ-882HH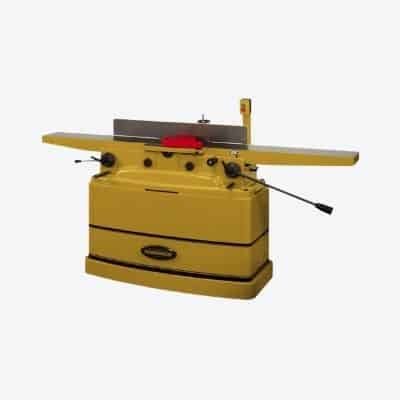 Key Specifications
2-HP Motor
7,000 CPM
82-inch Infeed + Outfeed Tables
Parallelogram Jointer
The Powermatic PJ-882HH is our top premium pick for several reasons. First, it's sporting a 2-HP motor that drives the 8-inch-wide helical cutterhead at speeds of up to 7,000 RPM.
Like the previous Powermatic, this one can remove half an inch of material per pass, allowing you prep lumber more efficiently in fewer passes.
This is a parallelogram jointer, meaning that you can adjust the heights of the infeed and outfeed tables easily by turning the dial for each table.
This ensure precise square for rough lumber while also giving you the capacity to make rabbet joints with this machine.
This machine also comes with a built-in dust extraction port and a steel fence with the same positive stops as the previous Powermatic.
Pros
Long worksurface
Reliable performance every time
Offers plenty of room to grow
Easy-to-adjust table heights
Cons
Could be easier to put together
You'll also need a 230V outlet to operate this machine, but it's worth the investment if you want to square hundreds of rough boards every day.
Best Budget - Wahuda Tools 50180CC-WHD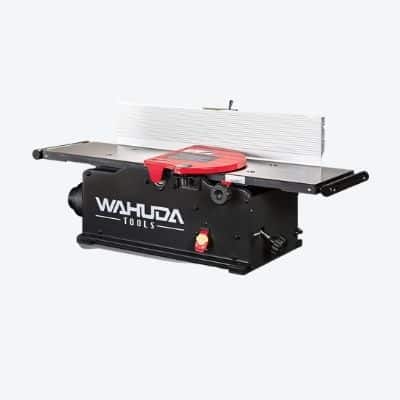 Key Specifications
10A Motor
12,000 RPM
34-inch Infeed + Outfeed Tables
Built-In Table Extensions
The Wahuda Tools 50180CC-WHD is the only benchtop 8-inch jointer on our list.
As such, it's also the most affordable, but you're sacrificing quite a lot in order to save space with this jointer. It sports a 10A motor that drives a spiral cutterhead fitted with carbide-tipped inserts.
Carbide is a lot more durable than HSS, so this machine can square several hundred more boards before the inserts begin dulling. At max, this machine removes 1/8 of an inch of material with every pass of a board.
The worktables measure 34 inches in length, but they have built-in extension that can accommodate up to 51-inch-long boards when you need it.
Although these extensions are quite handy, they might cause excessive snipe or uneven cutting on longer boards.
Pros
Compact 8-inch jointer
Uses carbide-tipped inserts
Decently quiet for a benchtop jointer
Lightweight and portable
Cons
The worktable extensions could be flatter
This is an excellent 8-inch jointer for beginners and those shopping on a budget.
Powermatic PJ882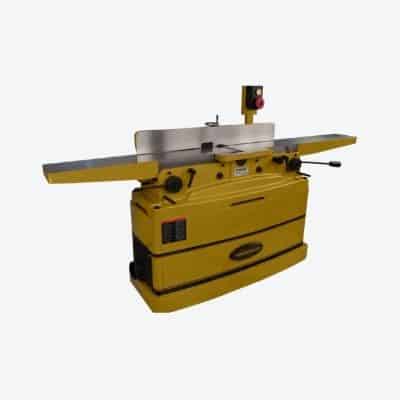 Key Specifications
2-HP Motor
21,000 CPM
82-inch Infeed + Outfeed Tables
Power Switch Above Worktable
In looks, the Powermatic PJ882 could easily be mistaken for the PJ882HH.
In fact, the primary difference between the Powermatics is that this one uses a standard, 3-knife cutterhead instead of a helical cutterhead.
As such, it can cut deliver up to 21,000 CPM at depths of half an inch at max. This is also a parallelogram jointer with easy-to-use height adjustment knobs for each worktable.
One neat feature found on all of the Powermatic models is the location of the power switch.
Instead of being tucked away under the table, the power and stop buttons can be found on above and behind the work fence, allowing you to quickly shut off the machine if things go awry.
Pros
Enhanced safety
High-speed squaring
Works on rough, seasoned lumber
Durable cast-iron bed and stand
Cons
Outfeed table could be flatter
Make sure you give the tables a quick look-see to identify whether there are any bows or dips in the surface. If so, contact Powermatic immediately for a replacement (excellent after-sales services).
Jet JJ-8HH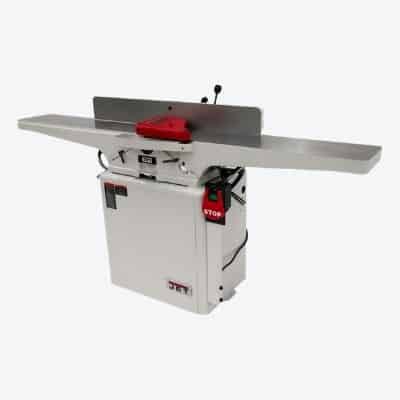 Key Specifications
2-HP Motor
22,000 CPM
78-inch Infeed + Outfeed Tables
Helical Cutterhead
Last up, we have the Jet JJ-8HH, one of the most popular 8-inch jointers to hit the market.
Sporting a powerful 2-HP motor, this Jet jointer delivers an astounding 22,000 CPM, thanks to the 5,500 RPM of the cutterhead with four steel inserts.
It comes with a 78-inch-long worksurface to accommodate larger rough boards for easier milling.
On either end of the tool, you'll find handwheels to adjust the infeed and outfeed table separately.
Turning them is a chore, but they lock into place for accurate shaving of up to half an inch in depth. You can reposition the paddle switch lower on the base for easier "kneeing."
Pros
Powerful machine
Movable control box
Extremely flat infeed and outfeed tables
High-speed cutting performance
Cons
Could be easier to adjust table height
Although turning the handwheels to get the tables at the right height can a chore, it's not a problem if you don't plan on adjusting the height very often.
Best 8-inch Jointer Buying Guide
In this guide, we'll quickly go over what a jointer is, why you might need an 8-inch model as opposed to, say, a 6-inch jointer, and who would benefit most from this kind of jointer.
What is a jointer?
Simply put, a jointer is a tool that squared the corners of a rectangular board by shaving off thin layers from the faces and sides.
By doing so, you can ensure that your workpieces can rest parallel to each other during assembly by slowly but surely removing warps, bends, and twists.
What is an 8-inch jointer?
Jointers can come in all shapes and sizes. One way we categorize jointers is by the width of the worktable or cutterhead.
As you can guess, an 8-inch jointer comes with an 8-inch cutterhead that will remove material evenly across boards of up to eight inches.
Now, opposed to a 6-inch jointer, not only are you getting an extra two inches of squaring width capacity, but you're also giving yourself more room to mill all kinds of boards.
When building furniture, you might want to assemble fewer boards together for a cleaner look, and by getting a wider jointer, you can achieve this. With a 6-inch jointer, you'll need to cut your lumber down to narrower strips.
Who would benefit from an 8-inch jointer?
Although the 2-inch difference might not seem like much, there is a huge gap in price between 6 and 8-inch jointers.
So, if you're serious about woodworking or if you want the best tools the market can offer, you should consider getting an 8-inch jointer for your workshop.
However, you certainly could make do with a 6-inch jointer (we have a guide on the best 6-inch jointer for you to look at).
Important Specs and Features
Motor Size
First of all, you should always pay close attention to the size of the motor packed into the jointer. An 8-inch jointer should sport a larger motor of at least 10A to ensure clean cuts with every pass.
However, when it comes to jointers, larger is always better, and not just in terms of its motor's rating.
Cuts per Minute
You can calculate that CPM rating by looking at the cutterhead's RPM and multiply it by how many knives or inserts fit into the cutterhead.
Those that contain a higher number of knives and inserts will deliver more cuts, producing more pronounced squared edges, and can even help in reducing the thickness of the board somewhat.
Worktable Length
Take a good look at the infeed and outfeed lengths. The longer they are, the more versatile the jointer is since it will accommodate longer pieces of rough lumber.
Benchtop models like the Wahuda Tools 50180CC-WHD can come with extensions, but they usually don't sit flat with the main infeed and outfeed tables.
FAQ's
1. Should I get an 8-inch jointer or a 6-inch jointer?
That's ultimately your decision to make, but we will say this: 8-inch jointers are lot more heavy-duty and versatile. They'll let you pass thicker, wider boards over the cutterhead to produce uniformly flat surfaces on every face and side. Plus, they'll come in handy when you pick up rough lumber from your local lumber yard without much sawing and prepping.
2. Can a jointer reduce a workpiece's thickness?
Not exactly. There's an entirely separate tool you can use for that called a planer or a thicknesser. Jointers are used primarily to square the edges of a board before passing it under the knives of a thicknesser. However, if you had to choose between one or the other, we highly recommend that you get a jointer first and a thicknesser second.
3. Are jointers safe?
They can be as long as you take all of the necessary precautions—e.g., wearing the right PPE, placing the jointer in the right spot with plenty of clearance on both sides and behind the tool. Although jointers are one of the safer woodworking tools in terms of how few accidents are jointer-related, you should still read the instruction manual from front to back to ensure that you're doing everything right.
4. Are Powermatic jointers worth the cost?
We'll level with you. Powermatic jointers are costlier than other brands, but they're also incredibly powerful, durable, and reliable. That said, you can certainly opt for a less expensive option like the Wahuda or Jet, but if you can swing it, you'll realize that the investment in a Powermatic machine is worth every penny, especially for more serious woodworkers.
Summary
In today's guide, we've provided you with a list of the best 8-inch jointers that the market has to offer.
Our best overall pick is the Powermatic 60HH, but we've included four other options that might pique your interest.
If you're unsure which 8-inch jointer is right for your workshop, we'd be happy to clear things up for you in the comments section.