Pressed for time? Check our best picks
WEN 4208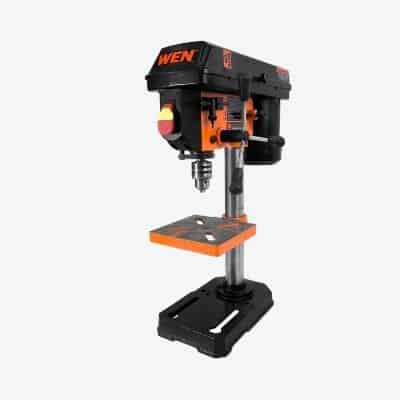 High torque
Compact unit
High-quality construction
JET JDP-20MF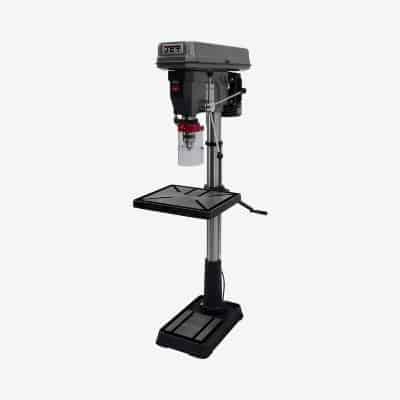 Excellent drilling capacity
Simple height adjustments
Flexible work table
Milescraft 1318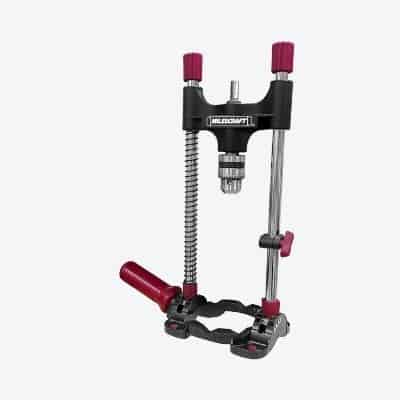 Easy to set up
Accurate depth gauge
Durable construction
Our reviews are unbiased, fact-based, and comprehensively researched to help you make the right buying decisions.



Imagine drilling 100 holes across eight feet of particleboard where every hole is an identical depth.
With a power drill, this sounds impossible, but the precision drilling of a drill press doesn't just make it easy but does it in less time.
Today, we're showing you what the best drill press is out of more than 45 models we analyzed. We're sure that any item on this list will suit your drilling needs beautifully.

Best Drill Press – WEN 4208
The best drill press is the one that has left the most buyers thoroughly satisfied with their purchase.
The WEN 4208 is a 5-speed machine that's extremely user-friendly and pocket-friendly. This benchtop drill press would make for a lovely addition to any woodworking or metalworking shop.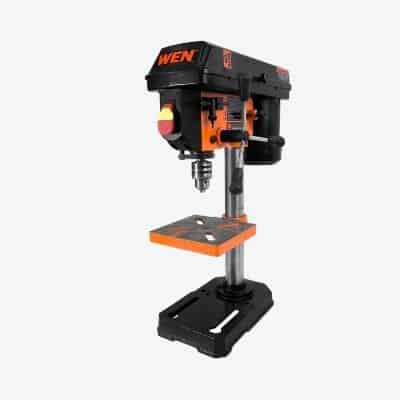 Here's what the WEN 4208's key specifications look like—
1/3-HP Motor
½-inch Keyed Chuck
8-inch Swing
Onboard Key Storage
One of the first things people notice about the 4208 is its 1/3-HP motor, which is rather small even by benchtop drill press standards.
However, there's plenty of power and speed to bore 4-inch holes in wood. The ½-inch chuck should give you an inkling of how much wood-drilling power is behind this benchtop drill press.
This incredible tool offers a decent 8-inch swing, making it ideal for all sorts of woodworking drilling jobs.
The wide variance between drilling speeds (740 to 3,140 RPM) allows you to work with all kinds of materials, including sheet metal.
If you're curious to see what the WEN 4208 is about, this video should put you at ease. 
Pros
High torque for woodworking
Compact unit, easy to mount
High-quality construction
Variable speeds for drilling metal, wood, plastic
The WEN 4208 is a woodworker's best friend. It provides plenty of power to punch hundreds of holes into thick stock in no time.
Top drill press in the Market Compared
Product Image
Product Name
Features
Price
Best Overall -WEN 4208

Motor Size: 1/3 hp

Chuck 1/2 in keyed

Swing 1/2 in keyed

8 in

Check Today's Price

Best Premium -JET JDP-20MF

Motor Size: 1.5 hp

Chuck 3/4 in keyed

Swing 3/4 in keyed

20 in

Check Today's Price

Best Budget -Milescraft 1318

Motor Size: Portable Drill Press

Chuck 3/8 in keyed

Swing 3/8 in keyed

45° Angle Cuts

Check Today's Price

best drill press under 300 -WEN 4214

Motor Size: 2/3 hp

Chuck 5/8 in keyed

Swing 5/8 in keyed

12 in

Check Today's Price

best drill press under 1000 -JET J-2530

Motor Size: 3/4 hp

Chuck 5/8 in keyed

Swing 5/8 in keyed

15 in

Check Today's Price

best drill press for jewelers -SE 97511MDP

Motor Size: 5000/6500/8000 RPM

Chuck 1/4 in keyed

Swing 1/4 in keyed

6 9/16 x 6 9/16 in

Check Today's Price

WEN 4210

Motor Size: 3/4 hp

Chuck 1/2 in keyed

Swing 1/2 in keyed

10 in

Check Today's Price

SKIL 3320-01

Motor Size: 3.2 amp

Chuck 1/2 in keyed

Swing 1/2 in keyed

10 in

Check Today's Price

Shop Fox W1848

Motor Size: 3/4 hp

Chuck 5/8 in keyed

Swing 5/8 in keyed

13 1/4 in

Check Today's Price

Shop Fox W1668

Motor Size: 3/4 hp

Chuck 5/8 in keyed

Swing 5/8 in keyed

13 1/4 in

Check Today's Price
Reviews of Best drill press
Best Premium - JET JDP-20MF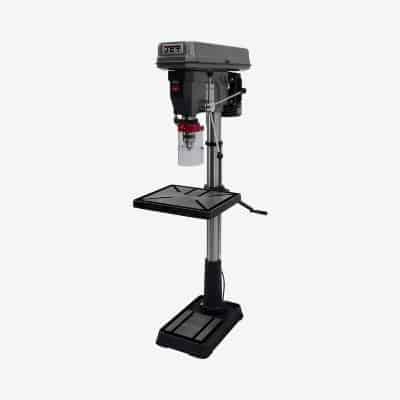 Key Specifications
1.5-HP Motor
¾-inch Keyed Chuck
20-inch Swing
12 Drilling Speeds
The JET JDP-20MF is one of the more impressive floor drill presses on this list.
It sports a massive 1.5-HP motor that offers 12 different spindle speeds, ranging from 150 to 4,200 RPM, and a thick chuck to support drill bits of nearly any size.
Thanks to the super-low minimum drill speed, the JDP-20MF can drill effortlessly through hardened steel with minimal burring.
A three-nut lock system allows you to adjust the drill depth quickly. It has a maximum travel distance of 4-5/8 inches, and the table can bevel up to 45 degrees in either direction.
The drive belt chart needs to be fixed. According to the charge, setting it to low gear will actually put it on high-speed drilling for wood.
This video will show you what the JDP-20MF can do. 
Pros
Excellent drilling capacity
Simple height adjustments
Flexible work table
Usable on wood, metal, and plastic
Cons
Chart instructions could be fixed
If you've ever used a drill press before, then the Jet JDP-20MF's chart mix-up shouldn't be too much of an issue.
Best Budget - Milescraft 1318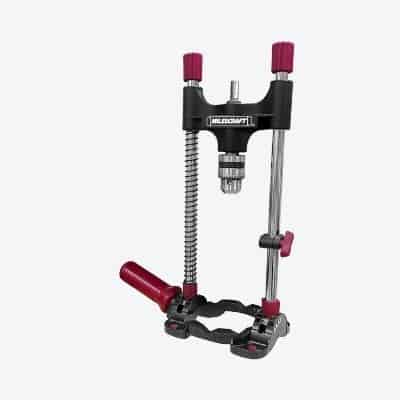 Key Specifications
Portable Drill Press
3/8-inch Keyed Chuck
45° Angle Bevels
Compactible with 3/8 to 1/2-inch Drills
Perhaps the most fascinating product on this list isn't an actual drill press but rather a drill base stand. The Milescraft 1318 Drillmate Drill Guide is the perfect tool for shoppers on a budget.
This tool can perform a wide range of different drilling jobs, including boring at angles of up to 45 degrees. You simply fasten your power drill's collar around the upward facing shank.
This then drives the 3/8-inch chuck to saw through all kinds of materials at constant depths every time.
This drill guide is metal through and through. The base, the angle adjuster lever, and the adjustable depth stop are made of durable hardened steel to ensure several years of loyal drilling at a low, low cost.
Pros
Easy to set up
Accurate depth gauge
Durable construction
45 to 90° drilling
You can even mount this Drill Guide onto a workbench, making it more of a benchtop drill press than any other model.
WEN 4210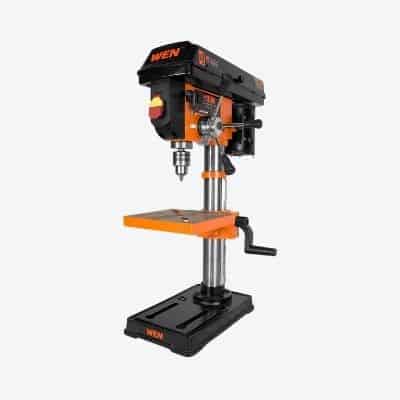 Key Specifications
¾-HP Motor
½-inch Keyed Chuck
10-inch Swing
Precision Laser
The 4210 keeps up with typical WEN fashion by being as affordable as it is reliable.
This heavy-duty benchtop drill press sports a ¾-HP motor that drives bits of up to half an inch thick through 3-inch-thick stock.
With five speed settings, the bit spins at a rate of between 600 and 3100 RPM, allowing you to cut through wood, metal, and plastic quickly and effortlessly.
The 4210 maintains perfect balance even when working at its highest speed, so there's very little risk of mis-drilling.
There's even a helpful crosshair-style laser that gives users a pretty good idea of where the bit will penetrate the stock.
If you want to see what the WEN 4210 can do, take a look at this video.
Pros
Worktable bevels to 45°
Accurate laser crosshair
Stead base
Low and high-speed drilling
Cons
Could have lower min speed for better metal-drilling
The WEN 4210 is a woodworker's dream. The wide base and massive, adjustable worktable accommodate stock of most shapes and sizes.
SKIL 3320-01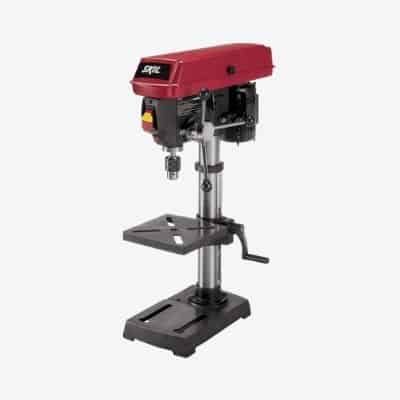 Key Specifications
3.2-amp Motor
½-inch Keyed Chuck
10-inch Swing
Laser X2
The SKIL 3320-01 is a fan-favorite for numerous reasons. It has a speed range of between 570 and 3050 RPM, making it a great multipurpose tool for any job.
The 3.2-amp motor produces a ton of torque to bore deep holes into bars or sheets of metal with minimal burring.
The straightforward language in the instruction manual will help first-time buyers immediately get the hang of using a drill press.
A half-inch chuck ensures that this tool can repeatedly drill deep holes into any stock material on its worktable.
The wideness of the worktable provides enough support to cut directly in the middle of 10-inch stock. The handy X2 laser beam will show exactly where the tip of the bit will penetrate your stock, completely eliminating any guesswork.
Pros
Straightforward tool
Durable table, lots of support
Easy-to-adjust depth stop
Great for metal, wood, and plastic
Cons
Laser could be more power-efficient
The ease of use and accurate drilling depths of the SKIL 3320-01 make it a must-have for woodworkers and metalworkers everywhere.
Shop Fox W1848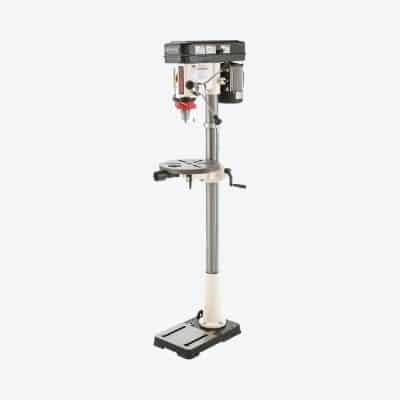 Key Specifications
¾-HP Motor
5/8-inch Keyed Chuck
13.25-inch Swing
Spindle Sander
The Shop Fox presents the W1848, a floor version of the oscillating drill press that does the sanding operation for smoother results.
It goes on a 12-speed range (from 250 to 3050 RPM) which you could always decide anytime. Don't forget about its 90-degrees tilting table for a more flexible and precise working process.
The W1848's swing size lets you bore a hole through 13-inch materials, and its ⅝-inch keyed chuck is powerful enough for wider materials as well.
Coming through in a 3/4 HP motor power, this drill press is definitely your hardworking buddy until the end of time. Within a matter of seconds, you'll have any work done—tool-free and super easy.
Pros
12-speed range
90-degrees tilting table
Perfect for heavy-duty drilling
Oscillating spindle for efficiency
Cons
Instructions could be clearer
Referring to their great success in developing the other two drill presses, the W148 is a reasonably great option if you've been looking for a working oscillating drill press.
Shop Fox W1668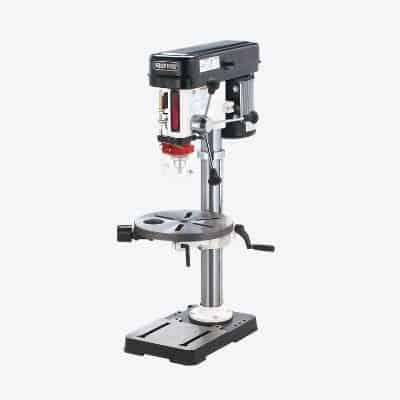 Key Specifications
¾-HP Motor
5/8-inch Keyed Chuck
13.25-inch Swing
Spindle Sander
The Shop Fox W1668 is the benchtop version of the W1848. It features a 3/4 power motor, 5/8″ chuck, and 12 different speed (RPM) settings from 250, which is good for hard material like metal until 3050 rpm, which is good for piercing material like wood.
You will be able to adjust it to whatever material you're currently working on.
You can use it easily because this is a compact unit, its size is 23 x 14 x 38 inches. Also, you can tilt the table to a 90-degree angle in both the left and right direction.
Want to see what the W1668 can do? Check this video out.
Pros
Tilting table
Sanding capability
Has several speed options
Powerful for many drilling purposes
Cons
Could come with mortising attachment
Even though it's a small benchtop model, it's good to use as long as you don't go too heavy. Perfect for general home use because of its size, capabilities, and affordable price.
Gino Development 01-0822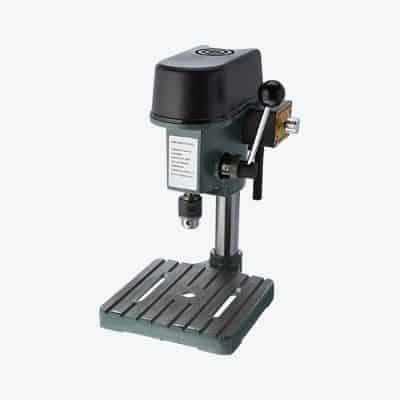 Key Specifications
1/8-HP Motor
¼-inch Keyed
6.75 x 6.75-inch Worktable
8500 Max RPM
The Gino Development 01-0822 is a benchtop drill press with variable speed selections, from 0 to 5000, 0 to 6500, and 0 to 8500 RPM.
It has a permanent magnet 1/8-HP motor and accommodates drills ranging from 0.79 to 6 mm in diameter.
Its ¼-inch keyed chuck and 6.75-squared work surface make great for all sorts of small-scale drilling jobs on any material.
This unit's main shaft is supported by precision bearing make it easier to handle and adjust. It also comes with a smooth cast iron base and produces a lot less noise than other small drill presses.
Pros
Great precision
Robust and compact
Easy to adjust speed
Good torque in low revolutions
Cons
Could provide more drilling power
This benchtop drill is a great choice for tackling various small projects like jewelry making and shallow drilling in wooden slabs.
Powermatic PM701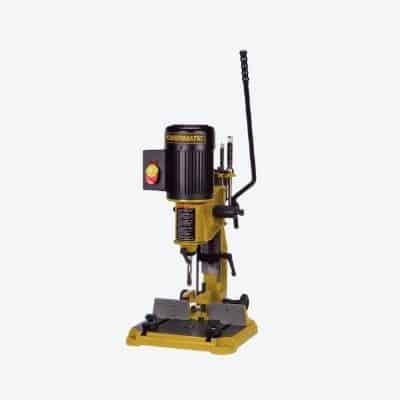 Key Specifications
¾-HP Motor
½-inch Keyed Chuck
13-inch Swing
Quick-Action Cam Lock
The Powermatic PM701 is a 13-inch benchtop mortiser for woodworking with a ¾-HP motor that runs at 1725 RPM.
With its quick-action CAM lock, you can quickly lock the fence with a single 90-degree movement. It also comes with a ½-inch keyed chuck with a large, hinged chuck door that allows easy access.
This mortiser also comes with a heavy-duty versatile handle that can be changed to different sides without additional tools.
Its double-lock system provides more security and stability while working at higher speeds. There's also a lot less shadowing thanks to the LED work lights.
Pros
Versatile
Easy to use
Sturdy material
Adjustable fence
This benchtop mortiser is an ample choice for woodworking. Its quick-action CAM lock makes it easy to lock the fence, while its versatility makes it useful to use with a wide range of wood thicknesses.
Best drill press under 300 - WEN 4214

If you're shopping on a super-tight budget, then the WEN 4214 is the best inexpensive drill press for your workbench.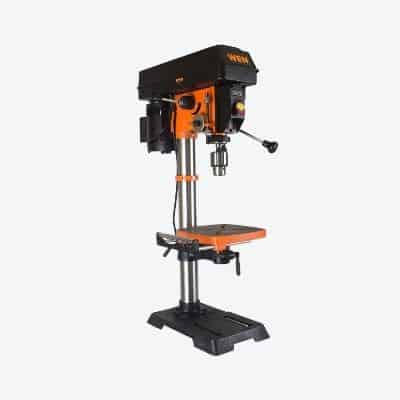 Here's what the WEN 4214 is all about—
2/3-HP Motor
5/8-inch Keyed Chuck
12-inch Swing
Precision Laser
The 4214 is a 12-inch benchtop equipped with a ⅝-inch keyed chuck.
Its 2/3-HP produces the perfect amount of torque you need to drill through wider and thicker materials as this time, WEN has decided to install a 3-⅛-inch spindle to it.
The 4214 also comes with the laser system and depth adjustment gauge for God-like precision. Its newest and most exclusive feature is the table roller extension to fully support you finish every project your way.
The 4212 also has a built-in working light which improves your working quality even more.
This video will show you what the WEN 4214 can do. 
Pros
Built-in working light
Table roller extension
Depth adjustment gauge
Laser system for precision
If you're one of those woodworkers who always have large jobs on their plate, investing your money for a WEN 4214 will pay off.
Best drill press under 1000 - JET J-2530

For those with a $1,000 budget and want to get the best drill press for their money, the JET J-2530 is your best option.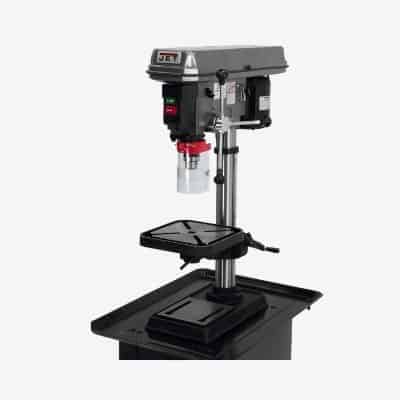 These are the J-2530's key specifications—
¾-HP Motor
5/8-inch Keyed Chuck
15-inch Swing
115V and 230V Compatible
The JET J-2530 is a 15-inch benchtop drill press with a powerful ¾-HP double-ball bearing motor.
It has a great variation of 16 speeds from 200 to 3630 RPM, making it suitable for various materials from wood to metal.
It drills powerfully with a 5/8 keyed chuck, and its spindle spins on permanently lubricated ball bearings.
Its 10 x 10-inch table can be easily raised, and it can also rotate fully and locked in place for convenient use. The speed adjustment is also quick and easy with the belts.
It also comes with a built-in bulb holder and a magnetic work light for enhanced visibility.
Pros
Beefy power
No vibration regardless of speed
Easy to assemble
No runout
Cons
Could be easier to turn on and off
With a powerful motor and stable performance, this unit is a woodworker's best friend. It can be easily used for various materials and needs.
Best drill press for jewelers - SE 97511MDP

For the jewelers who need extra-precise drilling from a smaller drill press, the SE 97511MDP is the tool for you.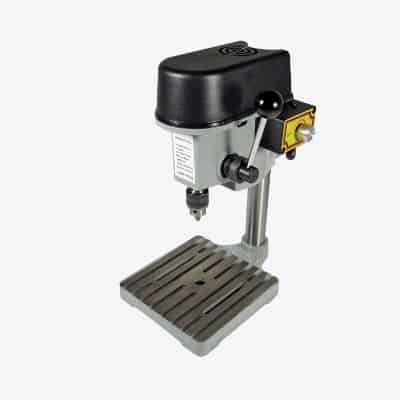 These are the 97511MDP's main features—
5000/6500/8000 RPM
¼-inch Keyed Chuck
6-9/16 x 6-9/16-inch Work Surface
1-inch Spindle Travel
The 97511MDP is a mini-benchtop drill press that offers 6-9/12 square inches of work surface.
With three different adjustable motor speeds ranging from 5000 RPM to 8500 RPM, this mini drill press provides more precise drilling results on tinier objects.
The delicate chuck and high minimum speed make this an inadequate tool for drilling through metal sheets.
The 97511MDP can be equipped with an up to ¼-inch keyed chuck, making it perfect for any precision drilling projects.
With an approximate 1-inch vertical drill travel, this drill press is your best choice for drilling electrical board circuits as well as making fine jewelry.
Pros
Dismissive vibration
Have a depth stop function
Three different speed options
Lightweight and compact design
Cons
Could deliver more torque
For what it can do, the SE 9751MDP is the best option for super-fine projects where extreme drill depth accuracy matters most.
What Are Precision Drill Presses?
Precision drill presses are generally smaller drill presses that allow you to fine-tune the depth stop for the most delicate projects.
If you need a drill press for jewelry or electrical work, then this a precision drill press is the tool you need.
This type of drill press differs from floor and benchtop models in terms of size and drilling capacity.
Precision drills can be used to drill through all types of materials (wood, soft metals, plastic), but some models come with spindle sanders and mortising attachments for more specific drilling tasks.
Looking for reviews on various models, check out our Drill Press Detailed Reviews>
FAQ's
Here, we'll answers the most frequently asked questions people have about drill presses.
Are WEN drill presses any good?
Yes, they are. Many first-time buyers may have an aversion to WEN and other Chinese-made products, but believe us—WEN is one of the most reliable manufacturers of affordable power tools you can find. However, they don't come with premium-grade features, but at their price category, you'll have a difficult time finding a more reliable machine.
Should I get a floor or benchtop drill press?
Choosing between floor and benchtop drill presses rely on two variables: your budget and how much floorspace you have in your shop. Generally speaking, floor drill presses are the costlier option, and they require lots of clearance space to set up. Benchtop models have shorter swing distances and smaller tables but do not take up any floorspace. This list contains both options, so if you need one or the other, you'll undoubtedly find the best drill press for your needs above.
What is a drill press used for?
Many first-time shoppers might ask themselves why they'd need a drill press when a power drill will do. Though this is true for many situations, if you need to make repeated cuts across hundreds of boards or sheets of metal at identical depths, doing so with a power drill is ineffective and inefficient. A drill press' depth stops make it perfect for reproducing identical cuts on countless workpieces. If you value productivity over cost-efficiency, you'll get a drill press.
What else can drill presses do?
It depends on what sort of addon features the manufacturer has included. For instance, the Shop Fox 1848 and 1668 can double as spindle sanders to remove splinters and jagged edges from plastic, wood, and metal, as well as help shape your stock to produce decorative pieces. However, most models are made just to bore holes into all sorts of materials.
Summary
In this guide, we've told you what the best drill press of all time is—the inexpensive, ultra-reliable WEN 4208—as well as provided several high-quality alternatives for specific jobs.
After researching over 55 different models, we're sure that this list will contain exactly what you're looking for.
If not, we'd love to lend you our assistance in the comment section.