Pressed for time? Check our best picks
Makita RT0701CX7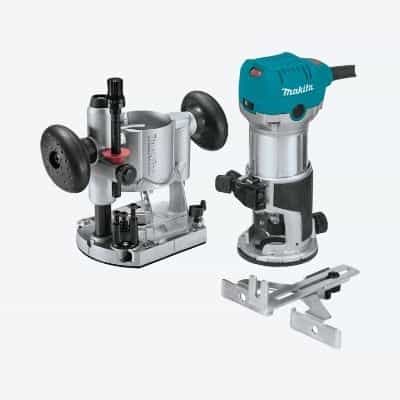 Variable power speed
Great for light work
Convenient depth adjustment
DEWALT DW618B3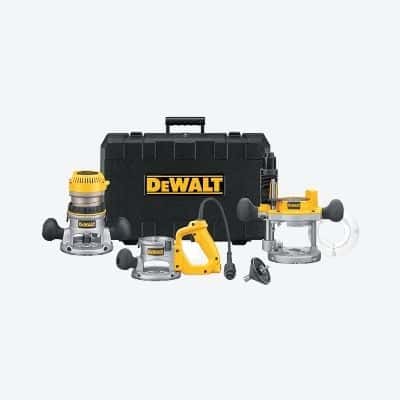 Ease of operation
Built-in dust control 
Motor-pack removal with speed control
Hitachi HPT KM12VC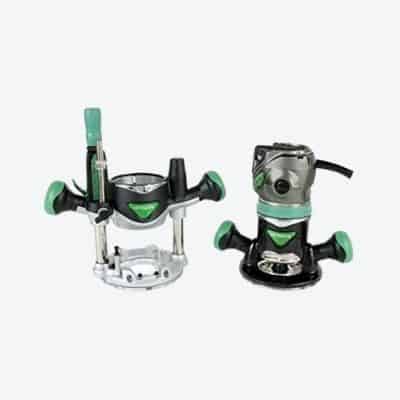 Powerful motor
Produce precise, controlled cuts
Quiet operation
Our reviews are unbiased, fact-based, and comprehensively researched to help you make the right buying decisions.



If you're looking for a new router for your growing workshop, you don't have to spend a ton of money of a high-quality product.
That said, from the sea of budget-friendly routers, only a select few actually perform similarly or identically to mid-range to high-end models.
In this guide, we'll show you the best wood router under $200 that outperforms over 25 of its peers.

Best Wood Router Under $200 – Makita RT0701CX7
If you want the best of the best wood router under $200, or the one that outclasses 47 other models, then the Makita RT0701CX7 is your safest bet.
This router is extremely user-friendly while also offering a ton of cutting power to dig groovers into hardwood.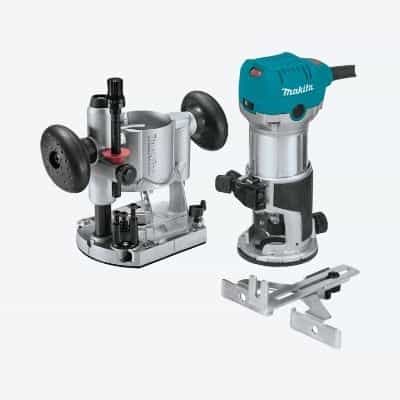 Here's a quick look at the RT0701CX7's key specifications—
1.25-HP Motor
¼-inch Collet
10-30,000 RPM
Shaft Lock
The ergonomic and compact design of Makita RT0701CX7 makes it easier to hold and handle when working with intricate designs. This router works well with both plunge and fixed base. With the fixed base, you can complete any light woodworking job with ease.
The powerful motor is made of heavy-duty aluminum for more extended durability. It also comes with an adjustable speed control dial with a power range from 10,000 to 30,000 RPM. With this feature, you can adjust the speed according to the material you are working on.
Pros
Variable power speed
Great for light work
Convenient depth adjustment
Ergonomic and lightweight design
Cons
The router gets hot easily
Even if you never any router, the user-friendly design of the RT0701CX7 helps you work with any light project precisely and comfortably.
Top Wood Router under 200 in the Market Compared
Product Image

Product Name

Features

Price



Best Overall - Makita RT0701CX7


Motor Size: 1.25 HP

Bit Size: 1/4 in

Speed: 10-30,000 RPM

Shaft Lock




Check Today's Price





Best Premium - DEWALT DW618B3


Motor Size: 2.25 HP

Bit Size: 1/4 & 1/2 in

Speed: 8-24,000 RPM

Integrated Dust Control




Check Today's Price





Hitachi HPT KM12VC


Motor Size: 2.25 HP

Bit Size: 1/4 & 1/2 in

Speed: 8-24,000 RPM

Fixed/Plunge Base




Check Today's Price





Bosch 1617EVSPK


Motor Size: 2.25 HP

Bit Size: 1/4 & 1/2 in

Speed: 8-25,000 RPM

Constant Response Circuitry




Check Today's Price





DEWALT DWP611PK


Motor Size: 1.25 HP

Bit Size: 1/4 in

Speed: 16-27,000 RPM

Soft-Starting Motor




Check Today's Price





Bosch PR20EVSNK


Motor Size: 1 HP

Bit Size: 1/4 in

Speed: 16-35,000 RPM

Constant Response Circuitry




Check Today's Price





Black & Decker RP250


Motor Size: 10A

Bit Size: 1/4 in

Speed: 8-27,000 RPM

Plunge Base




Check Today's Price



Reviews of Best Wood Router under 200
Best Premium - DEWALT DW618B3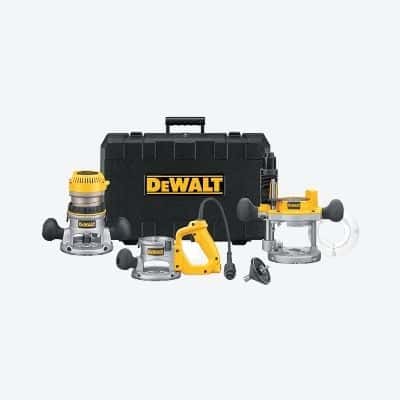 Key Specifications
2.25-HP Motor
1/4 & ½-inch Collets
8-24,000 RPM
Integrated Dust Control
The DEWALT DW618B3 comes with three bases that can handle various woodworking jobs, making it versatile and professional standard. The 2-1/4HP engine provides ample power to work on the hardest hardwoods smoothly.
With the variable speed ranging from 8,000 to 24,000 RPM, you can adjust the constant speed that fits your applications. This unit also comes with a micro-fine depth adjustment system, helping you preserve consistency during operation and minimize the difficulty of turning on and off the router.
Pros
Ease of operation
Built-in dust control
Easy motor-pack removal
Variable speed control
This router has made it easier to make repeated plunge cuts since the plunge base comes with a five-position stop used when such jobs are being completed.
Hitachi HPT KM12VC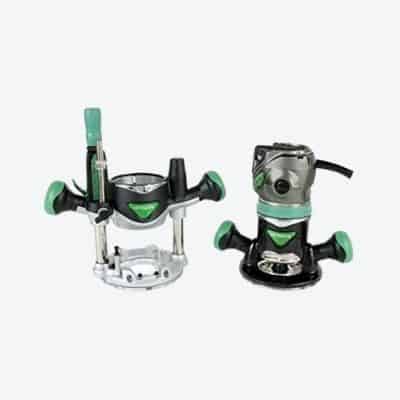 Key Specifications
2.25-HP Motor
1/4 & ½-inch Collets
8-24,000 RPM
Fixed/Plunge Base
The Hitachi HPT KM12VC is packed in a unique design that is practical and definitely not disappointing. It's perfect for window and groove cutting, trimming, and cutting patterns. Its fixed base is relatively light and easy to move from one workstation to another.
It's ergonomically designed with rounded handles on each side, making every long and tedious design work more manageable. This router is powered by an 11 AMP motor and has two speeds with speed control to maintain constant RPM. It's also less noisy compared to most of the other routers in its class.
Pros
Powerful motor
Produce precise, controlled cuts
Quiet operation
Plunge base for accurate deep control
Cons
Power cord could be longer
This Hitachi router is also packed with useful accessories. If you use this tool attached to a router table, many troubles such as sticking plunge base or switch position will be irrelevant.
Bosch 1617EVSPK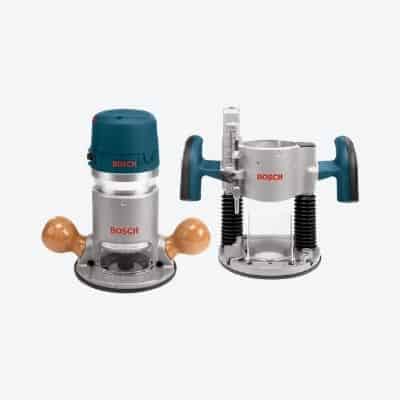 Key Specifications
2.25-HP Motor
1/4 & ½-inch Collets
8-25,000 RPM
Constant Response Circuitry
The Bosch 1617EVSPK comes with a fixed base to help you adjust the bit height without hassle. It is a router with variable speed control and a soft-start motor that keeps a constant speed during operation. This 2-1/4HP router provides enough power to undertake any heavy-duty project.
Given the router's compact design, you don't need to worry about not having enough space in your workshop. This router is also built for long-term use, and this can be related to its durable aluminum construction.
Pros
Precise plunge and fixed cuts
Ergonomic design for better stability
Powerful, soft-start, variable-speed motor
Suitable for heavy-duty projects
Cons
Could come with more collets
This router's fixed and plunge base has quick clamping and precision centering that makes it more manageable to hold the bit on the planned shape while using guidance tools.
DEWALT DWP611PK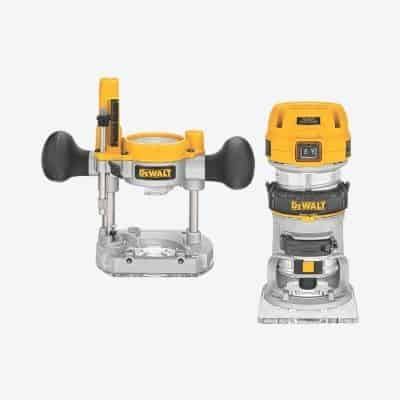 Key Specifications
1.25-HP Motor
¼-inch Collet
16-27,000 RPM
Soft-Starting Motor
The DEWALT DWP611PK is a highly versatile router since it is packed with a fixed and plunge base. It's powered by a 1.25HP motor, which may not impress every craftsman, but can get most woodworking projects done.
DEWALT has also incorporated the soft start tech with this router to minimize the torque when the unit is started. This feature could be very appealing for you if you want to invest less in motor replacement. When it comes to speed control, you can switch the speed dial between six different stages.
Pros
Soft-start motor
Ergonomic grips
Compact design for easy transport
Dual LED lights for better visibility
Cons
Could come with side handles
The router's adjustment mechanism may be a bit odd at first, but once you get used to it, every woodworking project you have can be done with no hassle.
Bosch PR20EVSNK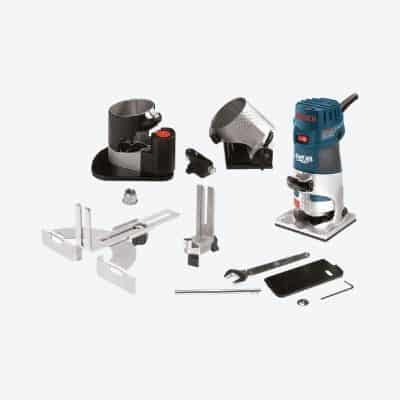 Key Specifications
1-HP Motor
¼-inch Collet
16-35,000 RPM
Constant Response Circuitry
The Bosch PR20EVSNK is a router that will make your operation easy and comfortable. It has ¼-inch bits with a 1-5/16-inch diameter to provide you sufficient work versatility. It's powered by a 5.7 AMP motor, powerful enough for any project, and more convenient to use than larger units.
Bosch has also attached a constant response circuitry to this router, which helps you maintain speed during a continuous performance and overload protection. While you can keep operating with constant speed, you can also comfortably focus on controlling the router. This will result in a clean and burn-free cut.
Pros
Compact but powerful motor
Packed with three bases
Comes with useful accessories
Depth adjustment system for precise results
Cons
Could overheat less frequently
This router features a speed dial on the top of the frame. You may consider it a plus point since the motor housing comes with a rubberized hand-shaped grip that enables one-handed operation.
Black & Decker RP250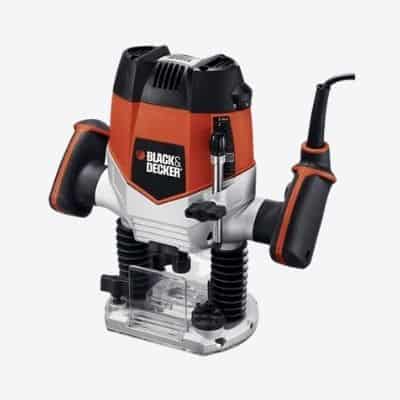 Key Specifications
10A Motor
¼-inch Collet
8-27,000 RPM
Plunge Base
The Black & Decker RP250 comes with a slow start feature for better control and produces more accurate results. It generates up to 10 AMP power, making it robust and able to deliver 8,000 to 27,000 RPM. Its plunge base makes it great for a wide range of woodworking tasks.
The router feature three turrets that are relatively easy to set up, which makes it great for when you need to do repetitive cuts. This unit is ideal for non-professionals because it isn't overloaded with additional features and is compact at just 9.9 pounds, making it easy to move.
Pros
Easy bit changes
Suitable for non-professional
Produces accurate cuts
Variable speed for different applications
The router is packed with a controlled chip cover, and the lock-on feature on its button switch guarantees your safety and comfort.
Best Wood Router Under $200 Buying Guide
As you can see, many of these under-$200 routers share very similar features. However, if you're looking for the best possible wood router for your workshop, you should look for the following features.
Must-Have Features
Fixed Base
A fixed-base router will let you handle basic trimming and precision work without adding depth to the cut. This is a must-have feature for woodworking beginners.
At least 1 HP
If you can swing it, you should try and get the most powerful router that your budget allows. However, you can make a lower-HP router work by taking frequent breaks.
Speed
You don't need a super-high-speed router, but a if you get a ¼-inch router, you'll need it to cut at least 10,000 RPM. Larger bits generally work best at between 8,000 and 10,000 RPM.
Nice-to-Have Features
Plunge Base
A plunge base will allow you to perform plunge cuts—i.e., starting the cut in the middle of a board. This will let you create more intricate pieces without precutting.
Variable Speed
All of the models mentioned above come with variable speed control, so you can cut as quickly or as slowly as your material requires.
Soft-Start
This will add safety to your router. Starting slowly then gradually cranking the cutting speed will give you full-control over the cutting speed and how much material to remove.
Versatility-Adding Features
Interchangeable Bases
You can enjoy the best of both fixed and plunge worlds if your router lets you swap between bases at any time.
Dual ¼ and ½-inch Collets
This is a must-have feature if you're either unsure of what you need or know that you'll need to switch between different bit sizes on occasion.
Electronic Variable Speed
An EVS system will maintain a constant cutting speed instead of forcing you maintain even pressure on the on switch throughout the cut.
FAQ's
Are cheap wood routers worth it?
Yes, they are. As you can see, even though the wood router models on our list are inexpensive and beginner-friendly, they come with a wide range of features that improve versatility and comfort. Also, if you're just starting off, these inexpensive tools will let you hone your wood-routing skills before investing into a more high-end solution.
Are these routers compatible with router tables?
Yes, they are. However, to be absolutely sure whether the router will fit a certain table, you'll have to take a look at the table's manufacturer's website. Or if you already have some handyman skills under your belt, you can try creating your own router table with any scrap pieces of lumber you have in your garage.
Should I get a fixed or a plunge router?
That's entirely up to you. For beginners, it's generally considered safer to invest in a fixed-base router, and as you become more familiar with the tool, then you can invest in a plunge router. However, if you want, you can find a model that uses interchangeable fixed and plunge bases that lets you enjoy the benefits of both styles.
Which company makes the best router?
There's really no one company that dominates the router world. If you check out our list, we've included several name-brand options, so you can rest assured that you're getting a high-quality product for under $200. But if you ask us, we'd personally recommend getting the Makita RT0701CX7. You can see why in our review above.
Summary
And there we have it, folks. In this guide, we talked about the best wood router under $200.
The brief buying guide will assist you in finding the best model based on a wide range of different features.
If you're unsure of which model to take home with you, we'd be more than happy to help in the comments section.