Pressed for time? Check our best picks
Shop Fox W1706 14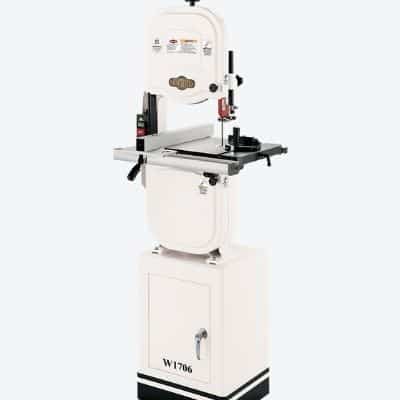 Easily adjustable scale
Sturdy aluminum support fence
Highly durable wheels and working table
JET 708115K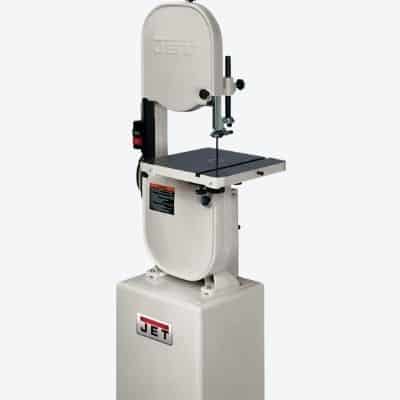 Long-life graphite-tipped blades
Lightweight yet sturdy base
Wide table and Quiet operation
DELTA 28-206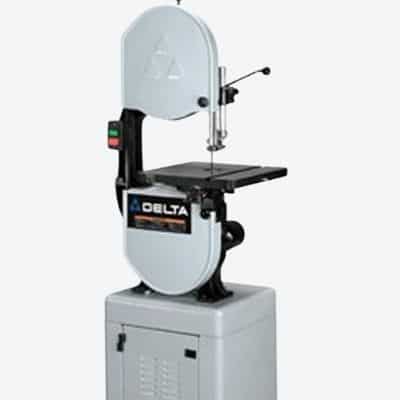 Faster wood cutting
Reliable blade-tension protection
Fast switching between blades
Our reviews are unbiased, fact-based, and comprehensively researched to help you make the right buying decisions.



If you are in search of the best band saws for woodworking, metal cutting, or lumbering, this is the place to be.
We have reviewed various 14-inch band saws with the best beveling capacities, reliable work lights, and the ability to cut a wide variety of materials.
These products have the ability to perform almost any job they are tasked with. You will not regret a single penny that you spend on any of them.
Top 14-Inch Band Saws in the Market Compared
Product Image

Product Name

Features

Price



Best Overall - Shop Fox W1706 14


Voltage: 120

Weight: 258

Power Source: Electric Powered

Deluxe Miter Gauge




Check Today's Price





Best Budget - JET 708115K


Voltage: 120

Weight:

Power Source: Electric Powered

Graphite Guide Blocks




Check Today's Price





Best Blade Pulley System - DELTA 28-206


Voltage: 120/240

Weight: 600

Power Source: Electric Powered

1-Phase Motor




Check Today's Price





Best In Throat Capacity - JET J-8201K


Voltage: 115/230

Weight: 150

Power Source: Electric Powered

Double Utility Blades




Check Today's Price





Best In Durability -
GENERAL INTERNATIONAL 14


Voltage: 120

Weight: 194

Power Source: Electric Powered

Multiple Cutting Blades




Check Today's Price





Best Hydraulic Feed -
JET HBS-814GH


Voltage: 110/220

Weight: 444

Power Source: Electric Powered

Horizontal Gear Head




Check Today's Price





Best In Stability - JET Tools 414500


Voltage: 230

Weight: 300

Power Source: Electric Powered

Metal/Wood Cutting




Check Today's Price





Best Dust Blower -
Grizzly Industrial G0806-14


Voltage: 110

Weight: 500

Power Source: Electric Powered

Variable Speed




Check Today's Price





Best in Gear Head Transmission - JET HBS-814GH


Voltage: 120

Weight: 150

Power Source: Electric Powered

Replacement Band Saw Blade




Check Today's Price



Reviews of  Best 14-Inch Band Saws
Best Overall - Shop Fox W1706 14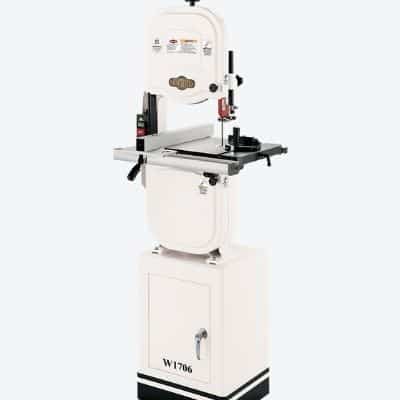 Key Features
Voltage – 110 volts
Blade speed – 1,725 SPM
Throat capacity – 13½ inches
Cast-iron blade wheels
Almost all of the features found in this band saw are present in larger and more highly-priced models, meaning this machine is ahead of its class.
It comes with upper and lower cast-iron wheels for increased productivity, a quick-tension blade release, a 4" dust port, and a powerful and standard 1HP motor.
In addition, it features an onboard tool storage cabinet where you can preserve most of your workshop tools and blades.
The deluxe miter gauge allows the user to make perfect cross-cuts and hit precise angles when in operation.
Pros
Easily adjustable scale
Sturdy aluminum support fence
Highly durable wheels and working table
Fast response blade release tension
Cons
Comes with a cheap blade that will need to be replaced at some point
This band saw is easy to set up. You only need to have someone to help lift it. Otherwise, you can do all the work yourself. It also comes with cast-iron wheels and tires already installed.
Best Budget - JET 708115K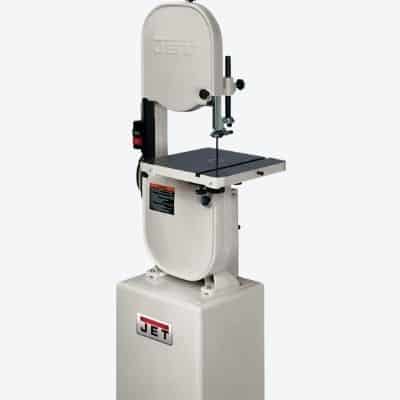 Key Features
Table – 14-inch
Blade speed – 3,000 SPM
Volts – 115 – 230 volts
Spring piston snap adjustment
If you are on a budget and still want a band saw that will deliver, look no further than the JET 708115K 14" band saw with graphite guide blocks. It features a 1 HP engine with the capability of pushing the blade up to 3,000 strokes per minute.
A sturdy and durable mobile base is ideal for industrial level use.
The initial blade coming with the package is graphite impregnated for durability, strength, and the ability to cut a wide variability of materials.
The unit includes a dust chute, stand, saw base, and new blade.
Pros
Long-life graphite-tipped blades
Lightweight yet sturdy base
Wide table
Quiet operation
Cons
Dissatisfying packaging of product on arrival
Con 2
Using this motor gives any user the esteem of a professional.
It doesn't matter if it's your first time or hundredth time, using this machine doesn't require any expert skills at all. Simply install it and get going.
Best Blade Pulley System - DELTA 28-206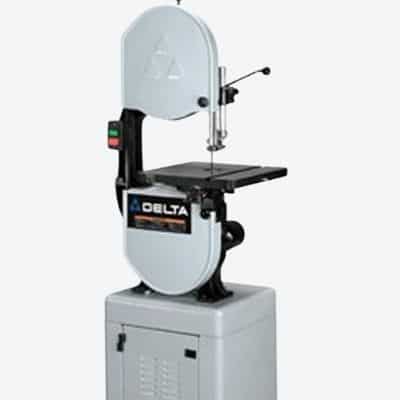 Key Features
Electric-powered
4" integral dust port
2-speed pulley system
Voltage – 120 volts
The machine effectively clears dust off the working area, giving you more visibility for accurate cuts. It features a 45-degree bevel range with an extra 3 degrees to the right and left. This way, your options for cutting angles are widened.
While the saw is not in operation, you have the tension release blade to aid you. It guarantees a longer blade life and makes blade changes quick and easy.
Other notable features include the 9-spoke balanced wheels, a V-belt, wood cutting blade, and blade guides.
Pros
Faster wood cutting
Reliable blade-tension protection
Fast switching between blades
Two-speed engine
Cons
Always need to reverse the pulley motor for belt alignment
This is a decent saw that offers great value for the money.
Its design and build quality are top-notch. It might not be the most fancily designed unit, but its performance is high-end.
Best In Throat Capacity - JET J-8201K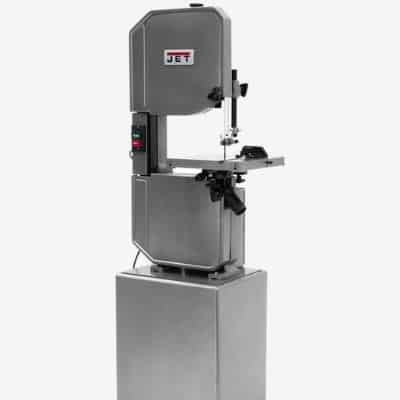 Key Features
Cast-iron frame
Weight – 150 pounds
Throat capacity – 13.5 inches
Blade speed – 3,300 SFPM
This JET vertical band saws offer users the comfort, power, and precision they are looking for in a band saw.
This 14-inch band saw has a gearbox that allows enough versatility to cut a wide variety of materials. It also comes backed by a leading 2-year industrial warranty.
It has a solid, one-piece, sturdy, steel base, plus a miter gauge. For convenience, the on/off switch is appropriately located, and so is the dust chute.
Pros
Steel base provides extra stability
Cuts a wide variety of materials
Low noise and vibration
Durable cast-iron body
Cons
Setup might be quite a task for new users
The delivery of this package is very decent. It has an excellent finish and is built using strong materials that won't need replacement any time soon.
Best In Durability - GENERAL INTERNATIONAL 14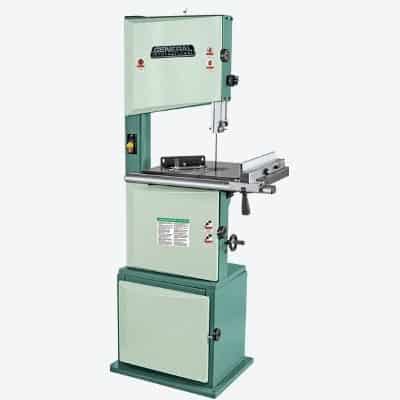 Key Features
Speeds – 1,575 – 3,280 SFM
Bevel capacity – 45 degrees
Voltage – 120 volts
Weight – 194 pounds
The motor for this saw comes with an enclosed design, which gives the saw massive ability in terms of cutting options and efficiency.
It also has variable blade speeds, between 1,575 and 3,280 SFM, allowing it to handle both soft and hard woods perfectly.
It incorporates an upper and lower ball bearing type blade guides that offer blade stability, and cut accuracy also naturally improves.
Pros
Minimal band saw vibration
Sturdy unique design
Has variable speeds for adaptability
Perfectly balanced wheels for stability
Cons
Hard to understand instructions
Con 2
With variable speeds, this motor was designed both for hard woods and soft woods. Besides that, its design allows for a great beveling angle and reduces unit vibration when in use.
Best Hydraulic Feed - JET HBS-814GH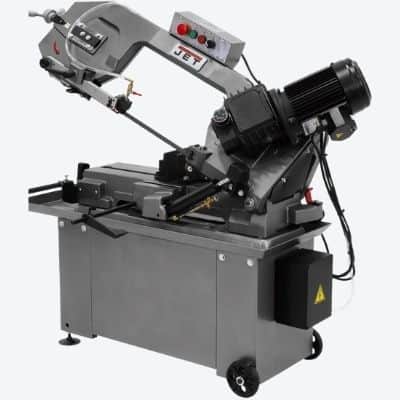 Key Features
Hydraulic feed
Electric powered
Weight – 444 pounds
45-degree miter gauge
This is like the land cruiser of 14-inch band saws. You might be fooled to assume that its heavyweight is a limiting factor, but there's a lot that this band saw with a geared horizontal head can do.
Productivity never slows at any point with the quick speed change and the heavy-duty geared head.
The HBS 814GH also features hydraulic down feed plus an integrated coolant system that maximizes productivity.
Its 1-horsepower engine is engineered to provide three different blade speeds, ranging from 135 to 197 to 256 SFM. Plus, it is rated at 1,720 SPM.
Pros
Fast switching between blade speeds
Reliable limited warranty
Deep 8" cutting depth
Easy-access control panel
Cons
Blade guide limits access to the sliding clamp
This is a great product with a pronounced value for the money, and it can serve as a great upgrade to your old band saw.
It presents worthy performance features like the quick lock and variable speed adjustment.
Best In Stability - JET Tools 414500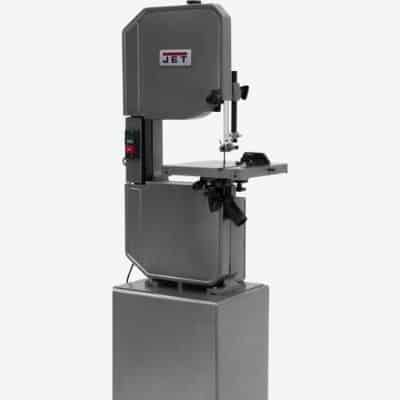 Key Features
Wattage – 2760 watts
Steel gauge
Weight – 300 pounds
Steel base
JET is once again here with a top-of-the-class, 14-inch band saw. This one is specially designed with a gearbox that allows for a wide variety of cutting materials, including wood, plastics, and non-ferrous metals.
Its miter gauge is conveniently located and easy to read. This machine was designed with the user's safety and suitability in mind.
It has favorable dimensions that allow for easy storage in your house, deck, barn, or workshop space.
Pros
Well-placed on/off switch
Diversity in cutting materials
Beautiful casing and ergonomic design
Steel base for extra stability
Cons
Design doesn't allow for smooth dust extrusion
Con 2
The JET 414500 J-8201K is a great tool with easy blade changes and a smooth setup.
Its gearbox allows for the cutting of a wide variety of materials, including metal and hard woods. It also comes with an enticing 2-year warranty.
Best Dust Blower - Grizzly Industrial G0806-14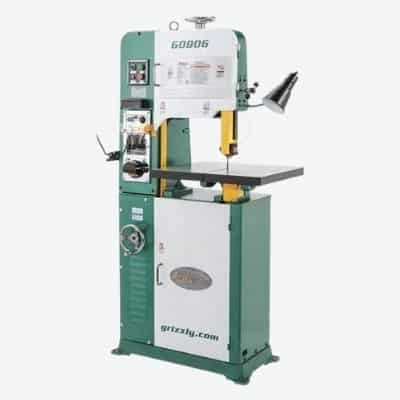 Key Features
Motor – 110/220 volts
Rack and pinion adjustment
Grinder – ⅛ HP
Chip blower
The G0806 offers all the same amazing features as other options, only in a smaller package and at a lower price.
It features a flexible work light and a chip blower, both of which keep the work area clean and brighter for safety and accuracy.
The motor allows for speed adjustments between 88 and 384 FPM. The manufacturer carefully selected a cast-iron table to effectively minimize vibrations for a smooth operation. It also assures you of rock-solid utility for years.
Pros
Reliable bright work light
Variable speed changes
Wide blade length range
Minimal tool vibration
Cons
Unreliable customer support services
Con 2
This Grizzly band saw is highly durable, as the manufacturer carefully invested in an all-iron build casing that effectively absorbs vibrations for smoother operation.
Best in Gear Head Transmission - JET HBS-814GH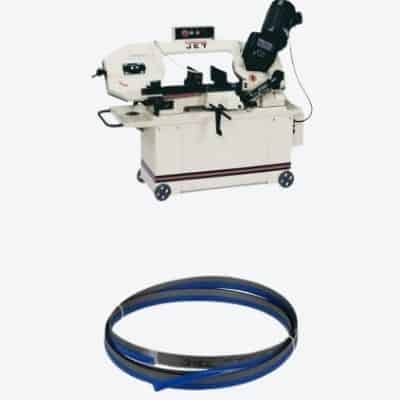 Key Features
Bi-metal build
Geared head transmission
Table – 8" x 14"
Hydraulic feed
JET tools are always here to impress with the amazing features they pack in their products. This is a horizontal gear head design.
The design is different and special in that it maximizes cutting depth and user comfort. Its control panel is conveniently placed for easy access at any time.
A hydraulic feed ensures productivity is maximized, and let's not forget about the ¾-inch wheels that make portability a very easy task.
The blade is bi-metal and is easily replaceable when the need arises.
Pros
Fast blade replacement
Durable bi-metal material
Quick speed changes
Deeper cuts than similar models
Cons
Setting up this machine might be a challenge for newbies
You have it all with this horizontal gear head design. It offers awesome cutting performance as long as the motor runs. It's also made with durable materials that ensure your machine vibrates less when in use.
Best WEN 14-Inch Band saw
WEN 3966T 14-Inch Band Saw With Stand
Key Features
Motor – 9.5-amp
Work Table – 21½"
Two-Speed – 1,480 – 3,280 FPM
Weight – 170.6 pounds
WEN always manufactures and releases its products with the user's comfort in mind. This machine comes with a tough build and is portable with its steel stand.
It also has a flexible work light that ensures your cutting area is effectively lit for accuracy.
For power, the 9.5-amp motor delivers up to 3,280 FPM on the blade wheel for maximum adaptability on various cutting materials.
With a two-speed cutting performance, it makes the deepest cuts on all types of boards.
Pros
Very portable
Tough and durable build
Easily accessible tension gauge
Comes with a free stand
Cons
Hard to set the proper blade tension for accuracy
The performance of WEN products, including this one, is top class. Plus, installation is easy, and you won't need any professional to assist you in the job.
Best Rikon Band Saw 14-Inch
Key Features
Voltage – 115 volts
Weight – 280 pounds
Quick-adjust rip fence
Speed – 2,950 FPM
It has a highly reliable dual-volt motor that offers two blade speeds between 1,445 and 2,950 feet per minute. It also delivers high cuts up to 13" smoothly with zero entanglements.
The rip fence is high enough and is adjustable by simply turning a few various knobs.
It also offers resaw capabilities of up to 6" bar heights that give extra support to lumber being re-sawed or ripped.
Pros
Versatile cutting
Resilient blades
Double speed motor for versatility
Innovative rip-fence
Cons
Not very satisfying delivery, as item is occasionally dented
You might need to use this Rikon motor if you work on wide pieces of lumber and plywood a lot. It also has variable speed adjustments for preserving energy when cutting different materials.
Best 14-Inch Band Saw for Resawing
For resawing, your saw needs to have quite a thick bade and should be stable. The thicker the blade, the straighter the cut.
From this list, the Grizzly Industrial G0806-14-inch band saw is best suited for this task.
It comes with a motor that produces 1.5HP and is a single-phase unit needing 110/220 volts to run. It also features a grinder with ⅛ HP, which is a single-phase also, necessitating only 0.6 amps.
It has a blade thickness range of 0.025", and it has a blade welding power of 2.0 KVA.
You will love how effective it is in slicing large sheets of wood with minimal vibration. This is the ultimate welding station, as it also gives you the freedom to make your own blades from bulk coils of band stocks.
Using cast iron in the overall make of the machine makes sure vibration is well absorbed hence smooth operation.
This machine also features a built-in welder and grinder, an effective chip blower that blows dust off your working area, and a work light for illumination during a dark time.
FAQs
Are 14" band saws the best?
A: Go with a 14" if you have a small furniture shop or are using it at home. In comparison, 16" band saws are better in almost all aspects. Those looking to complete large projects and long working hours, 18-inch and 20-inch band saws are better recommended. For better adaptability, don't use a band saw with less than 12" re-saw height.
How dangerous can a band saw be?
A: Although band saws are regarded as among the safest saws to use, that doesn't mean they are completely user-friendly. Any woodworking tool used to cut hard substances like plastics, wood, and metal can be dangerous to your soft tissues, especially if it's used improperly.
What is the maximum cutting thickness of a band saw?
A: Generally, band saws are the Tiger Woods of making cuts through thick materials and making curves on wood. Most smaller band saws are capable of cutting through full four-inch-thick lumber.
Larger and higher-rated band saws can make it to 6-inch cuts. The depth of the cut will depend on the throat capacity and sometimes the beveling capacity in terms of angles of the working table.
How tight should I set my band saw blade?
A: In order to produce desirable, straight, consistent, and uniform cuts, especially when handling thick or very dense stock, band saw blades need to be really tight, and I mean a lot of tension.
Various manufacturers recommend the standard 15,000 to 20,000 PSI on the common carbon steel blades. Take care not to over tighten your blade, which could lead to unforeseen tool damages and even accident.
How do you safely use a band saw?
A: Your hand should always be away from the cut line and placed against the work table. To keep the stock from turning and drawing your fingers towards the blade, ensure you hold it firmly against the table when cutting. Never use your bare hands to remove cut pieces from between the fence to prevent injury by the blade.
Summary
Band saws have evolved to be among the most demanded woodworking tools by various carpenters and home hobbyists looking to build their own furniture.
If you are stuck on what machine to buy that will have great value for your money, this is always a one-stop place before you proceed to make a purchase.
We recommend doing good research first about a product before buying it. It saves a great deal of frustration when you finally get to use your tool.