Best 42-inch Riding Mower – Cub Cadet XT1 Enduro LT
In testing over two dozen 42-inch riding lawn mowers, the model we recommend above all else is the Cub Cadet XT1 Enduro LT.
Not only does it sport a powerful 18-HP engine, but it also has mobile app control for extra convenience.
Let's take a look at the XT1 Enduro LT's key specifications—
18-HP Engine

Hydrostatic Transmission

3-Gallon Fuel Tank

Cub Connect Mobile App
Pros
Magnificent mowing performance
Guess-free maintenance thanks to mobile app
Excellent fuel economy
Heavy-duty deck construction
Cons
Mowing in reverse could be simpler
If your plan is to use a push lawn mower to cut more than an acre of grass, we wish you the best of luck.
We also wish that you would consider upgrading to a riding lawn mower, preferably one that's best-suited for your lawn.
In this guide, we're going to talk about the best 42-inch riding mower.
We've gone through over two dozen models to find the best of the best for your needs.
Top 42-Inch Riding Mower Compared
Product Image
Product Name
Features
Price


Cub Cadet XT1 Enduro


Power: 18 hp

Transmission: Hydrostatic

Fuel Tank Capacity: 3 gallons

Cub Connect mobile app

Check Today's Price





Husqvarna Z242F


Power: 18 hp

Transmission: Hydrostatic

Fuel Tank Capacity: 3.5 gallons

ClearCut Deck




Check Today's Price



Troy-Bilt Super Bronco XP 42

Power: 547 cc

Transmission: Hydrostatic

Fuel Tank Capacity: 3 gallons

AutoDrive

Check Today's Price

John Deere E120

Power: 20 hp

Transmission: Hydrostatic

Fuel Tank Capacity: 2.4 gallons

John Deere Easy Change™ 30-second oil change system

Check Today's Price
Reviews of the Top 42-inch Riding Mower
Best Budget- Troy-Bilt Super Bronco XP 42

Best Budget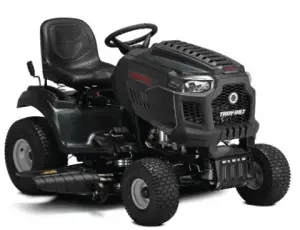 Key Specifications
547-cc Engine

Hydrostatic Transmission

3-Gallon Fuel Tank

AutoDrive
The Super Bronco XP 42 is a minimalistic riding lawn mower, but don't mistake simplicity for unreliability. It comes with a 547-cc engine and hydrostatic transmission for smooth sailing across yards of 3 acres or smaller.
The XP 42's shining feature is AutoDrive with hardly-noticeable jolts when shifting up and down gears. It's also equipped with a superior suspension system to absorb most of the vibrations when traversing bumpy terrain.
The ergonomically designed cockpit provides a comfortable space for the operator that's easy to mount and dismount. Stepping off and on the machine during jobs couldn't be easier.
Pros
Powerful engine
Foot-controlled seamless gear shifting
Extra-durable shell
Great on bumpy terrains
Cons
Electric ignition could be smoother
The Super Bronco XP 42 delivers as much power as you might expect from a Troy-Bilt machine. It's an incredible user-friendly 42-inch riding lawn mower with minimal frills.
John Deere E120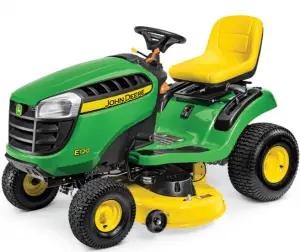 Key Specifications
20-HP Engine

Hydrostatic Transmission

2.4-Gallon Fuel Tank

30-Second Oil Changing System
The final 42-inch riding mower on our list is the John Deere E120.
This fantastic green-and-yellow riding lawn mower comes with a 20-HP engine that moves the dual-blade system at high speeds and delivers extra torque for chomping through wet grass.
The John Deere Easy-Change 30-second system makes maintenance easier than ever before. Even first-time riding lawn mower users can figure out how to change the E120's oil in under a minute.
The arrangement of the cockpit allows for quick mounting and dismounting to remove objects in your path, and the adjustable seat provides plenty of lower-back support for the bumpy hills ahead of you.
Take a look at the E120 and all its glory in this video.
Pros
Reliable John Deere mowing and durability
Easy to change oil
High-speed reverse mowing
Wide cockpit
As a product of the world-renowned John Deere, the E120 is a high-quality 42-inch riding mower that handles tough mowing challenges without trouble.
Best 42-inch Zero-Turn Mower
If you're looking for a zero-turn mower that's also the most premium lawn mower on our list, it's the Husqvarna Z242F.
Here's what the Z242F's key specifications in a glance—
18-HP Engine

Hydrostatic Transmission

3.5-Gallon Fuel Tank

ClearCut Deck
The Z242Fis sporting an 18-HP Kawasaki engine that delivers smooth mowing-power output as well as fantastic maneuverability on flat and uneven terrains.
It can reach max speeds of 6.5 MPH while also making decently sharp turns for improved productivity.
The rear-mounted engine blows exhaust backward and away from the operator.
With the ClearCut deck, the Z242F's dual mower blades provide plenty of lift to chop grass clippings multiple times per pass.
Watch this video to see what the Z242F's ClearCut deck can do.
Pros
Fantastic torque to fell tall grass
Ergonomically designed control panel
Rear-mounted engine
Automatic brake and parking system
Cons
For its price, we hoped it could come with a mulching kit
The Z242F is a bulky, all-around lawn mower built for heavy-duty mowing jobs in 3-acre plots of land or smaller. This premium-brand mower delivers premium-quality mowing every time.
FAQs
How many acres can a 42-inch riding mower handle?
On average, 42-inch riding lawn mowers are built to mow around 3 acres of grass between fuel
refill, but in the end, it depends how large of an engine it has and how often you need to move
up and down hills. From our list, the John Deere E120 is the only one that does not reach the 3-
acre mark due to its minuscule 2.4-gallon fuel tank.
Should I get a 42-inch riding mower?
Even though 42-inch machines can mow over 3 acres, they're somewhat in the middle between
residential-grade and commercial-line mowers. Indeed, they can come in handy for commercial
purposes, but pro landscapers may want to look for something a bit beefier. As for homeowners,
42 inches could be slight overkill, but ultimately, it depends on how wide a yard you have.
How many hours of work can I get out of a 42-inch lawn mower?
There's really no absolute figure we can give you. The average lifespan of a riding lawn mower can be either 350 hours or 1,500 hours, depending on how rough you treat it and how frequent you maintain the engine. However, by changing the oil on schedule, you should expect to squeezely several thousand extra hours of work from your machine.
When should I get a riding lawn mower?
In general, the best time to pick up a riding lawn mower is after the mowing season. The end of the mowing season varies from place to place, but in the US, the best time is in early fall, so right around July and August.
Summary
Ladies and gentlemen, this concludes our guide on the best 42-inch riding mower.
We truly
hope you learned something from this guide about what we feel is the best overall mower on the
market.
After extensive research and testing, we've compiled this list to help you find the most
suitable 42-inch riding mower for your landscaping needs.
If the FAQs section does not directly address your query, please let us know by asking us in the comments.
Last update on 2023-10-01 / Affiliate links / Images from Amazon Product Advertising API