Best 60-inch Zero-Turn Lawn Mower – Ariens 991151 APEX 60″
When putting 12 zero-turn lawn mowers to the test, the one that stood out the most in all categories was the Ariens IKON 991151.
Equipped with a powerful Kawasaki engine that produces high-torque performance, there's little wonder why this is the best pick.
IKON 991151' Key Specifications:
24-HP Engine
Hydrostatic Transmission
3-Gallon Fuel Tank
Twin Hydro-Gear
The 991151 is driven by a 24-HP Kawasaki engine with hydrostatic transmission. This system sends the 991151 moving at a rate of 7 MPH, clearing more grassy fields in less time.
The 991151 mows like no other, thanks to the Hydro-Gear ZT800 transaxle that delivers high amounts of torque for slicing through grass effortlessly.
The 60-inch deck is made of 11-gauge steel for enhanced durability. This machine can mow through anything, including wet grass, without the slightest hiccup.
Let Ariens show you what the 991151 is all about:
Pros
Powerful engine
Excellent fuel efficiency
Comfortable ride on all terrains
Durable deck
Cons
Storing the unit can be tricky
Overall, the 991151 is our favorite pick for many reasons, but to put it simply, it does the job with flying colors.
Do you know what makes riding lawn mowers so fantastic? They reduce the amount of time needed to clear humungous yards of tall grass.
However, with a super-wide 60-inch deck, you can increase your productivity even further, thereby earning more from your clients.
We've researched over a dozen different lawn mowers to produce this list of the best 60-inch zero-turn lawn mower on the market.
Top 60-inch Zero-Turn Lawn Mower Compared
Here's a comparison between Top 60-inch Zero-Turn Lawn Mower:
Product Image
Product Name
Features
Price
Ariens 991151

Engine: 24 hp

Transmission: Hydrostatic

Fuel Tank: 3 gallons

USP: Twin hydro-gear ZT-2800

Check Today's Price

Swisher ZT2760B

Engine: 27 hp

Transmission: Hydrostatic

Fuel Tank: 8 gallons

USP: Tri-Blade Deck

Check Today's Price

ARIENS COMPANY APEX 60 991157

Engine: 25 hp

Transmission: Hydrostatic

Fuel Tank: 5 gallons

USP: Twin hydro-gear ZT-2800

Check Today's Price

Husqvarna MZ61

Engine: 24 hp

Transmission: Hydrostatic

Fuel Tank: 5 gallons

USP: High Backseat

Check Today's Price

Ariens Ikon XD 2

Engine: 23 hp

Transmission: Hydrostatic

Fuel Tank: 2.8 gallons

USP: Tri-Blade Deck

Check Today's Price
Reviews of the Top 60-inch Zero-Turn Lawn Mower
But don't stop there! If you're searching for another model, take a look at our reviews of other noteworthy 60-inch zero-turn lawn mowers.
Best Premium- Swisher ZT2760B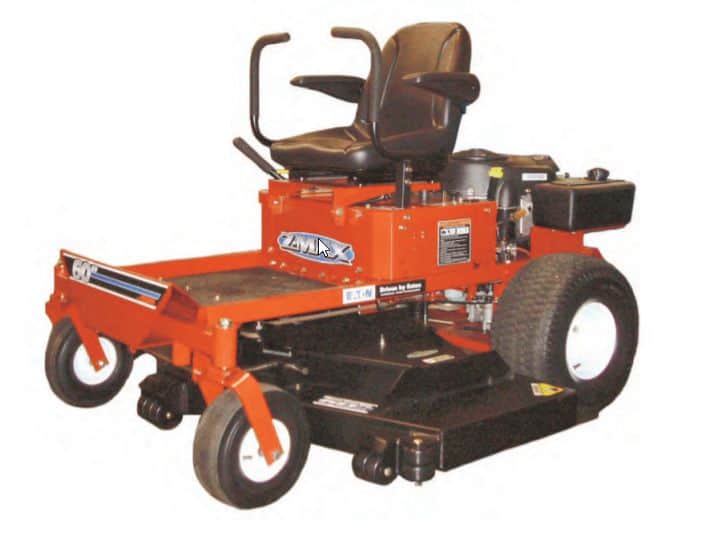 Key Specifications
27-HP Engine
Hydrostatic Transmission
8-Gallon Fuel Tank
Tri-Blade Deck
Our best premium 60-inch lawn mower is the Swisher ZT2760B. The all-black zero-turn lawn mower certainly looks premium, and we're happy to report that it performs better than most.
The Swisher comes with a 27-HP engine that spins the 60-inch-diameter mower blades to slice through thick, tall blades of grass effortless without bogging down.
With a tri-blade mower deck, the Swisher exerts very little power to chop grass into fine clippings. That said, we're happy that its fuel tank holds almost twice as much as most zero-turn mowers, despite its excellent fuel economy.
Pros
Fantastic fuel efficiency
Single-pass mowing performance
Triple cuts with every pass
Reasonably decent maneuverability
Cons
Drive belt could be more durable
The Swisher ZT2760B is a premium-quality zero-turn lawn mower with a pretty premium price tag. However, you definitely can't pass up on the amazing fuel economy and performance ratings.
Best Budget- Ariens APEX 991157

Key Specifications
25-HP Engine
Hydrostatic Transmission
5-Gallon Fuel Tank
Twin hydro-gear ZT-2800
The 991157 is identical to our best overall pick in nearly every way. It has a heavy-duty engine, a massive 5-gallon fuel tank, and the same hydro-gear transaxle system that delivers hard-hitting mowing performance.
The only difference is the engine. Instead of a Kawasaki, the 991157 comes with Kohler 7000 series engine that's beefier by 1 HP but also noticeably more noise.
By no means is this a deal-breaker, but if you're spending hour after hour mowing several acres of grass, the noise will get to you.
Pros
Heavy-duty construction
Premium engine
High torque for improved mowing performance
Astounding mobility on rough terrain
Ariens certainly knows their way around zero-turn lawn mowers, evidenced by their impressive APEX series.
If you can live with the extra noise produced by the Kohler engine (you should be wearing safety ear muffs at all times), the 991157 is undoubtedly an excellent 60-inch beast.
Husqvarna MZ61

Key Specifications
24-HP Engine
Hydrostatic Transmission
5-Gallon Fuel Tank
High Backseat
Though technically not a 60-inch lawn mower, the Husqvarna MZ61's 61-inch deck is close enough.
In fact, you might even appreciate the extra one-inch width when mowing tremendously large lawns and fields—at least pros will who need to work quicker to earn bigger bucks.
The MZ61 features a pretty decent 24-HP engine. It provides enough power to move the mower blades at high speeds to reduce the number of repeated passes needed to clear large fields of grass.
However, it does tend to bog down quite a bit, and manually removing the grass stuck in the blades is a lot more trouble than it sounds.
What the MZ61 isn't missing is comfort. The high backseat and plush armrests make it a super-comfortable ride.
Pros
Comfortable to sit on for hours at a time
Wider deck than most
Decent fuel tank and gas consumption
Maneuvers extremely well for a 60-plus-inch mower
Cons
Blades could bog down less
If you get the Husqvarna MZ61, we highly recommend mowing grass frequently and before it has the chance to grow to unmanageable heights.
Ariens IKON XD

Key Specifications
23-HP Engine
Hydrostatic Transmission
2.8-Gallon Fuel Tank
Tri-Blade Deck
Last up is another Ariens production—the IKON XD 60. In looks, it doesn't appear any different from most lawn mower; it even sports the similar orange with black highlights color theme that most follow.
In terms of performance, we're going to be honest with you—it's not that special.
However, it certainly outperforms much of its competition, which is a clear indication that premium-quality 60-inch zero-turn mowers are difficult to come by.
This model's fuel tank is even smaller than most (2.8 gallons), though we can say for certain that it doesn't guzzle as much gas per operating hour.
Pros
Great maneuverability
Chops and chomps grass to fine clippings
Excellent fuel economy
Decently comfortable cockpit
Cons
Fuel tank could be bigger
Don't get us wrong. The Ariens IKON XD is a fantastic machine, but it just doesn't come with the wow factor we're looking for in a 60-inch mower.
FAQs
Now, onto the FAQs regarding 60-inch zero-turn lawn mowers.
Do I need a 60-inch zero-turn lawn mower?
We'd like to think that everyone does, but obviously, a 60-inch deck can be overkill for mowing just one acre. 60-inch lawn mowers are designed for mowing fields of at least 5 acres, but if you have multiple clients with smaller lawns, you can reap the same benefits of an ultra-wide mowing deck.
What advantages to zero-turn lawn mowers have?
As opposed to traditional riding mowers, a zero-turn lawn mower can make sharp 0° turns without needing to reverse. Their decks can also poke into hard-to-reach areas that standard riding mowers can't. If your job calls for mowing in straight, back-and-forth lines across several acres, either of these riding mower types will suffice.
How long do zero-turn lawn mowers last?
The lifespan of a lawn mower depends on how well you care for it. However, on average, you should expect to get around 350 hours of good, reliable mowing performance before the machine experiences major engine problems. Taking care of the engine will extend of life expectancy of your riding lawn mower by thousands of hours at the cost of a slight dip in fuel efficiency.
How much should I spend on a zero-turn lawn mower?
Obviously, it depends on your budget. However, like most heavy pieces of equipment, the more you splurge, the better the zero-turn lawn mower will be. Also, try and avoid purchasing second-hand lawn mowers if possible since any savings you hope to receive will most likely end being used to cover costly repairs.
Summary
This concludes our guide on the best 60-inch zero-turn lawn mowers.
We hope you learned something about these heavy-duty machines from our experience of researching a dozen different models across 5 acres of grassy fields.
If your question isn't answered in this section, please leave a comment for us down below.
Last update on 2023-10-01 / Affiliate links / Images from Amazon Product Advertising API