Pressed for time? Check our best picks
WEN 3939T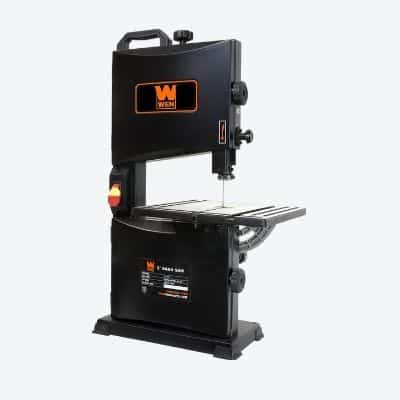 Cheap assembly and maintenance
Reliable miter gauge
Spacious 45° bevel range
SKIL 3386-01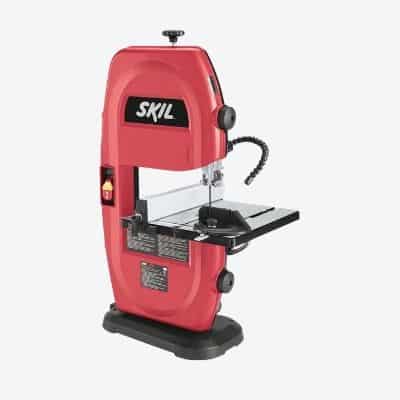 Rip fence for straighter cuts
Compact size 
Blade tracking mechanism
WEN 3959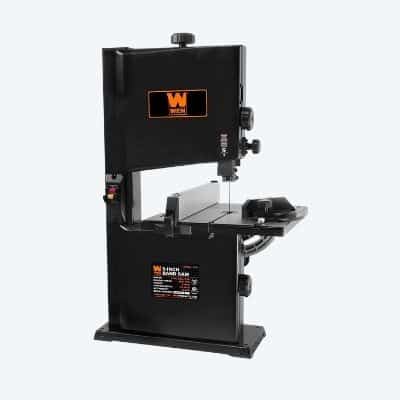 Fast multipurpose blade
Wide cutting range
Compact and space-saving construction
Our reviews are unbiased, fact-based, and comprehensively researched to help you make the right buying decisions.



Are you looking for a long-lasting band saw that can work long hours without overheating the motor?
Do you want to cut your wood, ceramics, plastics, PVC, and other materials with the composure of a professional in your home workshop?
We have selected for you the best benchtop band saws on the market today.
These models will take you through your woodwork jobs with affluence and will make you look like an expert, even if you're not.
Top Benchtop Band Saws in the Market Compared
Product Image

Product Name

Features

Price



Best Overall-WEN 3939T


Voltage: 120

Weight: 46.7

Power Source: Electric Powered

Blade tension gauge view window




Check Today's Price





Best Premium-SKIL 3386-01


Voltage: 120

Weight: 16.51

Power Source: Electric Powered

Articulated LED work light




Check Today's Price





Best Budget-WEN 3959


Voltage: 120

Weight: 40

Power Source: Electric Powered

Wide blade variety




Check Today's Price





Best in Blade control-POWERTEC BS900


Voltage: 120

Weight: 44

Power Source: Electric Powered

Patented Blade guard system




Check Today's Price





Best for Metal Cutting-Rikon 10-305


Voltage: 115

Weight: 75.8

Power Source: Electric Powered

Safety Paddle Switch




Check Today's Price





Best in cutting variability-WEN 3975T


Voltage: 120

Weight: 54.6

Power Source: Electric Powered

Onboard Vise




Check Today's Price





Best On-tool Storage-Shop Fox W1706


Voltage: 110

Weight: 250

Power Source: Electric Powered

Deluxe Miter Gauge Included




Check Today's Price





Best in Portability-JET 708115K


Voltage: 115/230

Weight: 65

Power Source: Electric Powered

Graphite Impregnated polymer blade




Check Today's Price





Best in Table Durability-ShopSeries RK7453


Voltage: 120

Weight: 42

Power Source: Electric Powered

Micro-adjustable rack




Check Today's Price





Best in Starter Technology-Laguna Tools


Voltage: 110

Weight: 260

Power Source: Electric Powered

Dual Light Mounting Positions




Check Today's Price



Reviews of Best

Benchtop Band Saws
Best Overall - WEN 3939T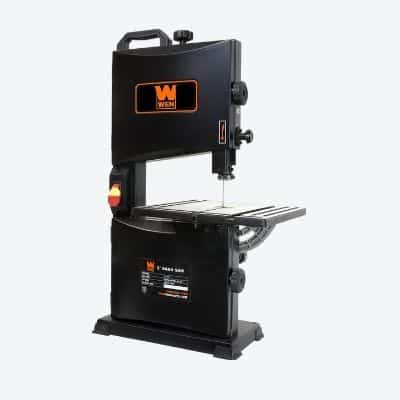 Key Features
Motor – 2.8 Amps, 2460RPM
Blade size – 62-Inch
Dust Port and Miter Gauge
Weight – 46.7 lbs.
This benchtop saw takes you back to when motors were really powerful.
The WEN 3939T 2.8-Amp 9-Inch Benchtop Band Saw rips through boards and other material with cuts that are 3⅝" deep and 9″ wide.
Its motor can reach speeds of up to 2460 rotations per minute for faster and effective cuts.
After having reviewed more than 20 of the best benchtop band saws, this tool has taken the top spot by far. Its power and performance are unmatched.
Let's not forget the fact that it is highly durable and very portable, thanks to WEN for its extra-strong body construction.
This wood tool is an investment that will never let you down.
Its upper housing comes with a window for displaying the blade tension gauge that helps you identify when and if the blade has the right tension.
It's also extremely easy to set up with a stand that elevates the saw, saving you space in the workshop.
The WEN 3939T 9-Inch Band Saw comes with a 2-year warranty on all replacements and repairs.
Pros
Saves on space
Cheap assembly and maintenance
Reliable miter gauge
Spacious 45° bevel range
Cons
Dust port doesn't work so well
For professionals and people looking to achieve the most accurate cuts, this is your machine. It comes with low maintenance and saves on indoor space.
Best Premium - SKIL 3386-01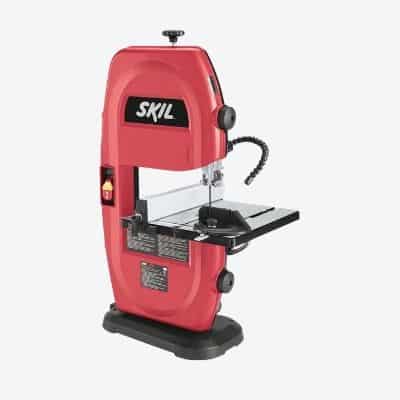 Key Features
Power – Electric
Weight – 16.5 lbs.
Voltage – 120
LED work light
You have the ability to cut various materials with the new SKIL 3386 9-inch band saw.
It comes with an LED work light that effectively illuminates the work area at night and in dark workshops. Its rack and pinion are adjustable by up to 90 degrees.
The new 3386 SKIL band saw has a reliable dust-minimizing mechanism with a dust port that easily attaches to a vacuum cleaner for blowing off sawdust.
Its motor can achieve speeds of up to 2800 RPM, and it uses one speed for cutting wood and metal.
Pros
Rip fence for straighter cuts
Compact size saves on space
EZ View blade tracking mechanism
Cons
Motor overheats with time
This is your typical band saw if you are interested in making irregular cuts and ripping through lumber for thinner pieces.
Novice woodworkers will also find it an essential tool for their workshops.
Best Budget - WEN 3959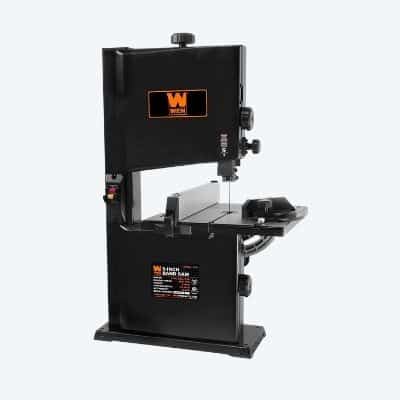 Key Features
Motor – 2.5 Amps
Blade Speed – 2500 RPM
Bevel Capacity – 45°
Cut Depth – 3.5 Inches
WEN loves to invest in top-class designs with their equipment. This one has a compact design that allows the motor to be used on just about any flat surface with ease.
It is also compatible with 59½" blades, ranging from ⅛" to ⅜" depending on the required detail.
Its bevel capacity is up to 45 degrees to the right with 3½" cutting depth and 9″ cutting width.
Its workspace is large enough to allow you some space to stretch while cutting. Additionally, it features a 2½" wide dust port, a rail fence, and a miter gauge.
Pros
Fast multipurpose blade
Wide cutting range
Broad blade variety
Compact and space-saving construction
Cons
Rip fence doesn't live up to expectations
If you have limited workshop space and still need to incorporate a benchtop band saw, I advise you to go for this one. It will never let you down while in the middle of a serious project.
Best in Blade control - POWERTEC BS900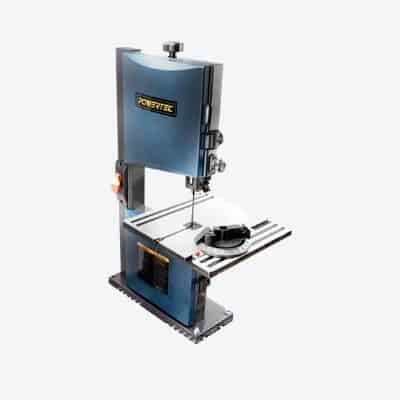 Key Features
Cut – 3⅝" deep, 9″ wide
Bevel Capacity – 45°
Weight – 44 lbs.
Motor Speed – 1725 RPM
The new POWERTEC BS900 9-Inch band saw is loaded with versatile capabilities, including cutting irregular shapes, making thinner pieces, and ripping through thick pieces of lumber.
It has high precision tilt cuts and crosscuts.
Plus, it comes equipped with an accuracy miter gauge for precision, additional blade control, and angle stops.
Its aluminum die-cast table is highly durable and is the best in its class.
The table has a width of 11″ x 11″ for wider cutting adaptability. Its 2″ dust port is easily attached to a vacuum hose pipe to blow the dust off your working area for cleaning and decluttering your workspace.
Pros
High-powered motor
Easier blade controls
Wide and durable working table
Dust-free work zone
Cons
Not very good for heavy stock cutting
You will want to use this saw to complete shorter projects that don't require much of your time. The tool is also durable and highly adaptable.
Best for Metal Cutting - Rikon 10-305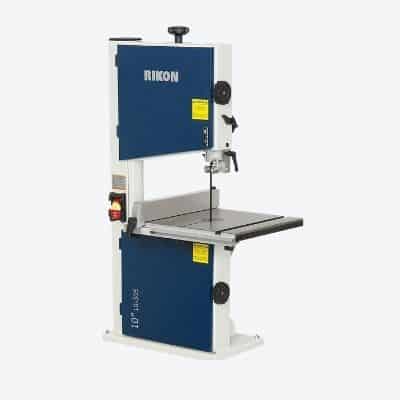 Key Features
Teeth – 10 TPI
Voltage – 115 Volts
Cast iron table
Weight – 75.8 lbs.
This Rikon 10-inch band saw has all the qualities and features that are present in higher class band saws.
It includes a ⅓ HP motor that enables strong rips through both soft and hard materials, including metal. The blade is designed with 10 Teeth Per Inch (TPI) for efficiency in truly demanding tasks.
It features a high-quality rip fence that is easily removable and allows you to complete your woodwork by hand.
Also included is an adjustable micro-guide post that effectively raises and lowers the guidepost by only turning a handle.
Pros
Durable, solid steel design
Large cast iron table
Easily adjustable rip fence
No noise or vibration
Cons
Quite heavy when installing
This saw beats almost all averagely rated band saws out there. Its powerful motor is very reliable and barely produces any noise or vibration when working.
Best in cutting variability - WEN 3975T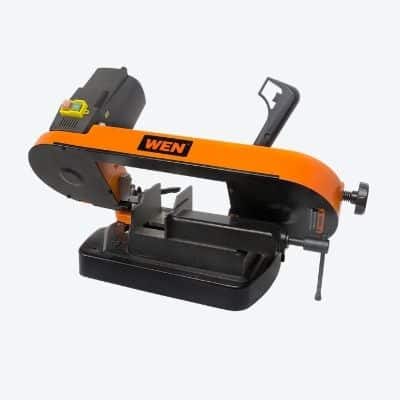 Key Features
Variable blade speed
Bevel Capacity – 0 – 60°
Blade Size – 56½" x ½"
Motor – 4.5 Amps
The WEN 5-Inch 3975T band saw can cut through 5-inch pipes with ease.
Besides that, this is a metal cutting band saw with a specialty in working on brass, aluminum, steel, copper, and more.
The variable-speed motor allows blade rotation adjustments ranging from 125 – 260 feet per minute.
With a high bevel capacity reaching up to 60 degrees, you have top-class adaptability in angles so you can achieve different shapes.
Its compact design allows for easy transportation and storage, giving you access to use the machine both at home and at work.
Pros
Compact, lightweight design
Firm grasp onboard vise
Cuts a wide range of metals
Easy speed variation
Cons
Short screws that strip off quite easily
This is the top valued saw with the most compact design that allows you to use it both at work and home on the same day. You can also cut almost anything with it.
Best On-tool Storage - Shop Fox W1706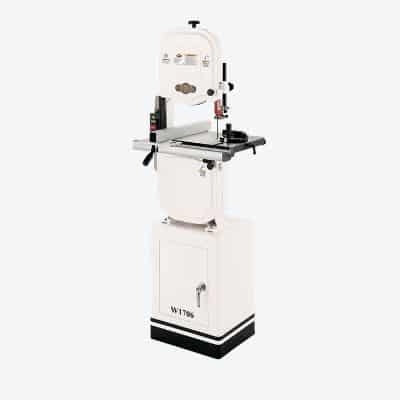 Key Features
Motor – 1 HP
Throat Capacity – 13½"
Blade speeds – 1500 – 3200 FPM
Dust Port – 4″
It comes with a durable cast iron body, wheels, and table, plus an integrated cabinet for tool storage.
The 4-inch dust port is also connected to an effective dust collection system to keep your cutting area clean for improved accuracy.
A deluxe miter gauge further enhances exactitude with an easily readable scale for which you can adjust to [+/-] 30°.
This band saw features a 1HP single-phase motor that averages 1725 blade revolutions per minute.
Pros
Quick-release blade tension
Ball-bearing guides
Reliable cabinet storage
Highly durable design
Cons
Rip fence doesn't lock down strongly as required
You wouldn't think of overlooking this band saw after having a sneak peek at its features. The setup is easy, the blade adjustments are reliable, and it comes with convenient storage at the bottom.
Best in Portability - JET 708115K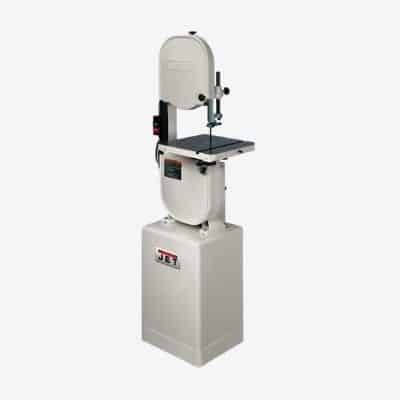 Key Features
Motor – 1HP
Blade Speed – 3000 SPM
Tilting Table
Graphite Guide Blocks
This 14″ band saw comes with an enclosed stand that makes the machine appealing to the eyes.
Its cutting capacity is 6″ by 13½", offering the ability to cut a wide variety of materials, including hardwoods and softer metals like aluminum and copper.
It has a universal mobile base that allows for easy portability. With this base, it's also possible to adjust its length and width for extra support and handiness.
Its worktable is cast iron, with a graphite-sewn polymer blade for sharper cuts.
It comes backed by a 5-year warranty, and the base can hold up to 600 pounds.
Pros
Sturdy working table
Easy portability and storage
High-powered engine
Easy tool-free assembly
Cons
Low-performance dust port
This band saw is comparable to highly premium band saws that are even higher priced.
Apart from the dust collection feature, every other element is an excellent match for the overall cost of the unit.
Best in Table Durability - Shop Series RK7453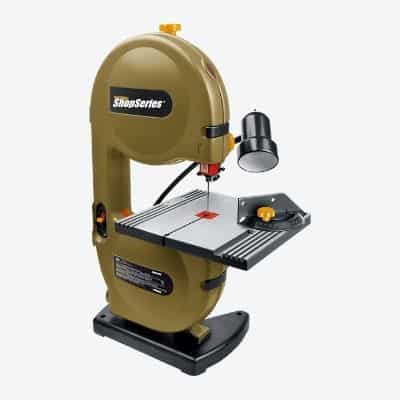 Key Features
Electric Powered
Weight – 42 lbs.
Motor – 2.5 Amps
Cutting Depth – 3⅛"
This unit is powerful and lightweight, with a 2.5-amp motor that makes it reliable for a variety of woodwork projects.
The unit includes a 59½" tungsten carbide blade that delivers a 9″ throat depth and a cutting depth of up to 3⅛". Its die-cast aluminum table has a 45° bevel capacity.
Other worthy features include a micro-adjustable rack, pinion blade guard, and a built-in flexible LED work light.
The Shop Series RK7453 is delivered with a 2-year limited warranty that covers repairs and material workmanship.
Pros
Easy to use even by DIY-ers
Flexible lamp illuminates dark zones
Durable die-cast work table
Easy assembly
Cons
Not the best when extreme precision is needed
This saw comes as a savior during hard times. It's great cutting depth and throat capacity give it a broad cutting ability. ShopSeries built it for performance, durability, and value.
Best in Starter Technology - Laguna Tools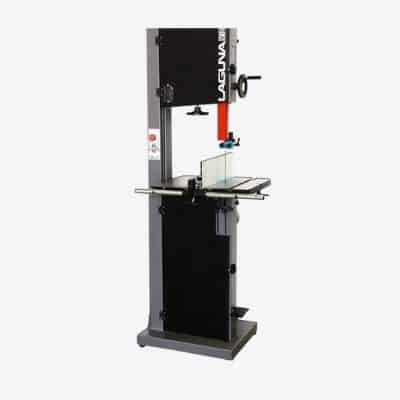 Key Features
Voltage – 110 Volts
Blade Width – ⅛"
Bevel Capacity – 45 degrees
Magnetic blade guard
This Laguna Tools bandsaw offers great value for the money.
It stands at the lead of evolution band saws, with a 14″ working area and world-class finish, fit, and design. Durability is guaranteed thanks to the high gauge steel frame.
It comes with a disc brake that automatically shuts off immediately when the blade starts.
The 14|bx is designed for smooth running, with feather light vibration and better utility than previous models. It also has double positions for mounting the built-in work light.
Pros
Solid one-piece frame
Ergonomic magnetic starter
Low vibration and sound
Beautiful finish with great aesthetics
Cons
Lackluster delivery and customer support
This is the tool you need for heavy-duty uses when necessary.
It has the capacity of higher-end band saws like WEN and DEWALT. Its magnetic starter is very reliable, and it won't fail you even in low power situations.
Best Delta Benchtop Band Saw
The DELTA 28-206 Professional 14-Inch Woodworking Band Saw is one of the best Delta benchtop saws we have today.
Its key features include the following:
Electric powered
Weight – 250 lbs.
16″ x 16″ working table
Bevel Capacity – 45 degrees
This is the ideal tool for hobbyists, as well as DIY-ers. The saw's 9-spoke, accurately balanced wheels and its powerful 120-volt, 1 HP motor effectively deliver clean cuts and reduce vibrations significantly
. Its wide table has a dependable 45-degree tilt capacity.
The Delta 28-206 woodworking hand saw uses a pulley system for the blade and includes an integrated 4-inch dust port with dependable utility.
When the machine is not in operation, the blade quality and lifespan are taken care of by the quick-tension release lever. This also makes blade switching an easy task.
Pros
Easy and quick blade changes
Powerful and reliable motor
Sturdy cast-iron trunnions for table support
Wide tilt range on both sides
Cons
So sensitive that the saw wobbles when in use
Overall, it's a decent saw that offers excellent value for the money. Hobbyists and DIY-ers will find it extremely easy to operate and set up.
The 4″ dust port ensures you have good visibility of the cutline.
Best Metal Cutting Benchtop Band Saw – Rikon 10-305 Bandsaw
This unit features a sturdy steel design, making it stronger and more durable than the plastics used by other band saw manufacturers.
The work surface is also made from cast iron and is 13 inches wide. Such working tables are rare in most benchtop band saws, so this comes as a win for you.
This new model also incorporates a unique rip fence that is easy to remove, allowing you ample tool-free handwork.
The blade for this band saw has 10 teeth per inch, and it is specially designed for cutting metal and other hard objects.
Its dust port is 2½ inches wide for effective dust removal and clearance of the cutting area at any given time. T
he port is also compatible with a vacuum hookup and includes a safety paddle switch.
The 10-305 model has also been reduced in size to allow for easy transportation and storage.
Best Grizzly Benchtop Band Saw
The Grizzly Industrial G0513ANV – 17″ 2 HP BandSaw takes the prize for this section.
It features the following specifications:
Motor – 2 HP 60Hz, Single Phase
Power Transfer – Belt Drive
Voltage – 110 Volts
Weight – 358 Pounds
You can power through any type of wood with this Grizzly benchtop band saw that has a 12⅛" maximum cutting capacity and a 16″ throat capacity for larger workpieces.
The 2 HP motor powers the machine through even the toughest hardwoods for a smooth cutting experience every time.
Additionally, the cast iron table offers the best design in the industry.
Regardless of its majestic, 17-inch size, this machine stands among its peers as quiet and smooth, and it has great aesthetics and appearance when it is installed.
Pros
Efficient measurement scale on the guidepost
Sturdy aluminum deluxe fence
Low vibration and high quietness
Extra potent motor
Cons
Large and cumbersome build makes it difficult to use
It comes with two, 4-inch dust ports for advanced dust blowing and collection. Your Grizzly band saw also uses a belt drive power transfer that's highly creditable.
FAQ's
Are WEN band saws good?
In terms of cutting capacity and performance, WEN band saws are impressive tools and can give any 10″ equivalent a run for their money. This is given that you set up the unit correctly and use it in the right manner. The only drawback is the difficulty in setting it to the right adjustments. Overall, it's cost-to-performance receives a high score.
What is the lifespan of a benchtop band saw blade?
Depending on the blade type and manufacturer, some blades last for six months, while others can serve for years. Factors to take into consideration here are the machine and blade condition, the duration you are using the blade for, and the design of feeding wood to the saw.
Why does my blade burn wood?
This is mostly an issue with the blade being too dull. Blunt blades mean that it won't effectively cut wood. It instead creates friction, which generates heat and burns the wood. You might consider sharpening your blade or acquiring a new one altogether.
How deep into wood can a band saw cut?
When it comes to slicing curves and cutting through thick wood and other material, band saws are the undeniable champs. For most small band saws, four inches of lumber is easily manageable. Larger benchtop band saws can comfortably do up to 6-inch cuts.
Summary
Benchtop band saws are an excellent addition for most people seeking cutting machines for their woodwork.
They are fairly priced and can do everything that miter and table saws do and more.
The above-reviewed products are our top picks for you in today's market.
From this list, you should be able to find your ideal benchtop band saw. It's within your power to think outside the box, nevertheless, take cautious steps when settling for a product you aren't sure about.