Pressed for time? Check our best picks
Craftsman CMXEVBE17595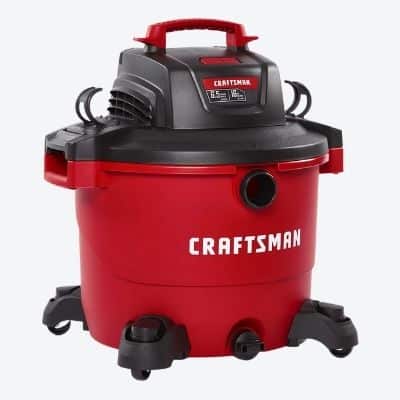 Great suction power
Great cord length
Easy disposal
DEWALT DWV012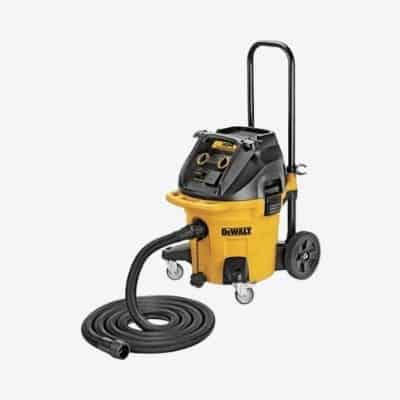 Great suction power
Easy to move around
Doesn't clog
The Dust Deputy Deluxe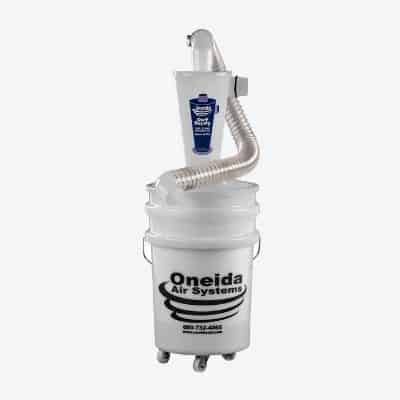 Easy to maneuver
Good value for money
High efficiency
Our reviews are unbiased, fact-based, and comprehensively researched to help you make the right buying decisions.



Dust extractors are excellent tools for keeping your workplace spotless.
You can find them in woodworking shops, construction sites, auto fabrication garages, and countless other places where small and large debris fall.
In this guide, you'll learn what the best dust extractor on the market is out of over 20 different models we spent the last four months researching.

Best Dust Extractor – Craftsman CMXEVBE17595
The best dust extractor that leaves the most of its competition in the dust is the Craftsman CMXEVBE17595.
This super-rugged dust extractor sports a beefy motor that delivers astounding suction pressure to remove large piles of wet and dry debris in the blink of an eye.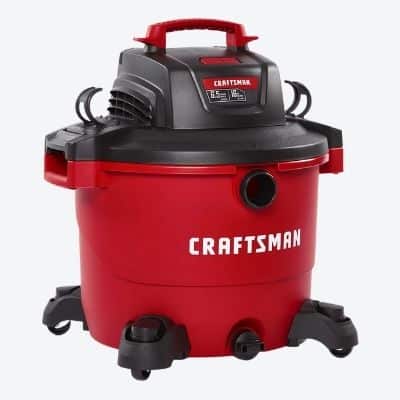 Here's a quick rundown of the CMXEVBE17595's key specifications—
6.5-HP Motor
190-CFM Suction Rate
16-Gallon Storage Capacity
Dual-Flex Technology
The Craftsman CMXEVBE17595 is a powerful 6.5 HP motor-powered wet/dry vacuum dust extractor suitable for large projects.
With a storage capacity of 16 gallons and a suction rate of 190 CFM, it is the ideal tool for cleaning renovation areas, garages, and other large job sites quickly.
It delivers high-speed exhaust air from its built-in blower port that helps to cleans any area powerfully.
Thanks to its large 2.5-inch diameter hose with dual-flex feature of 180-degree mobility at both ends, it resists kinks and crushing.
Worry no more about taking up a lot of storage space with the help of its on-board hose storage and accessory and power cord organizer.
After the dust compartment is full, the Qwik Lock Filter Fastening System helps to empty the liquid easily.
Pros
Great suction power
Great cord length
Easy disposal
Less noise
Cons
Could come with a foam filter
The CRAFTSMAN CMXEVBE17595 delivers magnificent suction performance to leave any workplace completely free of wet and dry debris.
Top Dust Extractor
 Market Compared
Product Image
Product Name
Features
Price
Best Overall -CRAFTSMAN CMXEVBE17595

Motor Size: 6.5 hp

Suction Rate: 190 cfm

Storage Capacity: 16 gallons

Dual-Flex Technology

Check Today's Price

Best Premium -DEWALT DWV012

Motor Size: 15 amp

Suction Rate: 140 cfm

Storage Capacity: 10 gallons

Variable Suction Power

Check Today's Price

Best Budget -The Dust Deputy Deluxe

Motor Size: Non-Motorized

Suction Rate: Minimum 50 CFM

Storage Capacity: 5 Gallons

Wet and Dry

Check Today's Price

Makita XCV11Z

Motor Size: 5 amps

Suction Rate: 57 cfm

Storage Capacity: 2 gallons

Cordless

Check Today's Price

Vacmaster VK811PH

Motor Size: 11 amp

Suction Rate: 125 cmf

Storage Capacity: 8 gallons

4-Stage Filtration

Check Today's Price

FEIN Turbo

Motor Size: 1100W

Suction Rate: 151 cfm

Storage Capacity: 5.8 gallons

Auto-Start with Power Tools

Check Today's Price

DEWALT DWV010

Motor Size: 15 amps

Suction Rate: 130 cfm

Storage Capacity: 8 gallons

Automatic Filter Clean

Check Today's Price

Bosch VAC090AH

Motor Size: 6.5 hp

Suction Rate: 150 cfm

Storage Capacity: 9 gallons

Auto Cleaning

Check Today's Price

Festool 575267

Motor Size: 1200W

Suction Rate: 137 cfm

Storage Capacity: 3.96 gallons

SYS-Dock

Check Today's Price
Reviews of Dust Extractor
Best Premium - DEWALT DWV012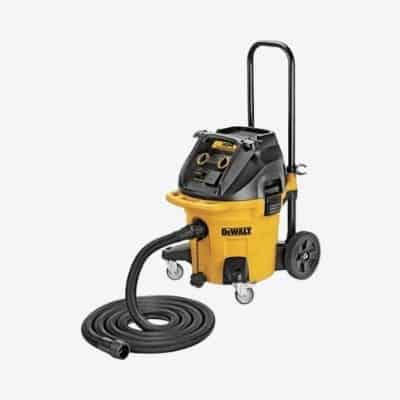 Key Specifications
15-amp Motor
140-CFM Suction Rate
10-Gallon Storage Capacity
Variable Suction Power
The DEWALT DWV012 is a 1.85 HP-motor dust extractor that comes with an automatic filter.
It delivers air suction at 140 CFM, providing maximum performance while being lightweight and portable at only 33.5 lbs.
With a storage capacity of 10 gallons, it can be used for both wet and dry applications and can be used for cleaning up after woodworking and masonry projects.
Transporting the DWV012 around is easy thanks to its a kink-resistant hose that also comes with a universal hose connector to reduce clogging.
With its automatic filter, there is no need to stop and manually clean the filter in between usage.
It is even more efficient due to its simple one-switch operation, which can be altered between vacuum-only or tool actuation mode when paired with a power tool.
Pros
Doesn't clog
Great suction power
Easy to move around
Hose and cord stores easily
Cons
Replacement parts could be more readily available
The DEWALT DWV012 delivers good performance while being efficient since it doesn't require manual cleaning between operations.
Best Budget - The Dust Deputy Deluxe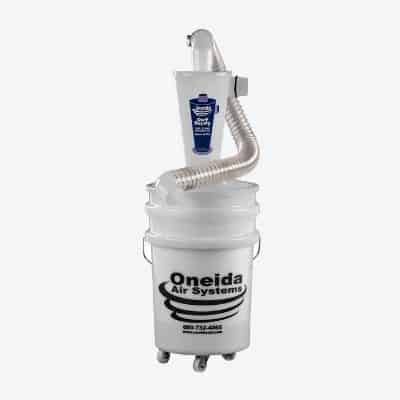 Key Specifications
The Dust Deputy Deluxe Anti-Static Cyclone Separator can be used to eliminate suction loss in any wet/dry vacuum.
It comes with Neutral Vane Technology which uses centrifugal force to get rid of 99% of dust before reaching your vacuum filter, maximizing efficiency.
It is well-suited for construction sites, homes, and everywhere else.
It is an high-efficiency tool that saves you significant time and money, as it prolongs the lifespan of your vacuum filters. It has a storage capacity of 5 gallons and delivers air suction at 50 – 150 CFM.
It can be easily connected with any wet/dry vacuum in your workplace with its 2.5-inch adjustable hose/band clamp, 2-inch by 3-feet vacuum connection hose, and two 90-degree hose elbow adapters.
Pros
Easy to maneuver
High efficiency
Good value for money.
Collects small to large debris
Cons
Could be easier to attach
The Anti-Static Cyclone Separator takes some effort to hook up, but it is still incredibly effective in extending the lifespan of your shop vac.
Makita XCV11Z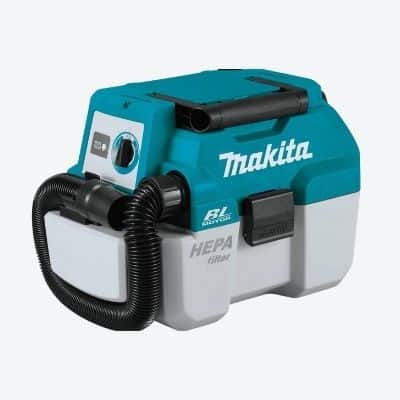 Key Specifications
5-amp Motor
57-CFM Suction Rate
2-Gallon Storage Capacity
Cordless
The Makita XCV11Z is a portable dust extractor that you can carry wherever you go. It's extremely easy to transport and reach spots where traditional dust extractors can't get to.
It draws in air at 57 CFM with the help of its 5-amp brushless motor and stores up to 2 gallons of dust, dirt, and other debris.
This battery-powered dust extractor is suitable for small workshop use.
Thanks to its efficient HEPA filter, it can capture up to 99.97% of unwanted particulates around at 0.3 microns. Just install one 5.0-Ah battery and get it running for 60 minutes at 18 volts.
Switch from vacuum to blower with convenient versatility, suck air in high or low speed depending on your needs, and transport it around comfortably thanks to its on-board hose and nozzle storage.
Pros
Lightweight
Good suction
Easy to store
Good battery life
Cons
Could come with a shoulder strap
Although the XCV11Z would be better if it came with a shoulder strap, this dust extractor is super-convenient and great for small-scale worksites.
Vacmaster VK811PH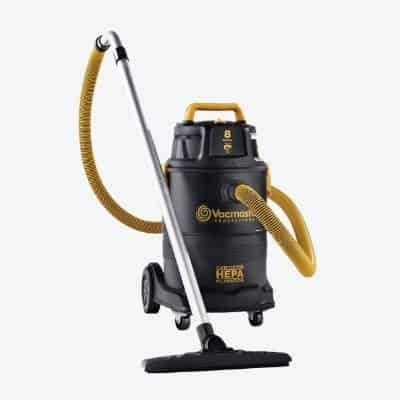 Key Specifications
11-amp Motor
125-CFM Suction Rate
8-Gallon Storage Capacity
4-Stage Filtration
The Vacmaster VK811PH is a 1.23-HP dust extractor with four stages of filtration, including a True HEPA Filter that sucks up and retains dust at 99.97% efficiency of up to 0.3 microns.
With a storage capacity of 8 gallons and an air suction capacity of 125 CFM, it ensures that your workshop is clean from even the tiniest dust particulates.
Featuring an industrial-class 2-stage motor, this product performs with a longer lifespan and quieter sound, while delivering excellent filtration through its HEPA cartridge filter, microfiber pre-filter, sealable tear-resistant collection bag, and HEPA-material exhaust filter.
It can reach wider areas thanks to its 30-foot power cord, extending its cleaning reach to 40 feet.
It comes with a 10-foot crushproof hose that can withstand drops and light stomps (don't step on the hose, please).
Pros
Easy to assemble
Good suction power
Affordable price
Can reach long distances
Cons
Hose could connect more tightly
This VK811PH dust extractor is good to use in medium to large workshops thanks to its long reach and cleans thoroughly with the help of a four-layer filtration system.
FEIN Turbo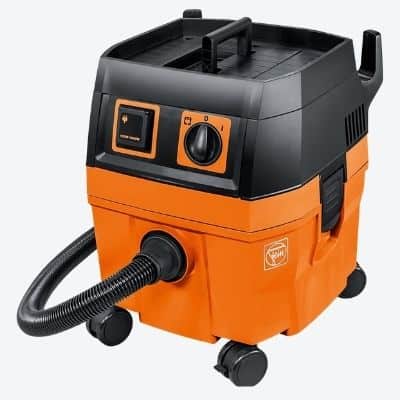 Key Specifications
1100W Motor
151-CFM Suction Rate
5.8-Gallon Storage Capacity
Auto-Start with Power Tools
The FEIN Turbo is a powerful 1100W dust extractor that is ideal for workshops, construction sites, or DIY use.
It has a storage capacity of 5.8 gallons and sucks air at a high rate of 151 CFM.
It comes with a self-starting wet/dry vacuum and an auto-start/stop function, which enables extraction to start immediately after a power tool has been switched on.
The FEIN Turbo comes with a bypass motor that prevents dirty air from coming into contact with the motor, further eliminating the spewing out of dust.
Once the filter gets dirty, simply clean it by tapping it out of the protective filter cassette. It comes with a long hose of 13 feet and cord of 18 feet to help you easily reach further areas.
Pros
Less noise
Lightweight
Good suction power
Convenient auto-start feature
Even though the length and stiffness of the FEIN Turbo's hose makes it hard to move around, this dust extractor cleans wonderfully, thanks to its auto-start feature.
DEWALT DWV010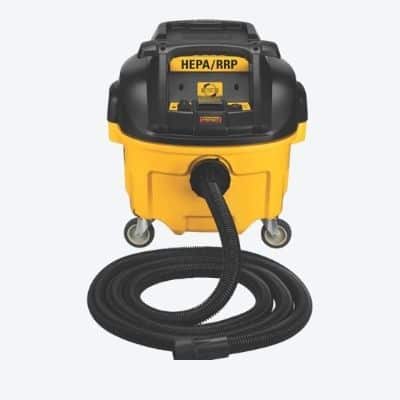 Key Specifications
15-amp Motor
130-CFM Suction Rate
8-Gallon Storage Capacity
Automatic Filter Clean
The DEWALT DWV010 is an automatic dust extractor that delivers an excellent air suction of 130 CFM with its powerful 15 Amp motor.
It's automatic filter clean feature allows continuous operation by pulsing every 30 seconds.
In addition, it is also lightweight and portable, allowing users to get around any workshop or project site without the weight of this dust extractor dragging them down.
The DWV010 comes with a universal hose connector that makes it integrable with any equipment easily, connecting it securely and with swivel capability.
Its heavy-duty casters ensure it can be used on-the-site for a long time.
Easily control its use with a power tool thanks to its Power Tool Actuation feature that controls the on/off operations of the vacuum.
Pros
Good suction power
Self-cleaning system
Good value for money
Useful auto on/off feature
The DWV010 delivers good suction power and is convenient to use, provided that users put on ear protection before switching this on.
Bosch VAC090AH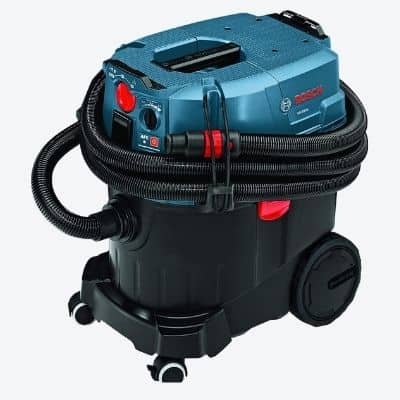 Key Specifications
6.5-HP Peak Motor
150-CFM Suction Rate
9-Gallon Storage Capacity
Auto-Cleaning
The Bosch VAC090AH is an auto-cleaning dust extractor that delivers 150 CFM of air suction with a storage capacity of up to 9 gallons.
It performs at 6.5 HP at most, and captures 99.97 percent of particles at 0.3 microns or larger with its True HEPA filter.
The filter is also protected by an included fleece filter bag for optimum usage.
The VAC090AH is easily compatible with any power tool, simply by utilizing power tool's switch to turn vacuum on or off, and using the power broker dial feature to allocate power between the connected power tool and the vacuum.
It is lightweight and portable which makes it convenient to lift and transport around any project site.
Pros
Durable
Less noise
Good suction power
Easy to move around
Cons
Could be easier to clean interior
Maintaining the VAC090AH's interior can be a pain, but if you use the right collection bags, you shouldn't have as big of a problem.
Festool 575267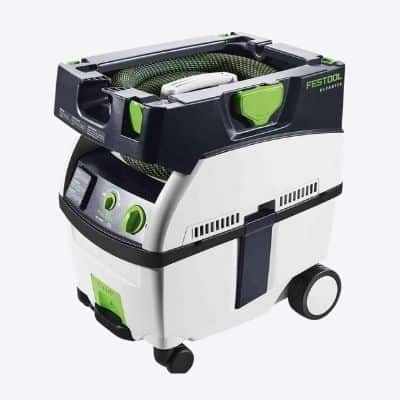 Key Specifications
1200W Motor
137-CFM Suction Rate
3.9-Gallon Storage Capacity
SYS-Dock
The Festool 575267 is a powerful, compact, and portable dust extractor that runs at 1200W and has a storage capacity of 3.9 gallons.
It removes debris effectively and quietly at 137 CFM, and has an integrated hose garage which helps easy transportation and storage.
It comes with a heavy-duty and long cord which makes it convenient to reach any corners of your project site.
Use it for small to large-scale project sites thanks to its adjustable power/suction settings.
It sucks air through two-layer filter bags for better separation, and the filter can be replaced easily without the use of any extra tools.
It has an antistatic design that also ensures safety by preventing electrostatic charging.
Pros
Less noise
Long cord for better reach
Easy to change filters
Great suction power
Despite the high price tag, the 575267 is one of the top-selling dust extractors on the market, so you may have a difficult time finding one.
FAQ's
Let's take a look at what sort of FAQs about dust extractors need answering.
Do I need a dust extractor?
Dust extractors work on a high-pressure-low-volume principle, so they will not reach the same airflow volume levels as dust collectors. However, they work beautifully at picking up concentrated piles of dry and wet debris, making them the perfect choice for taking with you to various job sites. They're also incredibly lightweight, so you don't need to worry about breaking your back by lifting a dust extractor up and down floors.
How much CFM should my dust extractor deliver?
The higher the CFM, the better it will be at picking up all kinds of debris. As you can see from our list, the best dust extractors have limited CFM ratings, at least compared to traditional dust collectors, but a little bit of pressure can go a long way. In general, a higher CFM rating will deliver better cleaning results, but anything over 100 CFM (50 CFM for handheld models like the Makita XCV11Z) will suffice.
Do I need a dust collector if I have a dust extractor?
You might. Dust extractors like the models mentioned above work best for tinier cleaning jobs. They can connect to a single tool to clean up dust as it's produced, but you'll need to move the unit around to keep an entire workshop clean of debris. It's simpler to install a central dust collector system than it is to move a portable dust extractor back and forth across spacious shops.
Which brand makes the best dust extractor?
As you can see from our product list, we have included top-brand names like Craftsman, DEWALT, Makita, and Festool. Even though the Craftsman tops our list, the best dust extractor is one that meets your every need. Make sure the tool can deliver enough suction pressure to remove debris thoroughly and quickly while being as lightweight as you'd like. Having a True HEPA filter doesn't hurt either.
Summary
In today's guide, you've seen what we've deemed to be the best dust extractor of all time (Craftsman CMXEVBE17595).
However, the best dust extractor is the model that best fits your needs, whether you're looking for extra portability or extra suction power.
If you're not sure which dust extractor is best for your workshop or construction site, please post your queries in the comment section below.