Pressed for time? Check our best picks
Briggs & Stratton 1022E 1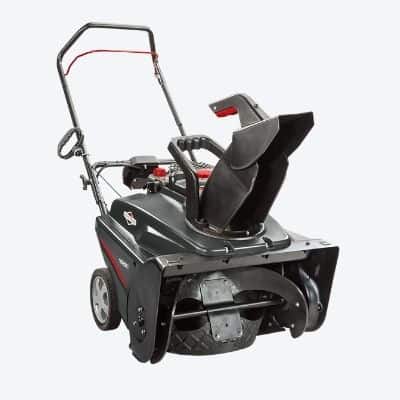 Starts up in a jiffy
Far throwing distance
Fast-working snow blower
Honda HSS928AATD 2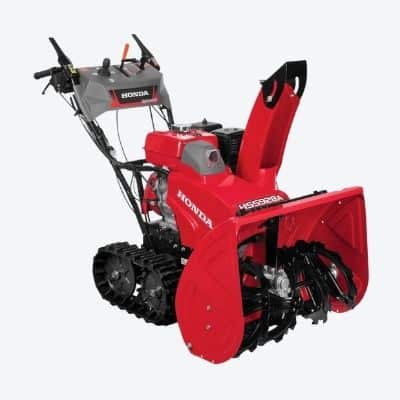 Anti-slip tracks
Destroys snow and ice
Rugged construction
Briggs & Stratton 1024 3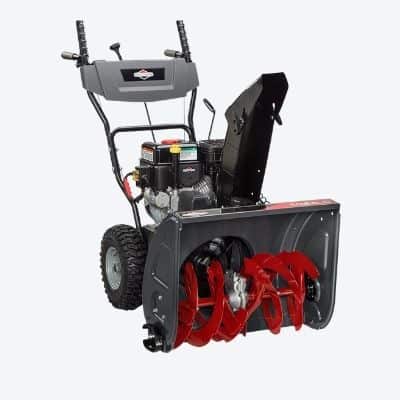 Lightweight design
Wide range of features
Incredible user-friendly
Our reviews are unbiased, fact-based, and comprehensively researched to help you make the right buying decisions.



Even though electric snow blowers are a lot more environmentally friendly than gas, only gas-powered snow blowers can guarantee snow and ice crushing performance on mounds taller than a foot in size.
In this guide, we'll show you what the best gas snow blower is out of over 30 models we've researched closely.
From our findings, you should find the one gas snow blower that meets your every need.

Best Gas Snow Blower – Briggs & Stratton 1022E
The number-one spot best gas snow blower goes to the Briggs & Stratton 1022E.
Even though it's "just" a single-stage machine, this heavy-duty unit crushes the soul out of snowbanks and ice with minimal effort, while tossing the remains 30 feet across yards.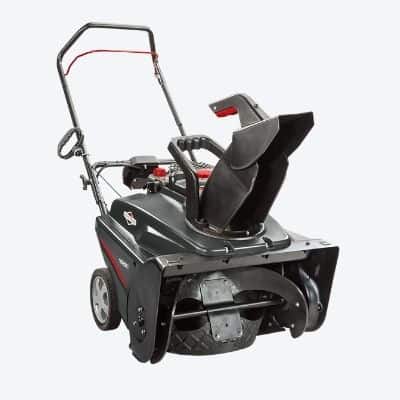 Here's what the snow-crushing 1022E's key specifications look like—
208cc Engine
22 x 12.5-inch Intake
30-foot Throw Distance
Electric Starter
To be frank, the 1022E doesn't look like much.
It appears to be a standard single-stage, gas-powered snow blower, albeit with a durable outer shell.
This all-steel machine sports a 208cc engine and an ultra-wide 22-inch auger to slice and dice 12-inch snowbanks in the blink of an eye.
The 1022E comes with an electric starter that, with a single press, forces the engine to roar to life.
Pulling the safety lock lever is as easy as can be, and seeing as how it does not come with a crank shift chute controller, you'll need to celebrate every convenience-adding feature you can get.
This helpful demo video of the 1022E will show you what to expect.
Pros
Starts up in a jiffy
Far throwing distance
Fast-working snow blower
Swallows foot-tall snow mounds with every pass
The single-stage 1022E by Briggs & Stratton offers a closer "snow shave" on pavement, leaving just a fine layer of powdery snow in its wake.
Top gas snow blower in the market compared
Product Image

Product Name

Features

Price



Best Overall - Briggs & Stratton 1022E


Engine Size: 208 cc

Intake: 22 x 12.5 in.

Throw Distance: 30 ft.

Electric Start




Check Today's Price





Best Premium - Honda HSS928AATD


Engine Size: 270 cc

Intake: 28 x 21.7 in.

Throw Distance: 52 ft.

Track Drive




Check Today's Price





Best Budget - Briggs & Stratton 1024


Engine Size: 208cc

Intake: 24 x 20 in.

Throw Distance: 30 ft.

Friction Disc Drive




Check Today's Price





Best gas snow blower under 500 - YARDMAX YB5765


Engine Size: 196 cc

Intake: 22 x 16 in.

Throw Distance: 40 ft.

Multi-Speed Self-Propelled




Check Today's Price





Husqvarna ST224


Engine Size: 208 cc

Intake: 24 x 23 in.

Throw Distance: 35 ft.

Remote Chute Deflector




Check Today's Price



Reviews of Best gas snow blower
Best Premium - Honda HSS928AATD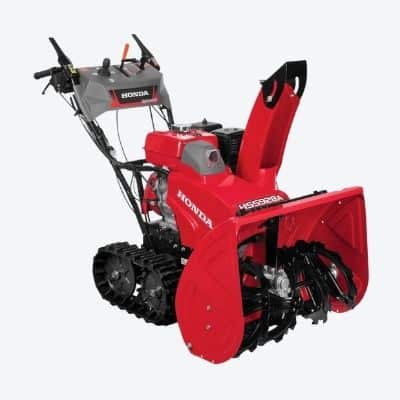 Key Specifications
270cc Engine
28 x 21.7-inch Intake
52-foot Throw Distance
Track Drive
The best premium-quality snow blower on the market is the Honda HSS982AATD.
This machine features a 270cc OHN Honda engine that powers two heavy-duty steel augers through over 20-inch-tall snowbanks in a single pass.
With the impeller fan, this machine further chops up snow and ice before discharging the mess at distances of over 50 feet.
This Honda two-stager sits atop a set of tracks, not tires, that helps keep perfect balance and traction on slippery surfaces at all times.
Plus, with a self-propelled drive system, the Honda is able to climb up and down slopes without forcing the operator over the handlebar.
Want to see what the Honda HSS982AATD looks like in action? Here ya go! 
Pros
Anti-slip tracks
Destroys snow and ice
Rugged, rust-proof construction
Throws snow over your neighbor's fence
Cons
Could be easier to navigate
Almost everything found in the Honda HSS982AATD is oversized, starting from the powerful machine all the way to its heavy-duty augers and impeller fan.
Best Budget - Briggs & Stratton 1024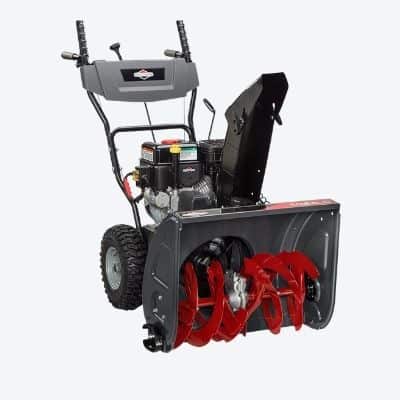 Key Specifications
208cc Engine
24 x 20-inch Intake
30-foot Throw Distance
Friction Disc Drive
The Briggs & Stratton 1024 is a super-budget-friendly two-stage snow blower that's made to gobble up tall snow mounds with every sweep of its gearbox.
The 24-inch-wide augers draw in huge amounts of snow and crush it into manageable pieces before being discharged up to 30 feet away.
This low-cost two-stager features a powerful 208cc engine form the 950 series to tackle all sorts of snow textures, including wet and heavy.
The greatest shock is that this machine comes with heated handgrips and a single-hand operator mode, allowing your free hand to control the forward and reverse gears easily.
This informative video will show you how to get your 1024 up and running.
Pros
Lightweight design
Wide range of features
Incredible user-friendly
Perfect mobility on slippery surfaces
Cons
Instruction guide could be easier to follow
After you get the 1024 running, you'll be left wondering why you wasted your precious time manually shoveling snow off of driveways your entire life.
Husqvarna ST224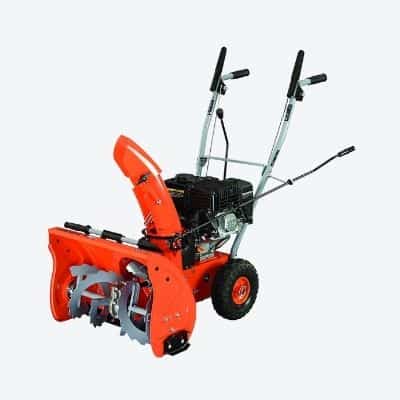 Key Specifications
208cc Engine
24 x 23-inch Intake
35-foot Throw Distance
Remote Chute Control
Next is a Husky creation—the ST224. This is a reliable two-stager machine that uses all of its 208cc engine's power to drive two-foot-wide augers and swallow up roughly 800 pounds of snow minute.
With 9.5 foot-pounds of torque, there's little concern as to whether this Husky can chomp on thick ice slabs while in motion.
This unit was specifically created to cater to homeowners with large driveways, and its large gearbox and 35-foot throw distance certainly do the job incredibly well.
This unit also features hand-warming grips, and 6 forward and 1 reverse speeds to help scale gradual slopes and get out of sticky situations.
Although it's missing power steering, the ST224 can turn rather well, though don't expect zero-radii capabilities.
Pros
Piercingly bright LEDs
One-button electric ignition
Easy-to-follow assembly guide
Powerful foot-wide serrated augers
Cons
Impeller fan could be more durable
Considering the ST224's performance ratings and low cost, there's very little reason why homeowners shouldn't upgrade their shovels to this two-stage monster.
Best gas snow blower under 500 - YARDMAX YB5765

If you're shopping on a $500-or-less budget, the YARDMAX YB5765 is the most reliable gas snow blower you can get.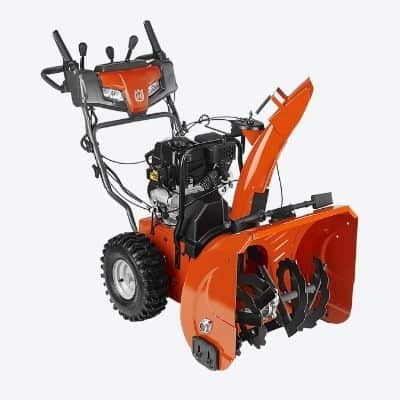 Below, you'll find a short list of its key specifications—
196cc Engine
22 x 16-inch Intake
40-foot Throw Distance
Multi-Speed Self-Propelled
At a glance, the YB5735 may not look much different from other two-stage snow blowers on the market.
In fact, looking at its performance ratings, the differences are minor and, quite honestly, almost negligible.
Now, this is definitely not a bad thing! For under $500, you're getting a heavy-duty gas snow blower that demolishes ice chunks with 9.5 foot-pounds of torque while discharging almost 700 pounds of snow from your driveway every 60 seconds!
Granted, its gearbox is shorter than most two stagers, and but less snow bogging down the impeller fan means greater throw distances—up to 40 feet at peak performance.
Watch the YB6765's shocking snow-blowing capabilities in YARDMAX's demo video right here. 
Pros
Simple operation
Wide serrated augers
Single-press electric starter
Self-driving at reasonable speeds
Cons
Could do better on wet snow
The YARDMAX YB5765 doesn't come with many frills, but at under $500, you're getting a two-stager that performs as admirably as the best of them.
Gas Snow Blower Buying Guide
If you're still unsure which gas snow blower model is best for you, we've created a brief buying guide that teaches you how to select the most appropriate model for your home.
Single vs. Two-Stage
From our list, there's only one single-stage gas snow blower—the Briggs & Stratton 1022E—which is coincidentally our best overall pick.
Now, is that to say that this machine can plow through all snowbanks efficiently?
Not quite. Single-stage snow blowers are designed for regions where snowfall piles up to around 10 inches in height.
Two-stager models are more adept at tackling foot-tall or even 18-inch-tall snowbanks without breaking a sweat. They also deal with ice quite well thanks to their larger motors and augers.
Concrete vs. Gravel Driveway Cleaning
Most of us are probably considering picking up a snow blower because we can't get our cars out in the morning.
Even though any-stage snow blower can help move most of the snow off of pavement, single-stage machines offer a closer clean due to the shorter clearance gap between the gearbox and the plowed surface.
On the other hand, if you have a gravel driveway, a two-stager's adjustable skid shoes add clearance between the ground and gearbox to ensure that it only picks up and discharges snow while leaving gravel intact.
However, it leaves a thin layer of snow in its wake (depending on the skid shoe's height setting), so your driveway is never "perfectly" cleaned.
Additional Features
After you've determined whether you would benefit more from a single or two-stage machine, finding a model with certain addon features will help seal the deal.
Electric ignition
Heated handgrips
Single-hand operation
Remote-controlled chute
Headlamps
Speed controls
Cleanout tool
FAQ's
We'll allocate some time to answer the most FAQs about gas snow blowers in this section.
Is Gas better than electric?
In nearly every way, yes. Any outdoor power tool that uses gas will outperform its electric counterpart in almost every way imaginable. However, combustion engines are pretty high-maintenance, and missing one of the crucial maintenance checkup steps can lead to costly damage down the road. We have guides on the best cordless/battery and electric snow blowers if you're interested in a more environmentally-friendly tool.
How do I clean heavy snow?
This is another thing that makes gas snow blower better than electric. Gas snow blowers are better-equipped to handle wet, compacted, and heavy snow, thanks to their large engines and high-speed augers and impeller fans (two-stage only). The steps needed to clean heavy snow off of pavement is as simple as shifting into a forward gear and letting the snow blower do the heavy-lifting for you.
Can a two-stage snow blower clean chunks of ice?
To a limited extent, they can. However, solid blocks or thick-inch sheets of ice may prove to be too difficult for a two-stage snow blower to handle. That being said, you can take a shovel and manually shatter the ice to tiny, manageable fragments that won't choke or batter the impeller fan. For the most challenging jobs, you'll need to take a look at our guide on the best 3-stage snow blowers.
Which brand makes the best gas snow blower?
As you can see from our list, our number-one pick is a single-stage gas snow blower by Briggs & Stratton. But since gas snow blowers come in all sizes and with different capacities, the best snow blower is the one that meets your exact demands. Top-quality brands to look for while shopping include Briggs & Stratton, Toro, Honda, Husqvarna, Cub Cadet, and Ariens, though lesser-known companies like YARDMAX deserve some attention.
Summary
Today, we've shown you what the best gas snow blower is—the Briggs & Stratton 1022E—and how it outperforms much of its competition.
We've also included several alternatives that should pique your interest.
Out of over 30 models we analyzed, we're more than certain that you'll find the perfect gas snow blower for your home on this list.
If not, we'll open our comment section to all critics out there.