Pressed for time? Check our best picks
Mophorn Metal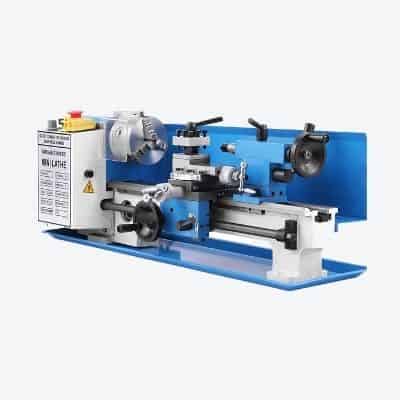 Lightweight design
Reliable RPM readout
Powerful motor
BestEquip Metal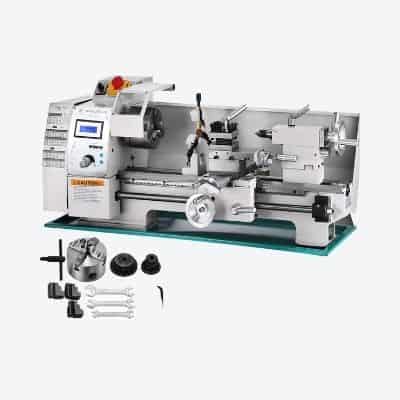 Tool-free adjustments
2-speed brushless motor
Great for metal and wood
Central Machinery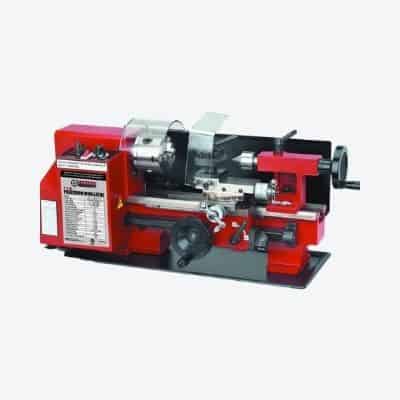 Runs smoothly
Easy to clean
Comes with chuck guard
Our reviews are unbiased, fact-based, and comprehensively researched to help you make the right buying decisions.



A seasoned gunsmith will know how important high-quality tools play a role in in their craft.
And by the looks of what's available on the market, there's a limited number of gunsmith lathes on the market that are actually worth looking into.
In today's guide, we'll show you what the best gunsmith lathe is out of the eight models we researched in-depth and compared one against the other.

Best Gunsmith Lathe – Mophorn Metal Precision Mini Lathe
The best gunsmith lathe out of the small pool of eight models is the Mophorn Metal Precision Mini Lathe.
This gunsmith lathe might not look like much, but its wide distance between the centers, electronic controls, and wide speed range combined offer a ton of versatility that gunsmiths would appreciate.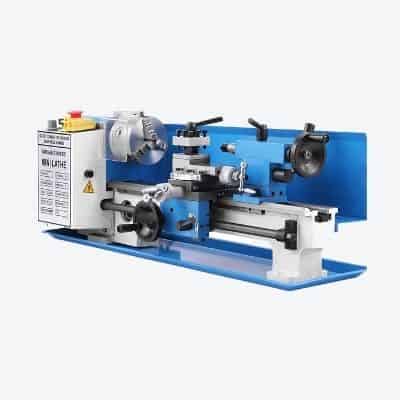 Here's what the Mophorn's key specifications look like in a glance—
¾-HP Motor
7 x 14-inch Lathing Capacity
0-2500 RPM
Digital Speed Readout
The Mophorn is a steal for what it costs and what it can do. It's a highly resistant lathe that offers a 7-inch swing with 14 inches of clearance between the centers.
The ¾-HP motor provides enough speed and torque to turn all kinds of metals, including steel and brass.
It also weighs slightly over 80 pounds, which is hardly surprising seeing as how it's a benchtop model.
This machine lets your run a four-inch tube or two-inch steel bar between the centers. A reliable digital speed readout will let you control the turning speed for optimal torque and cleaner cutting.
This lathe is far from being quiet, but the cost of loud noises is worth the overall turning experience and accuracy.
Pros
Lightweight design
Reliable RPM readout
Powerful motor, flexible speed range
Plenty of workspace for benchtop model
As is typical of any benchtop lathe, even ones made for gunsmithing, the Mophorn isn't the most durable machine out there. Just pay extra attention when moving it and you should get several years of use out of this affordable machine.
Top dust collector
in the Market Compared
Product Image

Product Name

Features

Price



Best Overall - Mophorn Metal Lathe


Motor Size: 3/4 HP

Late Capacity: 7 x 14 in

Speed: 0-2500 RPM

Digital Speed Readout




Check Today's Price





Best Premium - BestEquip Metal Lathe


Motor Size: 750W

Late Capacity: 8 x 16 in

Speed: 50-2250 RPM

Brushless Motor




Check Today's Price





Best Budget - Central Machinery 7 x 10 Precision Mini Lathe


Motor Size: 3/4 HP

Late Capacity: 7 x 10 in

Speed: 0-2500 RPM

Chuck Guard




Check Today's Price



Reviews of Best dust collector
Best Premium - BestEquip Metal Lathe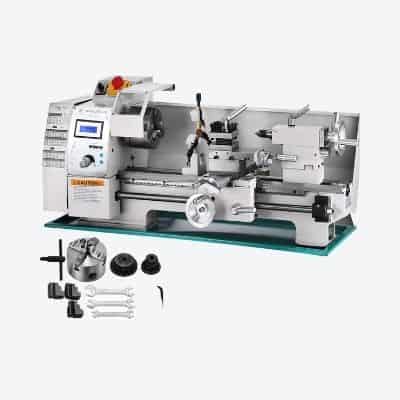 Key Specifications
750W Motor
8 x 16-inch Lathing Capacity
50-2250 RPM
Brushless Motor
The BestEquip Metal Lathe is an 8 x 16-inch machine that sports a 750W motor.
It offers a flexible turning speed range of between 0 and 2,250 RPM, giving operators full control over how quickly to turn different materials.
It doesn't have an electrical speed system, so you will have to adjust the positions of the drive belts to get turn the spindle at the correct speed.
The shining feature in the BestEquip gunsmith lathe is its brushless motor.
If you don't know, the absence of brushes reduces how much heat it produces, thereby reducing the level of wear and tear over time.
Also, to adjust the positions of the drive belt and tailstock, you can do so without relying on external tools.
Pros
Tool-free adjustments
2-speed brushless motor
Great for metal and wood
Worthy choice for both novices and pros
Cons
Could be easier to assemble
The included manual can make setting up this gunsmith lathe more complicated than it really is, but as soon as you get it running, you'll thoroughly enjoy the power and durability of this powerful lathe.
Best Budget - Central Machinery 7 x 10 Precision Mini Lathe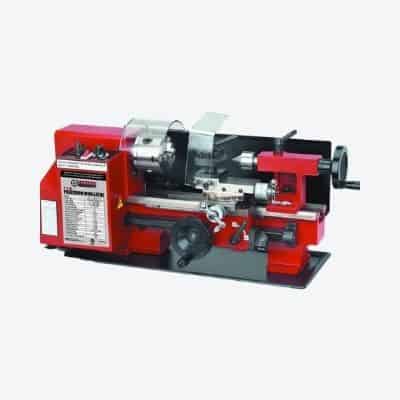 Key Specifications
¾-HP Motor
7 x 10-inch Capacity
100-2,500 RPM
Automatic Feed
The Central Machinery 7 x 10 Precision Mini Lathe features a beefy ¾-HP motor that spins blanks of up to 7 x 10 inches at a rate of up to 2,500 RPM.
However, you can always reduce the speed to 100 RPM when turning metal and other dense materials.
Similar to other mini lathes for metal, the Central Machinery relies on an auto-feeding system that drives the carriage toward the headstock, ensuring flawless, repeatable threading of between 12 and 52 TPI.
If you want to use this machine for woodturning, make sure to pick up a compatible tool rest.
Pros
Runs smoothly
Easy to clean
Comes with chuck guard
Solid turret-style post
Cons
Plastic feed gears could be more durable
For its price, you won't find a better gunsmith lathe that performs nearly as well as the Central Machinery.
Best Gunsmith Lathe Buying Guide
Now that we know what the top three best gunsmith lathes are, let's take a closer look at what this tool is and how to determine which model to take home with you.
What is a gunsmith lathe?
In terms of practicality, there are very few differences between lathes made for gunsmithing and other more generic lathes.
The most crucial component of a gunsmith lathe is the outboard spider that holds the gun barrel as it turns.
Other than the outboard spider—which is something you can craft yourself—there's really nothing else to set it apart.
What is a gunsmith lathe used for?
The main purpose of a gunsmith lathe is to assist in making guns, which is pretty obvious from its name.
However, the right lathe can help with a number of different applications, including whetting and boring through cylindrical objects, threading metal, trimming, finishing, and countersinking.
Important features and specs
Looking for a gunsmith lathe is no different from any other tool, except for the outboard spider.
If you're interested in metal lathes and how to find one for your workshop, please feel free to look at our guide on the best jointer or the best metal lathe.
FAQ's
Can any lathe be used to for gunsmithing?
Not precisely. In fact, to guarantee that you're getting a good lathe for gunsmithing, you should make sure that the lathe is equipped to turn metal at a lower speed while producing more torque for greater shaping. Take a look at our guide on the best metal lathe to see which lathe is the right choice for your workshop.
Can a gunsmith also mill metal?
No, they cannot. Even though there are lathe mill combos out there (we have a guide on those, as well), lathes specifically made for metalworking do not offer the versatility of a 2-in-1 machine. In fact, some would argue that you're better off getting a lathe and a milling machine separately, but for basic hobbyist work, that isn't necessary.
Can a gunsmith lathe turn wood?
Yes, they can, but they might not come with the necessary hardware to do so. If you plan on turning all kinds of materials in between your lathe's centers, make sure you invest in tool rests and cutting tools. As for metalwork, a carriage and auto-feed system are all you'll need to make threads and bore holes repeatedly.
How much should I spend on a gunsmith lathe?
Most metal lathes and gunsmith lathes can cost quite a bit. This is because they need to be heavy-duty to turn large metal stock while also providing enough torque to cut through the dense material efficiently. So, generally speaking, you should spend as much as your budget will allow you. Also, look for a heavier machine if possible (which adds to the price tag) as it'll remain stable while turning metal at higher speeds.
Summary
In today's guide, we've shown you what the best gunsmith lathe is, as well as two noteworthy alternatives that might be a better fit for your shop.
Essentially, a gunsmith is a metal lathe that comes with an outboard spider to hold onto the barrel of a gun during the shaping process.
If you're unsure of which gunsmith lathe is the most suitable model for your shop, give us a holler by leaving a comment.