Pressed for time? Check our best picks
Toro 1800 Power Curve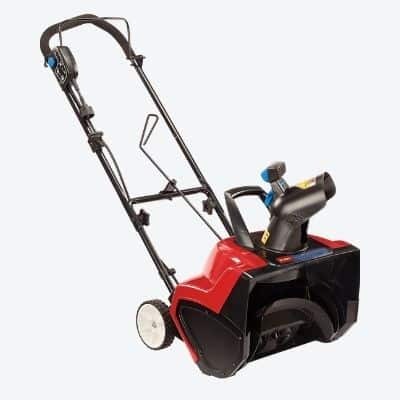 Ultra-lightweight
Easy to set up and operate
Tosses 700 pounds of snow per minute
Snow Joe iON18SB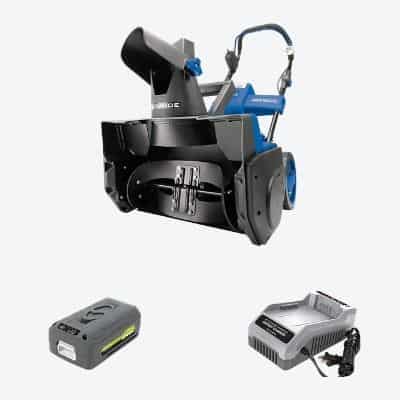 Fast charging
Convenient
Great for light-snowfall regions
Toro 38361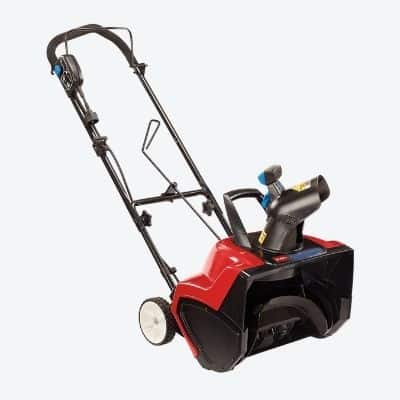 Decently wide intake
Easy to carry and use
Far discharge distance for power shovel
Our reviews are unbiased, fact-based, and comprehensively researched to help you make the right buying decisions.



Not everyone is in the market for a humungous 3-stage snow blower.
If you're looking for a smaller unit that can handle up to 12-inch-tall snow mounds, then a small, single-stage unit will suffice.
In this guide, we'll show you which is the best small snow blower out over 30 models we researched.
We spent long hours researching each of these models, so we're sure you'll appreciate our findings.

Best Small Snow Blower – Toro 1800 Power Curve
The best small snow blower that we'd recommend over anything else is the Toro 1800 Power Curve.
This compact single-stage machine doesn't come with very many frills, but its outstanding performance and heavy-duty motor will tackle most snow formations, powdery or otherwise.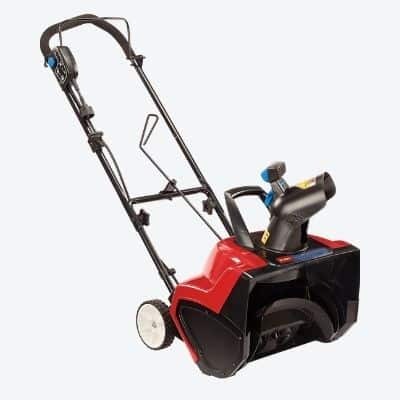 Here's a quick overview of the 1800 Power Curve's key specifications—
15A Motor
18 x 12-inch Intake
20-foot Throw Distance
Power Curve Technology
The 1800 Power Curve is sporting a sizable 15A motor that spins the 18-inch-wide plastic auger at high speeds to pull in greater quantities of snow with each pass.
The auger then discharges up to 700 pounds of snow at a distance of up to 20 feet, leaving driveways and sidewalks free of snowy messes.
This machine comes with Power Curve technology that, according to Toro, delivers a deeper clean on pavement surfaces while also preventing the chute from clogging.
The plastic augers ensure that your concrete driveway is left fully intact after the 1800 has had its say.
This brief video by Toro will show you the outstanding performances of the 1800 Power Curve and the 38361 power shovel (our budget pick).
Pros
Ultra-lightweight
Easy to set up and operate
Tosses 700 pounds of snow per minute
Flip-down handle for less storage space
Cons
Safety lock could easier to unlock
If you live in an area where snowfall does measure higher than a foot per day, then the heavy-duty 1800 Power Curve is exactly what you're looking for.
Top Small Snow Blower Compared
Product Image

Product Name

Features

Price



Best Overall - Toro 1800 Power Curve


Motor/Engine Size: 15A

Intake: 18 x 12 in.

Throw Distance: 20 ft.

PowerCurve Technology




Check Today's Price





Best Premium - Snow Joe iON18SB


Motor/Engine Size: 13.5A

Intake: 18 x 8 in.

Throw Distance: 20 ft.

Quick Charger




Check Today's Price





Best Budget - Toro 38361


Motor/Engine Size: 7.5A

Intake: 12 x 6 in.

Throw Distance: 20 ft.

Telescoping Handle




Check Today's Price





Snow Joe SJ623E


Motor/Engine Size: 15A

Intake: 18 x 10 in.

Throw Distance: 25 ft.

Instant Start




Check Today's Price





Greenworks 2600502


Motor/Engine Size: 13A

Intake: 20 x 10 in.

Throw Distance: 20 ft.

Folding Handles




Check Today's Price



Reviews of Best Small Snow Blower
Best Premium - Snow Joe iON18SB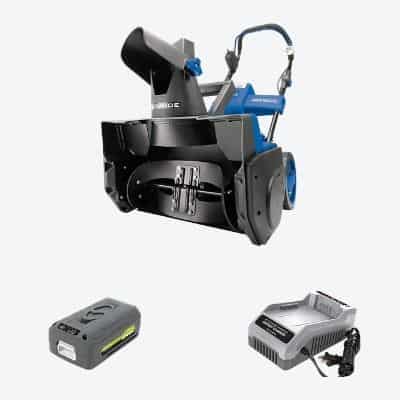 Key Specifications
13.5A Motor
18 x 8-inch Intake
20-foot Throw Distance
Quick Charger
Our premium pick is the Snow Joe iON18SB. At first glance, this small-sized single-stage machine doesn't look like much, but it has an auto-rotate chute button.
However, it's a super-powerful machine that does quick work out of tossing up to 500 pounds of snow every minute across 20-foot distances.
This cordless snow blower runs on 40V 4-Ah battery packs.
A fully-charged battery can supply up to 50 minutes of continuous runtime, after which it requires just two hours to recharge.
Not quick by traditional standards, but for a cordless snow blower, it doesn't get much better than that.
This "live" demo video will show you what to expect with your iON18SB. 
Pros
Fast charging
Convenient auto-rotate chute
Great for light-snowfall regions
Works great on wet and powdery snow
Cons
Battery cover can randomly flip open
The iON18SB is an interesting single-stage snow blower. It doesn't offer much in terms of height intake, but it tackles wide paths and gobbles copious amounts of snow per sweep.
Best Budget - Toro 38361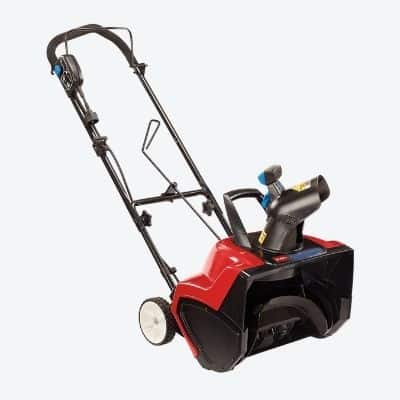 Key Specifications
7.5A Motor
12 x 6-inch Intake
20-foot Throw Distance
Telescoping Handle
The Toro 38361 isn't what you'd call a snow blower per se. In fact, it's actually a power shovel and the little brother to the 1800 Power Curve.
However, when you need to remove snow from confined spaces—e.g., stairs, patios, narrow sidewalks—the 12-inch width will make your work go by in a breeze.
This power shovel sports a 7.5A motor that turns a small, high-speed auger to demolish tiny snow mounds up to six inches in height and toss the remains 20 feet onto your yard.
It has a telescoping handle designed to match the height of most users, and it chews and spits out roughly 300 pounds of snow per minute. Not too shabby for a shovel!
Pros
Decently wide intake
Easy to carry and use
Adjustable handle position
Far discharge distance for power shovel
The 38361 power shovel is a trusted tool that excels at cleaning smaller surfaces where 18-inch augers won't fit.
Snow Joe SJ623E

Key Specifications
15A Motor
18 x 10-inch Intake
25-foot Throw Distance
Instant Start
Next, we have another corded-electric single stage snow blower by Snow Joe—the SJ623E.
This is a larger model that comes with even fewer frills than the previous Joe.
It has an electric starter button, though that's found in every electric snow blower, but its 18-inch auger tosses snow up to 25 feet away.
The SJ623E also has a pretty neat halogen headlamp, though it doesn't do much during the late afternoon.
You'll have to wait until nightfall to make use of these semi-bright lights.
Weighing a tiny fraction under 40 pounds, the SJ623E is a super-lightweight machine that delivers extraordinary snow-blowing performance with each sweep of the auger.
This live demo video showcases every feature and performance rating of the SJ623E. 
Pros
Has a safety switch
Corded for uninterrupted power
Tackles tough mounds with ease
Steel auger for heavy-duty demolition
Cons
Construction could be more robust
The SJ623E is a fantastic small-sized snow blower, though you need to be mindful of where the extension cord is at all times.
Greenworks 2600502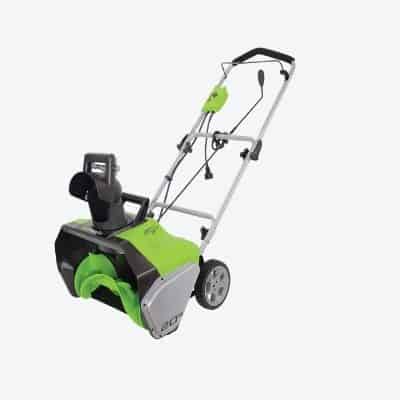 Key Specifications
13A Motor
20 x 10-inch Intake
20-foot Throw Distance
Folding Handles
If you thought the other models were lacking a ton of features, you haven't seen anything yet.
The Greenworks 2600502 is one of the most straightforward, corded-electric, single-stage snow blowers on the market—straightforward as in it doesn't come with very many convenience-adding features.
Performance-wise, there's absolutely nothing to complain about.
The 2600502's 13A motor does a stellar job at plowing through 850 pounds of snow every minute, although it does struggle on occasion when dealing with compacted and wet snow mounds.
The handles can fold downward to help reduce its overall size while in storage. Also, the plastic auger does not tear up concrete while accidentally bumping against driveways.
Even this video's title tells you how few features there are in the 2600502. 
Pros
Hassle-free starter
Delicate, plastic augers
Decent wheels and traction
Hard-hitting plowing machine
Cons
Could deal with wet and compacted snow better
The 2600502 from Greenworks is a hard-hitting beast when it comes to demolishing 10-inch-tall, powdery snowbanks.
FAQ's
Here, we'll try and address the most frequently asked questions people have about small snow blowers.
Are there small two-stage snow blowers?
Small is a very vague term that, when referring to snow blowers, generally means single-stage and compact in size. Two-stage snow blowers are nearly the complete opposite; they're beasts in the snow-blowing game that can swallow more than a foot of snow with each rotation of the serrated auger. If you're looking for the best two-stage or 3-stage snow blower, we have separate lists for those.
Should I choose a corded or a cordless snow blower?
That's entirely up to you. The pros of a corded-electric snow blower are uninterrupted runtimes and generally more power. On the other hand, we have cordless snow blowers that don't rely on long extension cords, have long-lasting batteries, and can be maneuvered to anywhere on your property. You'll need to weigh your options to see which of them would work best for your situation.
Is a power shovel worth it?
It can be, especially if your local meteorologist forecasts light snowfall of fewer than 6 inches in height overnight. Power shovels also have the benefit of being used in spaces where a standard single-stage snow blower won't fit. That said, the more versatile, by far, is a single-stage snow blower like the Toro 1800 Power Curve.
What is the most reliable snow blower brand?
There's not one single brand that dominates the snow blower sphere since many of them are similar in nearly every regard. That said, you'll need to get a feel for your machine before determining whether the manufacture is someone you can trust or not. With this in mind, we highly recommend finding a company with a proven track record of making top-class snow blowers and that offers generous after-sales services.
Summary
Today, we showed you that out of more than 30 models, the overall best small snow blower is the Toro 1800 Power Curve.
We've also included several options for the budget-conscious and for those with different snow-blowing needs.
If you'd like us to give an in-depth review of a particular snow blower model, or if anything is unclear, please tell us in the comment section.