Pressed for time? Check our best picks
Toro 38361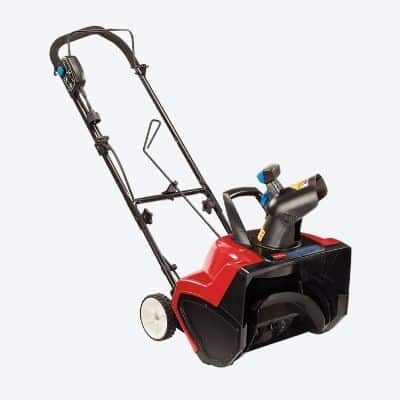 Decently wide intake
Easy to lift and maneuver
Excellent discharge distance for its size
EGO Power+ SNT2100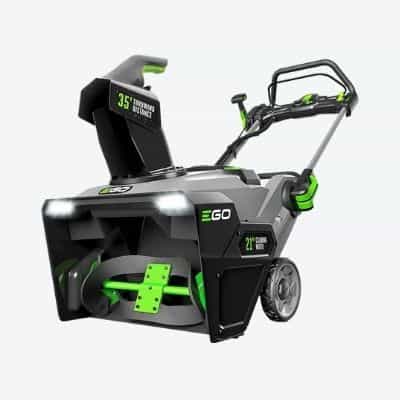 Huge intake
180° chute control
Easy to start and run and far throw distance
Toro 1800 Power Curve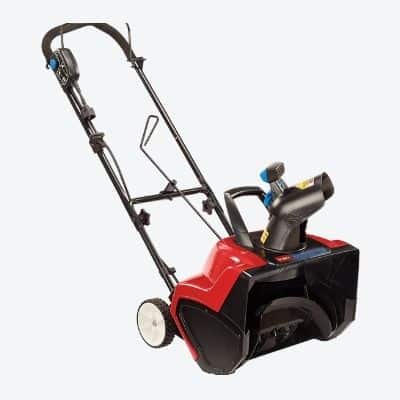 Incredibly lightweight
Innovative technology
Powerful snow removal performance
Our reviews are unbiased, fact-based, and comprehensively researched to help you make the right buying decisions.



Removing snow from walkways and driveways can be a challenge, and the troubles are compounded for folks with physical limitations.
However, snow blowers come in a wide assortment of sizes and shapes, and many of them are made as lightweight as possible to help seniors blow their own snow.
In this guide, we'll show you what the best snow blower for the elderly is.
After researching over 20 lightweight snow blowers, we're sure you'll appreciate what we've found.

Best Snow Blower for the Elderly – Toro 38361
The number-one spot for the best snow blower for the elderly goes to the Toro 36361.
Though not a snow "blower" in the traditional sense, this power shovel/snow thrower offers an amazing throw-distance-to-weight ratio.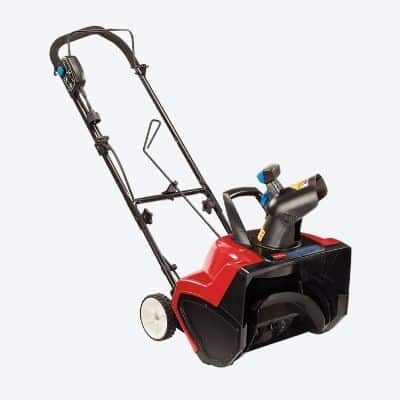 Here's a quick overview of the 38361's key specifications—
12 x 6-inch Intake
12.5-pound Build
20-foot Throw Distance
Telescoping Handle
The 38361 is a power shovel that tosses snow just as far as most bulky single-stage snow blower models.
Weighing just 12.5 pounds fully assembled, dragging and lifting it is as simple as can be, and sizable 7.5A motor does an excellent job of discharging snow 20 feet away from the tool's position.
It comes with a 12 x 6-inch intake to tackle moderate-sized snow mounds in a single sweep.
We think seniors will appreciate the telescoping handle feature that adjusts to nearly every person's height for maximum comfort and control.
Take a look at how simple it is to use and store the 39361 power shovel. The video also showcases the 1800 Power Curve's outstanding performance (our best budget pick). 
Pros
Decently wide intake
Easy to lift and maneuver
Adjustable handle height
Excellent discharge distance for its size
Cons
Would be perfect for seniors if it were cordless
Toro is a brand you can trust; their lightweight snow shovels and blowers are some of the top-performing models you'll ever find.
Top Snow Blower for Elderly Compared
Product Image

Product Name

Features

Price



Best Overall - Toro 38361


Intake: 12 x 6 in.

Weight: 12.5 lbs.

Throw Distance: 20 ft.

Telescoping Handle




Check Today's Price





Best Premium - EGO Power+ SNT2100


Intake: 21 x 13 in.

Weight: 64 lbs.

Throw Distance: 35 ft.

Remote Chute Adjustment




Check Today's Price





Best Budget - Toro 1800 Power Curve


Intake: 18 x 12 in.

Weight: 26 lbs.

Throw Distance: 20 ft.

PowerCurve Technology




Check Today's Price





Snow Joe SJ623E


Intake: 18 x 10 in.

Weight: 34 lbs.

Throw Distance: 25 ft.

Instant Start




Check Today's Price





Snow Joe iON18SB


Intake: 18 x 8 in.

Weight: 32 lbs.

Throw Distance: 20 ft.

Quick Charge




Check Today's Price



Reviews of Best Snow Blower for Elderly
Best Premium - EGO Power+ SNT2100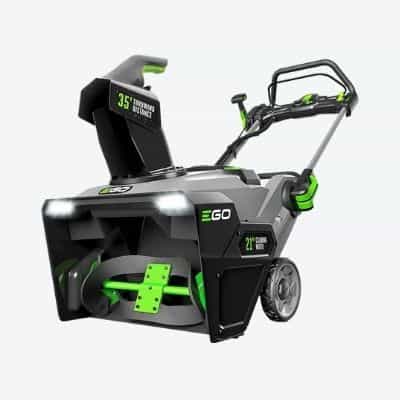 Key Specifications
21 x 13-inch Intake
64-pound Build
35-foot Throw Distance
Remote Chute Adjustment
The EGO Power+ SNT2100 is one of the most impressive single-stage cordless snow blowers for seniors.
It weighs more than most in its class (64 pounds dry weight), but it also tosses snow several more feet into the distance.
The SNT2100 comes with a 21 x 13-inch intake that gobbles up huge amounts of powdery or compacted snow with each pass.
It comes with a handy electric starter button (no recoil cords here) and a remote chute adjustment joystick that lets you control where snow is tossed without you having to bend over.
A fully-charged 56V battery pack supplies up to 40 minutes after three hours of charging.
This brief SNT2100 instructional video will show you how easy it is to adjust the chute using the joystick. 
Pros
Huge intake
180° chute control
Easy to start and run
Extra-far throw distance
Even though the SNT2100 weighs more than most, its beefy motor and high-performance auger offer more power and farther tossing abilities than most of its single-stage competitors.
Best Budget - Toro 1800 Power Curve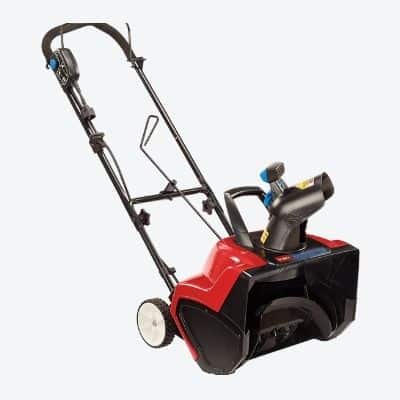 Key Specifications
18 x 12-inch Intake
26-pound Build
20-foot Throw Distance
Power Curve Technology
We found the Toro 1800 Power Curve to be the best cordless/battery snow blower, and it's not very difficult to see why.
This unit, fully assembled, weighs a mere 26 pounds while sporting a large 18 x 12-inch intake and 15A motor.
At peak performance, this tool can throw snow up to 20 feet away, though it may struggle when dealing with slushy snow.
This single-stage snow blower comes with Power Curve technology that delivers extra power to the auger to prevent it from bogging down.
It also helps clear the chute more efficiently to prevent the machine from choking in the middle of working.
Pros
Incredibly lightweight
Innovative Power Curve technology
Powerful snow removal performance
Comes with a remote chute adjustment rod
The Toro 1800 Power Curve is an astounding cordless single-stage snow blower, and at its price, you're certainly getting a ton of value.
Snow Joe SJ623E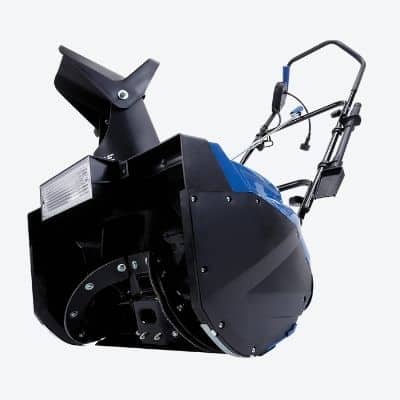 Key Specifications
18 x 10-inch Intake
34-pound Build
25-foot Throw Distance
Instant Start
The Snow Joe SJ623E isn't as feature-packed as many other snow blowers, but its performance more than makes up for its missing convenience.
Its also pretty lightweight at just 34 pounds after assembly, and the 15A motor does a great job at tossing powdery snow up to 25 feet away.
The SJ623 doesn't come with many other noteworthy features except for its instant start button. In a single push, this tool will go from total silence to a gentle purr.
No tugging recoil cords with this one; the SJ632, is as easy to use as an electric snow blower can be.
Want to see what the SJ623E looks like in action? Check this brief video out. 
Pros
Pretty lightweight
Decent-sized intake
Single-press starter
Far throwing distance
Cons
Requires long power cord to operate
Even though this tool is as lightweight and powerful as you'd want from a single-stage snow blower, just be careful so as not to fumble with or trip over the extension cord.
Snow Joe iON18SB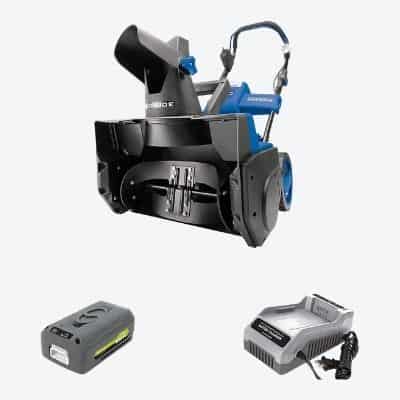 Key Specifications
18 x 8-inch Intake
32-pound Build
20-foot Throw Distance
Quick Charger
Last up on our best snow blowers for the elderly list is the Snow Joe iON18SB.
It looks like a beast, but it's actually a lot smaller than most cordless single-stage snow blowers, evidenced by its 13.5A motor and 8-inch-tall intake. However, it handles most snow textures without a hitch.
The iON18SB's shining feature is the quick charger.
Most chargers require at least three hours to reach max capacity, but the iON18SB's quick charger takes just 120 minutes.
Granted, that's still a lot of time spent waiting around, which is why you might want to consider picking up an extra 40V 4-Ah battery pack or two.
Take a look this Snow Joe video of the iON18SB in action.
Pros
Powerful auger
Fast-charging capability
Easy to start and operate
Lightweight and rugged construction
Cons
Battery cover can flip open randomly
Overall, the iON18SB is a great-performing snow blower that's lightweight, easy to use, and charges quicker than most single-stage models available.
Snow Blowers for the Elderly Buying Guide
Here's a quick informational guide on how to find the best snow blower for seniors.
What Makes a Snow Blower Suitable for the Elderly?
There are a number of thins to look for in a snow blower for senior citizens. However, the best model is the one they're most comfortable with. Who's to say that they won't appreciate a heavy-duty 3-stage snow blower?
However, the typical snow blower built for those with physical limitations are lightweight, easy to maneuver, require little maintenance (gas snow blowers are out of the question), and last a long time.
Important Features & Specs
Whether you're looking for a snow blower for a loved one or for yourself, you'll want to consider the following features and specs.
Shovel vs Snow Blower
As you can see from our list, our top pick is the Toro 38361 Power Shovel, which isn't technically a snow blower. We think the elderly will appreciate this tool most because it's a lot easier to maneuver if and when it gets stuck in snow. Traditional single-stage snow blowers don't come with a reverse gear, so it'll take quite a bit of tugging to release from tall snowbanks.
Weight
For obvious reasons, the snow blower should be as light as possible to ensure maximum mobility and comfort in the hands of seniors. In this regard, lighter is almost always better.
Throw Distance
The snow blower should be able to toss large quantities of snow far, far away. This is to stop you from having to make repeated passes over wide driveways if snow doesn't reach the edge of the lot.
Wheels
You'll want to take a close look at the wheels to see whether snow can get lodged in the axis and stop them from spinning. The models we listed above do not have this problem.
FAQ's
Now, allow us to spend some time to answer the most FAQs about snow blowers.
Should I get a corded or a cordless snow blower?
We'd recommend finding a cordless snow blower for an elderly relatively, simply because there's no need to fumble around with long extension cords. It can be more than annoyance having to return to the outlet to plug the cord back in if it gets tugged loose. A couple of extra battery packs will also make it more convenient since they won't have to wait for hours after draining one pack.
How far should my show blower throw snow?
The farther it can toss snow, the better. However, the ideal distance is that which snow doesn't fall back onto a newly plowed spot on your driveway or sidewalk. An adjustable chute can help control the throwing distance and height to prevent such a thing from occurring. Ideally, the chute can be controlled from behind the handlebars and without forcing you to bend over.
Can I get a grandparent a two-stage snow blower?
If they're capable of taking it in and out of their garage, why not? We have a guide specifically showing the best two-stage snow blower the market has to offer. In fact, a beefier model that comes with self-propelled forward and backward gears might even be a better solution. We didn't include any here because they don't meet the lightweight criterion.
When should I replace my snow blower?
An electric snow blower can run for up to 10 years with minimal maintenance. However, if the motor dies or doesn't produce maximum snow-removal power, its snow-blowing inefficiency will make it more difficult to push and force longer work times. If you can get it fixed, we recommend doing so before the decade mark; otherwise, you can take a look at our top picks to see which would work best.
Summary
In this guide, we've provided you with what we think is the best snow blower (technically, a power shovel) for seniors: the Toro 38361.
The EGO POWER+ SNT2100 is also a nice pick if you want more frills in your snow blower. If there's anything that remains unclear in our guide, please tell us in the comments section.