Pressed for time? Check our best picks
PowerSmart DB72024PA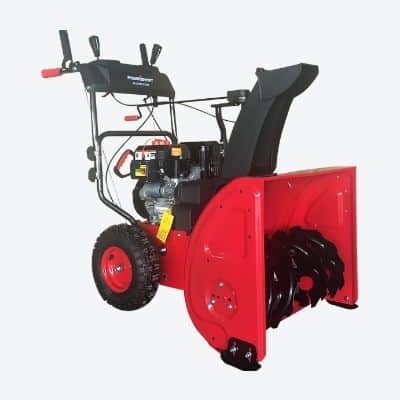 Durable finish
Easy to start and operate
Scales slight slopes easily
Husqvarna ST224P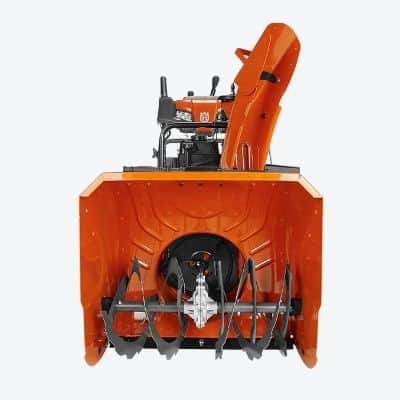 Large gearbox
Sensitive power steering
Comes with electric starter
Toro 38361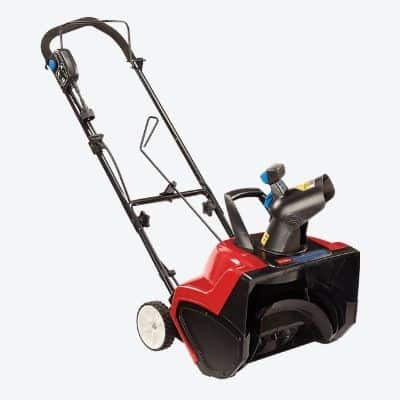 Great for small spaces
Adjustable handle height
Lightweight 
Our reviews are unbiased, fact-based, and comprehensively researched to help you make the right buying decisions.



Finding the right snow blower for your dollar can be a confusing task, seeing as there are literally hundreds of models to choose from.
However, with a bit of time and research, you're bound to run into the best snow blower for the money—OR you can refer to our guide.
We've spent more time than we'd like to admit analyzing over 35 snow blower models to come up with this list of the best snow blower for the money.

Best Snow Blower for the Money – PowerSmart DB72024PA
The one snow blower that stands out among the rest is the PowerSmart DB7024PA.
This super-handy two-stage machine is an excellent budget-friendly option that offers astounding performance and convenience in heavy-snowfall areas.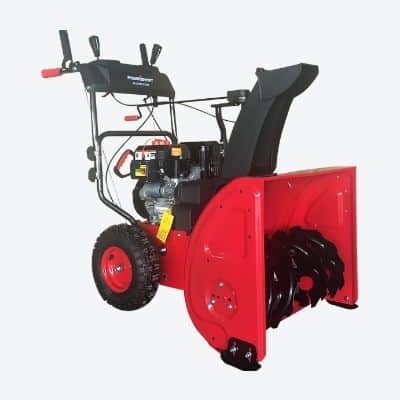 The PowerSmart DB72024PA's key specifications are as follows—
212cc Engine
24 x 21-inch Intake
40-foot Throw Distance
Multi-Speed Self-Propelled
Powered by a 212cc engine, the DB7024PA can plow through 24-inch-wide paths of snow 21 inches in depth in a single pass without the slightest indication of trouble.
After the impeller fan has had its say, snow remnants are tossed up to 40 feet away from driveways and sidewalks.
The benefit of a 24-inch-wide gearbox is fewer passes are needed to finish plowing wide areas.
The DB7024PA is built with a rugged, all-steel frame and auger that will last more than just a couple of seasons.
It also has a self-driving system with four forward speeds and two reverse gears to help move all 193 pounds up and down slopes effortlessly.
The DB7024PA offers high-level performance at a reasonable price. This is the best option to get for homeowners living in areas where snowfall accumulates to more than a foot in height daily.
Top Snow Blower for the Money Compared
Product Image

Product Name

Features

Price



Best Overall - PowerSmart DB72024PA


Motor/Engine Size: 212 cc

Intake: 24 x 21 in.

Throw Distance: 40 ft.

Multi-Speed Self-Propelled




Check Today's Price





Best Premium - Husqvarna ST224P


Motor/Engine Size: 208cc

Intake: 24 x 23 in.

Throw Distance: 35 ft.

Power Steering




Check Today's Price





Best Budget - Toro 38361


Motor/Engine Size: 7.5A

Intake: 12 x 6 in.

Throw Distance: 20 ft.

Telescoping Handle




Check Today's Price





Snow Joe SJ627E


Motor/Engine Size: 15A

Intake: 22 x 13 in.

Throw Distance: 25 ft.

LED Headlamps




Check Today's Price





Briggs & Stratton S1227


Motor/Engine Size: 250cc

Intake: 27 x 20 in.

Throw Distance: 30 ft.

Free Hand Control




Check Today's Price



Reviews of Best Snow Blower for the Money
Best Premium - Husqvarna ST224P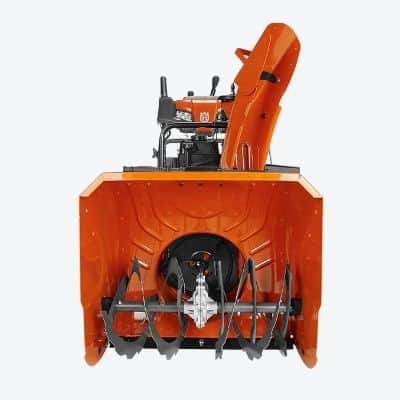 Key specification
208cc Engine
24 x 23-inch Intake
35-foot Throw Distance
Power Steering
The ST224P is one of Husky's most prized residential and light-commercial two-stage snow blowers available.
It sports a massive 24-inch-wide gearbox that chomps down on snowbanks up to 16 inches in height before tossing the powdery remains up to 35 feet away.
Driven by a 208cc engine, the serrated steel augers are more than capable of slicing through compacted snow with each spin.
The ST224P comes with a power steering system that lets you turn this 198-pound beast almost at zero radii for quick back-and-forth plowing.
An electric starter and heated handgrips ensure that turning on and running the two-stager is as easy and comfortable as possible.
Pros
Large gearbox
Sensitive power steering
Comes with electric starter
Four-position handle adjustment
Cons
Could take in taller snow mounds
When it comes to snow blowers, Husqvarna is a brand you can trust. The ST224P is a premium-grade two-stage beast for all sorts of jobs, including light-commercial plowing.
Best Budget - Toro 38361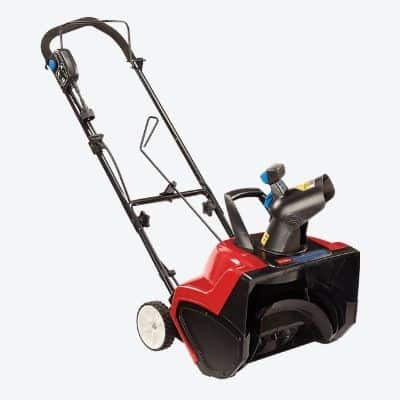 Key Specifications
7.5A Motor
12 x 6-inch Intake
20-foot Throw Distance
Telescoping Handle
If you're looking for a lightweight, electric snow blower, the Toro 38361 is your best, budget-friendly solution.
The 12-inch-wide intake works excellently on confined spaces such as stairs and patios while also being incredibly lightweight and easy to maneuver.
The 38361 doesn't come with very much in terms of features, but the telescoping handle is something everyone can enjoy.
You can raise the height of the handle for max comfort while tossing snow 20 feet from your driveway or patio onto your yard.
Learn all about Toro's 38361 power shove from this short video. 
Pros
Great for small spaces
Adjustable handle height
Lightweight and easy to swing
Decent throwing distance for size
The 38361 power shovel is the perfect backup tool for clearing areas that traditional snow blowers can't get to.
Snow Joe SJ627E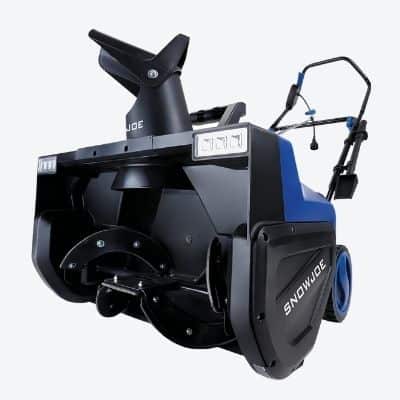 Key Specifications
15A Motor
22 x 13-inch Intake
25-foot Throw Distance
LED Headlamps
Next up is another corded-electric snow blower—the Snow Joe SJ627E.
This is a single-stage snow blower's 15A motor drives a 22-inch steel auger through powdery and lightly compacted snow, tearing the snow mounds to shreds before being spit out 25 feet into the distance.
The SJ627E doesn't come with much in terms of features; the electric starter and LED headlamp are pretty much the only things about this tool that make it stand out.
There's also a neat chute-adjusting crank shift, but based on customer reports, it tends to get stuck in extreme temperatures.
Watch this brief video to learn what the SJ627E can deliver. 
Pros
Starts up easily
Robust steel auger
Great power-to-weight ratio
Cord is up and out of the way
Cons
Chute crank shift could be less sticky
The lightweight, ultra-user-friendly SJ627E is a great option if you don't want to deal with gasoline, oil, and spark plugs.
Briggs & Stratton S1227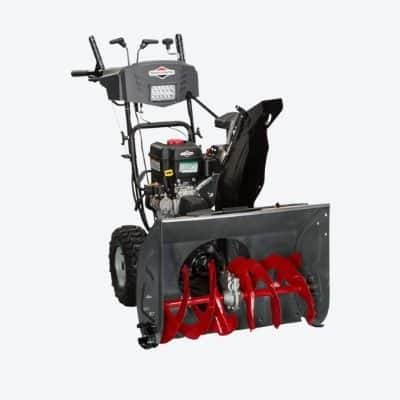 Key Specifications
250cc Engine
27 x 20-inch Intake
30-foot Throw Distance
Free Hand Control
Last up is the Briggs & Stratton S1227, a heavy-duty, two-stage beast that chomps up 20-inch-tall mounds in a single gulp.
The 250cc engine doesn't just come with five forward speeds and two reverse gears, but it also powers the high-speed impeller fan to discharge powdery, compacted, and wet snow at distances of up to 30 feet.
This elite-style snow blower comes with all of the bells and whistles you could hope for.
The most notable feature is its free hand control that allows you to navigate the 189-pound machine with one hand while the other shifts between gears.
There are also reversible skid shoes that keep the tool standing upright and maintain balance on icy patches.
Pros
Upgraded dashboard
Heavy-duty two-stager
Perfect balance at all times
Self-propelled with two reverse gears
Cons
Could have power steering
The most challenging snow-plowing jobs call for the most powerful equipment, and the Briggs & Stratton S1227 is exactly that.
FAQ's
Let's spend a few moments answering the most commonly asked questions about value snow blowers.
Are two-stage snow blowers better than single-stage?
In many cases, they can be. For instance, those living in regions where your local meteorologist measures snowfall in feet, not inches, will need the heaviest of duty snow blowers imaginable. A single-stage snow blower can only handle 8 to 10-inch-tall mounds reliably, whereas two-stagers swallow more than a foot of snow with each pass. They're costlier, but they get the job done much quicker.
Which is better, a gas or electric snow blower?
That's up to you to decide. Gas snow blowers are more powerful, so they can handle all kinds of snow textures more easily. Electric snow blowers are a lot more convenient, especially the corded models that don't rely on batteries or gasoline to run. Instead, plugging it directly into a wall outlet will let you work for an infinite amount of time, and their motors are less prone to failure.
What is the easiest type of snow blower to use?
Two-stage machines with self-propelled systems can climb up inclines a lot better, whereas a single-stage requires that you manually push it up and down slopes. On flat, even surfaces, they're pretty much even. However, we can't discount power shovels; they're easy to use, even easier to lift, and can get to hard-to-reach areas traditional snow blowers couldn't dream of clearing.
Are 3-stage snow blowers worth it?
They certainly can be. We didn't include any on this list since they're mostly made for heavy-duty commercial-line work. We have a separate guide on the best 3-stage snow blowers you can look at, but in short, their beefy motors, larger gearboxes, and wide range of features make them excellent choices for clearing more than 18-inch-high snow piles and large patches of ice.
Summary
Today, we've shown you what the best snow blower for the money is—the PowerSmart DB72024PA.
We've researched over 35 models to provide you with several alternatives with varying specs and features for a wider audience.
If you haven't found the best-value snow blower from our list, please tell us what we missed in the comment section.