Pressed for time? Check our best picks
DEWALT (DWE7491RS)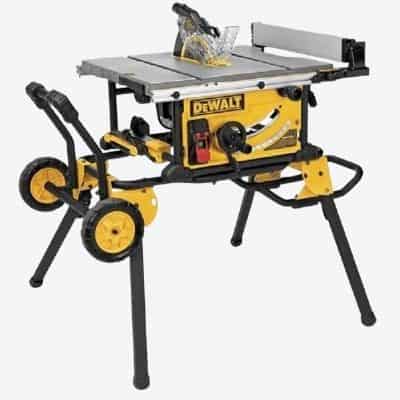 Saves on space
Powerful motor and Highly versatile
Quick and fast fence adjustments
SKILSAW SPT70WT-01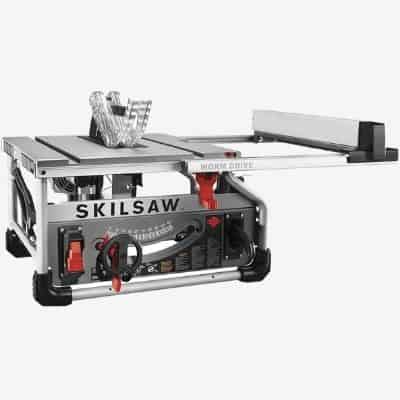 Convenient self-aligning rip fence
Powerful dual-field motor
Comes with a blade guard device
Makita 2705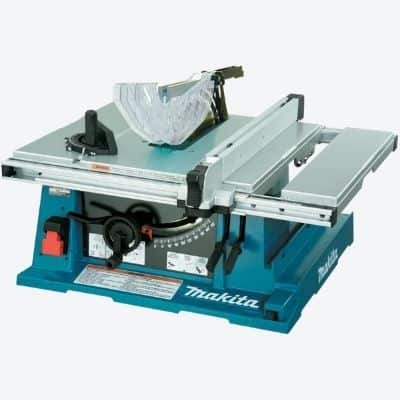 Versatile design for many applications
High cutting capacity
Productive electric brake system
Our reviews are unbiased, fact-based, and comprehensively researched to help you make the right buying decisions.



If you are looking for a power saw either for use at home or in your workshop, table saws are the best.
You might want to invest in a table saw that is not that costly before going for the bigger tools that will cost you more.
We have brought together six of the best table saws within the $1,000 budget to help those in need of a simple-to-use table saw.
Top Table Saw Under 1,000 Dollars in the Market Compared
Product Image

Product Name

Features

Price



Best Overall-DEWALT (DWE7491RS)


Voltage: 120 V

Weight: 110.0 lbs

Power Source: Electric Powered

Flip over ripping fence




Check Today's Price





Best Premium-SKILSAW SPT70WT-01


Voltage: 120 V

Weight: 49.0 lbs

Power Source: Electric Powered

Anti-kickoff device




Check Today's Price





Best Budget-Makita 2705


Voltage: 120 V

Weight: 67.0 lbs

Power Source: Electric Powered

Excellent guard design




Check Today's Price





Best in Versatility-DEWALT FLEXVOLT (DCS7485T1)


Voltage: 60 V

Weight: 48.0 lbs

Power Source: Battery Powered

One battery, Two-voltages




Check Today's Price





Best Cordless-EWALT FLEXVOLT(DCS7485B)


Voltage: 60 V

Weight: 45.0 lbs

Power Source: Battery Powered

Table Coating




Check Today's Price





Best In Rip Capacity-SKILSAW SPT99-11


Voltage: 120 V

Weight: 94.3 lbs

Power Source: Electric Powered

Heavy Duty Worm Drive




Check Today's Price



Reviews of Best

Table Saw Under 1,000 Dollars
Best Overall - DEWALT (DWE7491RS)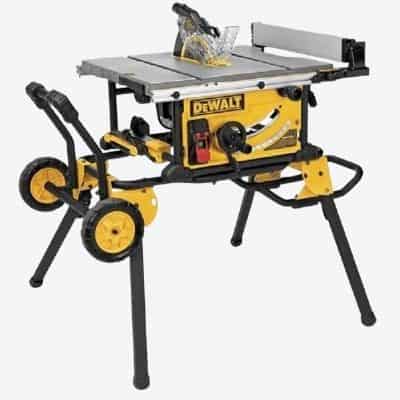 Key Features
Blade Length – 22 Inches
Rip Capacity – 32½ Inches
Speed – 4800 Rpm
Weight – 110 lbs
There is a reason this DEWALT table saw lands atop all other viable options for the top stop.
On top of the table saw is a 10", 24-tooth, carbide blade; a miter gauge, rolling stand; push stick; blade guard assembly manual; two blade wrenches, and a rip fence.
All these attachments help boost the overall performance of your tool for simple use.
Its rolling stand has an easy setup design and can also be easily dismantled when you want to store your saw.
Fence adjustments are easy and fast thanks to the rack and pinion telescoping fence system.
Its motor is a 15-Amp high-torque motor with enough power to cut through pressure treated lumber and resilient hardwoods.
This saw also features an onboard storage system for storage of various components when the machine is not in use, such as the riving knife, wrenches, push stick, fence, and cord wrap.
For storage, the telescoping fence easily retracts, making the tool smaller for easier portability and storage.
Pros
Saves on space
Powerful motor
Highly versatile
Quick and fast fence adjustments
Cons
Blade guard occasionally jumps out of the table
The DEWALT (DWE7491RS) is a great table saw when you are working on hardwoods.
It's also a comfortable saw to use at home, as it contains all the safety features needed. It is easy to store and has onboard storage for neatness.
Best Premium - SKILSAW SPT70WT-01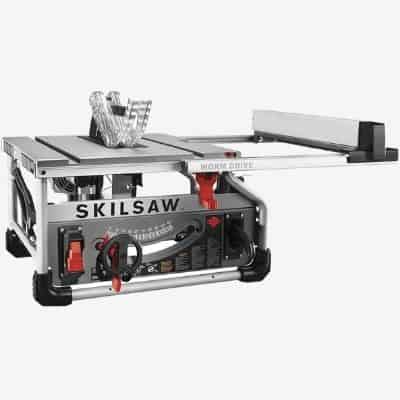 Key Features
Item Weight – 49 lbs
Voltage – 120 V
Blade Type – 24-Tooth Carbide-Tipped
25" Rip Capacity
The SKILSAW SPT70WT-01 comes with a self-aligning rip fence that greatly reduces the user's input.
It comes in a compact design and is lightweight. At only 49 pounds, portability and storing the machine away is an easy task.
The package also includes additional components, such as the miter gauge, push stick, wrench, and guard system with an anti-kickback mechanism.
With up to 46 degrees of beveling capacity, plus a 25" rip capacity, this tool is great for a wide variety of cutting options.
Pros
Easy storage
Powerful dual-field motor
Comes with a blade guard device
Convenient self-aligning rip fence
Cons
Table construction can be upgraded to steel
This is a great energy-saving motor with easy-to-use features and a self-aligning rip fence. It comes in handy for beginners, and it's also a perfect motor for lighter jobs.
Best Budget - Makita 2705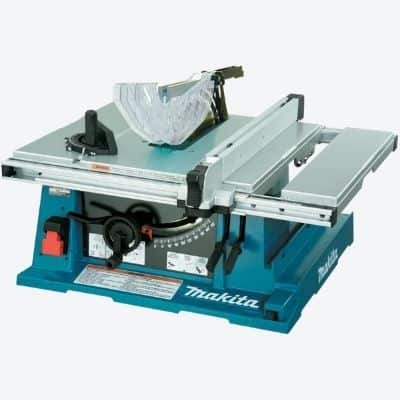 Key Features
Blade Speed – 4800RPM
Weight – 67 lbs
Cut Capacity – 3⅝" at 90 degrees
Adjustable dual side guards
Right from the box, this Makita table saw remains true to accurate cuts and high capacity. It has a right-side extension that allows you to cut 4'x8′ plywood sheets.
The tool is powered by a 15-Amp motor that produces 4800 RPM for faster and easier cutting. It also comes with an electric brake for additional productivity.
This Makita saw features a modular blade guard system, which includes adjustable side guards for easy measurement of the cutting setups.
You can easily make through cuts with this machine thanks to the independent anti-kickback pawls, plus a riving knife/spreader.
Pros
Versatile design for many applications
High cutting capacity
Productive electric brake system
Cons
Constantly challenging to align the blade with the table
This Makita table saw is a great tool to use while making cross cuts and when you want to complete the job faster.
The electric brake saves you lots of time waiting for the blade to slow down.
Best in Versatility - DEWALT FLEXVOLT (DCS7485T1)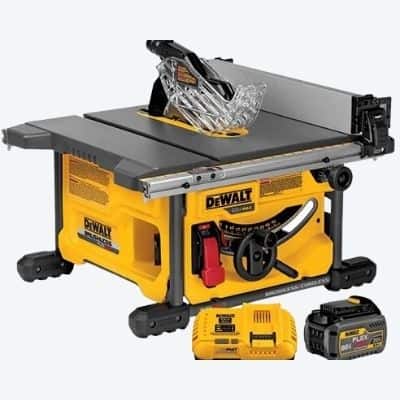 Key Features
Weight – 48 lbs
Battery-Powered
24" Rip Capacity
Metal Roll Cage Base
The DEWALT FLEXVOLT table saw delivers the power of a corded table saw but has the flexibility of a cordless type.
It comes with an extremely versatile battery, which is the world's first battery that adjusts voltage with a change in tools.
For smooth and accurate fence adjustments, the saw has rack and pinion adjustment fence rails on the sides.
Safety is guaranteed, with the power-loss reset preventing accidental restarts in case the switch is left in the ON position.
Coming with a metallic base, this saw has more durability compared to plastic-based table saws.
Pros
More durable
FLEXVOLT battery adjusts voltage with tool changes
Highly flexible
Low maintenance
Cons
Battery doesn't last long with highly invasive tasks
This 48-pound table saw is the way to go when you need versatility in a table saw. Plus, it's really quiet, so even when using it at home, you won't disturb other family members.
Best Cordless - EWALT FLEXVOLT(DCS7485B)

Key Features
Item Weight – 45 lbs
Voltage – 60 Volts
Rip Capacity – 24″
Battery and Charger Sold Separately
This is yet another DEWALT table saw that brings the combined performance of a cordless and a corded machine in one saw. Its 24" rip capacity is highly reliable and can cut through 4'x8′ plywood without strain.
It has a rack and pinion telescoping fencing system for quick and simple blade adjustments, plus you can make narrow rip cuts with its material support.
Onboard tool storage is also available for the storage of components that come with the saw.
Pros
Material support allows better rip cuts
Reliable onboard storage
High rip capacity
Easily portable
I would greatly recommend this saw for a DIYer. Being a cordless machine, this DEWALT table saw is very reliable and has a longer-lasting battery.
Best In Rip Capacity - SKILSAW SPT99-11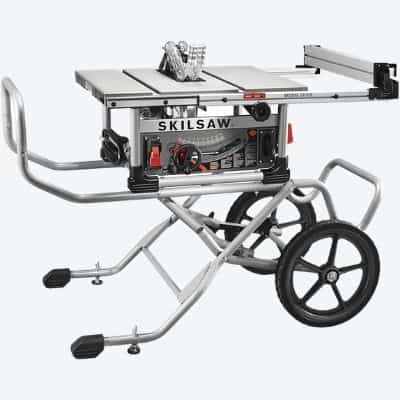 Key Features
Power – Electric Powered
30.5" Rip Capacity
Dust Port
16-Inch wheels
This ten-inch, heavy-duty table saw is the latest advancement of SKILSAW table saws lineup.
The worm drive train system delivers astounding torque with an aggressive 3⅝" cutting depth and a 30½" rip capacity. It can easily tear 4x better through plywood with subtlety and precision.
Its dual-fuel motor runs cooler so that it works harder and for a longer period of time. Making adjustments with this saw is easy and fast, thanks to the rack and pinion fencing system.
It also comes with a rugged stand that provides dependable stability when working and in storage.
Pros
High stability
Fast fence adjustments
Long duration motor
Superior rip capacity
Cons
Low-quality locking parts
It's a machine fit to use at home and in your workshop to complete difficult projects. Its rugged stand design offers superior stability even when the machine is in vigorous use.
FAQs
Are table saws any good for cross cuts?
A good table saw should be able to make almost any kind of cut you use it for. What material size you cut is entirely dependent on the size of the table and the distance between the saw blade and its miter gauge. When cutting long or heavy-duty material, always remember to securely anchor the saw.
Are table saws dangerous?
In as much as table saws are useful, they can be dangerous, as well. These are power tools, meaning they use a motor that generates power to spin the cutting blade. Therefore, when using the tool, you are constantly exposed to potential injury if you don't use the tool correctly.
Can a table saw make angled cuts?
Table saws are made for ripping lumber and hardwoods and are constantly used to make straight cuts along the wood grain. Since their blades can be set up to 45 degrees, the miter gauge allows your table saw to make cuts formally known to be made by compound miter saws and radial-arm saws.
What's better – a miter saw and a table saw?
Miter saws are perfect for making cuts of 12 inches and less. A miter saw is perfect for making bevels and angled cuts and is commonly used for trim cutting. With the help of an attached miter gauge, a table saw can also be used to cut bevels and angles, as well. However, it will take longer to set up the machine and to complete the cut.
Summary
You should consider opting for a table with all-around performance features when making a purchase.
Typically, most customers look at the stability, power consumption, and cut capacity of the machine – but the rip capacity needs to also be put into play.
You also need to research the duration of time that the motor can run before heating up and jamming if you are working on longer projects.