In Brief: Black & Decker RP250 Router Review
The Black & Decker RP250 packs a lot of power in a compact size. It includes a 2HP motor and offers speeds from 8000 to 27000rpm. This machine weighs just 9.88 pounds but tackles a variety of woodworking jobs like a pro. This corded-electric machine includes a fixed-base function as well as a plunge function.
The Black & Decker company provides some of the leading products in the world of household tools and equipment. This company works to bring quality products to residential customers looking for machinery that lasts.
As one of the many products from the Black & Decker company, the Black & Decker RP250 lives up to the brand name.
This product features reliable inner components and a durable, heavy-duty design perfect for long-term use.
Key Specifications of the Black & Decker RP250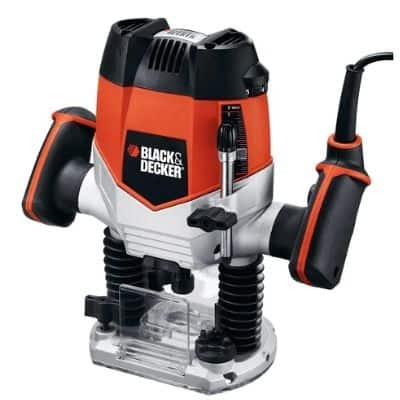 The Black & Decker RP250 provides a 2HP motor and a wide speed range. It handles many woodworking jobs with ease and allows users of all skill levels to enjoy precision cuts and smooth, clean results.
Check out the Black & Decker RP250 in action here :
Read the long list of Black & Decker RP250 specs below :
Specification
Model Number/Name
RP250
Powered By
Corded
Speed (rpm)
8000 to 27000
Brushless Motor
No
Power (hp)
2.0
Base Dimension
4-1/2" x 6-1/4"
Weight (lbs)
9.88
Base Type
Fixed
Plunge Stroke
2in.
Unique Features
Gradual start function
Three turret stops
Dust extraction port

Accessories
Collet
Wrench
Parallel edge guide

Top Features to Look For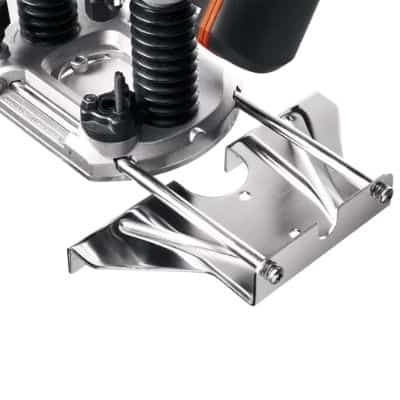 A gradual start function and a dust extraction port both make this machine a user-friendly solution for router needs. Its three turret stops ensure all cuts remain smooth and all results occur efficiently.
Gradual Start Function
The machine includes a gradual start function that allows it to start slowly without as much torque at the beginning of a cut. This, in turn, makes it easier for you to control the results and get the cuts you need on the first try.
Three Turret Stops
The three turret stops provide easy settings and powerful functionality. They make repetitive cuts at the same depth easy and efficient. This function provides easier, smoothing cutting with more secure results throughout most projects.
Dust Extraction Port
The machine features a convenient dust extraction port that makes it easier to remove dust and debris before it builds up inside the housing. This port makes cleanup even quicker and more convenient than ever before.
Power and Performance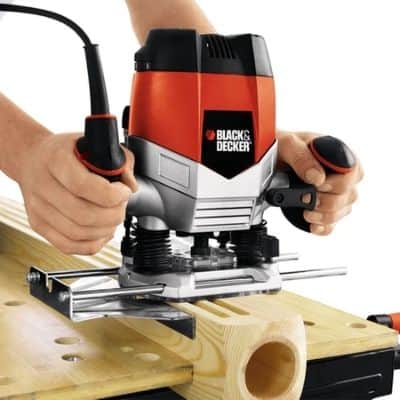 Although this machine offers less HP than some of the commercial-grade models on the market, it offers more than many residential competitors.
As such, it provides more than enough power to tackle household DIY and repair jobs effortlessly.
The machine performs well and includes durable components. Since it includes both fixed and plunge options, it performs in multiple woodworking settings. Across the board, it offers clean and impressive results.
Ease of Usage
With many built-in features designed for convenience and efficiency, this machine remains easy to use.
The plunge router includes a spindle lock function that allows users to quickly change the bit between cuts and comes with easy dust extraction features, too.
Additionally, this machine includes a Sightline base designed to make your work more visible while you cut. This base improves your range of vision without taking away any power or stability in the machine.
Ease of Maintenance, Repairs & Warranty
The Black & Decker company web site makes it easy to find parts for most of its products. This site offers information on ServiceNet, a third-party service that allows the quick and easy lookup of replacement parts.
Customers should perform routine maintenance on this machine. Turn off the machine and unplug it first. Use a dry cloth or a soft brush to clean the ventilation slots and remove dust buildup from the housing.
Regularly check external screws. When they become loose, tighten them as needed. Check often, as some screws strip easily on this machine and require more frequent replacement than they might on other machines.
Customers should refrain from performing any internal repairs on this machine. Instead, take the machine to a licensed repair technician capable of servicing Black & Decker brand products.
The Black & Decker company offers a two-year limited warranty on this router.
The warranty covers defects and damage related to manufacturing error but excludes user error or misuse of the machine.
Customers may either send the machine back at their own cost for replacement or take the machine to a licensed repair technician for repairs. Whichever method you choose, the warranty excludes expendables and accessories such as bits.
For more warranty information, contact the Black & Decker company using the customer service form on the company website.
Price of the Black & Decker RP250
Compared to other, similar products on the market, the Black & Decker RP250 comes in at a much lower price point.
The reduced cost comes from the smaller, less powerful motor included in this machine a well as its lack of extra features.
Despite these points, the machine holds up well compared to its competitors.
Customers usually feel the product offers plenty of value for its cost and does not fall short, even though it comes in as a budget-friendly alternative to other routers.
Pros and cons of the Black & Decker RP250
Have a look at merits and demerits of the RP250
Pros
Works well for most customers' DIY needs
Features ergonomic grip handles
Comes ready for use out of the box
Offers quick, easy setup
Cons
Most customers cannot use this machine for everyday purposes
Overheats in some instances
Who Should Buy the Black & Decker RP250 ?
The Black & Decker RP250 router provides easy operation and user-friendly features perfect for residential use.
This machine works best for customers who want to use it for DIY jobs and household projects.
The router also works nicely for beginners just learning woodworking.
Since it includes very few extra features, it will not bog down most users with confusing operations. The machine provides an excellent entry-level option in this way.
Our Recommendation
The Black & Decker RP250 brings convenient, powerful woodworking to residential customers.
Its affordable price point and easy controls ensure users of any skill level enjoy working with it for many years to come.
We recommend this machine for customers who need a router for infrequent residential use.
We also recommend it for home hobbyists looking for a way to improve their woodworking skills without spending a fortune.