In Brief: Bosch 1617 EVSPK Router Review
The Bosch 1617EVSPK Router provides exceptional performance backed by a 2-1/4HP motor. It includes a speed range from 8000 to 25000rpm and features a corded, fixed-base design. With the included accessories, the router converts easily to plunge operations instead for even more versatility.
The Bosch company remains a large-scale business corporation but includes a well-known and respected power tool division as well.
This division began in 2003 and continues to supply its customers with quality items at an affordable price.
The Bosch 1617EVSPK router provides plenty of features packed into a small device.
This machine includes multiple functionalities and operates in a variety of different applications and settings throughout many woodworking tasks.
Key Specifications of the Bosch 1617 EVSPK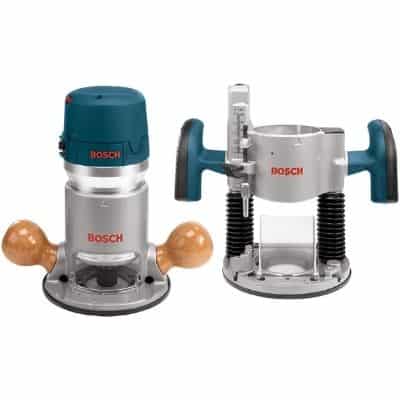 The Bosch 1617EVSPK router features both fixed and plunge options in the same machine. It offers 2-1/4HP in a powerful motor and comes in at just ten pounds, making it a fairly lightweight solution for woodworking needs.
Check out the Bosch 1617 EVSPK in action here :
Read the long list of Bosch 1617 EVSPK specs below :
Specification
Model Number/Name
1617EVSPK
Powered By
Corded
Speed (rpm)
8000 to 25000
Brushless Motor
No
Power (hp)
2-1/4
Base Dimension
6in.
Weight (lbs)
10.0
Base Type
Fixed
Plunge Stroke
2-1/4in.
Unique Features
Aluminum construction
Wood handles
Constant response circuitry

Accessories
Collets
Wrenches
Carrying case
Fixed and plunge bases
Chip shields
Screws

Top Features to Look For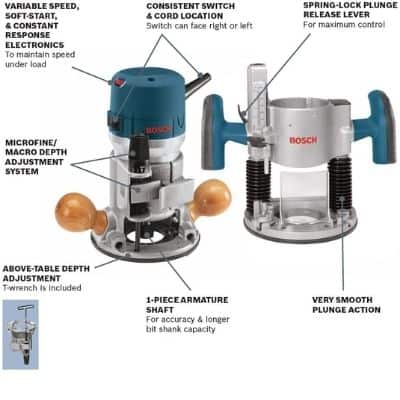 With multiple functions and durable construction that includes hardwood handles, the Bosch 1617EVSPK router offers a little something for everyone.
This machine combines all of its unique features to create a solid, heavy-duty product.
Multiple Functions
The router features multiple functions and different ways to operate it. It works for edge forming, bit plunging, dovetail cutting, and much more, so customers enjoy using it for many different applications in a woodworking setting.
Durable Construction
The machine features durable construction made of aluminum throughout the base. The internal components provide high-quality durability and long-lasting design as well.
Hardwood Handles
For a unique aesthetic and functional design feature, the machine includes molded hardwood handles. These rounded handles provide more comfort and an easier grip, and they also look striking against the metal of the router base.
Power and Performance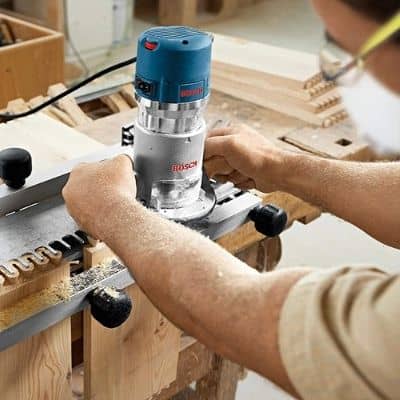 With 2-1/4HP and a 12amp motor, the Bosch 1617EVSPK provides enough power to get the job done.
It offers more power than many residential routers but less than commercial-grade routers, making it a solid mid-range option in terms of its outputs.
The constant response circuitry feature included in this machine helps it maintain the same speed while cutting. This improves its performance and ensures its cuts remain smooth, clean, and as precise as you need them to be.
Ease of Usage
This machine remains easy to use for any skill level. Its simple adjustable speed settings and varied base options ensure it can handle a variety of uses in the world of woodworking.
It works with a variety of guidance templates and other devices for even more convenient operation.
This machine features a precision centering design that lets users center the bit with the sub-base or use it along with templates. This way, you can always get the look you want without too much effort.
Ease of Maintenance, Repairs & Warranty
The Bosch company web site provides replacement router bits and router bit components for purchase.
Although the company excludes internal replacement parts, customer service may sometimes offer them.
To perform routine maintenance on this machine, first turn it off and unplug it from its power source. Check the brushes every two to six months depending on how often the machine sees use.
Replace brushes when they become worn and grease the machine when replacing them.
At every other brush change, take the machine to a licensed repair technician to have the bearings replaced. This repair may also be required if the bearings become noisy, as this shows they may not function correctly.
Use dry compressed air or a dry cloth to clean this machine. Never get it wet.
The Bosch company offers a one-year limited warranty on this machine. The warranty covers repair and replacement parts when the machine becomes damaged due to manufacturing error but excludes user error.
This warranty also requires customers to return the machine to the Bosch company at their own expense.
It does not cover bits, brushes, and other items that become worn with regular, normal use of the machine.
The warranty includes electrical and safety checks at no cost within the first year of ownership. These require the user to take the machine to a repair technician specializing in Bosch products.
For more information, use the contact form on the Bosch company website.
Price of the Bosch 1617 EVSPK
Compared to other, similar hand routers with fixed-base and plunge options, this machine comes in at an average price point.
It features a higher price than entry-level models but a lower price than commercial-grade versions.
This machine comes with plenty of features to give it a high value. It also includes more than one method of operation.
Customers usually feel the router offers a lot of functionality and remains well worth its price.
Pros and cons of the Bosch 1617 EVSPK
Pros
Most customers enjoy easy adjustments and alterations
Powerful and precise controls and settings
Durable, reliable internal components
Capable of continuous running in many instances
Cons
Some customers notice burrs on the metal pieces of this product
Some customers may notice overheating
Who Should Buy the Bosch 1617 EVSPK ?
The Bosch 1617EVSPK provides multiple ways to route and cut wood in one simple machine.
Because of this, it works well for beginner and intermediate users who want to learn both fixed-base routing and plunge routing.
Since this machine converts so quickly between the two options, it also works nicely for more advanced users who need to operate a router in a variety of applications.
It runs smoothly and holds up well to long-term use no matter how many times you shift between its functions.
Our Recommendation
The Bosch 1617EVSPK router tackles hardwood jobs with ease. It offers enough power to keep home hobbyists satisfied and enough precision control to ensure advanced users get the results they want every time.
We recommend this machine for users of any skill level who want to perform more than one type of wood routing. We also recommend it for any user in need of a hand router that offers ergonomic grip designs.