In Brief: Briggs & Stratton 1530MDS Review
The Briggs & Stratton 1530MDS Elite Series is one Snow Blower that gives you pleasure and comfort even as you clear your yard. Having a large clearing width of 30 inches, a snow depth of 20 inches, and a great throwing distance of 40 feet, it gives you results in a very timely manner. It is an excellent snow blower and a must-have if you live in regions that are prone to snow.
With over a century of experience in the outdoor world, Briggs & Stratton has stood out as a brand.
Producing power equipment that is trusted and excellent customer support, as well as dependability and innovation that inspires, they are a go-to brand any time.
The 1530MDS Elite Series Snow Blower is an excellent piece of equipment from this brand.
This well-crafted snow blower will provide you a clean, clear lawn in the littlest possible time with all its great features.
Key Specifications Of the Briggs & Stratton 1530MDS
This 2 stage snow blower has a clearing width of 30 inches, which makes it possible to clear away more snow in less time.
It is suitable for use in large driveways and even in commercial areas that are prone to heavy snowfall.
This equipment has a snow depth of 20 inches, meaning it can get through thick layers of snow to give you a clean lawn in no time.
All that is required to keep this engine running is a 0.8-gallon tank of gasoline, and you can enjoy using this blower for a reasonable length of time.
With a strong, dual-steel frame construction, the snow blower is built to last a very long time, saving you on costs in the long run.
Check out this video for more :
Here is the long list of specs of Briggs & Stratton 1530MDS  Snow Blower :

Specification
Model Number / Name

1696828
Powered By
Gas
Engine Power
306cc
Stages
Two-stage
Clearing Width 
30 inches
Ideal for how many inches of snow
20 inches
Warranty
3-year residential; 90-day commercial

Weight
251 pounds
Start Mechanism

Electric
Other Features
Up to 40 feet of snow throwing distance
Unique Features
Let's look at some of the features that set this snow blower apart from others.
Easy Electric Start At Sub-Zero Temperature
Even with temperatures as low as -20◦F, this snow blower will easily start up with a single push of the electric button.
This is thanks to the Briggs & Stratton 1450 professional series engine, which allows it to start at any given time.
Dual-Trigger Steering
This steering design makes it easy and effortless for you to control the snow blower.
When there is a need to make a tight turn, all that is required of you is to simply engage the trigger and the turn is neatly accomplished.
Heated Hand Grip
Clearing out the yard could be extremely chilly after a heavy snowfall, and if not well covered, you may experience frostbite.
The snow blower gives you additional protection by providing warmth through its heated hand grips. All you need to do is switch it ON/OFF.
You can watch the video below to see more about the features :
Power and Snow Clearing Capability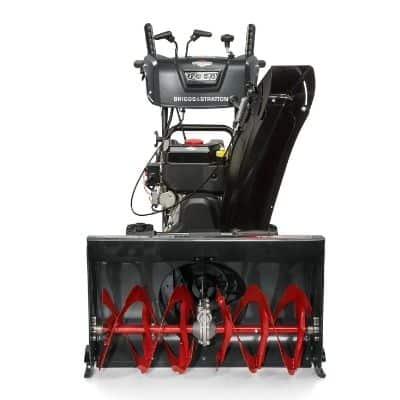 Powered by a 3066cc Briggs & Stratton 1450 professional series engine, this snow blower has more than enough power to give you a picturesque lawn in record time.
It also has a highly optimized fuel engine, and it can run for a long time on just 0.8 gallons of gasoline.
The snow blower can very quickly and efficiently clear off your driveways and walkways without any stress.
This is thanks to its large clearing width of 30 inches, a great throwing distance of 40 feet, and a snow depth of 20 inches. All your snow worries are completely eliminated with this piece of equipment.
Ease Of Use
The snow blower is easily started with a single push of the electric start button. Even in extremely low temperatures, you are assured of a very easy start.
It can also be controlled easily thanks to the dual steering control system, as well as the free hand control.
With superior traction provided by the large tires, you can be certain of moving through layers of thick snow with ease.
Ease Of Maintenance, Repairs, & Warranty
Like most other gas-operated engines, this snow blower requires minor maintenance, with changing the oil and filters being quite common.
In addition, all the parts can be readily found on the market when there is a need.
Having a 3-year residential warranty and a 90-day commercial warranty, this product from Briggs & Stratton gives you some peace of mind knowing that you don't have to make any extra payments for fixing some factory defects and faults.
You can contact any authorized dealer for warranty services at www.briggsandstratton.com
Price Of the Briggs & Stratton 1530MDS
With all the features offered by this great snow blower, it is actually very cheap when compared to other products that offer similar features.
It is a good buy, and it saves you from having to shell out for something more expensive.
Pros and cons Of the Briggs & Stratton 1530MDS
Let's take a look at the advantages and disadvantages of this snow blower.
Pros
Clears all types of snow
Durable and long-lasting
Provides effortless turns
Fast speedy cleans
Cons
A little on the heavy side
Requires large storage space
Who Should Buy the Briggs & Stratton 1530MDS ?
This excellent snow blower is suitable for anyone living in climates with a high quantity of snowfall.
It is also an excellent piece of equipment for those who offer commercial cleaning services.
Our Recommendation
When we consider the features this snow blower offers, such as a great throwing distance, an extremely wide clearing range, and a more than decent snow depth, we are certain this snow blower is a tool you should own.
In addition, it offers great ergonomics that make it easy and convenient for you to use.
Last update on 2023-09-28 / Affiliate links / Images from Amazon Product Advertising API