In Brief: Craftsman 37430 Briggs And Stratton Push Lawnmower Review
The gas-powered push lawnmower from Craftsman is a nice and easy-going piece of garden equipment that will last a long time. It also comes with great safety as well as functional features included to make your gardening life much easier. And overall, this lawnmower is quite affordable for everyone that needs to keep the garden in good shape without too much effort.
For more than a century, this company has manufactured high quality and very affordable hand and powered garden tools and is still going strong.
One of their newest inventions is this 21-inch gas-powered push lawnmower with quite a powerful motor included to mow the lawn.
This lawnmower from Craftsman comes with a very affordable price and also with great features attached to it.
It is also one of the lightest and easiest lawnmowers available on the market.
Key Specifications Craftsman 37430 Briggs And Stratton Push Lawnmower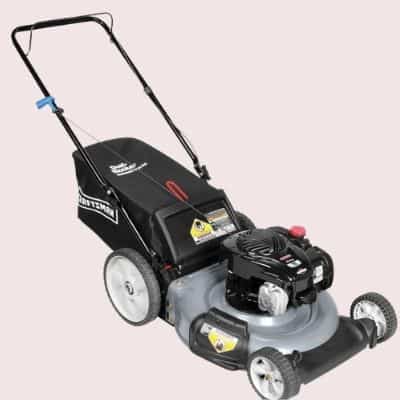 This lawnmower from Craftsman comes with the very reliable silver series 5-torque 140cc Briggs and Stratton engine included with it.
With a cutting width of 21 inches, you can easily cut quite a large lawn without too much effort and much fewer passes.
An easy to attach rear-bag cutting system will help to keep everything neat and tidy while you are mowing the lawn. This will also help to keep everything together for a very easy composing.
With the 3-in-1 clipping system, you may also easily change over from rear-bag to side-discharging or even mulching, quickly and easily.
This lawnmower is very light; at only 65 pounds, it is lightweight enough to be used by most people without too much sweat.
See the following video to see the great features that come with a Craftsman lawnmower:
Key specs of the lawnmower ->
Parameters
Details
Cutting Width

21 inch
Transmission

Push
Power Type

Gas
Engine Size (cc)

140cc Briggs & Stratton
Front Wheels (in)

7 inch
Rear Wheels (in)

11 inch
Cutting Style

Mulch; Bag; Side-Discharge
Weight

65 pounds
Height Adjuster

Dual Lever front and back deck adjuster
Drive System

Push
Start Type

Smooth Start Recoil Starter
Warranty

2 Years General Warranty
Unique Features
Here are some of the main features that are unique to this mower:
Silver Series 5 Torque Engine
This is a very reliable and strong 140cc engine that is made with the new lightweight design and superior performance. You also do not need to drain the oil from this engine and only need to top it up when the level is low.
This makes the engine of the lawnmower low maintenance and very economical and quite easy to start and run.
Easy Dual-Lever Deck Height Adjuster
You have two levers to adjust the deck height of this lawnmower to easily and quickly adapt to the terrain. You have six height positions to select from to assist in getting the lawn even and short with only one pass.
With the height adjustments, you have a cutting height of anything from 1,25 inches to as high as 3.75 inches.
Very Large Back Wheels
This may sound like a minor feature included with this lawnmower form Craftsman until you test it.
The smaller front wheels make it easy to access hard to reach spaces, but the larger back wheels improve the maneuverability of the lawnmower.
That is especially true when you are pushing the lawnmower over uneven terrain as well as the very steep lawns.
Power, Design, and Durability
Power
This push gas-powered lawnmower from Craftsman comes with a reasonable 140cc engine included, making your mowing job quick and easy.
You do not need to struggle to cut even the very difficult lawn, as well as the quite long grass with ease.
With the 5-torque engine from Briggs and Stratton, you can easily cut even the steep lawns without effort. The motor may be only 140cc power, but it is too weak to mow most lawns.
Design
It is designed to be easy to start and comes with all the controls easily accessible to make your lawnmowing job easier. It also has quite a sturdy overall construction that makes it very durable and long-lasting.
This lawnmower also features a very lightweight design to help you not to get tired too quickly while mowing the lawn. The handle is designed to be easily gripped while you are pushing the lawnmower.
Durability
With strong wheels and very large wheels at the back, this lawnmower will last for quite some time to come. The deck is made from strong and durable high-quality materials to give you many hours of great lawnmowing service.
The strong blades and easy cutting system make the lawnmower overall strong and durable for many lawn applications. With the deck height adjustment, you have a fixed position to keep in place while working.
Cut Quality and Available Options
With this strong 140cc engine and the different height settings, you can get the desired results only in one pass.
And with the easily interchangeable clipping styles, you can quickly and easily select the cutting style while mowing the lawn.
You have a 3-in-1 cutting option to make the choice for you with an easy to attach rear bag if you prefer that way. The rear bag might be a little on the small side, and you will need to empty it regularly with a larger lawn.
The following options of discharge are available with the lawnmower from Craftsman.
Mulching
Rear bag ( bag included )
Side-discharge
Performance and Ease Of Use
It is easy to use this lawnmower in a garden with many obstacles in its design with better maneuverability. The smaller wheels at the front will help you easily get to those hard-to-get spaces, nooks, and crannies.
This lawnmower comes completely assembled and ready to use in the box from the supplier, and no tools are needed for assembly. The push handle can be folded flat to make it much easier to store it in quite a small space.
With the Smooth Start recoil starter, you can get it running with only a single pull of the cord.
Ease Of Maintenance, Repairs, and Warranty
The blade system of this lawnmower is straightforward to remove and replace when it is time to do it. All the controls of this lawnmower from Craftsman are easily accessible and close at hand located on the handle of the equipment.
To top up the oil of this lawnmower may pose a problem, as it's quite challenging to do so. The oil dipstick location will make it difficult to fill it up with oil or take a reading.
Warranty
This lawnmower comes with a 2 years general warranty and must be submitted with the approved dealer of purchase. So you need to retain the invoice when you buy this equipment from your local dealer.
Please refer to the following website for more information about the available warranties, and to register your equipment with the manufacturer.
Website: https://www.craftsman.com/about-us
Price Of Craftsman 37430 21 Inch 140cc Briggs And Stratton Gas Powered Push Lawnmower
The Craftsman gas-powered 140cc push lawnmower is available at a very affordable price, which puts it in reach of most people.
But that is not to say because it is cheaper it has lesser quality than many of the more expensive lawnmowers
You get great value for your money, and a lot of great features are included with this lawnmower.
Who Should Buy It?
If you are on a tight budget, but you still need good quality and value for your money, this is the lawnmower to choose.
It is also well suited for those people who have a garden that has many nooks and crannies that needs to be trimmed.
And also, for the people who do not have a large lawn, this is ideal for them to keep the garden in good shape. This is also a great lawnmower for the well-established lawn that does not need a lot of cutting to be done.
The ease of use and the lightweight of this lawnmower makes it ideal for the weaker and older people to use.
It will also be great for those people who maintain small gardens professionally and need low maintenance machines for that purpose.
This is also a great lawnmower for the average homeowner who needs to keep the lawn in good shape.
Why We Like It
This lawnmower is very easy to assemble when you receive it in the box and will be ready to use in only a short time. It is also effortless to use and requires only minimal maintenance to keep it running and in good condition.
It is also strong and durable enough to last a very long time to provide you with long hours of service.