In Brief: Craftsman CMEW320 Review
The Craftsman Benchtop Planer, 15-Amp (CMEW320) planer provides benchtop woodworking for household use with professional outcomes. It features a hand crank for adjustments and includes a ball bearing structure for its two durable knives. These features ensure the machine adjusts and operates smoothly and as quietly as possible.
The Craftsman company is well-known in the world of power tools and equipment. Customers remain loyal to this company because of its commitment to excellence and its willingness to go above and beyond what its customer base needs.
The Craftsman Benchtop Planer combines the efficiency of the Craftsman company with the quality of its product heritage. The machine provides long-lasting durability and professional-grade results.
Key Specifications of the Craftsman CMEW320
The Craftsman Benchtop Planer provides powerful woodworking functionality for residential use.
This planer weighs 64.8 pounds and remains stable and stationary while it operates thanks to its heavy-duty design and reliable inner components.
Check out the CRAFTSMAN Benchtop Planer in action here –
Read the long list of CRAFTSMAN Benchtop Planer specs below:
Parameters
Details
Model No/Name

CMEW320
Type

Benchtop
Power (HP)

15.0
Bed Size (in.)

23
Table Size (l x b)

17.25 x 23
Knife Adjustments

2
Cutting Depth (in.)

0.125
Dust Collection

Yes
Weight (lbs.)

64.8
Warranty

1
Other Features
Quick-change cutter head
Reversible knives
Vacuum port
Accessories
Blades
Power cable
Unique Features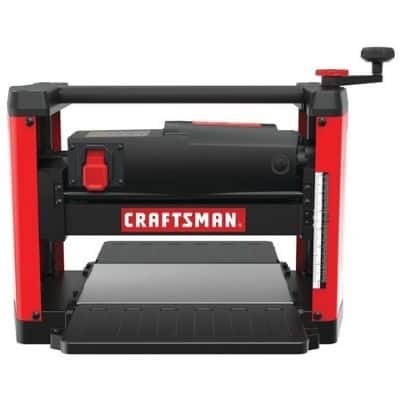 This planer features a Poly-V Cutterhead Drive and carbon steel knives, both of which combine to help it achieve a surprising 16,000 CPM. This machine packs a lot of power for a residential planer.
16,000 CPM
This machine provides 16,000 cuts per minute, making it an efficient addition to most household workspaces. Its cutter head provides speeds of up to 8,000rpm that help it achieve this impressive cutting speed.
Poly-V Cutterhead Drive
The machine comes standard with a powerful Poly-V Cutterhead drive that helps it remove as much stock as possible on a single pass.
This impressive drive keeps the machine running smoothly and gives it as much power as you need for your projects.
Carbon Steel Knives
The machine includes two carbon steel knives with a reversible design. The knives feature the ability to last a long time and cut a variety of types of wood.
Thanks to their sturdy design and reliable structure, they hold up well to long-term use.
Power and Performance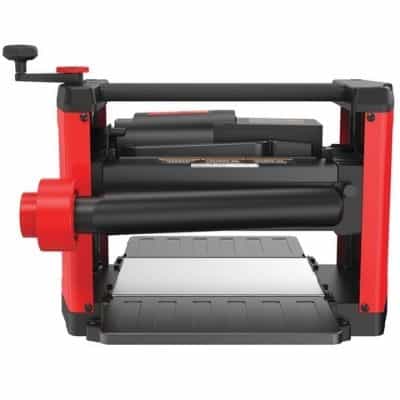 This machine packs plenty of power to handle household tasks. It can cut both hard and softwood with efficiency thanks to its high CPM rate.
Its durable, rugged design keeps up with your jobs around the house and your DIY projects as well.
The machine performs well and creates smooth finishes. It removes a lot of stock on a single pass and features a long cutting life with every set of knives.
As a residential woodworking machine, it showcases the exceptional performance of the Craftsman company name.
Ease of Usage
Customers of all skill levels regularly use this machine with no trouble. It provides simple, convenient controls with a user-friendly interface.
All controls remain manual, so users do not have to input digital settings or measurements. You can work with the wood as you see fit.
Since this machine includes a hand crank for adjustments and a built-in gauge for accurate measurements, it provides accessible operation.
Whether you find yourself just learning how to use a planer or you own your own woodworking company, this machine remains easy to use.
Ease of Maintenance, Repairs & Warranty
Customers can use the Craftsman company's website to lookup replacement parts for this machine. Using the model number, customers may easily track down parts through this function.
Customer service also helps in finding replacement parts.
To perform routine maintenance on this machine, regularly check the blades for signs of wear and replace them when needed.
The blades can be reversed on this machine as well. Check the brushes and replace them as needed as well.
Grease and clean the gears and elevation screws on this machine frequently. Coat the table with paste wax as needed. Remove dust, debris, and grease from the exterior of the planer after every ten hours of use.
The Craftsman company provides a one-year full warranty on this machine. The warranty covers free repair or replacement as needed. In commercial situations, however, the warranty lasts only 90 days.
For more warranty information, contact the Craftsman company's customer service line at 888-331-4569.
Price of the Craftsman Benchtop Planer
This planer comes in at an average price point when compared to other benchtop planers.
It remains slightly more affordable than some higher-end models with more bells and whistles, but otherwise provides a reasonable price for what it includes.
The machine comes with everything needed to start using it right away. It also features simple controls and manual adjustments that, while not high-tech, offer more than enough functionality for most customers to enjoy.
Pros and Cons of the CRAFTSMAN Benchtop Planer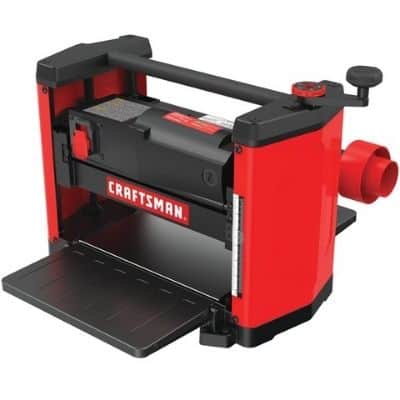 Pros
Dust collection option for either side of the machine
Creates a smooth surface easily
Handles rough, old wood with no trouble
Heavy-duty, sturdy structure with lots of stability
Cons
Some customers still see snipe with this machine
Included gauge can be challenging to read sometimes
Who Should Buy the Craftsman Benchtop Planer?
The Craftsman Benchtop Planer provides quick setup and easy operation with accessible controls for any skill level.
It handles a variety of tasks with ease and gives advanced home hobbyists a chance to hone their skills when working with rougher or older wood materials.
This machine also allows users of all skill levels to learn measurements and adjustments without relying on digital inputs. The controls remain simple enough for even a complete novice to work with.
Some customers even use this machine as part of a professional setup. Although it may not provide enough power for all commercial applications, it works well as a small-scale option for commercial use.
Our Recommendation
The Craftsman Benchtop Planer comes ready for use out of the box. It provides effective and efficient cutting with smooth results that give your projects a professional look.
DIYers and home hobbyists, as well as some professionals, find this machine a great solution for their needs.
We recommend this machine for home users who want something that can handle large-scale projects while still providing precise controls for smaller jobs.
We also recommend it for those who want to learn how to advance their woodworking skills using a high-quality machine.
Last update on 2023-12-02 / Affiliate links / Images from Amazon Product Advertising API