In Brief: Cub Cadet 2X Snow Blower Review
If you want a strong piece of equipment that will clear your driveway, the Cub Cadet 2X 26″ HP is an excellent addition to your garden tool arsenal. It offers a reliable electric start and a powerful 243cc engine. Due to its wide clearing width, snow blowing will take a very short amount of time, and you will get to enjoy every bit of it. This Cub Cadet invention is fuel-efficient and meets all your snow blowing needs.
With offices all over Europe, Australia, the USA, and China, Cub Cadet has been helping people realize their outdoor dreams since 1961.
They manufacture yard equipment, snow blowers, and lawn mowers, among other outdoor equipment.
Their snow blowing equipment is powerful and handy.
The 2X 26″ single-stage gas snow blower is one such piece of equipment, and it comes with several fantastic features.
Key Specifications Of the Cub Cadet 2X 26″ HP
The gardening tool has a 26-inch clearing width. This means that you only need a few passes to clear your space.
Because of its ease of maneuverability, it can be used on rough terrain. This way, it is able to meet all your snow blowing needs.
This gas snow blower moves wet and heavy snow quickly and with so much ease for the user's convenience.
When it comes to this equipment's power, it is important to remember that its 243cc Cub Cadet engine is much stronger compared to electric versions.
This gives it versatility and makes using it easy. Because it will start on the first pull, weaker people, such as senior citizens or even children, can use it. This is because little effort is required to operate it.
Lastly, its lightweight and compact nature bring with it several benefits.
First, it can maneuver in small spaces easily. This feature also makes it easy to stash it away when it isn't being used.
Check out this video for more :
Here is a long list of specs of the Cub Cadet 2X 26″ HP :
Specification
Model Number/Name
2X 26 HP
Powered by

Gas
Engine power

243 cc Cub Cadet engine
Stages

Two-stage
Clearing width

26 inches
Ideal for how many inches (depth of snow)

16 inches
Weight
227 lbs.
Start mechanism

Electric start
Other features
Chute control, headlight, skid shoes, power steering
Unique Features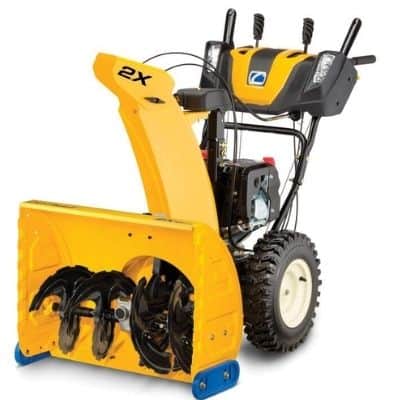 This snow blower comes with several unique features. Here are some of them :
Robust 243cc Cub Cadet Engine
The 4-cycle engine will power your snow blower as it moves through tons of ice.
This model features an electric start, so all you need to do is push a button, and you will soon be blowing snow out of your way. The 2X 26″ model's engine was built to come through for you on even the toughest cold days.
Two-Stage Power
The auger is made of heavy-duty steel. It breaks up and pulls the snow in. Thereafter, the ice is thrown out of the chute by the impeller.
This model also features a heavy-duty gearbox with a 5-year warranty.
Zero-Turn Posi-Steer
For a two-stage snow blower, this piece of gardening equipment has advanced features.
The zero-turn posi-steer feature allows you to operate the equipment with a single hand, and you can move it through the tiniest spaces.
Additionally, the large X-track tires offer excellent traction regardless of the snow conditions.
Dual LED Headlights
With this feature, you can work any time. The bright LED lights provide superior illumination, letting you blow snow even on the darkest of nights.
Power and Snow Clearing Capability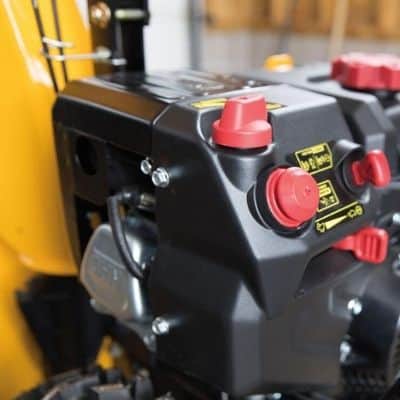 With the powerful 243cc Cub Cadet engine, this model was designed to give you long years of service.
It helps you quickly throw snow out of your way without much effort.
The fuel tank has a 2-quart capacity, meaning you can finish your work without refilling.
Ease Of Use
One of the reasons that made me fall for this model is the ease with which you can use it.
Starting from the strong 243cc Cub Cadet engine to the zero-turn posi-steer feature, anyone can use this piece of equipment, regardless of age and size.
The padded handlebar is ergonomically designed to offer a firm yet comfortable design, and the chute can be rotated 200 degrees for the convenience of the operator.
Also, the model features huge X-track tires for better traction on snow surfaces.
The 26-inch clearing width means you need fewer passes to complete your work. If you like, the package comes with rust-resistant skid shoes to keep you from the cold.
Ease of Maintenance, Repairs, and Warranty
This Cub Cadet invention comes with a low maintenance factor. However, you will have to occasionally replace the skid shoes and shave plates, as they are subject to wear and tear.
Also, ensure you lubricate the wheels and auger shaft and always check the tire pressure.
Its sturdy steel body will rarely get deformed, even after hitting obstacles. Here are some maintenance tips to take into consideration :
Do not tamper with the safety devices.
Before you start cleaning, inspecting, or repairing the machine, disengage the control levers.
Check to see if the screws and bolts are tight at all times.
Do not store the snow blower near an open flame, furnace, or clothes dryer.
The product comes with a two-year consumer warranty and a one-year commercial warranty for your convenience.
Within this period, you can return it to Cub Cadet in case of any defects.
However, you will be required to present the product and an original receipt. For further inquiries, visit their website.
Price Of the Cub Cadet 2X 26″ HP
This snow thrower comes at a decent price.
Even though you may find cheaper alternatives on the market that function just like it, the 2X 26″ HP is worth every penny.
Once you get to experience the unique features it comes with, you won't regret spending a single dime.
Pros and cons Of the Cub Cadet 2X 26″ HP
Here are the main elements that make up the good and the bad of this beast of a machine:
Pros
Made of strong material
Easy to operate
Starts easily
Features a lot of cool features
Cons
Cannot be used on gravel surfaces
May not be convenient on sloped surfaces
Who Should Buy the Cub Cadet 2X 26″ HP ?
Anyone wanting to keep their driveway clean will find this to be an important tool.
Commercial garden specialists will also benefit greatly from this piece of equipment.
Also, if you have a large lawn or sidewalk, this is a good place to start. In addition, people offering public service to playgrounds and parks may need this snow blower to keep these spaces clean.
Our Recommendation
Having seen and experienced the several features that come with this snow blower, I'd say you should definitely give it a try.
The performance is good, and using it is quite easy.
Also, it has a powerful engine that is built to last a lifetime.
The cool control features and ergonomic design will leave you wondering why you didn't get it sooner. If this product is within your budget and suits your needs, grab yourself one or two!
Last update on 2023-09-28 / Affiliate links / Images from Amazon Product Advertising API