In Brief: Cub Cadet RZT S 42 Lawn Mower Review
When you need to manage your lawn all year round comfortably, this is the lawn mower to use on your lawn. It comes with great features attached to it that will improve your lawn mowing experience quite drastically.
So without wasting any more time, let us take a look at what this lawn mower will provide to the serious lawn owner.
Since the early 1960s, Cub Cadet have been manufacturing machinery to make the life of those people working with mother earth easier.
And this very convenient lawn mower that this company provides is one of their top products to make life easy.
The Cub Cadet RZT SX 42 zero-turn ride-on lawn mower is one of the most favorite lawn mowers used by lawn owners.
That is why we selected this comfortable and quite strong lawn mower to review.
Key Specifications of Cub Cadet RZT S 42 Lawn Mower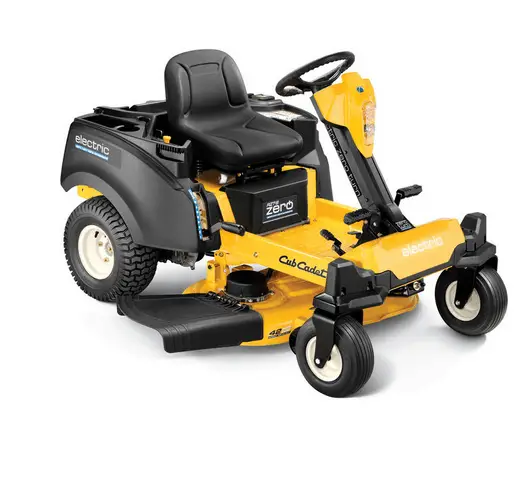 With an easy starting system, you can start this lawn mower from Cub Cadet with the push of a single button. The lawn mower comes with a large 2.8-gallon fuel tank to make it possible to mow the lawn with one single tank of fuel.
You also get a 12v battery included with this lawn mower, so you can just start and go the moment you receive it. There are 8 different cutting deck positions to make this lawn mower versatile for many different lawn applications.
You can easily adapt the lawn mower from Cub Cadet to be used with many different cutting styles and clipping sizes. The powerful engine that is included with this lawn mower makes all the jobs it is intended to be used for much easier.
See the following YouTube video for many more features as well as how to operate it:
Key Specifications –
Parameters
Details
Cutting Width

42 Inches
Transmission

Hydrostatic
Power Type

Gas
Engine Size (cc)

679cc
Front Wheels (in)

13 x 5 Inches
Rear Wheels (in)

18 Inches
Cutting Style

Mulch; Bag; Side-Discharge
Weight

546 Pounds
Height Adjuster

Manual hand operated
Drive System

Dual hydro-gear EZT
Washout Port

Deck
Warranty

3 Years Limited Warranty
Unique Features
Attached to this lawn mower from Cub Cadet are many great features, and some of them are unique to this Brand.
Zero-turn radius
These ride-on lawn mowers from Cub Cadet have a turning radius of zero and can basically turn on the proverbial dime. This is great for when you have to mow the lawn, as you will not lose your line and quickly turn to resume.
This will also help if it becomes necessary to cut the same line you just did, you will not lose any space or time.
Single-Lever Height Adjuster
When it comes to adjusting the cutting height of the cutting deck, you can do it without even getting up from your seat. It can be done with a lever you pull manually, and the whole cutting deck will be lowered to the desired height.
This will further improve the convenience factor of the lawn mower without wasting any time to change over while you are driving.
Cruise control
The cruise control will help to make it even more convenient where you can easily mow the lawn at an even speed. This cruise control is easy to set up and to activate and de-activate it with a single selection.
Power, Design, and Durability
To make sure this lawn mower will be able to do what you want it to do, there are certain things you need to look at.
Power
This lawn mower comes with a very powerful engine of 22 horsepower to be able to mow even the larger lawns. This means that this ride-on lawn mower will be able to mow lawns that have steep hills in it as well.
And it will be able to mow even the roughest types of lawns out there quite quickly and easily without much effort. This lawn mower will be able to do the job all year round and will easily cut even the wet grass.
Design
With armrests as a standard-issue, you will not get tired quickly with the ergonomic seating position and support from them. This means you keep up with the endurance of this lawn mower without getting fatigued too.
The control station is cleaned up so you can quickly access all the controls of the many features included. And together with the easy speed cruise, you will be able to keep mowing the lawn the whole day without getting tired.
Durability
With a deck that is made from high-quality and durable materials, you will have a reliable and long-lasting lawn mower.
With the very stable features included with this lawn mower, you will have peace of mind while using it to mow the lawn.
The overall durability of all the parts that are included with this lawn mower from Cub Cadet will provide long hours of service. And it will be able to do the job it is intended for, for many years to come without fail or breakage.
Cut Quality and Available Options
With the easy to select deck height with one single lever, you will be able to cut the desired length easily. And with the many different cutting heights of the deck that ranges from 1.5 to 4 inches, you have many options.
This will mean that with so many cutting length options at your disposal, you can have that matt-finish effect with the lawn. And this lawn mower will easily be able to be used for many different lawn cutting applications.
You also have several discharging options available for quick and easy disposing of the cuttings and composting options.
Mulching – a mulching kit can be added separately
Rear-bagging – you can add up to two rear bags which are available optionally
Side discharging – this is the standard method that is also great for a natural composting of the lawn, depending on clipping size.
Performance and Ease Of Use
This lawn mower comes nearly fully assembled, so you will not need to do that at all, allowing you to use it immediately.
And with the easy forward and reverse options with the simple use of the pedal, it makes it even easier to use.
With the tilt steering technology this lawn mower is equipped with, there is enough space for a comfortable ride. So you will have ample space for your feet while you are riding the lawn mower while mowing the lawn.
And that makes it ideal to be used by even the large persons out there.
Ease Of Maintenance, Repairs, and Warranty
It is not difficult to replace the parts on this lawn mower, such as the dual cutting blades which come off easily. And it will be assembled easily as well to make it a quick and easy fitment for when the blades are blunt.
It will be better to take this lawn mower in for a professional service. And with the easy to use deck washing port, you can easily clean it after use.
Warranty
You get a nice long 3 years limited warranty with this ride-on lawn mower from Cub Cadet for improved peace of mind. You need to have proof of purchase as well as maintenance when applying for the warranty.
See the following website for more information on how to submit your warranty claim.
Price Of Cub Cadet RZT S 42 Lawn Mower
The RZT S 42 lawn mower from Cub Cadet comes with quite a reasonable price point attached to it. Though it might be a bit higher than other similar lawn mowers, you should keep in mind that good quality comes at a price.
That is also the case with this high-quality lawn mower, and there are also many great features included with this lawn equipment.
Who Should Buy It?
This is the ideal lawn mower for those homeowners that have medium to large lawns they want to keep in good condition. It is also great for those extended lush lawns that need all-year-round maintenance to keep it nice and beautiful.
This is also the ideal lawn mower for schools and churches as well as for golf course managers. And it is a must-have lawn mower for those people that have vast acres of nice-looking green lawns.
Why We Like It
This is a lawn mower that you would want to take home if you look at the great features that are included with it. And the ease of use of this lawn mower makes it a favorite among many homeowners with large lawns.
And it will be able to provide you with many years of great lawn mowing service.