In Brief: Cub Cadet Ultima ZT1 50 Pro Mower Review
The Cub Cadet Ultima ZT1 50 is an excellent choice for anyone looking for a comfortable lawn mower. It provides easy maintenance, durability, and cost-effectiveness. It has a comfortable chair for you as the driver to enjoy mowing.
Due to an increase in different demands from several users, manufacturers now design lawn mowers with comfortable seats.
Installation of a comfortable chair has transformed the mowing process by making it less exhausting, and the Cub Cadet Ultima ZT1 50 is no different.
The manufacturer of Cub Cadet takes consumer feedback seriously to update their lawn mowers. The Cub Cadet Ultima ZT1 50 comes with a high top speed and easy to use controls.
With an EFI EZT V-twin engine, you can be sure of a high power during operation.
Key Specifications of Cub Cadet Ultima ZT1 50 Mower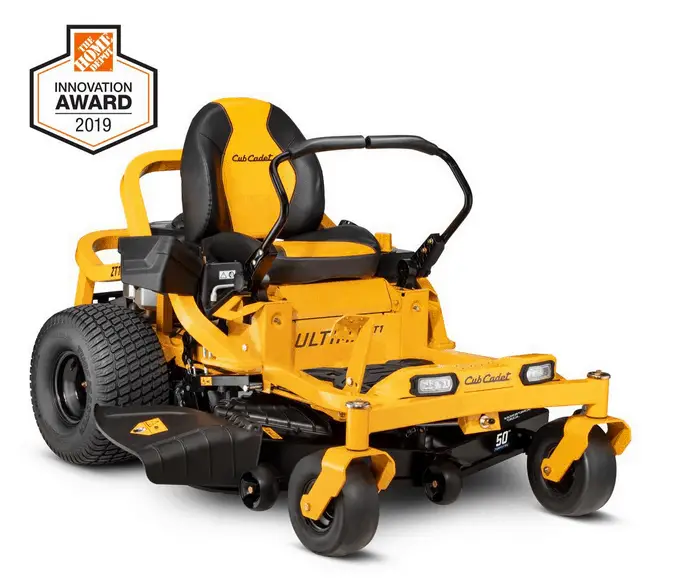 If you are looking for high efficiency, you need to look no further as the Cub Cadet Ultima ZT1 50 will offer you an excellent and smooth operation. The lawn mower features hand controls that respond quickly.
You can negotiate smoothly around tight corners, hilly terrain, or obstacles. These controls give a comfortable grip when driving. The strong and robust steel on its body proves that it is made to last.
This lawn mower has an LED lighting system on the front, allowing you to use it when lighting is insufficient. This lighting makes it perfect for use in foggy weather.
Different parts on this lawn mower are weather resistant. You can use it in any weather conditions without worry of failure.
The cutting deck is 54 inches, thus cuts a large portion at once. It has a wide range of height adjustment positions allowing you to level the lawn to your choice.
The lawn mower offers a high top speed that enables you to cut through the grass quickly, thus saving time.
Wheels offer good traction thanks to their large size and a great pattern of treads. No need to worry about getting stuck while driving as the large surface area of the wheels prevents sinking or getting stuck in muddy ground.
Servicing different parts is fast, as you require to open only one bolt to access the inside parts. This feature allows you to make corrections or remove grass stuck near the blades quickly and go on with the mowing.
For more information on the features and operation of the Cub Cadet Ultima ZT1 50, you can watch this YouTube video:
Key Specifications –
Parameters
Details
Cutting width

54 inches
Transmission

Dual hydraulic
Power type

Gas
Height adjustment levels

15
Warranty

1-year professional
3 years domestic
Deck size

54 inches
Unique Features
A number of features make the Cub Cadet Ultima ZT1 50 unique hence outstanding other lawn mower brands. These features include the following:
Efficient controls
Controlling the Cub Cadet Ultima ZT1 50 is not a difficult task as the controls have a high response. You can negotiate corners smoothly and move around hilly terrain and obstacles.
In addition, the controls offer a comfortable feel on the hand and offer a good grip. This allows you to enjoy the driving, thus accomplishing more.
Strong engine
The Cub Cadet Ultima ZT1 50 is driven with a Kohler Confidant EFI EZT 745 engine type with a v – twin cylinders. This engine is strong and powerful enough to cut and drive the mower with you on it.
The engine provides mowing for a large area of up to 13,500 M2/h. It requires minimal maintenance and is able to run on low fuel consumption. This gives you a chance to save on fuel costs.
The lawn mower has a large fuel tank with a volume of 2 x 13 liters. This ample storage allows you to operate it over a large area without the need for a frequent refill.
Many deck height positions
This lawn mower has a wide range of cutting height positions. These positions are crucial to achieving a smooth and level lawn. It allows you to cut to your different height needs.
The cutting width is large; hence a more extensive area is cut over a short period of time.
Power, Design, and Durability
The type of power durability and design of a lawn mower is a crucial aspect to consider before you make a selection. Let us take a look at the features of the Cub Cadet Ultima ZT1 50 under these categories.
Power
The amount of power produced by an engine will determine the performance of a lawn mower.
A strong engine powers this lawn mower. It provides enough power to keep the blades in operation and still manages to drive around with your weight.
It comes with an electronic fuel injection system that reduces consumption by 25%. This allows you to save on costs hence rendering it economical.
Design
The design of a lawn mower will influence its ease of storage, durability, and comfort.
The Cub Cadet Ultima ZT1 50 has a design that is user friendly and one that provides comfort.
This lawn mower has a large chair for you to sit on while driving. Operating it is not difficult as it comes with a manual for explaining different functions.
The wheels have an excellent design for providing smooth movement, no matter the ground conditions. The wheels and blades are replaceable; hence the lawn mower will always be working on full efficiency.
Durability
A good lawn mower should be able to resist forces that may cause it to break or fail. This lawn mower has a long-lasting build on it. Different parts are made of strong steel that helps it resist failure when in operation.
The blades are also durable and can cut through any type of grass. They do not rust and do not require frequent sharpening.
Cut Quality and Available Options
With 15 height adjustment positions, this lawn mower offers high quality and well level cuts. The blades are strong and have no need for frequent replacement.
This mower has an extensive cutting range of up to 127 mm. With such options on it, you can be sure it will deliver no matter the type of grass.
Ease of Maintenance, Repairs, and Warranty
Low maintenance is crucial for any lawn mower. The Cub Cadet Ultima ZT1 50 requires minimal maintenance. The systems on it are made to last long and hence withstands failure.
For you to access other parts inside the lawn mower, you need to open only a single bolt.
Depending on the type of grass present, different height adjustments can be made to reduce damage to other parts of the mower. The mower can be washed to keep it clean and free from debris or grass.
Warranty
The Cub Cadet Ultima ZT1 50 has a one-year professional warranty and a three years domestic warranty. This long warranty assures you of long term service.
If you experience any problems with the Cub Cadet Ultima ZT1 50, you can contact the customer technical support team on 1-877-428-2349 or visit our website for more information.
Make sure you have the registration number of the mower when speaking to the agent.
Price of Cub Cadet Ultima ZT1 50 Pro Series Ride On Mower
The lawn mower is affordable, and it's a worthy investment since the maintenance and fuel cost are minimal.
It offers high efficiency in operation and gives you the best quality cuts. The many height adjustment options make it stand out.
User-friendliness is high as a manual for controls, and other options are included.
Who Should Buy It?
The Cub Cadet Ultima ZT1 50 lawn mower suits large lawns or fields since it has all the necessary options for mowing over a large area hassle-free.
If your lawn has different types of grass on it, the height adjustment options on this lawn mower will make it perfect for you.
Why We Like It
Finishing up this review, we highly recommend the Cub Cadet Ultima ZT1 50 for its high-quality cuts. The comfortable chair and easy controls make this lawn mower unique.
You can use it in any weather conditions or during any time, even when light is insufficient since it has LED lighting systems.