In Brief: Cutech 40160HC-CT Jointer Review
Most woodworkers believe that budget-minded jointers can't be accurate and reliable at the same time. That's true. But the Cutech 40160HC-CT is an exception. Its spiral-shaped cutter head would reap rough edges off woods, leaving you with a parallel surface. Powered by a 120-volt motor, be assured that you've found the right machine to work on most woods. Thus, this jointer is great for amateurs and beginners.
Cutech is a brand new manufacturing company on a mission to produce items you can depend on during tough woodworking projects.
The brand has its headquarters in San Diego, USA, and they specialize in designing exceptional cutter heads for jointers.
The Cutech 40160HC-CT echoes the brand's mission of producing tools that march the reliability of premium brands.
Key Specifications of the Cutech 40160HC-CT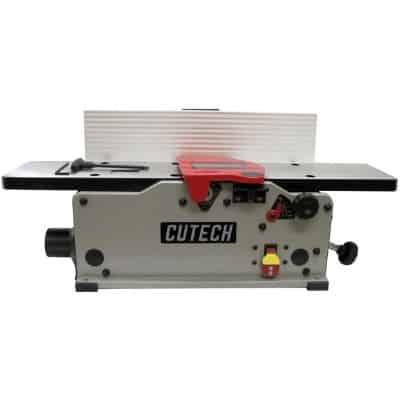 The Cutech 40160HC-CT is a lightweight benchtop machine with a total body mass of 40 pounds. The majority of its body part is made from aluminum.
As such, it's easy to move around should you decide to change its position.
The infeed and outfeed table that comes with this jointer are completely parallel, and the fence is adjustable to meet the depth and length of the different woodblock.
The only loophole is the height of the table, which is deemed too short for professional use. An extendable leg would have done a whole lot of good, but unfortunately, you won't get it here.
For more information about the features, check out this video :
Read the long list of specs of the Cutech 40160HC-CT Bench Top Jointer here :
Specification
Model No / name
40160
Type
Bench-top
Power (volts)
120
Bed size (in)
6 inches
Table Size (LxB)
4 3/8 x 19 5/8

Knife type
2-knife cutter head
Cutting depth (in)
1/8 inches
Dust collection (y/n)
Yes
Weight (lbs)
40
Warranty
2-year
Other Features
1. Safety push blocks
2. Adjustable tiltable fence
3. Dust chute

Unique Features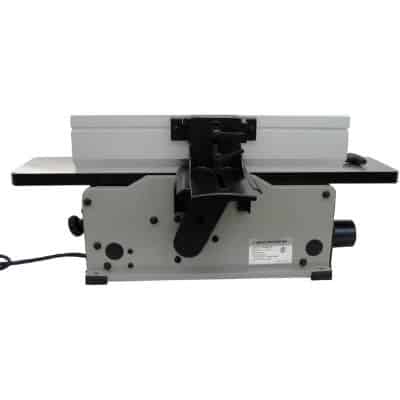 There are some impressive features this jointer possesses. Some of which will allow you to complete more woodwork projects with less fuss.
Dust Evacuator
The Cutech 40160HC-CT utilizes the same clearing system used in most snow blowers to evacuate dust.
This means that the dust chute is attached to the cutter head, which then evacuates dust and chips into a disposable can. Leaving your workspace perfectly clean.
12 Carbide 2-sided spiral-shaped Cutter head
This jointer features a carbide cutter head rather than the usual knife cutter seen in most jointers. The carbide cutter head delivers better results.
It trims edges faster and allows you square wood down to the desired shape. The cutter head is best for jointing woods such as oak, maple, and pine.
The blade is a completely smooth surface behind without requiring extra sanding.
Power and Performance
The Cutech 40160HC-CT is powered by a motor that supplies 120 volts of electricity.
This is enough to work on hardwoods, especially those with a depth of 1/8 inches.
In terms of width, this jointer can handle wood of 6 inches, but its working length is said to be twice the length of its infeed table.
Its accuracy is commendable, and this is due to the design of the outfeed and infeed, which are completely parallel.
This way, it's easier to adjust the contact between the cutter head and the woodblock.
Ease Of Usage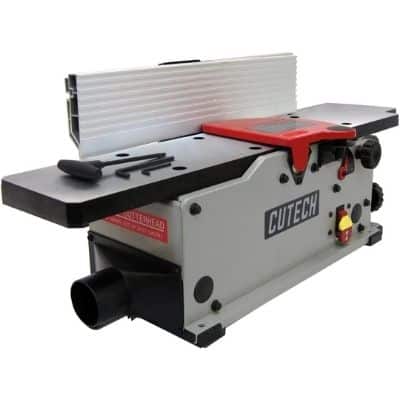 This machine is easy to use. It runs with a motor. Hence, maintenance is minimal.
As much as this is an entry-level jointer, you should know that you won't automatically get used to its operation if you have no prior experience using a jointer.
The dust evacuation system minimizes dust buildup around your workshop. You won't need to do a lot of cleaning, and neither will you have wood chips flying around.
Lastly, jointers that are not properly maintained will not produce smooth edges without you running into troubles.
Ease Of Maintenance, Repairs, & Warranty
When the cutter head is blunt, it will be hard to push through the wood. And if the table is faulty in any way, you won't get the accuracy you need.
Jointer maintenance is divided into two parts: the cutter head and the mechanical parts.
The cutter head is extremely sharp but gets blunt with time.
For this reason, ensure the blades should be sharpened once they get dull. Also, the dust evacuation system shouldn't stop you from cleaning the blades after use.
For the mechanical parts, they should be inspected and lubricated frequently to minimize friction.
All Cutech machines are covered by a 2-year warranty, but this excludes any damages from the owner's carelessness.
Price of the Cutech 40160HC-CT
This is an entry-level jointer. It's relatively cheap, and you get exactly what your money can buy. What you get from this machine are basic features.
As such, it won't deliver the best result if you need something on the high-end.
The manufacturers have a sound customer care system. Be rest assured that you will have someone to attend to you if you run into any issue.
Pros and cons of the Cutech 40160HC-CT
From a glance, you can see that this machine isn't the most solid piece. There are a few downsides we've noticed, and we've mentioned them below.
Pros
Clean finish without needing extra sanding
Infeed and outfeed are parallel
Minimal dust buildup
Cutting depth of 6 inches
Cons
Absence of adjustable legs
Can't withstand the weight of hardwoods
Who Should Buy the Cutech 40160HC-CT ?
The Cutech 40160HC-CT can handle wood length twice its length. This suggests that this jointer can work on a wood length of 50 inches.
However, we don't think the table is sturdy enough to hold heavy wood. And its body part sustained scratches easily.
For this reason, we advise you to get this jointer if you need a low-budget option that can deliver decent results. You can only use this on small projects, such as making boxes.
Our Recommendation
We love the cutter head's sharpness, but a little nick on it causes it to lose its sharpness. The dust evacuation technique used here is top-notch.
However, its aluminum body condemns the machine to a lot of scratches.