In Brief: Cutech 40600H-CT Planer Review
The Cutech 40600H-CT Spiral Cutterhead Planer offers a 13-inch bed width and a cutting depth of up to 1/8-inch. This benchtop planer includes a spiral style cutterhead and works best for residential purposes. The machine includes optional knife upgrades and table extensions, and at just 65 pounds, it provides easy portability.
The Cutech company brings customers high-quality woodworking equipment and machinery designed to last. This company regularly works to improve its designs and consistently offer products that get the job done.
As part of the Cutech company line, the Cutech 40600H-CT Spiral Cutterhead Planer provides an exceptional combination of both convenience and sophistication.
The machine remains simple and easy to use without sacrificing anything in terms of quality and results.
Key Specifications of the Cutech 40600H-CT
The Cutech 40600H-CT Spiral Cutterhead Planer features a slightly larger than average bed width. Coming in at 13 inches, the bed handles a variety of wood sizes and conditions with no trouble.
Check out the Cutech 40600H-CT Spiral Cutterhead Planer in action here –
Read the long list of Cutech 40600H-CT Spiral Cutterhead Planer specs below:
Parameters
Details
Model No/Name

40600H-CT
Type

Benchtop
Power (HP)

1
Bed Size (in.)

13
Table Size (l x b)

20 x 13
Knife Adjustments

1
Cutting Depth (in.)

1/8
Dust Collection

Yes
Weight (lbs.)

65
Warranty

2 years
Other Features
Knife upgrades
Depth stop
Table extensions
Accessories
Lead screws
Power cable
Unique Features
The Cutech 40600H-CT Spiral Cutterhead Planer features a built-in depth stop for ease and convenience. It also provides optional knife upgrades and optional table extensions designed to make your experience even better.
Depth Stop
The built-in depth stop feature on this machine allows you to repeat the same depth settings on several subsequent passes after the first. This function ensures smoother results and makes operating the machine easier than ever before.
Knife Upgrades
This machine comes standard with stainless-steel knives but has the option to upgrade to carbide knives instead. No matter which material you choose, you'll enjoy high-quality knives with a reversible design.
Table Extensions
With this machine, you can change the size of the infeed and outfeed table by using the included extensions.
When you need to work on longer pieces, simply attach the extensions and get back to work in just a few short minutes.
Power and Performance
This machine offers a high-powered motor and durable inner components built to last. Thanks to its powerful inputs, the product works through a variety of wood conditions, including very old or damaged pieces.
The machine also performs admirably when compared to other models with similar features. This product creates smooth, exceptional finishes with just a few passes on most projects. Customers enjoy its impressive results.
Ease of Usage
The product provides simple setting adjustments and easy control inputs designed to make beginners feel more comfortable using it.
This machine cuts back on all the extra frills that come with many other benchtop planers and keeps things simple from start to finish.
From the moment you open the box, the machine offers simplicity. It provides quick and easy setup and gets you started on your first pass in no time. This product also offers easy maintenance and quick cleanup.
Ease of Maintenance, Repairs & Warranty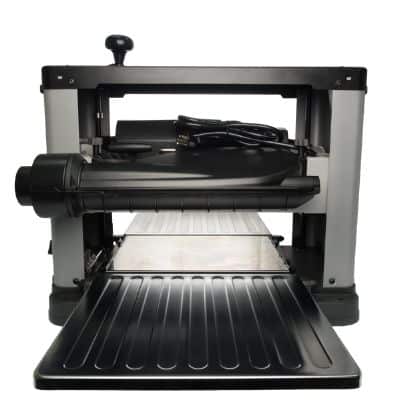 The Cutech company web site provides customers with a simple way to purchase replacement parts. These parts include repair pieces as well as consumable items.
Customer service may also be able to assist in ordering replacement parts.
Perform routine maintenance on this machine by cleaning sawdust from the exterior parts of the machine regularly. Wax the table when you clean the machine. At the same time, treat the moving parts with machine oil.
The Cutech company provides a two-year limited warranty on this machine. The warranty includes manufacturing error and defects but does not include problems caused by user error or misuse.
It also does not include normal wear and tear.
The company requires all products to be inspected by a licensed Cutech technician.
Therefore, you much either pay to ship the item back to the company or look for a local technician who can perform the inspection and repairs instead.
For more warranty information, contact the Cutech company at 858-886-7333.
Price of the Cutech 40600H-CT Spiral Cutterhead Planer
The Cutech 40600H-CT Spiral Cutterhead Planer comes with plenty of starter accessories and features a powerful 15amp motor.
This product includes reversible knife blades and excellent ease of use, making it efficient and simple.
Compared to other similar benchtop planers, this product comes in well under the average price point.
The Cutech company works to provide customers with an entry-level machine at an affordable price with this product.
It offers plenty of value for its cost.
Pros and Cons of the Cutech 40600H-CT Planer
Pros
Creates smooth, clean results
Handles many wood types
Features knives that last a long time
Allows quick, simple maintenance
Cons
Louder than other Cutech models
Trouble finding replacement cutterheads
Who Should Buy the Cutech 40600H-CT Spiral Cutterhead Planer?
The Cutech 40600H-CT Spiral Cutterhead Planer fits in nicely with most household workshop setups or garages.
Although some customers may use this product for small commercial jobs with light cutting needs, it remains a better option for residential use.
Customers enjoy working with this product regardless of skill level. The machine provides exceptional results when working on household repairs or DIY projects, and its compact design ensures it can physically fit as well.
Our Recommendation
The Cutech 40600H-CT Spiral Cutterhead Planer provides powerful performance backed by a user-friendly interface and durable components. This machine remains a popular choice among household woodworkers and hobbyists.
We recommend this product for home hobbyists who need a machine that can tackle old or damaged wood. We also recommend it for beginners who want to learn on a product that can help them grow in their skills.
Last update on 2023-12-03 / Affiliate links / Images from Amazon Product Advertising API