In Brief: Cutech 40700-CT 12 Planer Review
The Cutech 40700-CT 12-1/2" Straight Knife Planer gives users an accessible way to enjoy woodworking on a budget. This machine offers a traditional 12.5-inch bed size and a cutting depth of up to 3/32-inches. It features a built-in dust collection port and a straight-knife design that allows it to quickly and smoothly finish small to medium projects.
The Cutech company focuses on providing its customers with high-quality woodworking equipment.
This company believes in quality over quantity, and although its catalog remains small, its products give customers excellent solutions for their shop needs.
The Cutech 40700-CT Straight Knife Planer remains a popular choice from the company's product line. This durable machine offers entry-level woodworking perfect for household applications and small to medium projects.
Key Specifications of the Cutech 40700-CT
The Cutech 40700-CT Straight Knife Planer provides benchtop woodcutting functionality with a straight-knife design. This product weighs just 56 pounds, making it a lightweight solution for portable planer needs.
Check out the Cutech 40700-CT Straight Knife Planer in action here –
Read the long list of Cutech 40700-CT Straight Knife Planer specs below:
Parameters
Details
Model No/Name

40700-CT
Type

Straight Knife
Power (HP)

1
Bed Size (in.)

12.5
Table Size (l x b)

15.5 x 12.5
Knife Adjustments

1
Cutting Depth (in.)

3/32
Dust Collection

Yes
Weight (lbs.)

56
Warranty

2 years
Other Features
Reversible knives
Quick-change knife function
Reduced snipe
Accessories
Extension table
Blades
Power cable
Unique Features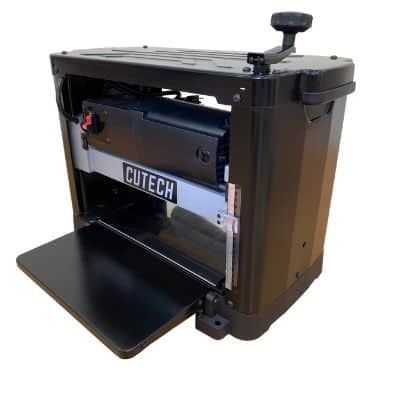 This product includes reversible knives with a quick-change knife function as well as reduced snipe. Its simple but effective overall design makes it easy for users of all skill levels to enjoy working with this machine.
Reversible Knives
The stainless-steel reversible knives that come as part of this machine's setup give you twice the cutting time before you need to worry about changing them. This feature also helps save you money and time in the long run.
Quick-Change Knife Function
The product includes quick-change knives that make it easy to replace broken or worn blades without losing too much of your work time. It does not take long to open the machine, take out the old knives, and put in the new ones.
Reduced Snipe
This machine features reduced snipe thanks to its sturdy, anti-wobble design and its stainless-steel components. The machine also includes a four-screw post style that makes it easier to adjust and save your settings while you work.
Power and Performance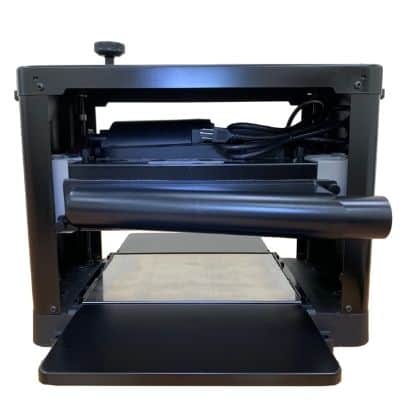 This machine packs more than enough power to handle household tasks and DIY projects.
Although it may not offer enough power for commercial use, its 15amp motor keeps the machine cutting smoothly and efficiently throughout a variety of wood types and conditions.
Customers enjoy the performance of this machine and find it holds up well to competitor benchtop straight-line planers. It creates high-quality results and requires only a few passes to finish any given piece of wood.
Ease of Usage
The planer makes it easy for beginners to start using it right away thanks to its traditional design and its simple inputs.
This product does not include many extra features, so it offers convenient operation for those who may not have much experience.
The machine's top-mounted hand crank helps users adjust settings as needed, and its infeed and outfeed tables ensure it moves the wood through evenly on every pass.
It also features reduced snip functionality that helps users create better results more easily.
Ease of Maintenance, Repairs & Warranty
The Cutech company provides replacement parts for repair as well as replacement consumable parts available for purchase.
This company makes it easy to shop by simply adding the required part to your shopping cart through the company web site.
Clean the machine regularly to remove sawdust buildup from the exterior components and surfaces. When cleaning the machine, oil the inner working parts and treat the table with paste wax to keep everything running smoothly.
The Cutech company offers a two-year limited warranty on this product. The warranty covers any problems related to manufacturing or malfunctioning during this time but does not cover problems caused by user error or misuse.
This warranty also does not cover consumable items or normal wear and tear. Users are responsible for paying to send the machine back to the company for inspection or taking it to a licensed Cutech repair technician instead.
For more warranty information, contact the Cutech company at 858-886-7333.
Price of the Cutech 40700-CT
The Cutech company offers the Cutech 40700-CT Straight Knife Planer as an entry-level machine with a budget-friendly price.
The company hopes this product can remain one of the most affordable high-quality benchtop planers on the market.
Compared to other benchtop planers with similar features, this machine comes in well under budget. However, it does not cut back on functionality and provides plenty of value despite its intentionally reduced price.
Pros and Cons of the Cutech 40700-CT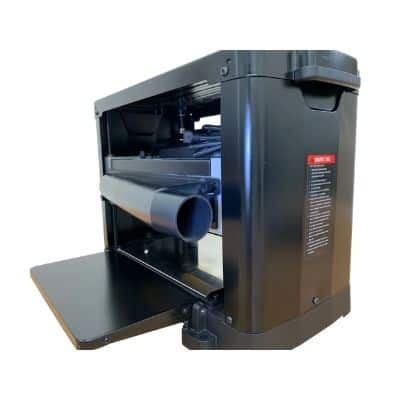 Pros
Operates quietly compared to others
Handles rough stock with no trouble
Comes with everything needed for setup
Features a powerful motor
Cons
Cuts less smoothly than some others
May require frequent cleaning of the dust port
Who Should Buy the Cutech 40700-CT?
The Cutech 40700-CT Straight Knife Planer works well for customers who need a benchtop planer on a budget.
This product offers simple functions and impressive results that keep advanced users satisfied while allowing beginners to learn easily.
This product may not be powerful enough for use in a commercial shop. However, it handles DIY projects and household needs easily, and it works great for residential repairs.
The Cutech company offers it as a simplified planer for those who do not practice much woodworking.
Our Recommendation
The Cutech 40700-CT Straight Knife Planer bridges the gap between affordability and functionality. In terms of residential planers, it offers high-quality results that hold up well to long-term needs and usage.
We recommend this machine for anyone who needs an entry-level planer and does not want to spend a lot of money on a high-end option. We also recommend it for customers who want a machine for infrequent use.
Last update on 2023-10-01 / Affiliate links / Images from Amazon Product Advertising API