In Brief: Delta Power Tools 22-590 Planer Review
The Delta Power Tools 22-590 Portable Planer features a 13-inch bed and convenient infeed and outfeed rollers for easy use. This benchtop planer cuts at a depth of up to 1/8-inch and weighs in at just 82 pounds, making it both powerful and convenient enough for a wide variety of home hobbyist applications.
The Delta Power Tools company focuses on ensuring the safety and satisfaction of its customers.
This company produces machinery that cuts down on space and energy needs while providing customers with high-quality results and reliable features.
The Delta Power Tools 22-590 Portable Planer provides easy, entry-level woodworking functions for residential customers. This machine brings the efficiency of the Delta Power Tools product line to home hobbyists and DIYers.
Key Specifications of the Delta Power Tools 22-590
The Delta Power Tools 22-590 Portable Planer features a 13-inch bed width and a cutting depth of up to 1/8-inch.
With these features, the machine handles small to medium projects and works well for household and hobbyist purposes.
Check out the Delta Power Tools 22-590 Portable Planer in action here – 
Read the long list of Delta Power Tools 22-590 Portable Planer specs below:
Parameters
Details
Model No/Name

22-590
Type

Benchtop
Power (HP)

1
Bed Size (in.)

13
Table Size (l x b)

22 x 13
Knife Adjustments

1
Cutting Depth (in.)

1/8
Dust Collection

Yes
Weight (lbs.)
82
Warranty

5 years
Other Features
Snipe reduction system
Infinite adjustments
Material removal gauge
Accessories
Additional knives
Power cable
Three-knife cutter head
Unique Features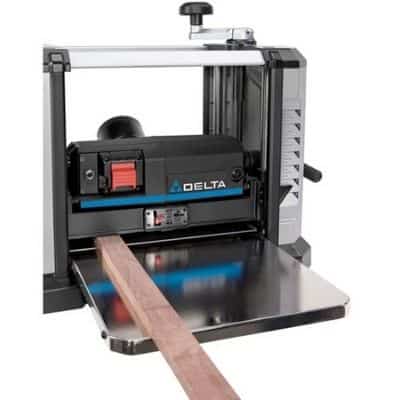 This machine includes a built-in snipe reduction system and oversized adjustment handle as well as the ability to make infinite micro-adjustments.
With all these features, this portable planer comes ready for work.
Snipe Reduction System
Featuring a snipe reduction system, this machine includes a high-quality locking cutter head design that helps cut back on snipe significantly. Additionally, it cuts down on waste thanks to its high-quality infeed and outfeed tables.
Infinite Micro-Adjustments
The included depth stop function on this machine allows users to make infinite micro-adjustments as needed. This feature also allows users to set that measurement and repeat the cut with ease.
Oversized Adjustment Handle
The built-in oversized adjustment handle makes it easier to make changes to your cutting while you work. This handle allows the option to make either macro- or micro-adjustments and to lock them in place for several passes if necessary.
Power and Performance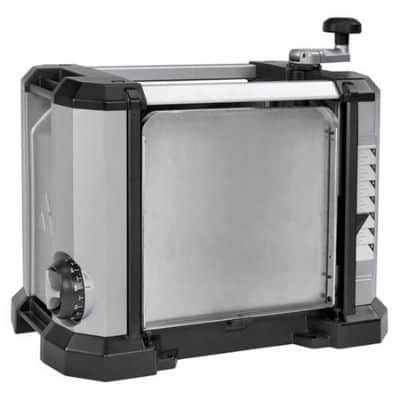 The machine features a powerful motor that keeps it running smoothly throughout every pass. It also comes with high-quality and reliable components inside as well as out, and it features durable long-lasting cutter blades.
The machine performs admirably and manages small to medium planing tasks with no trouble.
Its double-sided steel knives ensure every cut remains smooth, and its anti-snipe features keep it from damaging your wood while you work.
Ease of Usage
Beginner woodworkers enjoy using this machine for a variety of household projects.
This machine features double-sided knives which can be flipped and used for twice as long as those with single sides, ensuring customers have no trouble using this product for longer.
The machine also works on 120V input power, making it convenient for household customers to set up and start using it right away.
With simple measurement adjustments and a built-in material gauge, this product features plenty of designs for the entry-level customer.
Ease of Maintenance, Repairs & Warranty
Customers in need of replacement parts may check the Delta Machinery Parts online catalog through the Delta Power Tools company web site.
Customers may also be able to reach out to customer service for more information and assistance in finding parts.
Turn off and unplug the machine before performing maintenance. Every month or more often if needed, check, adjust, and clean the knives in the cutter head.
Replace the knives when they become too damaged or worn. Treat the table with paste wax as needed.
The Delta Power Tools company provides a five-year limited warranty on this product.
The warranty covers problems caused by manufacturing error or shipment but does not cover user error, incorrect installation, misuse, or repairs from a third party.
The warranty also covers accessories that work with this machine for up to two years. However, it does not include replacement parts or consumable items.
The warranty also excludes the cost of returning the product to the Delta Power Tools company.
For more warranty information, contact the Delta Power Tools company at 800-223-7278.
Price of the Delta Power Tools 22-590
The Delta Power Tools 22-590 Portable Planer provides convenient and powerful planing functions for household use. This machine features a benchtop planer design and simple controls with impressive adjustments.
With so many features built into one simple product, this machine provides plenty of value for its cost. It comes in at about the same price point as other similar benchtop planers with the same types of functions and accessories.
Pros and Cons of the Delta Power Tools 22-590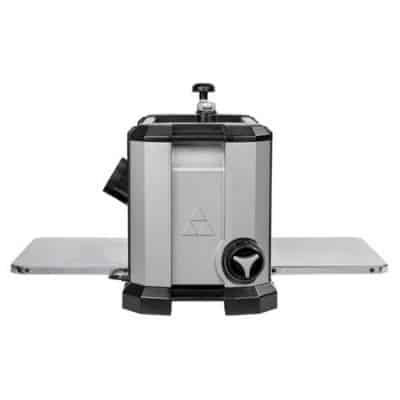 Pros
Creates smooth outputs on every pass
Provides easy-to-read controls and measurements
Operates quietly compared to other models
Offers quick and easy setup
Cons
Some customers have bearings issues with this machine
Some customers find the knives do not last long
Who Should Buy the Delta Power Tools 22-590?
The Delta Power Tools 22-590 Portable Planer provides simple and efficient cutting for home hobbyist woodworkers.
This machine works well for beginners and intermediate users who want to complete household DIY projects or repairs.
This machine also finds its place among some commercial setups. Since it handles fine adjustments, it works nicely for more detailed planing and cutting tasks. Its portable design makes it easy to fit just about anywhere in your shop.
Our Recommendation
The Delta Power Tools 22-590 Portable Planer comes with everything you need to get started using it right away.
This machine provides entry-level functionality and high-quality results that ensure customers of any skill level remain satisfied with its outputs.
We recommend this machine for beginners who want a high-quality, durable product that will last to help them learn woodworking.
We also recommend it for intermediate home hobbyists who want to improve their skills without spending a lot of money on a professional planer.
Last update on 2023-09-28 / Affiliate links / Images from Amazon Product Advertising API