In Brief: Dewalt DCW600B Router Review
Dewalt DCW600B is a compact brushless cordless Router with dual LEDs and electronic brake features. Its battery powers it to deliver a variable speed between 16,000RPM to 25,000RPM. The 3.4lbs router features a base dimension of 4″ to ensure stability. DCW600B is suitable for diverse woodwork applications. It is an ideal product for woodworkers, jobsite contractors, and DIY enthusiasts.
Dewalt is a reputable manufacturer of several high-power tools. Their tools are particularly useful in the construction and woodworking industry.
DCW600B is a router that represents one of the amazing products that come from this manufacturer.
The brushless cordless compact router is one of the few power tools that perfectly blends convenience with effectiveness.
Key Specifications of the Dewalt DCW600B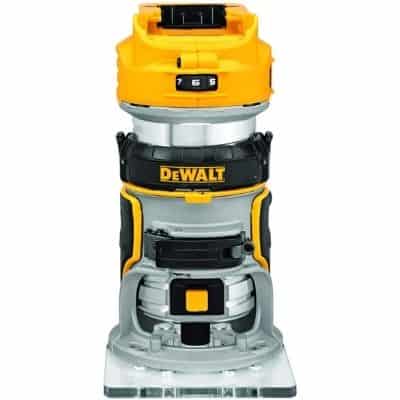 The sturdiness and stability of DCW600B router are enhanced with the inclusion of a 4″ base dimension. This cordless router also uses a brushless motor with a maximum voltage of 20V.
DCW600B has a powerful motor that delivers variable speeds within the range of 16,000 to 25,00RPM.
This motor setup also permits a soft start with full-time electric feedback that allows the motor to maintain a steady speed during cuts.
DCW600B is easy to handle because of its moderate weight. This model weighs 3.4lbs. This model also features a 1/4" collet diameter that complements this model's other properties to ensure optimal performance.
This video below shows the DCW600B router in use :
Read the long list of Dewalt DCW600B specs below :
Specification
Model No
DCW600B
Powered by
Battery
Speed (RPM)
16,000-25,000RPM
Brushless Motor
Yes
Voltage (Volts)
20V
Collet Diameter (inches)
1/4"
Base Dimension (Inches)
4"
Weight (lbs)
3.4
Base Type
Fixed
Plunge Stroke (inches)
1.5''
Unique Features

Dual LEDs
Electronic Brake
Flexibility

Top Features to Look For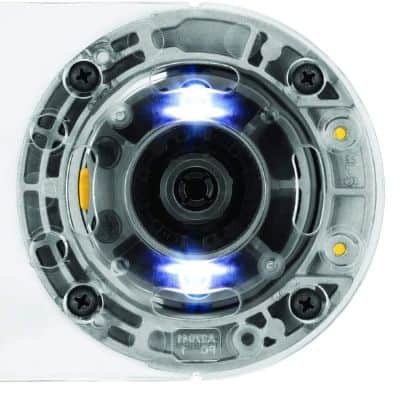 The preference of DCW600B among many other router models is due to its unique features which you won't easily find in other brands.
Dual LEDs
Visibility is essential in the precision and accuracy of router cuts. DCW600B ensures proper visibility of cuts with the inclusion of functional dual LEDs that illuminate the model's work surface.
Electronic Brake
Electronic brake is another unique feature of DCW600B router. The electronic brake brings the rotating motor of the router to a stop within a few seconds. Thus, it aids operational control and safety.
Flexibility
DCW600B has several features that make it flexible and easy to handle. These features also optimize it and make it suitable for various applications.
These features include variable speed control and depth adjustment ring.
Power and Performance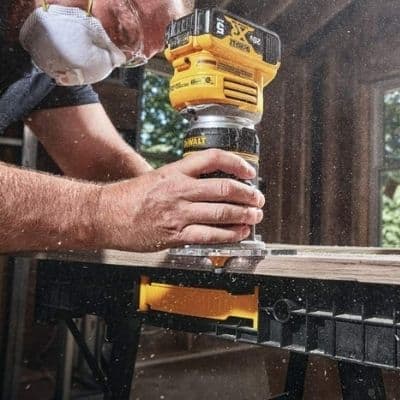 The power of a router influences its smooth operation and overall performance. DCW600B provides powerful performance with its impressive motor setup.
The cordless DCW600B model uses a 20V max battery that powers this model for effective performance. It also includes a brushless motor for smooth operation and optimal performance. This motor setup delivers a speed within the range of 16,000RPM to 25,000 RPM.
The power setup and technical buildup of DCW600B ensures a soft start motor with full-time electronic feedback that ensures that it maintains its speed during cuts.
This model's powerful motor also propels it to make precise and accurate cuts on several types of materials.
This makes it suitable for various professional applications.
Ease of Usage
DCW600B has a simple structural composition that makes it easy to operate and control. It features a variable speed control that allows you to optimize the speed for specific applications.
The electric brake of this router further enhances safe operation and easy operational control.
It also includes dual LED lights that aid the visibility of cuts to enhance precision and accuracy.
The product is also easily adjustable with the inclusion of an adjustment ring. This feature allows fast and easy adjustment of heights.
The compact nature of DCW600B, its portability, and lightweight also influences its ease of usage. This model only weighs only 3.4lbs making it easy to handle and transport.
Ease of Maintenance, Repair, and Warranty
Ease of Maintenance
Proper maintenance of your router ensures that the power tool remains at top performance for a longer time. The simple maintenance procedures of this model include :
Eliminate all dust and dirt from air vents.
Do not use solvents or other harsh chemicals on the plastic part of the product.
Avoid lubricating the rods of the router.
Repair
Dewalt has authorized service centers in various locations for repairs and replacement of their products. This ensures the safe and reliable repair of your power tool at reduced or no cost.
Warranty
The warranty offers for DCW600B include :
3-year limited warranty on defects in craft and materials.
1-year free service support.
90-days money-back warranty.
This warranty only covers registered products and does not include defects resulting from the user's carelessness.
Register your Dewalt product online at www.dewalt.com/register and get more details on warranty offers www.dewalt.com/legal/warranty/3-year-limited-warranty or call 1-800-433-9258.
Price of the DCW600B
The cost of a product is a notable consideration while deciding on the best product to choose from.
This model is not suitable for low-budget buyers.
Buyers with a medium to high budget can be confident about securing the services of this model.
This model has a high cost to value ratio considering its impressive features and diverse applications.
Pros and cons of the DCW600B
Pros
Easy to use with operational safety features
Compact and extremely lightweight
Flexible with adjustable features
Powerful cutting ability on various materials
Cons
Few buyers complained about its lack of special handles
Absence of edge guide
Who Should Buy DCW600B ?
DCW600B is suitable for multiple jobsite contractors that might not always have suitable power sources for a corded product.
It is also compact, portable, and lightweight; thus, making it easy to transport.
This model is also ideal for professionals and other categories of DIY enthusiasts because of its versatile applications.
Beginners and amateurs can also make this model their first buy because it is easy to handle and operate.
Our Recommendation
If you need a cordless, compact, lightweight, affordable, and easy-to-use router with powerful brushless motor for various applications, DCW600B should be at the top of your option list.
If you have a high budget, this model will provide an effective solution for your woodwork needs.