In Brief: Dewalt DNP612 Plunge Base Review
DNP612 is a handy Plunge base for compact routers with low center of gravity and easy adjustability features. It has a Lexan sub-base that enhances its performance. Its 3.89lbs weight allows a 5/128" per turn depth adjustment. This tool is useful for all categories of router users. It ensures easier and more comfortable control of routing operations.
Dewalt is a leading power and hand tools manufacturing company. They are famous for the production of high-quality tools and accessories.
One of Dewalt's efficient power tool accessories is DNP612. The DNP612 is a heavy-duty plunge base suitable for compact routers because of its durability, strength, balance, and control.
Key Specifications of DNP612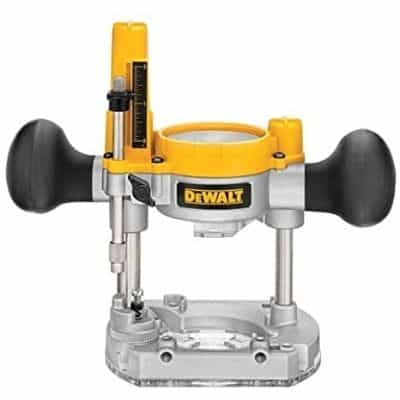 The quality, efficiency, and performance of the DNP612 are primarily a product of its features. The presence of a rubber over-molded handle enhances control and grip.
The 3.89lbs plunge base features a die-cast aluminum base, Lexan sub-base, and motor housing for increased durability.
It has a 5-position adjustable turret stop that assists in repeated or stopped plunge cuts. It has an accessible plunge lever and switches for perfect control while routing.
DNP612 provides smooth and accurate plunge stroke because of the case-hardened steel guide rods and brass bushings.
It also has a micro-fine depth adjustment on the plunge base 5/128" per turn. This feature helps make precise routing in inlays and veneers.
Here is a video showing how to setup your router with the DNP612 plunge base :
Read the long list of Dewalt DNP612 specs here :
Specifications
Model No
DNP612
Weight (lbs)
3.89
Base type
Fixed
Sub-base type
LEXAN
Depth Adjustment (inches)
5/128"
Adjustable motor cam lock
Yes
Unique Features
Low center of gravity design
Adjustability
Durability

Every feature of the DNP612 is a figure of perfection and professionalism. The DNP612 has several unique features that makes it a quality choice for buyers.
Low Centre Gravity of Design
One of the unique features of the DNP612 is its outstanding balance and rigidity. Its rigidity is due to its low center of gravity design that keeps the tool balanced.
It also ensures that you have a perfect routing and provide comfort and control for the user.
Adjustability
It has an adjustable steel motor cam lock and adjustable turret stop. These features make it easy to make quick base changes, make depth adjustment, aid repeated or stepped plunge cuts.
Durability
DNP612 is made from high-quality materials. It has steel guide rods, brass bushings, and an aluminum base. Despite the metals used in the manufacturing of these tools, DNP612 still maintains its relatively low weight.
Power and Performance
The efficiency of the plunge base is an indication of its power and performance. DNP612 exhibits high power and, in turn, great performance during levels of routing tasks. The plunge base provides balance and control when using a router.
The plunge base features a low center gravity design that enhances balance while the plunge is in use. DNP612 also has a plunge base 5/128" per turn that ensures precise routing in inlays and veneers.
Its aluminum base ensures that the tool is lightweight. The Lexan sub-base also ensures bit visibility, durability and accepts template guide bushings.
The brass bushings and hardened steel guide rods provide accurate and smooth plunge stroke constituting the efficiency.
Ease of Usage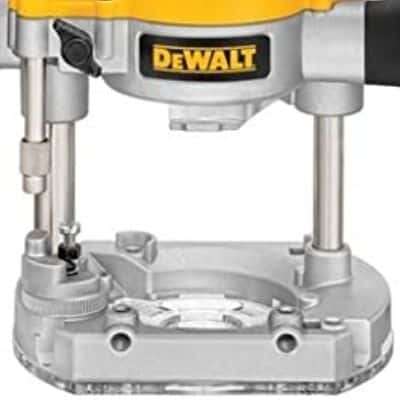 The structure and design of DNP612 makes it very easy to handle and control. The over-molded handle allows the user to have a firm grip on the plunge base. It also allows the user to easily control the tool while using the router.
The hardened steel guide rod and brass bushings allow easy use by ensuring accurate and smooth plunge strokes.
DNP612 has a lot of features that make it easy to use. It can also work well with both corded and cordless Dewalt routers and produce a good result.
Ease of Maintenance, Repair, and Warranty
Ease of Maintenance
Maintaining your plunge base will ensure its efficiency. Here are some simple maintenance procedures to follow :
Always keep the tool clean from dirt.
You should keep away from moisture to avoid rusting of the steel.
Make sure the rubber on the handle doesn't wear off due to friction.
Repair
Dewalt has provisions for repairing every one of their tools at reduced or no cost for the user. You can repair your DNP612 at various registered service centers at different locations.
Warranty
The warranty offers for DNP612 includes :
A 1-year free service offer.
A 3-year limited warranty offer.
90-day money-back guarantee.
The warranty offers to cover only products registered with Dewalt . It also does not cover the product with defects on the user's part.
You can register your Dewalt product at www.dewalt.com/register, and you can also learn more about the warranty offers www.dewalt.com/legal/warranty/3-year-limited-warranty or contact them at 1-800-433-9258.
Price of DNP612
Affordability is a vital factor to put into consideration when choosing a product. DNP612 is relatively affordable, and it is suitable for low and medium budget buyers.
Surprisingly, the efficiency of the product remains top-notch, regardless of its cheap price.
Pros and cons of the DNP612
Pros
Lightweight and handy.
Very easy to use with accessible features.
Affordable with a high quality-to-price ratio.
High balance and adjustability.
Cons
Some users find a problem in locking the cam lock.
Who Should Buy DNP612 ?
DNP612 is a recommendable, efficient, handy, and lightweight plunge base for your Dewalt routers. It is useful for a wide range of users with little or no experience.
Professionals in different fields can also use the plunge base to enhance control over their routers and improve performance.
Other users including amateurs in professional fields, DIY enthusiasts, homeowners, Jobsite contractors, and inexperienced router users can also purchase a plunge base because it makes routing operations easier.
Our Recommendations
DNP612 is a very reliable, highly efficient, lightweight, and handy plunge base. If you desire a plunge base with these features, DNP612 should be a top consideration for you.
It is also recommended for those that find it difficult to control their routers or those that crave easier routing operations.