In Brief: Dewalt DW616 Router Review
The Dewalt DW616 Router provides convenient hardwood routing for household tasks. This machine includes a 1-3/4HP motor and handles no-load speeds of up to 24500rpm. Its 7.1-pound weight keeps it light enough to operate easily while its built-in clear base improves visibility and project results at the same time.
The Dewalt company has been around since 1922 when it began as a company focused on woodworking machines.
Over the decades, the company has perfected its work and now brings high-quality tools and machinery to customers in both residential and commercial applications.
Combining lightweight use and durable materials, the Dewalt DW616 provides smooth hardwood cutting and efficient bit changes.
It comes with plenty of accessories to get beginners starter and enough adjustability for experienced users to enjoy.
Key Specifications of the Dewalt DW616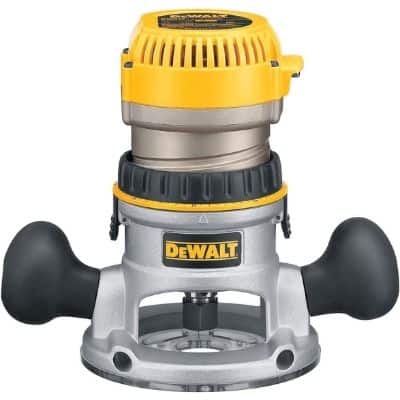 The Dewalt DW616 router offers speeds of up to 24500 no-load rpm and a powerful 1-3/4HP motor. This machine comes in at a low weight, keeping it compact and light enough for use on a variety of residential jobs.
Check out the Dewalt DW616 in action here :
Read the long list of Dewalt DW616 specs below :
Specification
Model Number/Name
DW616
Powered By
Corded
Speed (rpm)
24500 no-load
Brushless Motor
No
Power (hp)
1-3/4
Base Dimension
6''
Weight (lbs)
7.1
Base Type
Fixed
Plunge Stroke
N/A
Unique Features
Detachable cordset
Clear base
Nickle-plated motor housing

Accessories
Motor pack
Collets
Wrenches
Sub-base concentricity gauge

Top Features to Look For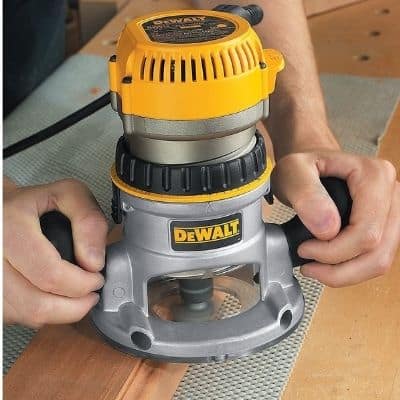 With a clear base and detachable cords, this machine includes features to simplify its use every step of the way. It also allows micro-fine adjustments that improve the overall results of your projects.
Clear Base
The clear base on this router holds up to plenty of use and offers exceptional durability. At the same time, it also increases visibility and works with most standard parts, making it an ideal addition to this machine.
Detachable Cords
The included cords provide quick and easy detachment if needed. This allows you to change the cords without needing to purchase a separate cord pack entirely when you want to use different lengths.
Micro-Fine Adjustments
The machine can provide micro-fine adjustments using the built-in adjustment ring. It allows alterations as slight as 1/64-inch at a time and can adjust vertically as well.
Power and Performance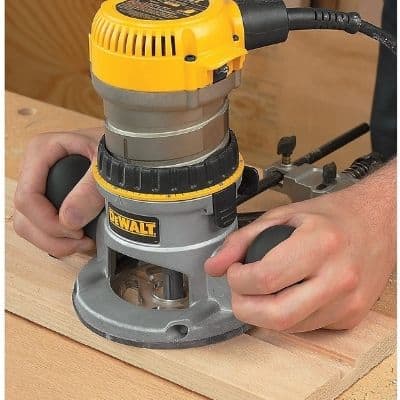 This router includes plenty of power to tackle most household tasks. While it does not offer enough HP for commercial-scale jobs, it works beautifully on hardwood for residential DIY projects, repairs, and more.
The performance of this machine holds up well, even after long-term use. The machine includes a nickel-plated motor housing as well as a die-cast nickel base that keeps it lightweight but heavy-duty at the same time.
Ease of Usage
This machine remains easy to use even for beginners. Its adjustable motor cam lock ensures changes occur quickly and smoothly. It also keeps adjustments locked into place for safer and more efficient cutting and routing.
Additionally, this machine includes a cordset location on both the right and left sides. This makes it easy to move the cord to whichever side works best for you.
It also features rubber handles and a low center of gravity for comfort and precision control throughout any project.
Ease of Maintenance, Repairs & Warranty
The Dewalt company web site provides several replacement parts, accessories, and expendables available for purchase. Customers may also find some replacement parts for purchase by contacting the company by phone.
Customers should perform routine maintenance on this machine. Before maintenance, turn off and unplug the machine for your safety.
Remember to take the machine to a professional repair technician for service and repairs as needed, and at least once a year.
Regularly use a dry cloth to wipe down the plunge rods. Use compressed dry air to blow dust and chips out of the router housing. Never lubricate the machine and always prevent the motor from becoming wet with water or oil.
The Dewalt company provides a three-year limited warranty on this product. The warranty covers repairs and replacements of products damaged due to manufacturing errors but excludes problems related to user errors or misuse.
During the first year of ownership, the company provides completely free service and maintenance with a professional technician. All products receive a 90-day money-back guarantee, including expendables.
For more warranty information, fill out the Dewalt company's customer service request form through the website.
Price of the Dewalt DW616
The Dewalt DW616 provides simple but effective controls and a lightweight design ideal for residential jobs. It comes from a well-known brand name and includes the basics required to get started using it right away.
Even with so many benefits, this machine comes in well under the average price for many comparable routers.
This lower price comes from its decreased HP compared to some of its competitors. Despite this slight downside, the machine provides excellent value for the price.
Pros and cons of the Dewalt DW616
Pros
Most customers find the bit height easy to adjust
Easy to store thanks to the removable cords
Most customers enjoy accurate adjustments
Dependable, rugged design with high-quality components
Cons
Some buyers have difficulty reaching the switch while handling
Included screws may strip easily and require replacement
Who Should Buy the Dewalt DW616 ?
The Dewalt DW616 provides accurate cutting and smooth routing for household hardwood jobs. Customers looking for a DIY router for quick fixes and simple at-home projects enjoy working with this machine.
Any customers looking for an affordable, entry-level router may also find success with the Dewalt DW616. It also works nicely for more experienced users looking for a lightweight option to handle small projects.
Our Recommendation
The Dewalt DW616 provides high-quality results in a compact, entry-level machine. It features unique additions such as a clear base for visibility and comes with rugged components such as a nickel die-cast base.
We recommend this product for customers who need a router for projects around the house and do not require commercial-grade HP.
We also recommend it for beginners who want an affordable router with high-quality features and long-lasting results.