In Brief: Dewalt DW618 Router Review
Dewalt DW618 is a fixed-based Router with dust-seal switch and self-releasing collet features. It has a 2-1/4 peak horsepower that delivers variable speed between 8,000 to 24,000RPM. The 7.2lbs router has a 6″ base dimension. DW618 has enough power to ensure smooth routing operation on hardwoods. It is an ideal model for DIY enthusiast and homeowners.
Dewalt Industrial Tool Company is a reputable worldwide manufacturer of power and hand tools, including routers. Their products offer professional solutions to various construction and woodworking tasks.
Dewalt DW618 is one of the manufacturer's outstanding power tool.
This fixed-base variable speed router model is useful for various woodworking routing operations.
Key Specifications of the Dewalt DW618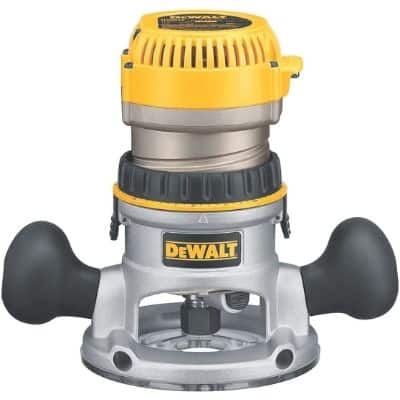 Every part of Dewalt DW618 and its specifications are enhanced for optimal performance and efficiency. Its 2-1/4HP maximum motor power facilitates the powerful performance of this model.
It is enhanced with a 12.0amp electric motor and 120V voltage rating. Its current and variable speed (8,000 – 24,000 RPM) motor provide enough power to route smoothly through the toughest woods.
It has a 6″ base dimension and clear Lexan sub-base that provides enhanced visibility during usage. Dewalt DW618 weighs 7.2lbs, making it easy to handle and store.
It also has a dual collet diameter of 1/2" and 1/4″ for optimal performance.
The video below shows Dewalt DW618 in use :
Read the long list of Dewalt DW618 specs here :
Specification
Model No
DW618
Powered by
Corded
Speed (RPM)
8,000-24,000RPM
Brushless Motor
No
Power (HP)
2-1/4
Base Dimension (Inches)
6"
Weight (lbs)
7.2lbs
Base Type
Fixed
Collet Diameter (inches)
1/4" & 1/2"
Unique Features
Dust-sealed switch
Ergonomic design
Self-releasing collet

Top Features to Look For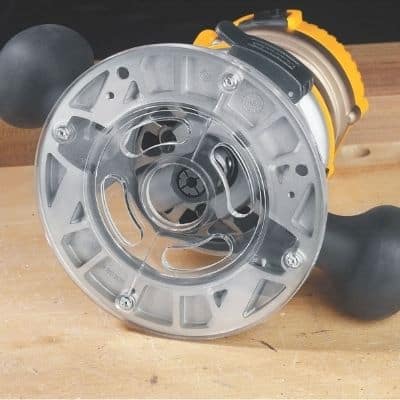 Dewalt DW618 has features that distinguish it from other products in the same category.
Dust-Sealed Switch
Dewalt T DW618 features a dust-sealed switch that protects the switch from ingesting dust to enhance smooth operations and increase the switch life.
Ergonomic Design
The design of Dewalt DW618 is oriented to enhance its effectiveness and ease of control.
It also has rubber over-molded handles and low center gravity design that provides top-notch control, balance, and comfort.
It has a nickel-plated motor housing for extensive and smooth depth adjustment.
Self-releasing Collet
Dewalt DW618 has a long self-releasing eight slot collets to eliminate frozen bits and enhance bit retention.
Power and Performance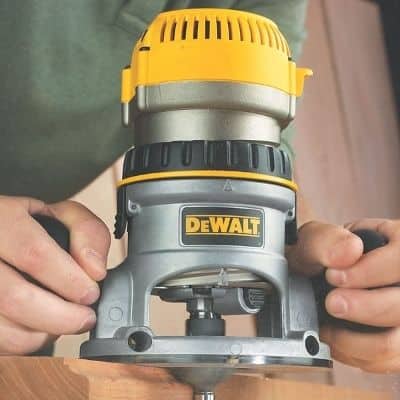 The motor setup of a router affects its power which in turn determines its overall performance.
Dewalt DW618 has a peak horsepower of 2-1/4HP, 12amp electric variable speed motor that delivers enough power to route tough materials, including hardwoods smoothly. The voltage requirement of this model is 120Volts
This motor can also deliver variable speed between 8,000 to 24,000RPM, including a full feedback control for constant speed.
This model's variable speed control allows you to optimize its speed suit specific applications. The motor also permits soft startup that limits the starting torque to enhance control.
Dewalt DW618 includes a tool-free adjustable, steel motor cam lock that enhances its depth adjustment. It also eases the process of solid locking and blade changes.
The inclusion of nickel-plated motor housing ensures durability, smooth, and lasting depth adjustment.
Ease of Usage
Dewalt DW618 includes many easy-to-use features that simplifies its operational process. It has a spindle lock button that enhances easy single-wrench bit changes.
It includes a rubber over-molded handle and low center of gravity design that provides top-notch balance, control, and comfort. This feature reduces operator fatigue and improves precision and accuracy.
Dewalt DW618 features a quick release motor latches for swift and easy base and bit changes. The cord set and cordless location allow the luxury of having the switch on either your right or left hand.
The inclusion of a micro-fine depth adjustment ring allows precise depth adjustment in 1/64″ increase. It also allows vertical adjustment for a constant cord set/switch location. It has flat top for easy depth and bit changes.
Ease of Maintenance, Repair, and Warranty
Ease of Maintenance
The proper maintenance of Dewalt DW618 router will not only enhance its durability, it will also keep its performance at a top level for a long period. The basic maintenance procedures of this model include :
Keep the power tool from dirt at all times.
Regularly lubricate the moving parts.
Avoid cleaning the plastic part of the power tool with harsh chemicals.
Ensure proper storage of the power tool when not in use.
Repair
The repair of Dewalt DW618 is simplified with the service support offer from its manufacturer. They have service centers in various locations to ensure your power tool's safe and reliable repair at a limited or no cost.
Warranty
The warranty offers to include :
3-year limited warranty on defects in craft and materials.
1-year free service support.
90-days money-back warranty.
This warranty offers to cover all registered products, and you can register your Dewalt product online at www.dewalt.com/register and get more details at www.dewalt.com or call 1-800-433-9258.
Price of Dewalt DW618
The cost of securing the service of Dewalt DW618 is moderate. Although it might not be suitable for low budget buyers, it does not cost enough to be considered a cost intensive router.
It is, however, ideal for mid-budget buyers, and it offers a high value for money.
Pros and cons of the Dewalt DW618
Pros
Ergonomic design
High power and easy control
Easy adjustment and versatile application
Operational safety
Cons
Absence of LED light feature
It is a light-duty router
Who Should Buy Dewalt DW618 ?
Dewalt DW618 is an ideal router for varieties of users because of its high power and versatile application.
This model offers an ideal choice for professionals because of its effective delivery, ergonomic design, and high power. It is also a good buy for beginners because it is rubber over-molded handles and relatively safe to operate.
Homeowners, hobbyists, and DIY enthusiasts can also buy Dewalt DW618 as a viable power tool for various light and moderate woodwork routing tasks.
Our Recommendation
If you need a moderately priced router that is easy and safe to use for various professional and light-duty routing operations, Dewalt DW618 presents a viable option.
This model is a good recommendation for homeowners and DIY enthusiasts, considering its power, performance, and ease of usage.