In Brief: Dewalt DW618B3 Router Kit Review
Dewalt DW618B3 is a Three Base Router Kit with dust control integration and easy adjustment features. It has a powerful 12amp motor and a peak horsepower of 2-1/4 that provides a variable no-load speed of 8,000 to 24,000RPM. It is a suitable choice for professional woodworkers and Jobsite contractors. It is useful in routing through woods with variable thickness.
Dewalt is a leading tool manufacturing company. They have an upholding reputation in the production of highly efficient hand and power tools.
DW618B3 is a three base router kit with a powerful motor feature to route through woods.
This router comes with other accessories such as motor pack, vacuum adapter, and a kit box for easy storage.
Key Specifications of the Dewalt DW618B3
This router has a weight of 10.1lbs. It with the aid of its plunge base, it can perform 2-1/2" plunge stroke on hardwoods.
Its 12amp motor ensures an electronic variable no-load speed of 8,000 to 24,000RPM to route through woods of variable thickness.
The router has a 6″ base dimension that ensures balance, rigidity, and stability. The corded power tool has a 2-1/4 peak horsepower that enables it to perform efficiently. It also features 1/2″ and 1/4″ collet diameters.
The video below shows how to unbox and use the DW618B3 router :
Read the long list of Dewalt AW618B3 specs here :
Specifications
Model No
DW618B3
Powered By
Corded
Speed (RPM)
8,000-24,000
Brushless Motor
No
Power (HP)
2-1/4
Base Dimension (Inches)
6''
Weight (lbs)
10.1
Base Type
3 bases (fixed, plunge, and D-handle)
Plunge Stroke (inches)
2-1/2"
Collet Sizes
1/2", 1/4"
Unique Features
Three Router Bases
Dust Control Integration
Easy Adjustment Features

Top Features to Look For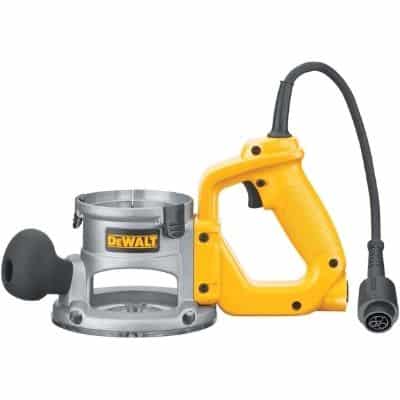 DW618B3 router possesses unique features that makes it efficient and preferable.
Three Router Bases
One of the unique features of the DW618B3 router is its multiple router bases.
The tool kit consists of three types of router bases (fixed, plunge, and D-handle) that enable the router to work on a wide range of routing operations with ease.
Dust Control Integration
This router has a unique through-the-column dust collection system. It collects and keeps 95% of dust away from the tool and ensures superior bit visibility with a column dust collector's aid.
Easy Adjustment Features
This model has an adjustable tool-free cam lock that makes base changes and depth adjustments fast and ensures solid-locking. It has an adjustable turret stops in five positions for continuous plunge cuts.
It has a 5/128" per turn micro-fine adjustment on the plunge base that enables precise routing in inlays and veneers.
Power and Performance
The power and performance of a router is the backbone of its functionality. Its 2-1/4 peak horsepower and 12amp motor equips the power tool with high routing efficiency.
The lightweight router runs on variable load speed between 8,000 to 24,000RPM and allows a soft start. It also enables the router to work on mild hardwoods and tough ones with ease.
It has a 6" base dimension that aids its steadiness and balance while working. With its plunge base feature, this router is capable of making a 2-1/2″ plunge stroke.
Ease of Usage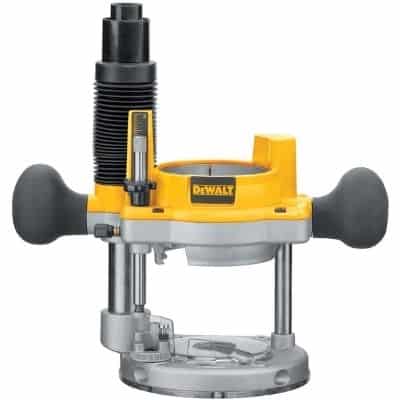 Dewalt DW618B3 router features and parts are well constructed and designed to meet users' demand with even the least knowledge.
It has rubber over-molded handles that ensures user control during operation. Its low center gravity also ensures maximum comfort and balance. The spindle lock button enables single-wrench bit changes.
It has a Lexan sub-base that provides enhanced bit visibility, base durability, and allows template guide brushings. The corded router has a flat top for easy bit and dept adjustments.
DW618B3 has a plunge lever and switch that is easy to reach for high control during routing tasks. It has an eight long, self-releasing slotted collets for enhanced bit retention and removal of frozen bits.
Ease of Maintenance, Repair, and Warranty
Ease of Maintenance
Regular maintenance of a power tool can increase its lifespan and ensure the longevity of its efficiency. Listed below are some maintenance procedures to follow :
Lubricate the needed part of the tool regularly.
Run a routine check on the router before and after use.
Clean the power tool regularly and keep away from moisture.
Ensure proper storage of the router and its accessories when not in use.
Repair
Dewalt offers provision for the safe and reliable repair of their products at little or no cost to its users. You have to visit an authorized service center closest to you to get this service.
Warranty
The warranty offers for DW618B3 include :
A 1-year free service offer.
90-day money-back guarantees provide.
A 3-year limited warranty offer.
The warranty offer only applies to products registered under Dewalt. It also does not apply to products with a defect caused by the user.
You can visit www.dewalt.com/legal/warranty/3-year-limited-warranty to learn more about the warranty offers or contact 1-800-433-9258. You can also register your products at www.dewalt.com/register.
Price of Dewalt DW618B3
Dewalt DW618B3 combo kit router comes at a cost intensive price. This price is due to its additional accessories such as its 3 unique bases.
This router is not suitable for low and moderate budget buyers but it offers a good value for money due to its combo kit features.
Pros and cons of the Dewalt DW618B3
Pros
Multiple router bases.
Top-quality materials for durability.
Easy control and usage.
Several adjustable features.
Presence of rubber handles.
Cons
Little bit stiff and require pressure to push.
The casing is too large.
Lack of LED lights.
Who Should Buy Dewalt DW618B3 ?
Dewalt DW618B3 router is suitable for a wide range of users. Its three unique base features make it a great choice for professional woodworkers with large scale woodwork tasks.
This combo kit router is a valuable option for Jobsite contractors that needs an efficient router for their tasks.
It is also a good selection for users that need a standard router for personal, commercial, or industrial operations.
Our Recommendation
Dewalt DW618B3 three base combo kit router should be a top consideration for you if you are a professional woodworker or Jobsite contractor with large woodworking tassk.
With this router you can be sure about getting your routing operation executed smoothly and accurately.