In Brief: Dewalt DW618K Router Review
Dewalt DW618K is a Fixed Base Router with features that allows flexibility and easy accessibility. The power tool's 2-1/4 peak horsepower ensures its operational efficiency. A 12amp engine provides an electronic variable speed of 8,000-24,000RPM. This router is suitable for all categories of woodworkers. It has diverse applications, which include routing through hardwoods.
Dewalt is a leading tool manufacturer known for their prominence in the production of hand and power tools. This company is a registered trademark that produces well designed tools that delivers great efficiency.
Dewalt DW618K fixed base router is a powerful router model from this manufacturer. It has constructed parts and features that ensure its ability to deliver a standard routing output.
Key Specifications of the Dewalt DW618K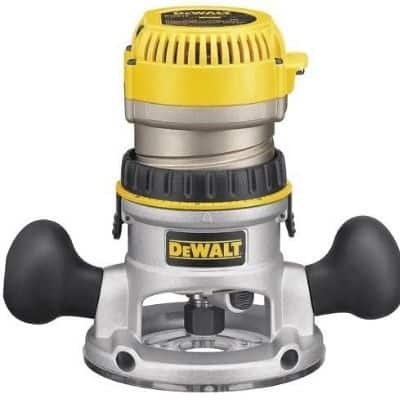 Dewalt DW618K is a lightweight router that weighs 7.2lbs. This router has a fixed base that aids its efficiency and control.
The router has a 12amp motor that provides a variable speed that ranges from 8,000RPM to 24,000RPM.
With the variable load speed, the router can exhibit a soft start and also route through hardwoods of different toughness at the needed momentum.
The router's 2-1/4 peak horsepower also influences its cutting power. The midsize router has 6" base dimensions that enhance the stability and balance of the router.
It has a collet diameters of 1/2″ and 1/4″ that helps keep the bit in place for efficiency.
The corded router has other accessories such as- wrench, large hole sub base, and a storage bag.
The video below shows Dewalt DW618K router in use :
Read the long list of Dewalt DW618K specs here :
Specifications
Model No
DW618K
Powered By
Corded
Speed (RPM)
8,000-24,000RPM
Brushless Motor
No
Power (HP)
2-1/4
Base Dimensions (inches)
6"
Weight (lbs)
7.2
Base Type
Fixed
Collet Size (inches)
1/2'', 1/4''
Unique Features
Easy Accessibility
Flexibility
High Material Quality

Top Features to Look For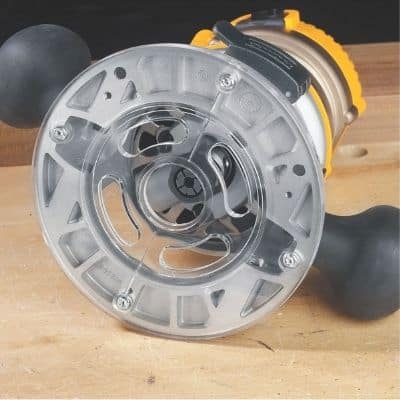 Dewalt DW618K router have exclusive features that makes it a top choice for many users.
Easy Accessibility
Dewalt DW618K has a cordset location that allows its user to hold the switch in the right or left hand.
The tool also features quick base changes and depth adjustment through the aid of an adjustable steel motor cam lock.
High Material Quality
Another unique feature of DW618K is the quality of the materials used in its production. It has a nickel-plated motor housing for long lasting and smooth depth adjustment.
Flexibility
This router model is highly flexible with adjustable parts that fit into different tasks.
It has a detachable cordset and a quick-release motor latch that enables easy and fast base and bit changes.
Power and Performance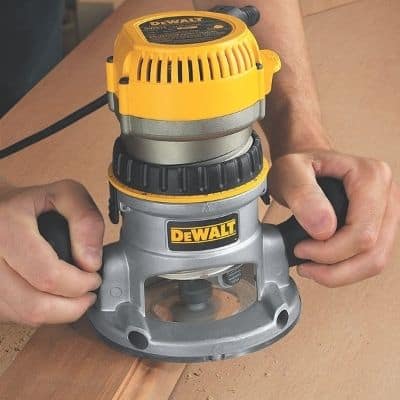 The power and performance of DW618K are solely dependent on its components. DW618K has designed features that ensure its high efficiency and output.
The corded router has a 12amp motor that powers the tool to route through woods with variable thickness. It also has an 8,000-24,000RPM variable no-load speed that ensures a soft start and precise speed for each wood's toughness.
The 2-1/4 peak horsepower also ensures the effectiveness and performance of the power tool. A rubber molded handle also provides high performance of the power tool.
The 6″ base dimension also ensures the router's balance, increasing its performance when in use.
Ease of Usage
The quality of a power tool depends on how easy it is to use the tool.
Dewalt DW618K has parts that make it very easy to use. Even a user with the least experience will make use of this router easily.
The router has a flat top feature for easy depth and bit changes.
It has the right balance that makes usage be without stress. It has a Lexan sub-base that ensures bit visibility, durability, and template guide brushings.
The spindle lock, shaft lock, and adjustment ring also enable users to handle it with ease and control. It has a die-cast aluminum base that ensures lightweight and durability.
Ease of Maintenance, Repair, and Warranty
Ease of Maintenance
You have to maintain your power tool regularly to get the best out of it and increase its lifespan and efficiency. Here are some maintenance procedures to follow;
Ensure you clean the router regularly to get rid of dust.
Keep water away from the power tool, especially its electrical part.
Always run a regular check on the power tool before and after use.
Ensure the proper storage of your router.
Repair
Worry less about repairing your router because Dewalt have made provisions for the repair of their products. You have to take the defective product to an authorized service center nearest to you.
Warranty
The warranty offers for DW618K include :
1-year free service offer for the product.
90-day money-back guarantee offer for the product.
3-year limited warranty
You can visit www.dewalt.com/legal/warranty/3-year-limited-warranty for more warranty information or contact 1-800-433-9258. You can also register your product at www.dewalt.com/register.
Price of the Dewalt DW618K
You can get Dewalt DW618K router at an affordable price to perform your routing tasks. The router's cost is reasonable and suitable for a moderate budget buyer, based on its high efficiency and performance.
The router provides a high cost to value ratio for a moderately priced router.
Pros and cons of the Dewalt DW618K
Pros
Incredibly lightweight and handy.
Durable and easy to use.
Highly efficient with powerful routing abilities.
Well equipped with adjustable features.
Has rubbed handles.
Cons
Lack of dust collection port.
The spindle lock might need your two hands to operate.
Absence of LED lights.
Who Should Buy Dewalt DW618K ?
Dewalt DW618K is a highly efficient, easy to use router that is suitable for various routing applications.
The power tool is ideal for professionals and beginners in different technical or construction fields. Due to its ease of use, other users can successfully make use of this power tool with ease.
DIY enthusiasts, homeowners, Jobsite contractors, construction workers, and woodworkers will also find it useful due to its exceptional features.
Our Recommendation
If you need a lightweight, handy, affordable, easy to use, and efficient router to carry out your routing tasks, then DW618K is precisely the router you need.
With this router, you can be sure about the efficient execution of your woodworking tasks.