In Brief: Dewalt DW618PKB Kit Router Kit Review
Dewalt DW618PKB is a Combo Kit Router that offers adjustability and accuracy enabling features. It includes a 12amp motor current that powers the router to deliver a variable no-load speed of 8,000 to 24,000RPM. It weighs 10.1lbs and has a base dimension of 6". This router is suitable for woodworkers who carry out diverse routing operations.
Dewalt manufacturing company provides high-quality and efficient power tools. This manufacturing company is reputable for their consistency in the production of affordable and well-designed power tools.
DW618PKB is a plunge combo kit router with amazing features. This router is offers effective performance with its high-power motor feature.
Key Specifications of the Dewalt DW618PKB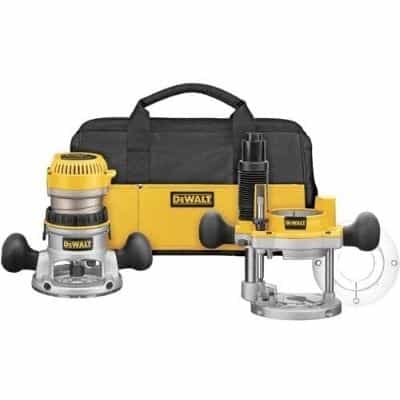 This corded router can route through hardwoods because of its 12amp motor current and its 2-1/4HP motor power. This power tool has a relatively handy weight of 10.1lbs.
The DW618PKB has a Lexan sub-base that adds to the base durability, bit visibility, and accepts the bushing template. It comes with two different collect sizes of 1/2" and 1/4".
It has an electronic variable speed that ranges from 8,000 to 24,000RPM. This variable speed, in conjunction with a soft start feature, increases control by reducing the start-up torque.
The corded router is mid-size with a 6" base dimension that ensures its balance and sturdiness.
Here is a video showing how to setup and use the DW618PKB router :
Read the long list of Dewalt DW618PK specs here :
Specifications
Model no
DW618PKB
Powered by
Corded
Speed (rpm)
8,000-24,000RPM
Brushless motor
No
Power (hp)
2-1/4
Base dimension (inches)
6''
Weight (lbs)
10.1
Base type
Fixed
Plunge stroke (inches)

2-1/2''
Collect Size (inches)
1/2" & 1/4"

Unique Features
Accuracy enabling features
Adjustable features
High-quality component parts

Top Features to Look For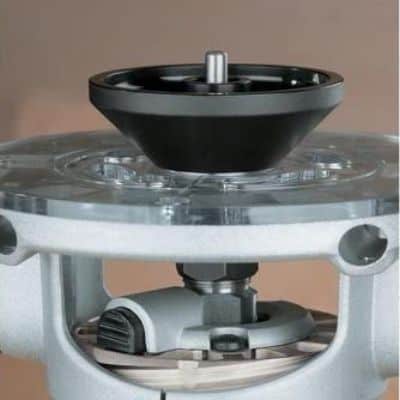 The excellence of the DW618PKB model is due to its unique features that makes it standout.
Accuracy enabling features
This power tool has a high-quality case-hardened steel guide and precision-machined brass bushings that ensure accuracy of plunge strokes.
Adjustable Features
DW618PKB has adjustable features that ensure its efficiency. It has an adjustable steel motor that makes quick depth adjustment and base changes. It has a micro-fine depth adjustment feature on its base for precise routing.
This model has precise depth adjustment feature aided by the micro-fine depth adjustment ring. A five-position adjustable turret stop helps in repeated and stepped plunge cuts.
High-quality component parts
DW618PKB router is made from high-quality materials that makes it efficient and last longer.
It has a nickel-plated motor housing that gives a long-lasting depth adjustment. It has a die-cast aluminum base for lightweight and standard efficiency.
Power and Performance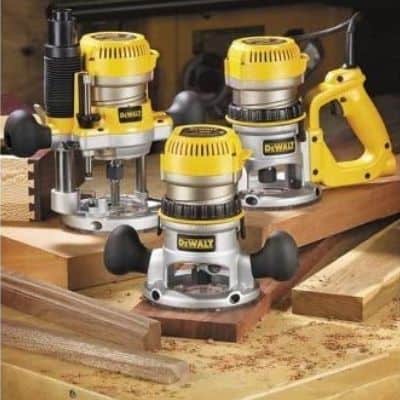 The power and performance of a router are authentications of its efficiency and DW618PKB has a high-power motor setup that ensures its top-notch efficiency.
The corded router cuts through hardwoods with its 12amp variable speed motor current. Its variable speed ranges from 8,000 to 24,000RPM and features a soft start that reduces start-up torque.
The mid-size corded router has a power setup that consists of 2-1/4 peak horsepower and 2-1/2" plunge stroke that amounts to efficiency and performance.
Its dust collector is 95% efficient. It accumulates operational dust and improves visibility. The dust collector also makes the router last longer by preventing dust from reaching crucial parts of the tool.
Ease of Usage
DW618PKB router has a lot of features that make it easy to use and control. This router has adjustable five positions turret stop for easy repetition of plunge cuts.
It delivers superior control through its easily accessible switch and plunge lever.
It has a plunge base with a dimension of 6" that provides firm and sturdy balance. The rubber molded handle allows firm grip, comfort, and control.
The spindle lock also allows the user to handle and control the spindle easily.
The router features a micro-fine depth adjustment ring that ensures precise depth adjustment. It also has a flat top feature for easy depth and bit changes.
Ease of Maintenance, Repair, and Warranty
Ease of Maintenance
Maintenance is vital to ensure long-lasting efficiency of your power tool. DW618PKB is very easy to maintain. Here are some maintenance procedures :
Keep dirt and dust from the tool by cleaning it regularly.
Lubricate all frictional parts of the product.
Ensure to keep the router from moisture.
Repair
Dewalt provides repair services for all of their registered products, including DW618PKB. Do not hesitate to report any problem and securely get it solved at authorized service centers.
Warranty
Dewalt offers warranty services that include :
A 90-day money-back guarantee.
A 3-year limited warranty.
A 1-year free service.
The warranty offer is only applicable to Dewalt registered products and products that do not include any user defect.
For more warranty products, you can contact 1-800-433-9258 or visit the warranty page at www.dewalt.com/legal/warranty/general-warranty-information. You can also visit www.dewalt.com/register to register for the products.
Price of the Dewalt DW618PKB
This router model comes with other accessories such as motor pack, fixed base, and plunge base. These accessories accounts for its high cost.
DW618PKB is affordable for high budget buyers. It is also a good choice for buyers with a medium budget in need of a router combo kit.
It is one of the most affordable router combo kit models you will find in this product category.
Pros and cons of the Dewalt DW618PKB
Pros
Powerful motor efficiency for routing operations
Well-equipped adjustable features
Easy usage and control
Operational safety features
Cons
Absence of LED light feature
Weak plunge tightening ability
Who Should Buy Dewalt DW618PKB ?
DW618PKB router is suitable for a wide range of users due to its outstanding features.
Its soft bag accessory feature makes it a great choice for jobsite contractor that need a portable package to transport the power tool and its other accessory parts such as its fixed base and plunge base.
This model's rubber over-molded handles make it a suitable option for homeowners, DIY enthusiasts, and amateur woodworkers.
Its high motor power makes it suitable for commercial, residential, and industrial routing operations.
Our Recommendation
If you require an affordable, highly efficient, and powerful router combo kit, DW618PKB should be at the top of your priority list.
Its various applications and fields of use make it suitable for various levels of users. It is also very easy to use and handle especially with its accuracy enabling and adjustable features.