In Brief: DEWALT DW621 Router Review
DEWALT DW621 is an electronic variable speed plunge router with 3 stage turret stop and an integral dust collection system. It has a 2HP, 10amp motor that delivers a variable speed between 8,000 to 24,000RPM. It is an ideal model for Jobsite contractors and professionals for different scales of routing operations.
DEWALT is one of America's leading tool manufacturing companies. Their products stand out among many other models because of their innovative designs and unique specifications.
DEWALT DW621 is one of the core router models from this manufacturer. This electronic variable speed plunge router offers impressive performance for various professional and regular woodworking applications.
Key Specifications of DEWALT DW621
DEWALT DW621 has impressive specifications that highlight its stand out position among several other models. This model has a 10.0amp motor with a maximum horsepower of 2HP that delivers a variable speed between 8,000 to 24,000RPM.
DEWALT DW621 has dual collet diameters of ½" and ¼" that ensures flexibility and optimum performance. This model also delivers a plunge stroke of 2-1/8″ that further improves its efficiency for various routing operations.
This 9lbs router has a base dimension of 4-5/16″ x 6-1/4″ to ensure its stability during operation. It also includes a spindle lock and 3 stage turret stop for easy adjustment and customized settings.
Read the long list of DEWALT DW621 specification below :
Specifications


Model No
DW621
Powered By
Corded
Speed (RPM)
8,000-24,000
Power (HP)
2HP
Base Dimension (Inches)
4-5/16" x 6-1/4"
Weight (lbs)
9
Base Type
Plunge base
Plunge Stroke (inches)
2-1/8
Collet Diameter (inches)
½" & ¼"
Unique Features
3 Stage Turret Stop
Innovative Rubber-Coated Knobs
Integral Dust Collection System

Top Features to Look For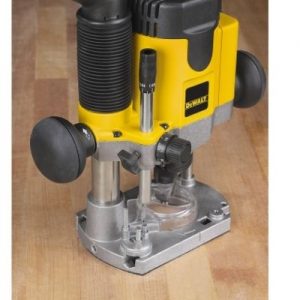 Source: DEWALT
DEWALT DW621 has several customized features that enhance its performance and optimum delivery. These features further establish the uniqueness of this model among several others.
3 Stage Turret Stop
The inclusion of 3 stage turret stop in this router model provides flexible depth stop options. It also enhances the precision and accuracy of cutting depths during various operations.
Innovative Rubber-Coated Knobs
It might not be unusual to find a knob in routers, but DEWALT DW621 features innovative rubber-coated knobs that have a plunge-lock to ensure user control. This control is further enhanced with the inclusion of an independent on/off switch.
Integral Dust Collection System
The integrated dust collection system of DEWALT DW621 efficiently eliminates chips to ensure better visibility of bit and maintain the power tool's cleanliness during operation.
Power and Performance
One of the criteria for measuring a standard router is the power setup and its resulting performance. DEWALT DW621 has an impressive power set up that features a 10amp motor and a 2HP peak horsepower. This power setup delivers a variable speed between 8,000 to 24,000 RPM.
At this speed, this model can easily route through varieties of materials, including hardwoods. The integrated motor of DEWALT DW621 also ensures a soft start and smooth operation. It features a constant speed functioning under load that enhances quality finish on all materials.
This corded router delivers a plunge stroke up to 2-1/8″; thus, adding to the model's qualifications as one of the ideal plunge router models for professional routing applications.
Ease of Usage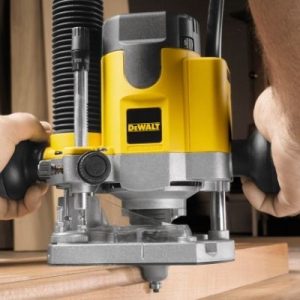 Source: DEWALT
DEWALT DW621 has several integrated features that make it easy for both beginners and professionals to use. These features improve its versatility, flexibility during operations, and ease of control for customized and precise applications.
DEWALT DW621 has innovative rubber-coated knobs with independent on/off switch to aid user control. It also includes a guide bushing adapter plate that accepts standard guide bushings for template work to improve productivity.
This router model includes a micro-fine depth adjustment feature that allows up to 1/256″ increments for improved accuracy. This accuracy is further enhanced by the inclusion of a spindle lock and a one-piece motor shaft that ensures perpendicularity. The addition of phosphorus bronze bushings ensures an accurate and smooth plunge.
The adjustment and setup of DEWALT DW621 are relatively hassle-free. It has a rack and pinion depth adjuster that permits fast and accurate setup. The spindle lock button also allows for single wrench bit changes.
Ease of Maintenance, Repair, and Warranty
Ease of Maintenance
The maintenance procedures of DEWALT DW621 include;
● Ensure proper lubrication of all frictional parts of the power tool.
● Run a routine check on the router before and after use.
● Keep the tool away from moisture and ensure proper storage.
Repair
The manufacturer of DEWALT DW621 has authorized service centers at various locations that seek the safe, secured, and reliable repair and maintenance of their products. The warranty offers cover some of these repairs and services.
Warranty
The warranty offers for DEWALT DW621 include;
● A 1-year free service offer.
● 90-day money-back guarantees provide.
● A 3-year limited warranty offer.
You can visit here to learn more about the warranty offers or contact 1-800-433-9258. You can also register your products here.
Price of DEWALT DW621
The cost of securing the service of DEWALT DW621 plunge router is quite on the high side. This model is relatively expensive and might not be suitable for low or medium budget buyers. However, the product offers a high value for money considering its features and specifications.
Pros and Cons of DEWALT DW621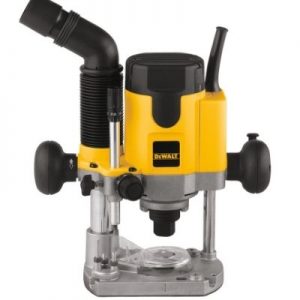 Source: DEWALT
Pros
Easy to set up and control
An integral dust collection system
Innovative rubber-coated knobs
Variable speed setting.
Versatility and flexibility
Cons
No LED lights
Handles can be uncomfortable.
Relatively expensive
Who Should Buy DEWALT DW621?
DEWALT DW621 is a corded plunge router that is efficient for various professional applications on medium to large scales. This model is versatile and has enough power to route through various materials, including hardwoods and composite materials.
Therefore, you should buy DEWALT DW621 if you are a professional woodworker or Jobsite contractor. You can also buy the product as a beginner because of its easy to use features. It also offers a great bargain for other DIY enthusiasts based on its versatility.
Our Recommendation
DEWALT DW621 is recommended for any professional that needs a moderate weight plunge router that is versatile enough to offer practical solutions to various routing tasks. It is also a good bargain for beginners and DIY enthusiasts seeking an easy-to-use router for long term usage.
Last update on 2023-09-28 / Affiliate links / Images from Amazon Product Advertising API