In Brief: Dewalt DW733 Portable Planer Review
The Dewalt DW733 12-1/2-Inch Portable Thickness Planer offers a 12.5-inch bed width and a portable 85-pound design. This benchtop planer cuts at a depth of up to 1/8-inch and includes two straight knives for smooth cutting. The planer comes backed by the quality assurance the Dewalt company has become known for.
The Dewalt company began in 1922 and has been going strong ever since. This company manufactures high-quality tools and equipment for a broad range of uses and applications.
It focuses mostly on residential customers but also makes some commercial machinery.
The Dewalt DW733 Portable Thickness Planer makes residential planing tasks quick and simple. This machine offers a user-friendly interface and easy inputs that ensure users of all skill levels can create exceptional results.
Key Specifications of the Dewalt DW733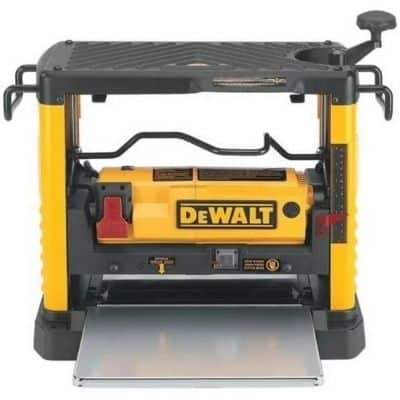 The Dewalt DW733 Portable Thickness Planer offers a traditional 12.5-inch bed width and a cutting depth of up to 1/8 of an inch.
It weighs 85 pounds, making it sturdy and stable without removing the ability to transport it if necessary.
Check out the Dewalt DW733 Portable Thickness Planer in action here –
Read the long list of Dewalt DW733 Portable Thickness Planer specs below:
Parameters
Details
Model No/Name

DW733
Type

Benchtop
Power (HP)

2
Bed Size (in.)

12.5
Table Size (l x b)

21 x 12.5
Knife Adjustments

1
Cutting Depth (in.)

1/8
Dust Collection

Yes
Weight (lbs.)

85
Warranty

3 years
Other Features
Tight-locking cutterhead
Calibrated depth crank
Quick knife changes
Accessories
Material gauge
Power cable
Extra knives, magnets, and wrenches
Unique Features
The Dewalt DW733 Portable Thickness Planer comes with a built-in tight-locking cutterhead and a calibrated depth crank mounted on top of the machine.
It also features quick knife changes for a more convenient and efficient design.
Tight-Locking Cutterhead
The machine comes with a tight-locking cutterhead that makes it easy to feed boards through the product without the risk of snipe. Since the cutterhead does not move around too much, snipe becomes almost nonexistent.
Calibrated Depth Crank
The built-in calibrated depth crank on this machine makes it easy to adjust the settings and fine-tune the results of your projects with every pass. Each time you turn the hand crank, it adjusts 1/16 of an inch in depth.
Quick Knife Changes
The Dewalt company understands that taking time out of your project to change your knives always interrupts the flow of work. Therefore, this machine features quick knife changes that can be completed by a beginner in under ten minutes.
Power and Performance
Despite its smaller size in comparison to some other planers on the market, this machine provides plenty of power to tackle small to medium household tasks easily.
The product cuts smoothly and creates high-quality finishes with just a few passes.
The machine performs well and showcases the exceptional quality the Dewalt company prides itself on. The product includes durable, reliable inner components and a sturdy exterior structure and base for long-lasting functionality.
Ease of Usage
Customers of all skill levels enjoy working with this machine and find it easy to get the results they want when they use it.
The machine offers plenty of easy operation and includes only the basics, so it does not bog users down with too many extra features.
The user-friendly design of this machine makes it a good choice for beginners to learn on.
The Dewalt company works to provide an entry-level product in this machine by keeping inputs simple and including a manual hand crank.
Ease of Maintenance, Repairs & Warranty
The Dewalt company web site offers some replacement parts available for purchase.
Most of these parts include consumables but do not include internal components. For more help with replacement parts, customers should contact the Dewalt company's customer service.
Regularly clean the machine to remove dust and debris buildup. When cleaning the machine, apply paste wax to the table as needed.
Check the brushes and keep them clean. When parts become too worn or damaged, replace them before using the machine again.
The Dewalt company provides a three-year limited warranty on this machine.
If any defects occur in the machine during those three years and are not the fault of the user, then the company will repair or replace the machine as needed at no cost to you.
The warranty also includes one year of free service. For the first year, you can take the machine to a licensed Dewalt technician to have it inspected and taken care of as needed.
The warranty also includes a 90-day money-back guarantee on consumable items and replacement parts.
For more warranty information, contact the Dewalt company at 1-800-433-9258.
Price of the Dewalt DW733 Portable Thickness Planer
The Dewalt DW733 Portable Thickness Planer offers easy operation and quick setup for all customers.
This machine comes ready for use and tackles small to medium household tasks, DIY projects, and hobby work with professional results.
This machine comes in at an average price when compared to other benchtop planers.
It remains slightly higher than third-party products but on par with the cost of other name-brand options. It offers a high value for its cost.
Pros and Cons of the Dewalt DW733 Portable Thickness Planer
Pros
Remains sturdy and reduces wobble
Features excellent dust collection
Makes setup and cleanup both easy
Fits well into many residential locations
Cons
Some customers experience more snipe than others
Who Should Buy the Dewalt DW733 Portable Thickness Planer?
The Dewalt DW733 Portable Thickness Planer works best for residential customers who want something to handle woodworking tasks now and then.
Many customers enjoy using this product on weekends to enjoy woodworking as a hobby or for repair purposes.
Some commercial workshops also utilize this machine as an option to address portability needs. Since the machine remains light enough to move around, it can tackle small on-site jobs in a way that bigger equipment cannot.
Our Recommendation
The Dewalt DW733 Portable Thickness Planer creates exceptional results that look professional in just a few passes. It handles many wood types and conditions while keeping its controls and operation simple.
We recommend this machine for home hobbyists who want a powerful little product to handle creative projects. We also recommend it for residential customers who enjoy woodworking often but not every day.