In Brief: Dewalt DW745 VS Ridgid R4516
Dewalt DW745 and RIidgid R4516 are compact and portable Table Saw models. They have similar features and functionalities that make them comparable. However, they still have individual differences that present buyers with viable options. R4516 has a no-load speed of 5000RPM while that of DW745 is 3850RPM. The weights of R4516 and DW745 are 63lbs and 45lbs respectively.
Ridgid and Dewalt are reputable manufacturers of several woodworking power tools. They offer several models of high-quality, efficient, and reliable power tools, including table saws.
DW745 and R4516 are compact table saws with similar functionalities. This review is a comparative evaluation of these models, highlighting their features and specifications.
Dewalt DW745 VS Ridgid R4516 at a Glance
Although the functionalities and general appearance of DW745 and R4516 are closely related, they have specific features that optimize them for unique applications.
Parameter
Dewalt DW745
Ridgid R4516
Ideal for
DIY enthusiasts/ Professionals/ Jobsite contractors

DIY enthusiasts/ Professionals/ Jobsite contractors
Weight
45lbs
63lbs
Blade Length
10''
10''
Power source
Electric Powered
Electric Powered
No-load Speed
3850RPM
5000RPM
Arbor Size
5/8"
5/8"
Motor Current
15amp
15amp
Voltage Rating
120V
120V
Depth of Cut at 45 degrees
2-1/2"
2-3/8"
Depth of Cut at 90 degrees
3-1/8"
3-1/4"
Blade Tilt (degrees)
0-45
0-90
Price
Relatively affordable
Moderately priced
Warranty
3-year limited warranty
3-year limited warranty
Unique Features
-Lightweight and compact
-Rack and Pinion rail system
-Onboard storage system

-Anti-kickback paws
-Bevel locking lever
-Removable blade guard

Dewalt DW745 vs Ridgid R4516 : Weight
Weight is an essential considerable factor when selecting table saws. DW745 and R4516 are portable, compact, and lightweight.
The weight of the Dewalt model is lower than the Ridgid model. Nevertheless, both models are easy to handle and carry.
Weight of DW745
DW745 has an impressive weight of 45lbs. This weight makes it one of the lightest models in the table saw category. This feature makes it an ideal pick for contractors with multiple jobsites because it is easy to carry about.
Weight of R4516
The weight of this model is above the Dewalt model. However, it is average sized for a table saw. It weighs 63lbs which is a standard weight for a portable table saw.
Dewalt DW745 vs Ridgid R4516 : Blade Speed
One of the crucial factors determining a product's cut capacity on various materials is its blade speed. DW745 and R4516 both have impressive blade speeds for a table saw.
Nevertheless, R4516 has a more remarkable no-load speed compared to DW745.
Blade Speed of DW745
DW745 has a 15amp motor that delivers a speed of 3850RPM on its 10″ blade. This speed facilitates its smooth and fast cut through various materials. It also qualifies this model for professional applications.
Blade Speed of R4516
The blade speed of R4516 is one of the best in the portable table saw category. This model has a 60Hz, 120V, 15amp motor setup that delivers a speed of 5000RPM on its 10″ blade.
At this speed, you can trust this power tool to make a smooth cut through almost any type of material.
Dewalt DW745 vs Ridgid R4516: Cut Capacity
The cut capacity of a table saw is the real deal. Without an impressive cutting ability, a table saw is like a gun without a bullet. DW745 and R4516 have exceptional cut capacities.
Both models have similar cutting capacities that make them suitable for various professional applications.
Cut Capacity of DW745
The cut capacity of DW745 is appealing and facilitates its smooth operation on varieties of materials. This model can make a 2-1/4″ deep cut at 45⁰ and a 3-1/8″ at 90⁰. It includes a 20″ rip capacity to the right of the blade and 12″ to the left.
Cut Capacity of R4516
The cut capacity of this model is one of the most impressive in the table saw categories. At 90⁰, this model is capable of making a 3-1/4″ and 2-3/8″ cut at 45⁰.
Dewalt DW745 vs Ridgid R4516 : Warranty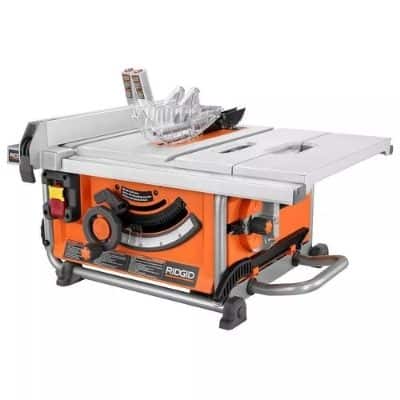 Warranty offer is how manufacturers boost the confidence of their users about their products.
Dewalt and Ridgid are manufacturers that give impressive warranty on their products to increase their users' trust. Both models enjoy similar contract offers from their manufacturers.
Warranty of DW745
Dewalt DW745 enjoys a 3-year limited warranty that covers any defect in materials and functionalities. They also provide  1-year free service support for this model, which includes maintenance and replacement offers.
Warranty of R4516
This model features a 3-year limited warranty and also a life time service agreement. This offer translates to an unlimited service and repair support for product purchased from the Home Depot.
All the purchaser needs to do is to register the product within 90 days after purchase.
Standout Features
Unique Features of DW745
Telescoping fence System : The primary function of the telescoping fence system of this model is to optimize it to enhance operational safety, precision, and accuracy. This fence is retractable to give a small and portable package for easy movement and storage.
Onboard Storage System : DW745 includes a built-in storage system that provides quick access to tools and other functional parts of the product when they are not in use. It is mainly designed to contain tools, including Site-Pro guarding components, and push sticks.
 Rack and Pinion Rails : DW745 model has Rack and Pinion Rails that enhance easy, fast, and smooth adjustments. It also improves the maneuverability of this model. This feature enhances the secure operational safety of this model and facilitates short, precise, and accurate cuts.
Unique Features of R4516
Anti-kickback paws : The anti-kickback paws of this table saw model aims at improving operational and user safety.
Bevel locking lever : The bevel locking lever of the R4516 model to lock this model's angle setting. This feature aids the delivery of smooth, precise and easy cuts.
Removable blade guard : The blade guard of this model prevents the hand's direct contact with the blade of the table saw.
Which Table Saw is Better ? Dewalt DW745 or Ridgid R4516
Use DW745 if :
It is ideal to use Dewalt DW745 if you desire a professional lightweight, compact, portable, and easy-to-use model for your woodworking processes.
It is also a perfect consideration for beginners because it is easy and safe to operate.
Use R4516 if :
The R4516 model is a cost-effective table saw that is suitable for varieties of users, including amateurs and beginners.
It is an ideal model for professional woodworking applications. So, you should use this model if you need a compact, efficient, and reliable table saw that can adapt to various applications.
Last update on 2023-12-02 / Affiliate links / Images from Amazon Product Advertising API