In Brief: Dewalt DWE1622K Drill Press Review
Dewalt DWE1622K is a magnetic drill press with dual speed setting and overload protection feature. It has a 10amp motor that delivers two speeds of 300RPM and 450RPM. It has an overall height of 14.25″ and ½" chuck capacity. It is ideal for drilling through metals with variable thickness. DWE1622K offers a good bargain for professionals in various crafts.
Dewalt industrial tool company is a reputable manufacturer of several hand and power tools for construction, woodworking, and other related industries.
They use efficient technology and innovations in their designs to give the best in class performance.
DWE1622K is one of this manufacturer's core products, and this drill press model is a versatile tool with various features that contribute to its accuracy and precision. It offers reliable solutions to various drilling tasks.
Key Specifications of Dewalt DWE1622K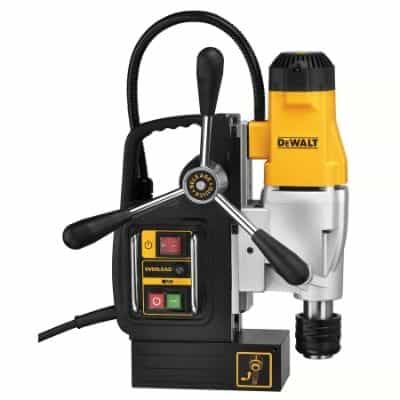 DWE1622K is a two-speed magnetic drill press with several impressive features for optimum performance. The two-speed settings are 300 and 450RPM to allow precision and accuracy.
It also includes a 10amp, 1200W motor that delivers ample power for various applications.
It applies 741lbs drill point pressure on ½" steel plate. This drill press model has an annular cutter capacity of 2″ with a 4-3/8″ length of drill travel.
DWE1622K weighs 33lbs and has an overall height of 14.25″, making it very portable. It has a twist bit capacity of ½".
This corded drill press includes overload protection that reduces the vulnerability of the model to damage.
DWE1622K includes a quick-change chuck system that allows tool-free change between ½" keyed chuck and ¾" WELDON Shank.
The video below shows DEWALT DWE1622K in use: 
Specifications:
Parameters
Values
Model No

DWE1622K
Motor Details

10amps
Power (Watts)

1200
Speed (range) RPM

300/450RPM
Laser

No
Chuck Capacity (in)

1/2"
Cutter Capacity(in)

2"
Length of Travel (in)

4-3/8"
Height (in)

14.25"
Weight (lbs)

33lbs
Digital Speed Reading

No
Work Light

No
Other Features

Overload protection
Overload protection
Magnetic coolant bottle
Quick change chuck system
Top Features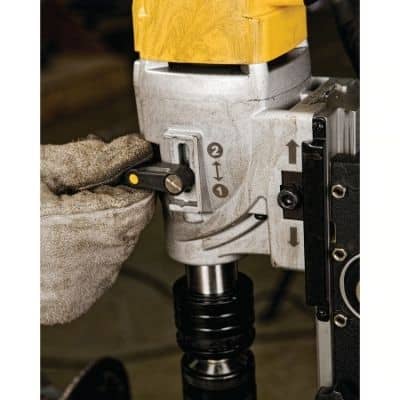 DWE1622K has amazing features that aid its functionality and distinguish it from other magnetic drill press brands available for purchase.
Overload Protection
DWE1622K has an overload protection feature that prevents excess accessory wear and mitigates the vulnerability of motor damage. This feature contributes to the durability of this model.
Magnetic coolant bottle
The magnetic coolant bottle tool of DWE1622K allows you to make varieties of tool orientations. The magnetic coolant bottle can be placed on the work surface or either side of the tool.
Dual Speed Setting
Most magnetic drill press are known to have a single speed but DWE1622K comes with 2-speed settings which are 350 and 450RPM.
This feature allows for the optimal performance of this model for varieties of tasks.
Power and Performance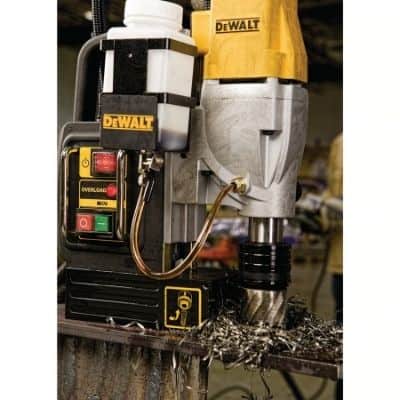 DWE1622K is equipped with enough power to ensure its optimum performance and delivery.
It has a 10amp, 120V motor that delivers a 1200watts of power on the tool to drill through metals of variable thickness.
The efficiency of this motor is preserved with the integration of an overload protection system.
This overload protection system prevents the motor from damage to improve the durability and longevity of the motor.
DWE1622K has a 2″ annular cutter capacity and has a drill travel capacity of 4-3/8″. The powerful motor setup also delivers a dual speed setting.
This drill model operates at 300RPM and 450RPM for precision and optimization of drills.
Ease of Usage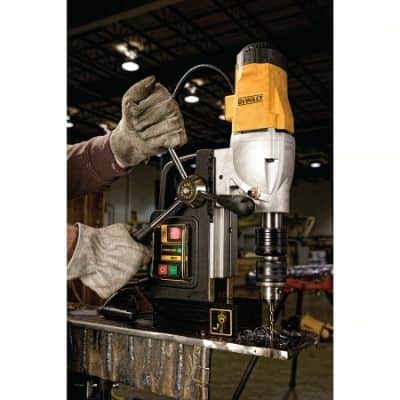 DWE1622K is a product you would recommend for beginners and those with little drilling experience because of its easy usage features.
These features also permit extended use and versatile applications.
This drill press model features quick-release feed handles that allow tool-free changes of handles to either side of the tool to ensure added comfort.
Similarly, the range of compatibility of DWE1622K with different accessories is improved its with major height adjustment feature.
You can place a magnetic coolant bottle on either side of the tool or on the work surface to permit various tool orientation for easy applications.
DWE1622K allows you to make quick changes between ¾" Weldon and ½" keyed chuck with its quick-change chuck system.
Ease of Maintenance, Repair, and Warranty
Ease of Maintenance
Ensuring proper maintenance for your drill press will keep it at a top-performing level for a long time. The maintenance procedures of this model include;
Do not expose the tool to rain or wet conditions
Avoid the abuse of the cord by not using it to lift the tool
Carry out a routine check on the tool before and after use.
Ensure proper storage when not in use.
Repair
Dewalt has service centers that handle the repair and maintenance services of their products.
It is best to let the professionals in these service centers handle your products' repair to ensure safety and reliability.
Warranty
The warranty offers for DWE1622K include;
3-years limited warranty
One year of free service
90 days money-back guarantee
You can call 1-800-4-DeWALT (1-800-433-9258) for further information on the warranty coverage and repair service. You can also visit the company's official website  for warranty information.
Price of Dewalt DWE1622K
DWE1622K is quite expensive, and it might not be suitable for individuals with low or meager budgets.
However, it offers a high value for money because of its sturdy buildup, efficiency, and versatility.
Pros and Cons of Dewalt DWE1622K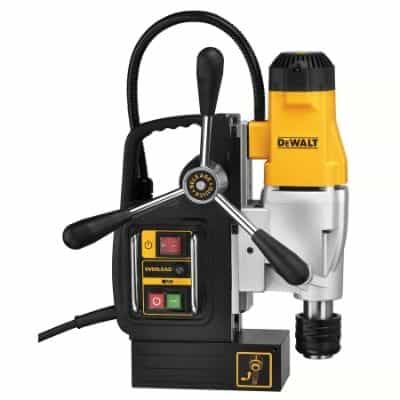 Pros
Lightweight and compact
Compatibility with a wide range of accessories
Dual speed setting
Overload protection for durability
Flexibility and easy adjustments
Cons
Relatively expensive
Speed output is relatively low
Who Should Buy Dewalt DWE1622K?
DWE1622K is a flexible and versatile magnetic drill press that is suitable for metal drilling.
This drill press model has varieties of features that make it suitable for various professional applications.
It is suitable for professionals in various crafts, including woodworking and blacksmithing, because of its efficiency in drilling through different materials.
It is also a good bargain for various Jobsite contractors because it is compact and lightweight, making it easy to transport.
Homeowners and other DIY enthusiasts with high budgets can also acquire DWE1622K because it is easy to use and can fit into limited space.
Our Recommendation
DWE1622K is recommended for users that need a flexible and efficient magnetic drill press for varieties of metal drilling operations.
It is also recommended for individuals with limited workspace because it is lightweight and compact.