In Brief: Dewalt DWP611 Router Review
Dewalt DWP611 is a compact, variable speed router with a soft start feature and enhanced visibility during use. It features a powerful 1-1/4HP motor that delivers a no-load speed of 16,000-27,000RPM. It has a 4″ base and weighs 4.6lbs overall. It is an ideal router for professional and beginner woodworkers. It is effective on all materials, including hardwoods.
Dewalt is a notable manufacturer of several high-power tools, including routers.
They have a standing reputation for their consistency and production of high-quality power tools that are suitable for various categories of users.
DWP611 is one of the core offerings from this manufacturer.
This variable speed compact router is suitable for various applications, including effective performance on tough materials. It also allows for easy maneuverability.
Key Specifications of the Dewalt DWP611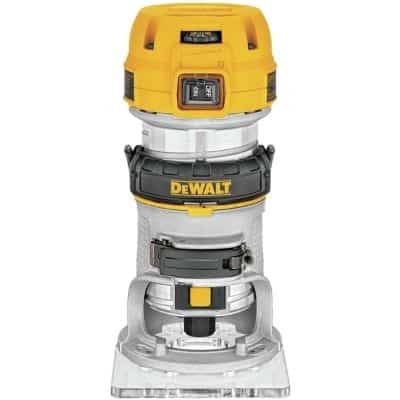 DWP611 weighs 4.6lbs, which makes it one of the lightest products in this category. The inclusion of a fixed base with 4″ dimension confers stability and sturdiness to the product.
DWP611 is a compact router that features 12 position spindle lock. The no-load speed of this product is also a standout feature. Its no-load speed falls within the range of 16,000 to 27,000 RPM.
This model also has a collet diameter of 1/4″ for optimum performance.
This model's efficiency is enhanced with a powerful 7amp motor that features a maximum peak power of 1-1/4HP for optimal performance. DWP611 also allows 1-1/2″ of depth travel with a standard travel base.
The video below shows how to setup and utilize the DWP611 :
Read the long list of Dewalt DWP611 specs here :
Specification
Model No
DWP611
Powered by

Corded
Speed (RPM)
16,000-27,000RPM
Brushless Motor
No
Power (HP)
1-1/4
Base Dimension (Inches)
4"
Weight (lbs)
4.6
Base Type
Fixed
Plunge Stroke (inches)
1.5
Unique Features

Soft start
Visibility
Flexibility

Top Features to Look For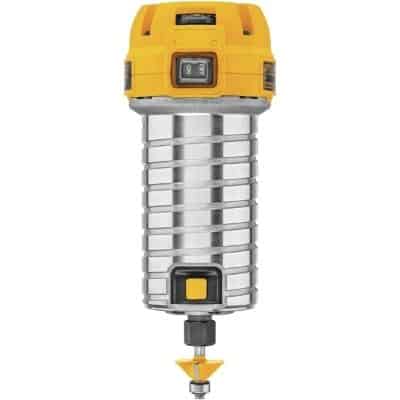 Everything about DWP611 is optimized for efficient performance. This model has some unique features that make it one of the top considerations for most buyers.
Soft Start
Unlike some other routers that prove a hassle to start and maintain smooth operation, DWP611 offers a soft start that triggers a smooth operation.
This model's soft starting feature includes full-time electronic feedback that offers proper maintenance of motor speed all through the cutting process.
Visibility
You don't have to worry about working with this model in dim light. It includes dual LEDs and a clear sub-base that enhances visibility during the various cutting processes.
This visibility also facilitates the precision and accuracy of its cuts.
Flexibility
One of the biggest assets with this product is its flexibility. It has a variable speed control that allows the user to optimize speed for specific applications.
It also includes an adjustment ring, extended sub base, and spring-loaded release that all enhance maneuverability.
Power and Performance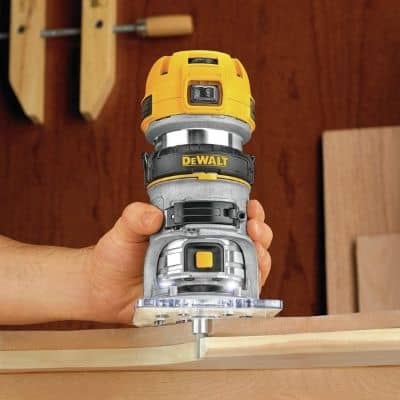 The power and performance of DWP611 are parts of the chief determinant of its rating and general application. The good news is DWP611 features an amazing power setup that triggers its effective performance.
This corded router has a powerful 7amp motor current that enhances its smooth operation.
This power setup also includes a 1-1/4 peak horsepower that equips the product with enough power for effective application for even on the toughest materials.
This powerful motor ensures a soft start and variable speed control. The variable speed of DWP611 allows users to optimize the motor operation and the resulting speed of the product for a specific application.
It includes a low contoured grip to ensure precise and accurate performance. As part of the operational control feature, DWP611 has an adjustable ring depth within 1/64".
Ease of Usage
DWP611 has several features that make it easy for users to handle it. These features make DWP611 suitable for professionals and beginners alike. It includes a dual-LED and a clear sub base that facilitates the visibility of cuts.
It has a greater bit contact with the bit shaft due to the inclusion of an extended 1/4″ router collet. This feature minimizes violent vibrations and allows you to make a firm grip during operation.
Other included properties of this model, such as the D-shaped sub base, large low-pressure spindle lock, adjustment ring, and multiple shaft lock, ensure easy operational control.
Ease of Maintenance, Repair, and Warranty
Ease of Maintenance
Regular and suitable maintenance of this product will keep its top-notch performance for a longer period. Some of the maintenance procedures of DWP611 include :
Regularly clean the product.
Ensure the regular lubrication of its frictional part.
Ensure connection to the appropriate power source.
Repair
Dewalt has several authorized service centers in various locations to ensure safe, secure, and cost-free repair.
Warranty
The warranty offers to include :
3-year limited warranty on defects in craft and materials.
1-year free service support.
90-days money-back warranty.
This warranty only covers registered products and does not include defects resulting from the user's carelessness.
Register your Dewalt product online at www.dewalt.com/register and get more details at www.dewalt.com or call 1-800-433-9258.
Price of the Dewalt DWP611
The cost of securing the service of DWP611 is affordable for medium budget buyers. You don't need to squeeze to your last penny to afford the product.
It also offers a high value for money, considering the product's impressive features and diverse applications.
Pros and cons of the Dewalt DWP611
Pros
Easy to use and handle
Compact and lightweight
Powerful and able to cut through soft and hardwoods
Adjustable features and operational safety
Flexibility and extended performance with optional accessories
Cons
Some users have issues with its lack of edge guide (Can only be purchased separately)
Few buyers noted the lack of side handles as a problem
The standard base doesn't take bushings
Who Should Buy the Dewalt DWP611 ?
DWP611 is suitable for a wide variety of buyers due to its diverse and efficient applications. This product is an ideal buy for professionals and beginners alike.
It is a good choice for beginners because it is easy to use and handle. It is also ideal for professionals because it is effective for various applications, including the tough ones.
DWP611 also presents a viable option for DIY enthusiasts, homeowners, and multiple jobsite contractors because it is portable, lightweight, and efficient.
Our Recommendation
You should consider the purchase of DWP611 if you need a portable, lightweight, and efficient router for your woodwork applications.
It is a good recommendation for amateurs and beginners because it is quite affordable and easy to control.