In Brief: Ego Power+ SNT2103 Review
The Ego Power+ SNT2103 is a compact Snow Blower that is designed for clearing low and moderate amounts of snowfalls. It features an auger that buries its blade deep into snowbanks and, in turn, feeds it to the chute, which dumps it yards away from your property. This snow blower is light and operates in silence, unlike gas-powered snow blowers that tend to sound like a chainsaw.
Ego Power is one of the largest producers of power tools in the world. They're a part of the Chevron group of companies and have their production outlets in Europe, China, and America.
They're known for producing highly impressive equipment that is mostly cordless. Their product line cuts across several areas, including garden and lawn care, chain saws, blowers, batteries, and chargers.
Key Specifications of the Ego Power+ SNT2103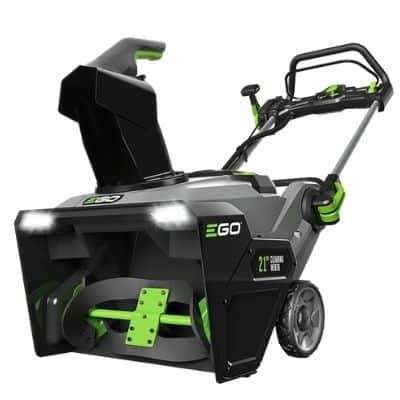 This snow blower is cordless and runs on a 56-volt ARC lithium battery. When fully charged, the battery can last for an hour. This allows you to clear snow off your property without any fuss.
At first glance, it's easy to conclude that this snow blower would be a lot to handle.
Despite putting on 85 pounds, it's easy to move around thanks to the addition of wheels and a foldable handle that allows you to move it like a trolley.
With an LED light, operation is possible at night, and you won't keep the neighbors awake since this snow blower operates in complete silence.
For more information about the features, check out this video :
Here is the long lsit of specs of the Ego Power+ SNT2103 Snow Blower :
Specification
Model Number / Name
SNT2103
Powered By

56-volt ARC lithium battery
Battery Runtime
1 hour
Stages
Single-stage
Clearing Width
21 inches

Ideal for how many inches of snow

13 inches

Warranty
5-year limited warranty

Weight
55 pounds
Start Mechanism

Electric start
Other Features
Up to 35 feet of snow throwing distance

Unique Features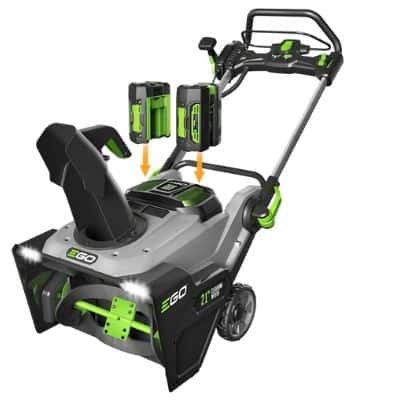 There are a number of key features that this snow blower possesses that you won't find on other models within its price range. It's easily the best of the bunch.
35 Feet Of Throwing Distance
This snow blower dumps snow 35 feet away from your property. With this, you won't need to shovel your way out of your driveway. Its throwing distance is quite impressive since most single-stage snow blowers hardly go as far as 20 feet.
Going by this, its throwing distance is equal or better than some two-stage snow blowers, such as the Wen SB24E and the PowerSmart DB7624E.
Weather Resistant
The Ego Power+ SNT2103 is weather-resistant. What this means is that it's safe to use under harsh weather conditions, especially when it rains.
Exposure to moisture won't cause rust, and this is good news for those who like to clear under wet conditions.
Remote Chute Control
You wouldn't want to direct the snow to your drainage area or your neighbor's driveway. This is where the remote control comes handy.
With it, you can rotate the chute around 180 degrees and direct snow away from your property.
Power and Snow Clearing Capability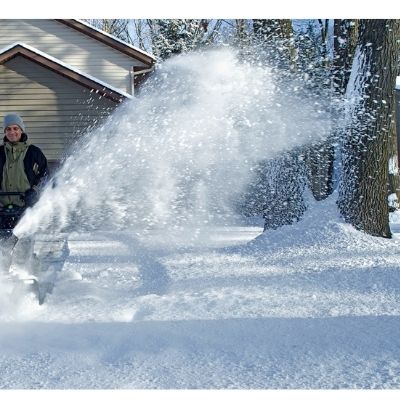 The engine that comes with this snow blower is as powerful as the one present in gas-powered snow blowers. It uses a brushless motor that combines incredible speed and power to lift massive amounts of snow.
With a 56-volt battery, it will be able to clear snow for an hour without stopping midway. The battery requires 45 minutes of charge time and produces less noise and smoke during operation.
Ease of Use
The easy-to-use chute adjustment means you will be able to adjust the throwing height of the snow blower.
However, since it isn't self-propelled, you will have to bury its chute into the snow yourself, and this could be stressful.
The LED lights allow operation in low light, but you might experience a few difficulties when clearing compact snow.
This snow blower only clears powdery snow and not snow that is stuck together like ice.
In reality, the auger can only manage 21 inches of clearing width and 13 inches of clearing height. Also, the snow blower can't move on all surfaces, especially steep ground.
Ease of Maintenance, Repairs, & Warranty
This piece of equipment comes with minimal maintenance requirements. The fact that it runs on battery saves you the stress of cleaning some components.
However, we advise against using this on hard surfaces, such as concrete, if you want it to serve its purpose. Also, you should inspect the snow blower before and after every use to ensure all nuts are in place.
We also recommend you don't store it with its battery in. The battery should be removed at the end of every operation and kept separately.
With this product, you get a 5-year warranty that covers all body parts. In the case of the battery, you get 3 years of total coverage.
Price of the Ego Power+ SNT2103
This snow blower from Ego Power is affordable and costs considerably less than gas-powered snow blowers.
Although it utilizes the single-stage system, its performance is on par with most two-stage snow blowers.
Pros and cons of the Ego Power+ SNT2103
Despite its impressive feature, there are a few things we wished this piece of equipment had but didn't get to see, and we've mentioned them below.
Pros
Robust steel construction made to last for a long time
LED lights for operation in the dark
40-feet clearing distance
Electric start
Quiet operation
Cons
Small clearing height
Throttle control is absent
No squid shoe
Who Should Buy the Ego Power+ SNT2103 Snow Blower?
This is ideal for homeowners, especially those who only have small areas to clear. It's a convenient tool, and it's easy to store.
However, it might not be right for you to get this if you have an 8-car driveway. Such areas require a lot of effort, and the battery might get exhausted in the middle of an operation.
Our Recommendation
The Ego Power+ SNT2103 is a better alternative to gas-powered snow blowers. It's compact, cheap, and easy to maneuver.
It has little competition if you're looking for a cordless snow blower for a 2-3 driveway.