In Brief: Festool 574432 Joiner Review
The Festool 574432 is a unique tool that is suitable for highly repetitive work, and it comes with features such as adjustable fence angles to improve work efficiency and accuracy. It is the ideal joiner to be used in any home and can be used by amateurs or professionals thanks to its 35-amp motor.
Festool is a power tool brand founded in 1925, and its headquarters are located in Wendlingen, Germany.
The brand takes a systems-based approach in manufacturing power tools and focuses on dust extraction.
The joiner is powered by a 420W motor with top speeds of up to 24,300 RPM, producing enough power to create strong tenons and mortises.
Key Specifications of the Festool 574432
Some of the available features on the Festool 574432 include a spiral cut. The cutter rotates and oscillates to create perfect mortises.
Mortise width adjustments with a turn dial ensure easy alignment when joining panels.
A depth control feature allows you to make quick adjustments that are required for different mortise depths relative to the size of tenon needed.
The machine allows 7 different step positions to work on materials of different thicknesses by allowing easy fence height adjustments.
This device also has optional dust extraction to keep your workspace clean as you work.
Click on this link to watch this demonstration video for the Festool 574432 :
Some other essential specifications about this joiner are summarized in the table below.
Specification
Model Number / Name
Festool 574432
Type
Hand
Power
35-amp motor
Bed size
N/A
Table size
N/A
Knife adjustments
1
Cutting depth (in)
2''
Dust collection
Yes
Weight
7.05 lbs.
Warranty
3-year limited warranty period
Other Features
Spiral cutter
Pivoting fence

Top Features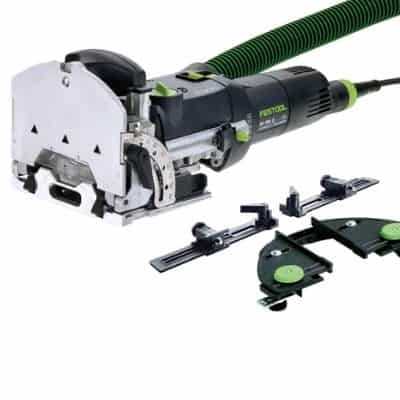 The features that make this machine a preferred choice include the following:
Mortise Width Adjustment
This machine helps you easily adjust the mortise width with ease, giving you easy alignment every time you join panels.
420W Motor
Festool put in place a 420W motor that has speeds of up to 24,300 RPM. The engine produces powerful performance and can handle hard materials with ease.
Pivoting Fence
With the help of this feature, you are able to create angles mortises between 0 and 90 degrees. You can set any suitable angle with the positive stops at 22.5, 45, and 67.5 degrees.
Power and Performance
The machine is among the best joiners due to its power and consistent performance.
The joiner hosts a 420W motor with speeds of up to 24,300 RPM. This power is enough to cut Domino slots at 5, 6, 8, or 10 mm. It is also enough to make preset depths between 16 and 40 mm deep.
The carbide bits are durable, making between 5,000 and 14,000 joins depending on the material's nature and hardness.
Ease of Use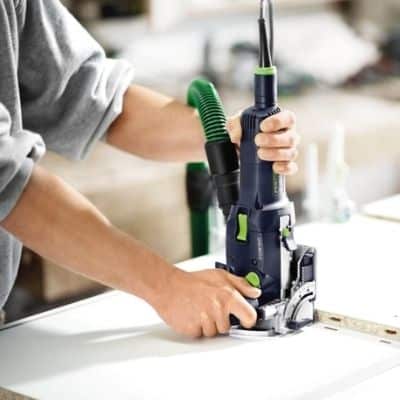 From a mortise position to the machine's general handling, no special skills are required to interact with this product.
Features that make the machine easy to use include adjustable fence angles to set commonly used angles.
The retractable stop flaps and mortise depth stop help in the placement and spacing of the mortises.
The adjustable cutter height with step gauge enables easy height adjustments.
A depth control feature allows quick adjustments for different mortise depths. The machine is designed in a way that you can change bits easily in less than 30 seconds.
The device weighs about 7 pounds, making it easy to use, transport, and store.
Make sure to get a copy of the user's manual to understand how easy it is to use this tool.
Ease of Maintenance, Repairs, and Warranty
Reviews show that the Festool 574432 is a durable machine that requires some maintenance activities to keep it in top condition.
Some of the common maintenance practices are lubricating moving parts, replacing worn-out bits, cleaning the machine after use, proper storage, and other basic duties.
Some repairs, such as tightening loose screws, can be done at home. Issues affecting the motor and other critical parts of the machine may require professional aid.
Ensure you hire a professional mechanic who is familiar with the tool to prevent any further damage.
All buyers of this machine are covered by a 3-year limited warranty by Festool. They also offer a 30-day money-back guarantee for those dissatisfied with the device.
Visit their official website for more information on the warranty period or call 1-888-337-8600. You can also send an email to [email protected] to address any queries.
Price of the Festool 574432
The price of this machine is affordable and can fit your tight budget.
Considering its powerful abilities that are produced by the 420W motor, these tools are cost-effective.
The device is cheaper compared to other machines on the market with the same capabilities.
Pros and cons of the Festool 574432
Let's have a look at some of the advantages and disadvantages of this jointer.
Pros
Easy to use
Durable and rapid-change carbide bits
Portable
Versatile
3-year limited warranty and 30-day money-back guarantee
Cons
Not to be used for heavy commercial purposes
Who Should Buy the Festool 574432 ?
This joiner is a perfect choice for those who want to experience unmatched precision and performance. The machine is to be used for creating strong tenons and mortises.
This tool has durable carbide bits that can make between 5,000 and 14,000 joins.
This amount is enough for any household, as well as small or medium-sized commercial companies. Those on tight budgets looking for a powerful joiner should consider the Festool 574432.
Our Recommendation
The Festool 574432 is an influential German machine that has revolutionized the joining process, which has been slow and difficult for many years now.
We recommend this tool because it has unmatched precision and powerful performance, and it can be used on a wide variety of projects.
Customer reviews show that it is easy to use, and it is among the best joiners on the market today. Get your Festool 574432 today for a new joining experience.
Last update on 2023-05-28 / Affiliate links / Images from Amazon Product Advertising API