In Brief: FESTOOL 574692 Router Review
FESTOOL 574692 is a router with swiveling chip deflector and MMC electronics. This 9.92lbs router uses a 1400W motor that delivers a variable speed between 10,000 to 22,500RPM. It is useful for all routing tasks, including the toughest ones on a long-term scale; thus, FESTOOL 574692 is ideal for Jobsite contractors, professional and beginner woodworkers.
FESTOOL is a reliable German manufacturer that utilizes a system-based approach in manufacturing several power and hand tools, and gives general consideration to dust extraction.
FESTOOL 574692 is a core offering from this manufacturer with several impressive features that make it suitable for routing several materials, including hardwoods.
Key Specifications of FESTOOL 574692
This router model comes with a 120V, 11.7amps, 1400W power setup that delivers a variable speed of 10,000-22,500RPM.
FESTOOL 574692 delivers a routing stroke of 2-3/4″ for efficient performance even with the most challenging tasks.
The 9.93lbs router is moderate and can be easily carried around for various site applications. The maximum cut diameter of this model is 2-1/2", allowing you to work on extensive materials.
This router model also has dust extraction features. It includes a 1-1/16″/ 1-7/16″ dust extraction port that ensures the smooth elimination of wastes.
It gives clear-cutting without obstruction or disturbance. It also has ¼" and ½" collet sizes for effective performance.
Here is a video showing how to setup and use FESTOOL 574692:
Read the long list of FESTOOL 574692 specification  below :
Specification
Model No
574692
Powered By
Corded-electric

Speed(RPM)
10,000-22,500
Power (Watts)
1400
Weight (lbs)
9.92
Base Type
Plunge
Plunge Dept(inches)
2-3/4"
Collet Sizes(inches)
¼" & ½"
Unique Features
Swiveling Chip Deflector
System Integration
MMC Electronics


Top Features to Look For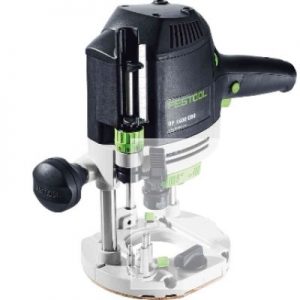 Source: FESTOOL
Just like the outstanding reputation of its manufacturer, FESTOOL 574692 has several features that make it different from other routers.
Swiveling Chip Deflector
This model's swiveling chip deflector is useful for edge-forming bits around curves and corners, ensuring maximum dust extraction. It includes a tool-free spring clip system that provides quick attachment and release.
System Integration
FESTOOL 574692 has an integrated system designed to take up several high technologies for optimum performance. It uses the MFS multi-routing templates, FS guide rail system, and other wide varieties of accessories options.
MMC Electronics
FESTOOL 574692 features an electronic control system that ensures constant speed under load for enhanced cut delivery, overload protection, and adjustable variable speed for diverse applications.
Power and Performance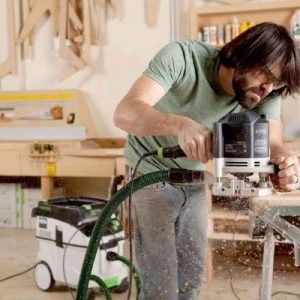 Source: FESTOOL
FESTOOL 574692 has enough power set-up to ensure smooth operation and effective delivery.
This model has a 120V, 11.7amps, and 1400W motor that delivers a variable speed between 10,000 to 22,500RPM. At this speed, FESTOOL 574692 can make effective routes and cuts on several types of materials, including composite materials.
The 1400W and MMC electronic controls of this model give it enough power to see you through even the most challenging tasks quickly. FESTOOL 574692 reduces the motor's chances of plate deflection with the inclusion of one knob that locks the plunge depth securely.
This model can make a 2-3/4″ plunge depth for useful professional applications.
This model includes an electronic control that ensures constant speed under load for better cut quality, overload protection for longer life, and stepless variable speed for optimized performance.
Ease of Usage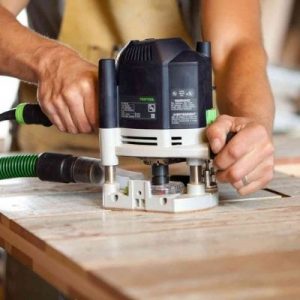 Source: FESTOOL
One of the striking features of FESTOOL 574692 is its ease of use. It has an ergonomic design that includes a handle with full-grip that increases control while simultaneously reducing fatigue.
It includes quad centerline marks on each side of the base to act as a visual reference point that allows you to align the cutline with the center of the bit effortlessly.
It also includes three adjustable position depth stop turret consistent and repeatable step cutting.
FESTOOL 574692 is highly flexible with the inclusion of various accessories. These accessories include the FS guide rail system for guided cutting, VS 600 Dovetail jig for joinery applications, MFS multi routing templates, and LR32 hole drilling system.
The adjustability of this model is top-notch. It allows a precision depth adjustment with its micro-adjustability dial that allows adjustment up to 1/256". It also has an integrated dust extraction port and a swiveling chip deflector for enhanced visibility during operation.
Ease of maintenance, Repair, and Warranty
Ease of Maintenance
The maintenance procedures of FESTOOL 574692;
Ensure the cleanliness of your power tool at all times.
Keep the power tool away from dust and moisture.
Check the power tool before and after use.
Ensure proper storage.
Repair
The manufacturer of FESTOOL 574692 has repair services that ensure the safe and reliable restoration of the power tool. The warranty covers most of the repair costs offers with a 2-day standard repair turnaround time.
Warranty
The warranty offers for FESTOOL 574692;
3-year comprehensive warranty.
3-year free shipping to and from FESTOOL service.
10-year spare parts availability.
1-month money-back guarantee.
However, you must ensure that you register your product within 30 days after purchase to enjoy this exclusive warranty. You can check their website for more information on the warranty offers or call 88-337-8600 for more product information.
Price of FESTOOL 574692
FESTOOL 574692 is one of the most expensive routers you would come across. It is neither suitable for medium budget nor low budget buyers. However, the product offers a high value for money.
With FESTOOL 574692, you get to enjoy several exclusive features and fantastic warranty offers.
Pros and Cons of FESTOOL 574692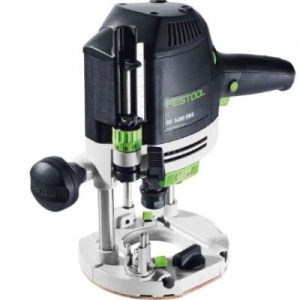 Source: FESTOOL
Pros
Fantastic and exclusive warranty offers
Easy dust extraction features
Adjustable and easy to use features
System integration that allows the use of several accessories for improved flexibility
High precision and accuracy
Cons
Very expensive
The hand placement takes time to adapt to due to its unconventional style.
No LED light feature
Who Should Buy FESTOOL 574692?
FESTOOL 574692 is an electric-corded, versatile, and flexible power tool with impressive performance and effective delivery.
It is suitable for professionals because of its versatility and effectiveness for various applications, including the tough ones.
Likewise, it is a good buy for multiple Jobsite contractors because it is portable and easy to handle. Generally, this router model is suitable for users that have commercial and industrial scale projects.
Our Recommendation
FESTOOL 574692 is recommended for any individual that requires a classy router model service but with the ruggedness of a regular router.
It is also recommended for those who desire a router for long term operations, particularly for challenging applications.
Last update on 2023-12-03 / Affiliate links / Images from Amazon Product Advertising API