In Brief: Festool MFK 700 Router Review
Festool MFK 700 is an excellent router model with a tool-less base system and a sensor bearing guide. It has a 6amp, 720 watts motor that provides a variable speed of 10,000 to 26,000RPM for enhanced routing delivery. It is suitable for different woodworking applications and it is ideal for all categories of woodworkers.
Festool is a first-class manufacturing company of power and hand tools. The tools they produce are notable for durability and high performance.
Festool MFK 700 is one of the router models from this manufacturer. This router displays high efficiency and performance with the aid of its top-grade components and features.
Key Specifications of Festool MFK 700
Festool MFK 700 has a 6amp, 720 watts motor that offers high trimming, routing, and profiling abilities with ease. The motor of has a variable speed of 10,000 to 26,000RPM.
It has a dust extraction port diameter of 1-1/16" that allows a vacuum powdered dust extractor that ensures a clean and dust-free working environment.
The router accepts ¼" and 5/16" collet sizes. It weighs about 4.2lbs making it lightweight and very easy to carry. It also features a routing depth fine adjustment range of ½".
Here is a video showing how to use Festool MFK 700 :
Read the long list of Festool MFK 700 specs here :
Specifications
Model No
574368 MFK 700
Powered By
Corded
Speed (RPM)
10,000-26,000
Brushless Motor
No
Power (Watts)
720
Base Dimensions (inches)
>5
Weight (lbs)

4.2
Base Type
Fixed
Collet Sizes (inches)
1/4'' & 5/16"
Unique Features
Sensor Bearing Guide
Quad Center Line Reference Mark
Tool-Less Base System

Top to Features to look for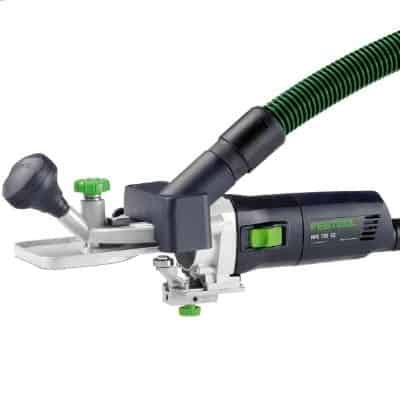 This router model has some unique features that make it better and outstanding compared to other router brands.
Sensor Bearing Guide
This router model has a sensor bearing guide which aids in guiding the router around the material being worked on.
The controlled and smooth movement of this feature ensures the delivery of perfect cut even around corners and irregular shapes.
Quad Center Line Reference Mark
The router has a two-sided center line indention. This visual point of reference ensures the proper center alignment of the bit with the cut line.
Tool-Less Base System
Festool MFK 700 has a modular design that allows easy base changes from vertical to horizontal bases.
These bases can be attached and removed without tools. This can be done by loosening and tightening the locking knob in three turns.
Power and Performance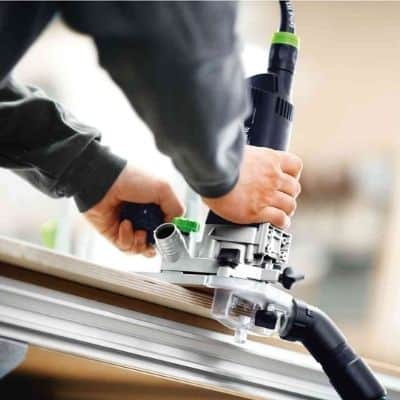 The power and performance of a router determine its efficiency. Festool MFK 700 has a powerful set-up that ensures high efficiency, power, and performance.
The router has a micro-depth adjustment that ensures accurate fine-tuning of the cut depth and a dual locking knob that prevents any movement once the depth is set.
The router has a powerful 6amp, 720 watts motor ensures effective routing output.
The motor's variable speed between 10,000 to 26,000RPM allows the router to easily cut through hardwoods and this is also reinforced by its variable speed control feature.
The tool has a parallel edge guide accessory that provides guided grooved and fluting cuts. It also features MMC electronics that improve cut performance and ensures a longer lifespan of the power tool.
Ease of Usage
Festool MFK 700 has a lot of features that allows its easy operation and usage.
The router has an auxiliary handle that ensures high controllability with the use of two hands. It has a below and above-base dust extraction port that provides a clean and dust-free working environment.
The router features a line indention on the vertical base's sides that allows the operator to align the bit center to the cut line.
It has a quad center line reference marks on both sides of its vertical base for proper bit and cut line alignment.
There is an integrated handle on the router's horizontal and vertical bases that provide control and comfort when working.
The router has a smooth control guide that makes sure you get a perfect and smooth cut even around irregular shapes and corners.
Ease of Maintenance, Repair, and Warranty
Ease of Maintenance
The maintenance procedures for Festool MFK 700 include :
Do not expose the tool to rain or wet environment.
Do not use the cord to pull or carry the router.
Always use the tool for its applications.
Repair
The repair of your Festool router is very easy and comforting. Festool provides repair services to users at the cost of little or nothing. Visit an authorized Festool service center to enjoy this service.
Warranty
The warranty offers for Festool MFK 700 are as follows :
3-year limited warranty.
1+2 years free extended warranty.
10-year spare-parts availability warranty.
1-month money-back warranty.
The warranty applies to products registered within 30 days after the date of purchase. The warranty does not apply to products misused or damaged by the user.
Visit festoolusa.com/service/warranty or contact 1-888-337-8600 for more information on the warranty offers.
Price of Festool MFK 700
Festool MFK 700 is quite expensive, although it is a highly efficient and powerful router model.
This model is suitable for buyers with high budgets specifically buyers who are in search of a router model for long-term usage.
This model is well equipped with outstanding features, accessories, and amazing warranty offers which makes it worth its price.
Pros and cons of Festool MFK 700
Pros
Lightweight and compact
Impressive variable speed
Micro-adjustment features
Tool-less base system
Efficient dust collection system
Cons
The kit does not include the edge guide.
It is highly expensive
No LED light feature
Who Should Buy Festool MFK 700 ?
Festool MFK 700 is a highly efficient router with great power and performance. The efficiency of the router makes it suitable for different routing and trimming operations.
It is a good router choice for a wide range of users such as; technical workers, woodworkers, construction workers, and Jobsite contractors.
The router's easy usage features make it suitable for inexperienced users, DIY enthusiasts, and homeowners.
The most essential factor to consider when acquiring this router is cost because this model falls in the high budget category.
Our Recommendation
If you need an efficient, highly reliable, and durable router for long term usage, you should go for Festool MFK 700. This router model offers effective solutions to routing and trimming tasks and also comes with amazing warranty offers that boost user confidence.
Last update on 2023-09-28 / Affiliate links / Images from Amazon Product Advertising API