In Brief: Greenworks 2600402 Pro Snow Thrower Review
Running with just a Lithium-ion battery, the Greenworks 2600402 Pro 80V 20-Inch Cordless Snow Thrower is an excellent snow-clearing device. It has a clearing width of 20 inches coupled with a snow depth of 10 inches and a throwing distance of 25 feet. All these features combine to give you a clean and sparkling pathway in the shortest time ever. This snow thrower is noiseless, efficient, and easy to use.
Known as leaders in the production of battery-powered outdoor power tools, Greenworks has always been there providing great options for both DIY consumers, as well as landscaping professionals.
No matter the job, Greenworks can be trusted to provide the right battery-powered tool in a very unique way.
The Greenworks 2600402 Pro is one such battery-powered tool from Greenworks. It is efficient and easy to use, and it will clear out the snow from your driveways in the shortest time possible.
Key Specifications Of the Greenworks 2600402 Pro
This snow thrower has a clearing width of 20 inches and will easily clear a large patch of snow at any given time. It offers quick and fast snow clearing.
This snow-clearing piece of equipment will quickly clear small to medium-sized driveways and give you a clear path in very little time.
It can be conveniently used to clear snow as deep as 10 inches, giving you a clear pathway in no time.
The equipment requires no fuel and no electricity, just a fully charged Lithium-ion battery that provides you with a steady run time of 45 minutes.
It is designed to walk with you any distance you choose, as it is entirely cordless. In addition, it is designed to give you ease and comfort while working with it.
Here is the long list of specs of the Greenworks 2600402 Pro :
Specification
Model Number / Name

2600402
Powered By

Li-ion battery

Engine Power
2.0Ah 80V
Stages
Single-stage
Clearing Width 
20 inches

Ideal for how many inches of snow
10 inches

Warranty
3-year residential
Weight
33 pounds
Start Mechanism

Electric start

Other Features
Up to 25 feet of snow throwing distance

Unique Features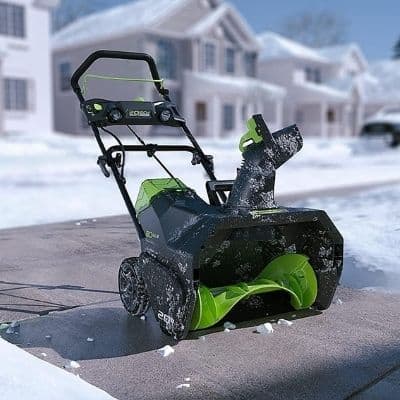 What are the interesting features of this snow blower ? Let's look at some of them here.
Rechargeable Lithium-Ion Battery
Unlike most other snow throwers that require gas or power to function, this single-stage thrower only needs a rechargeable battery.
A Lithium-ion battery rated at 2.0Ah and 80 volts is responsible for the efficient running of this device. The best part is that you need only thirty minutes of charge time, and you even get a spare battery just in case.
Dual LED Lights
Clearing away snow in the dark can be hard and tricky. This snow thrower gives you the ability to overcome that challenge with two strong LED lights that beam brightly.
Be it nighttime or daytime, you can effortlessly and conveniently carry out your snow clearing task.
Digital Brushless Motor
The brushless motor design provides high-torque strength for the engine of this piece of equipment. It is also the reason why this device requires minimal service.
The brushless motor design is also the reason why the device can run for a long time, operate quietly, and last for a considerable amount of time.
Power and Snow Clearing Capability
All this snow thrower requires to keep it going is a 2.0Ah 80V Lithium-ion battery that requires just thirty minutes charge.
With a fully charged battery, your equipment will run consistently for at least 45 minutes, giving you a clear path quickly.
This snow thrower is comparable to other dual-stage snow throwers, having a large clearing width of 20 inches, an ideal snow depth of 10 inches, and a throwing distance of 25 feet.
It will aid your lawn clearing exercise with very little stress on you.
Ease Of Use
Powered by a Lithium-ion battery, this snow thrower is easily started with an electric start button. It will give you no difficulty starting up, as long as the battery is charged.
Being lightweight, it poses no difficulty while controlling it, and it has an ergonomic design that aids mobility. This ensures that you are not stressed or harmed while using this snow thrower.
Being cordless, it can travel any distance you need it to without tripping and falling over cords. You also don't have to deal with the inability to reach certain distances due to short cords.
Ease Of Maintenance, Repairs, & Warranty
Being a cordless engine that requires no fuel, very minimal maintenance and repairs are required.
The only concern will be your Lithium-ion batteries, but regular charging and a spare pack will keep your snow thrower going for a while.
It comes covered with a 4-year tool and battery warranty, making it easy for you to fix any faults at zero cost. To get a warranty, the thrower must be registered via the online portal : www.greenworks.com/product-registration.
You can also call for warranty services at 1-888-909-6747.
Price Of the Greenworks 2600402 Pro
This snow thrower is quite cheap when compared to the other snow-clearing devices available on the market.
It is even cheaper when we consider the features it comes packed with, such as the clearing width, snow depth, and throwing distance.
Pros and cons Of the Greenworks 2600402 Pro
What are the reasons why you should or should not go with this snow thrower? Let's discuss this.
Pros
Cheap and affordable
Lightweight and well-equipped
Easy to operate
Peaceful, quiet operation
Cons
Slight Loose fit of chute rod
Who Should Buy the Greenworks 2600402 Pro ?
This snow thrower is suitable for those who experience moderate snowfall on a yearly basis.
It is also good for those who want a snow-clearing device that is lightweight and easy to operate.
Our Recommendation
This snow thrower comes highly recommended due to its ease of use, great clearing width, and decent snow depth. For a battery-powered engine, it does a great deal of work and will even stand tall amongst some gas-powered snow throwers.
Last update on 2023-09-28 / Affiliate links / Images from Amazon Product Advertising API