In Brief: Greenworks Pro Review
The cordless snow thrower from Greenworks Pro Snow Thrower comes with the best features you need for a snowblower at home. It comes with noiseless and no maintenance features to make it quite a desirable tool for the homeowner. Together with all the other great features included, you can not go wrong to get this for your snow removal jobs at home.
The Greenworks brand was established in 2007 when they started to market the innovative leading lithium-ion technology.
After some time, in 2014, the 80v high-powered products became available for equipment used by homeowners.
One of these products is the new technology motors used in the snowblowers that require no maintenance at all.
It also comes with nice features, such as a long consumer warranty, a quiet and maintenance-free motor, and a wide snow clearing width.
Key Specifications of the Greenworks Pro 2601302 / 2601402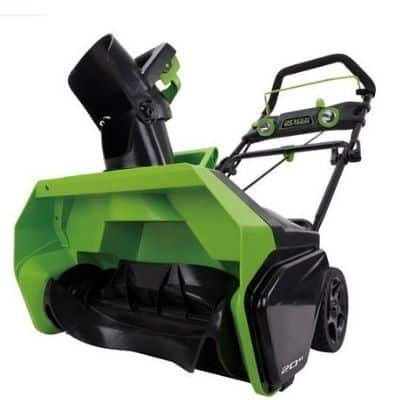 The 2601302  snow thrower from Greenworks Pro comes with a very strong 80v electric motor included with high power output.
The only difference between 2601302  and 2601402 is that the latter includes a battery.
It also comes with quite a wide snow clearing width of up 20 inches to save you time when clearing the away snow.
It can move snow as thick as up to 10 inches in only one pass and without much effort to save you even more time.
With the minimal assembly required out of the box, you can have this snow thrower ready for work in only a few minutes.
It comes with an easy folding system, to make it very easy to store in a compact space or transport it quite easily.
The chute rotates in quite a wide 180 degrees arc to easily discharge the snow in any direction you prefer. It can also hurl the snow up to 20 feet away to get it out of your way.
Watch the following YouTube video if you want to see this handy snowblower from Greenworks Pro in action.
Here is the long list of specs of the Greenworks Pro Snow Thrower :
Specification
Model No / name
2601302
Powered by
Electric-Cordless
Engine Power
80V
Stages
Single-stage
Clearing Width
20 Inches
Ideal for how many inches of snow
10 Inches
Warranty
4 Years
Weight
30 Pounds

Start Mechanism

Electric start

Other Features
20 Feet trowing distance, dual LED headlights
Unique Features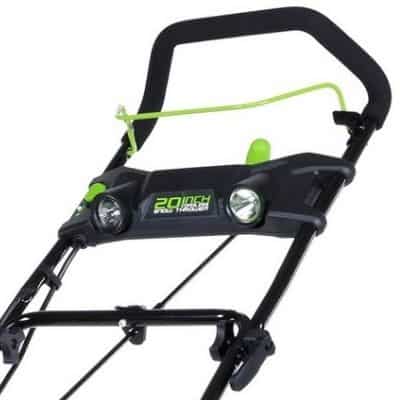 Every new type of technology used in the handy machines to make your life much easier comes with unique features included.
Dual LED Headlights
For those dark early mornings when the sun is still not up, and you need to get the driveway clear of snow, you have help.
That help is in the form of the dual-LED headlights installed on this snowblower to light your path.
These LED headlights will take very little power from the battery for your convenience.
Maintenance-Free Motor
Included with the snowblower from Greenworks Pro, you have a brushless motor that will require no maintenance at all from your side.
It is making use of the new Digipro digital controlled brushless motor technology for ease of use and requires no maintenance.
This is great for those who have no previous electric motors experience to make it much more manageable.
A Very Long Warranty
This equipment from Greenworks Pro comes with a long 4 years warranty, making it a unique feature.
This is an industry-leading period for a warranty and is proof of the great trust this company has in their own product.
Power And Snow Clearing Capability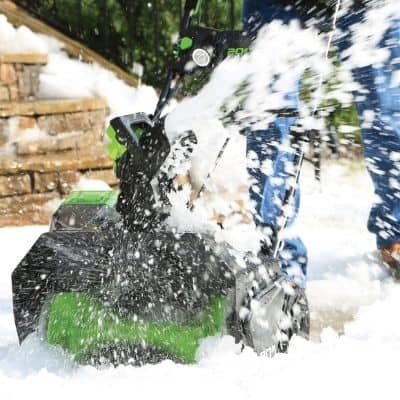 With this snow thrower, you can clear a wide path of up to 20 inches wide of snow in just one pass, saving you time.
It also allows you to remove thick snow up to 10 inches deep quickly and easily without problems.
To make your snow removing job much easier, it can also hurl the snow up to 20 feet away to get it out of your way.
With the chute's smooth cranking action, you can easily rotate it to throw the snow far away from your driveway.
These great features that come standard with the Greenworks Pro cordless snow thrower make it quite a time saver.
Ease of Usage
You get an easy one press button starting option to make it easy to use from the word go without much effort.
With the 45 minutes of runtime you have with this snow clearing tool, you can quickly clear up to an acre in one charge.
To start this snow blower, you press the button and pull back on the trigger bar and just release the bar to stop it.
This trigger bar makes the snowblower easy to operate with only one hand and provides a safety feature.
Together with the smooth turning auger and mobile wheels, it requires not much effort to push the snow thrower over the terrain.
Ease of Maintenance, Repairs & Warranty
This snow thrower comes with the Digipro maintenance-free motor technology to make it relatively easy to use.
There is no maintenance required to keep it running except for cleaning it after use to get rid of the dirt clinging to it.
You do not need to add oil, fuel, or anything else but keep the battery charged and at room temperature for easy starting.
If you struggle to get it started on a cold morning, just take the battery inside for 10 minutes or longer.
With this Snow thrower from Greenworks Pro, you get a very long 4 years consumer warranty.
You can request a return authorization at this number: 1-888-909-6757.
You can also find all the details regarding the warranty on this website, and you can register the product here for more benefits.
Price of the Greenworks Pro
The 80v 20-inch cordless snow blower from Greenworks Pro is available at many dealers for quite an affordable price.
This product is available without the battery and charger that need to be bought separately also from the dealers, but even then, it still has a very low price point.
Pros and cons of the Greenworks Pro
See the list of pros and cons of this snowblower by Greenworks Pro below.
Pros
Made with a strong and durable construction
Comes with many extra features included
It is quite easy to use
It is made from high-quality materials
Cons
There is no battery and charger included
Might have some problems to start in very cold weather
Who Should Buy the Greenworks Pro ?
For all those homeowners who live in the low to medium snowfall areas and need to clear the snow driveway, this is the tool.
You can quickly clear away the snow for sidewalks and patios and wood decks without any problems.
It also allows you to get rid of the snow without making too much noise, great for those living in a densely populated area.
This snowblower from Greenworks Pro is great for use by even parks and other public maintenance persons.
You just swoop in and clear the snow away without even worries that you will bother the neighbors or anyone else.
Our Recommendation
The quiet engine and the ease of use of this snow thrower make it ideal for everyone and will be the go-to tool.
The fact that you can use other Greenworks tools batteries with this product makes it even more versatile.