In Brief: Grizzly G0925 Review
Grizzly G0925 is a portable and compact benchtop drill press with a double TSlot feature. It has an 8″ swing and a ½" drill capacity. The 34lbs drill press operates on 5-speed between 740-3140RPM, and it is useful for homeowners and other DIY enthusiasts. It helps with small scale drilling tasks on materials like wood and metals.
Grizzly was founded in 1998 with the sole aim of manufacturing innovative and affordable power and hand tools, particularly gardening tools.
Since then, the company has experienced massive growth and development to become one of Europe's most trusted and reliable manufacturers in the tool manufacturing industry.
Grizzly G0925 is a benchtop drill press with impressive drilling performance. It is one of the most versatile and portable drill press models for personal drilling operations.
Key Specifications of Grizzly G0925
Grizzly G0925 has a 1/3HP, 120V, 2.3A, and a single-phase motor that delivers enough power to drill through various types of materials, including woods and metals.
This drill press model is relatively lightweight, weighing just about 34lbs.
It carries out the 5-speed operation within the spindle speed range of 740-3140RPM. It offers a maximum drilling capacity of ½" through mild steel or cast iron.
It has a precision-ground cast iron table that measures 6-1/2″ x 6-1/2" and can tilt 45 degrees on both sides. It has a swing capacity of 8" and a 2" spindle travel.
The video below shows Grizzly G0925 in use: 
Key Specifications of the Product are:
Parameters
Details
Model No / name

Grizzly G0925
Motor Details

120V & 2.3amp
Power (hp)

1/3
Speed (range) rpm

740-3140
Laser

No
Chuck capacity (in)

1/16"-½"
Drilling capacity (in)

½"
Work Table Dimension (in)

6-1/2" x 6-1/2"
Table Tilt

450 left and right
Swing and Stroke (in)

8" & 2"
Height (in)

23-1/2"
Weight (lbs)
34lbs
Digital Speed Reading

No
Work Light

No
Warranty

1 year
Other Features
Portable and Compact
Double TSlot feature
Table height lock handles
Top Features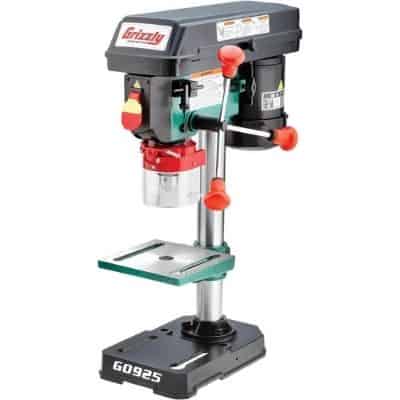 Despite the portability of Grizzly G0925, it is well-built with impressive features that contributes to its fantastic performance and efficient delivery.
Portable and Compact
Grizzly G0925 is called a baby benchtop drill press because of its compactness and portability. This drill press model weighs just 34lbs, one of the lightest for products in this category.
Double TSlot Feature
Grizzly G0925 includes double 5/8″ T Slots and 4-3/8″ on the center that contributes to the tool's effectiveness and efficiency. It also swivels 360 degrees around the steel column for improved versatility.
Table Height Lock Handles
The inclusion of table height lock handles in Grizzly G0925 allows you to make easy adjustments up, down, and round the column. This feature improves its versatility and enhances its ease of usage.
Power and Performance
The power of Grizzly G0925 is one of the biggest influencers of its performance.
This compact drill press model has a 1/3HP, 120V, single-phase 2.3A motor set up that delivers enough torque and power to carry out effective drilling on various materials.
This drill press model operates on 5-speed variable control with speed within the range of 740-3140RPM. It can make spindle travel of 2″ and a swing of 8″ for efficient drilling.
Similarly, it delivers a drilling capacity of ½"; thus, making it suitable for drilling materials such as mild steel, iron, wood and plastic.
Grizzly G0925 also uses variable drill chuck within the range of 1/16″ to ½" to help you meet various projects' needs. The JT33 keyed drill chuck is fitted to the JT33 spindle taper.
Ease of Usage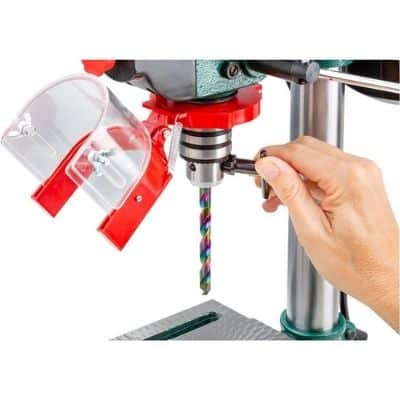 Grizzly G0925 is one of the most straightforward drill press models to operate even for beginners. This drill press model has several integrated features that contribute to this performance.
First off, it is lightweight and compact; thus, making it easy to handle.
You can easily read the spindle travel with the depth scale that is conveniently located over the headstock. Grizzly G0925 also allows you to set the adjustable depth stop for repeatable and predetermined drilling.
This drill press model includes a precision-ground cast iron table that makes operations relatively easy.
This 6-1/2″ square table can swivel 60⁰ and tilts 45⁰ to the left and right of the table for easy processes. The inclusion of table lock handles allows easy adjustment up, down, and around the column.
Ease of Maintenance, Repair, and Warranty
Ease of Maintenance
The maintenance procedures for Grizzly G0925 include;
Regularly lubricate the needed parts of the power tool with suitable lubricating oil
The cast-iron table is unpainted so you need to protect it by always cleaning it after use.
Remove excess woods, chips, and sawdust with a soft cloth.
Repair
Grizzly has authorized service centers that handle the restoration of their products. It is best to let these centers take your Grizzly G0925 to ensure safe repair, reliability, and continuous efficiency.
Warranty
The warranty offers of Grizzly G0925 include;
1-year limited warranty on crafts and materials
Return offers for defect materials
You have to register your products before you can have access to the warranty offers. You can register your product here>
You can contact the manufacturer via 1-800-523-4777 or through the mail via [email protected] to get a return number before returning the product. You also have to replace it with proof of purchase.
Price of Grizzly G0925
Grizzly G0925 is one of the most affordable drill press models available today. It is suitable for low-budget buyers.
The low cost of Grizzly G0925 does not mean a reduction in quality because it has several features that make it is worth its price.
Pros and Cons of Grizzly G0925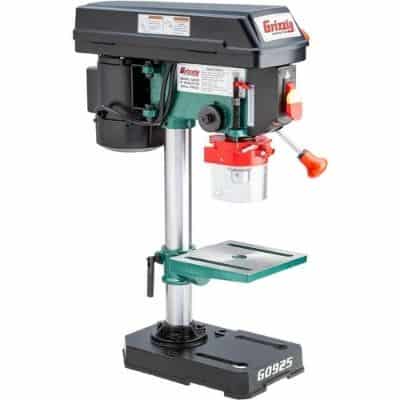 Pros
Compact, portable, and versatile
Lightweight
Affordable
Flexible for various applications
Easy adjustability
Cons
Does not include work light or laser
Only suitable for light jobs
Who Should Buy Grizzly G0925?
Grizzly G0925 is a portable, versatile, and efficient drill press.
It is ideal for professionals that need a lightweight tool for non-intensive drilling operations through various materials.
Beginners, homeowners, and other DIY enthusiasts can use Grizzly G0925 because it is easy to use, affordable, and efficient for personal use.
Our Recommendation
Grizzly G0925 is an ideal bargain if you need a flexible, portable, and versatile drill press for small scale drilling through various materials, including metals and woods.
If you seek a drill press model that is non-cost intensive for personal or light-duty tasks, Grizzly G0925 can get the job done.
Last update on 2023-09-28 / Affiliate links / Images from Amazon Product Advertising API