In Brief: Grizzly G1037Z Review
The Grizzly G1037Z Planer/Moulder, 13-Inch works as both a benchtop planer and a moulder. It features a 13-inch bed and a 1.5HP motor, and it offers a cutting depth of 1/8-inch as a planer and ¾-inch as a moulder. This machine's cast-iron construction keeps it up and running for a long time.
The Grizzly company offers woodworking and metalworking tools and accessories for residential and commercial use alike.
This company focuses on customers' needs and keeps up with changing trends in the world of power tools. The Grizzly G1037Z combines two types of woodworking machinery in one.
With the power and precision of the Grizzly company's product line, this machine offers both residential and commercial users with a convenient, interesting way to complete projects.
Key Specifications of the Grizzly G1037Z
The Grizzly G1037Z offers benchtop planer functionality as well as moulding operations. It features an undermount motor that makes it easy to access the blades when they require replacement, and it includes a 13-inch bed.
Check out the Grizzly G1037Z in action here –
Read the long list of Grizzly G1037Z specs below:
Parameters
Details
Model No/Name

G1037Z
Type

Benchtop
Power (HP)

1.5
Bed Size (in.)

13
Table Size (l x b)

22.25 x 13
Knife Adjustments

1
Cutting Depth (in.)

1/8 planing; ¾ moulding
Dust Collection

Yes
Weight (lbs.)

236
Warranty

1 year
Other Features
Dual use
Undermount motor
Adjustable guides
Accessories
Cast-iron table
Steel feed rollers
Floor stand
Unique Features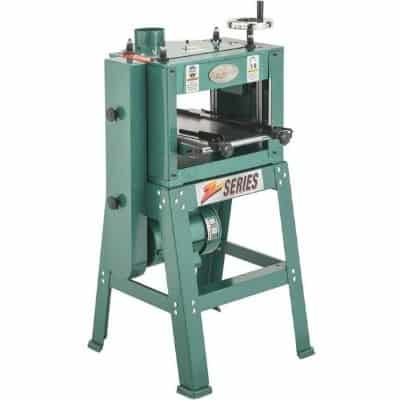 This machine provides a dual use functionality with quick conversion between the two options. It also features a cast-iron structure that allows it to reduce wobble, improve stability, and cut back on the risk of snipe as well.
Dual Use
The most unique feature of this machine remains its dual use functionality. This machine works as both a planer and a moulder, and you can change between the two options as needed.
Complete entire projects without having to change machines with this convenient item.
Cast-Iron Structure
Featuring a cast-iron structure and built-in cast-iron table, this machine provides plenty of stability and durability. It resists rusting and holds up well to long-term use.
Quick Conversion
Since the machine offers two methods of use, it also provides quick conversion between these two. It only takes a few minutes to make the change between using this machine as a planer and using it as a moulder.
Power and Performance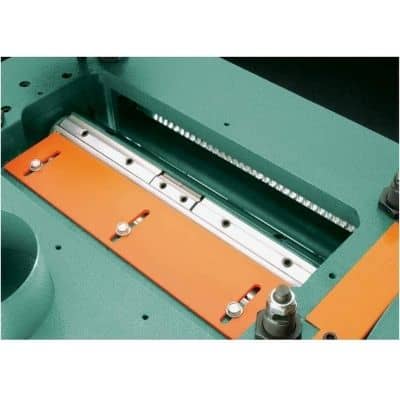 This machine offers enough power to handle residential tasks as well as small-scale commercial ones.
It does not handle as many types of wood as some of its competitors, but it makes up for this slight downside by providing additional moulding capabilities.
As both a planer and a moulder, this machine performs admirably. It creates professional, smooth results and lasts a long time as well. Its internal components do not require frequent replacement and do not wear out too quickly.
Ease of Usage
Customers with no prior experience using planers may find this machine confusing because of its additional moulding functions.
However, those with even intermediate experience find this machine simple and enjoy its user-friendly interface.
Thanks to its convenient and durable infeed and outfeed, this machine makes passes quickly and easily.
Customers enjoy working with this machine because of how easy it becomes to input and set adjustments while working through projects.
Ease of Maintenance, Repairs & Warranty
Customers in need of replacement parts for this machine may look them up using the parts store on the Grizzly company web site.
This store requires either the part number or the model number of the product, and customer service can also help you look up this information.
Turn off the machine and unplug it before performing routine maintenance. Check the machine for signs of damage before and after each use.
Remove dust and debris from the machine using a vacuum or a dry cloth and use saw blade cleaner on the knives, rollers, and bed.
Keep the columns, screws, chain, and feed roller lubricated well. Replace knives when they show signs of wear, as they may become unsafe for operation quickly thereafter.
For other maintenance, take the machine to a licensed repair technician.
The Grizzly company provides a 1-year limited warranty on this machine. The warranty covers the full unit and its inner working parts as well as any external parts other than consumable ones.
It offers repair and replacement of damaged or malfunctioning machines.
The warranty excludes machines that become damaged or quit working due to misuse or customer error. It also requires customers to register the product through the online warranty registration form before it takes effect.
For more warranty information, contact the Grizzly company at 800-523-4777.
Price of the Grizzly G1037Z
The Grizzly G1037Z includes two machines in one. It also comes with a built-in cast-iron stand and features a powerful motor with long-lasting blades.
This machine comes ready for work and can finish whole projects on its own.
Because of its multiple functions, the machine comes in well over the average price for most benchtop planers.
However, customers feel it offers enough value for its price if you need both of these types of machines in your home or shop.
Pros and Cons of the Grizzly G1037Z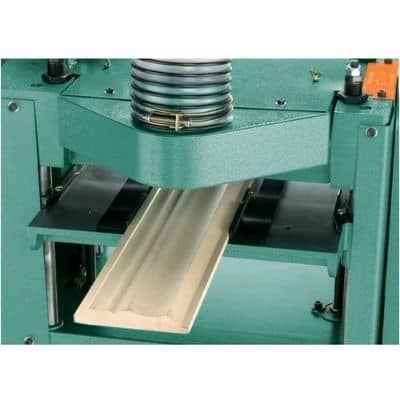 Pros
Small enough to fit into many spaces
Powerful and durable construction
Easy knife blade changes
Simple maintenance and upkeep
Cons
Some customers feel the moulding knives could be bigger
Some customers find this machine cannot handle damaged or warped wood
Who Should Buy the Grizzly G1037Z?
The Grizzly G1037Z provides ample cutting capabilities for residential customers. Its simple interface makes it ideal for intermediate home hobbyists who want a machine that can handle two tasks in one.
It also works well as a small-scale addition to professional shop setups. With this machine, commercial customers can tackle fine work without taking up too much space in their shops with multiple machines.
Our Recommendation
The Grizzly G1037Z offers many woodworking functions in a single machine.
It handles small to medium tasks with ease and features durable construction that ensures it can remain a part of your woodworking setup for a long time to come.
We recommend this machine for home hobbyists who know a little bit about woodworking already and want to improve their setups. We also recommend it for commercial customers who need a small machine for simple tasks.
Last update on 2023-12-03 / Affiliate links / Images from Amazon Product Advertising API